By Joanne Jeffries. Last Updated September 23rd 2021. Welcome to this Lands End airport accident claims guide.
How To Make A Claim For An Accident At Land's End Airport
One of the UK's smallest commercial airports, Land's End, operates air shuttle flights. The airport's small size does not mean that accidents can't occur. The fact that many people rely on the airport for access to the mainland means that the duty of care Land's End Airport has to its passengers is all the more important.
If that duty of care is broken by allowing you to suffer an accident, then you could be entitled to claim compensation for the pain, symptoms and effects on your life that the injuries could cause you.
This web page is a guide to how the personal injury solicitors at Accident Claims UK could help you make a no win no fee personal injury compensation claim. Read on to find out about various types of possible accidents, how your compensation may be calculated, and the options open to you to proceed with a claim. Don't forget to call 0800 073 8801 for more information or to make a start on your Lands End airport accident claims.
Select A Section
A Guide To Making A Claim For An Accident At Land's End Airport
The owners and operators of an airport have a duty of care to their passengers and employees to ensure that their health and safety is not threatened by any preventable accidents. This means that they have to ensure that the planes performing the flights are safe, but it also extends to preventing avoidable accidents in the airport itself.
This guide will cover the basic points of when and how an accident could happen in a manner that would justify making a personal injury claim against the airport. It'll explain how a claimant's compensation entitlement is decided through assessing the severity of their injuries and the impact on their financial situation and ability to work. One of the most important things this guide will explain is how the No Win, No Fee if your claim is unsuccessful, you will not have to pay any of your solicitor's fees.
What Is A Land's End Airport Accident?
In order to make a valid personal injury claim there would need to be reasonable grounds to accuse the airport of being negligent. Three criteria must be satisfied in order to establish negligence:
Did the airport, or another third party, owe you a duty of care?
If yes, did they breach that duty?
As a result of that breach, did you suffer an injury?
This article is about having accidents that occur in the airport itself. It does not deal with accidents that happen in flight, though our solicitors can handle those, so please call us for details. You could also call us if your luggage has been damaged, lost or stolen as a result of poor handling by the airport staff.
Airport And Flight Safety In The UK
Such incidents are rare in the UK, making it one of the safest places to fly from. Advances in technology and health and safety laws have led to a significant decrease in fatal aviation incidents.
There aren't any recorded crashes or aviation incidents at Land's End Airport. Considering that planes have been making the short trip back and forth from the Isles of Scilly to Land's End for decades without incident, your chances of being hurt in an air accident are virtually zero. (see the links at the bottom of this page for a source on Land's End Airports safety record.)
Accidents And Incidents In An Airport
We can confidently say that being killed or seriously hurt in a plane crash or some sort of major airport disaster shouldn't be on your mind. However, within and around the airport, incidents occur that could cause an injury. Some of the accidents that are more likely to occur than others in an airport include:
Accidents with luggage or the facilities used to move them
Accidents involving escalators or elevators
Accidents involving airport shuttle buses
Accidents in the airport's restaurants and shopping facilities
Workplace accidents involving airport staff
Some of these accidents might not pose a significant threat to life and limb in the same way as a plane crash might, but they can nevertheless put the victim in danger of serious harm. Whether it is something like food poisoning or an injury that leaves the victim with a disability, if it was caused by a breach of the airport's health and safety duties, then you could be entitled to compensation.
Slipping And Falling At An Airport
A slip, trip or fall might sound like an accident that wouldn't cause serious harm, but they could lead to bruising or cuts, fractures or broken bones. Elderly people are particularly vulnerable to suffering severe injuries from falls. Some examples of how this might happen include:
Tripping over a suitcase that wasn't yours and should have been moved by staff
Tripping on a pothole or section of broken pavement on the airport's property
Slipping on a wet floor in the terminal
Tripping on an unmarked step or non-level section of floor
If it can be proved that the airport failed to take steps to prevent the accident from happening, or took inadequate steps, you may have grounds to make a claim. For further details about how and when you could file a compensation claim for a slip, trip or fall, read our slip, trip and fall guide.
Accidents Caused By Baggage Facilities
Accidents can occur involving baggage facilities at an airport if they are not operated and serviced properly. Airports must ensure that baggage handling staff and other employees handle luggage correctly when loading onto carts and baggage carousels. If they become overloaded or if the baggage is loaded haphazardly then the baggage could fall and land on someone.
There is also a risk of injury if carousels and carts are faulty. There have been reports of people injured by fast-moving carousels. Carts or carousels found to be faulty need to be taken out of use until they are replaced or repaired.
If you or a loved one has been hurt in an accident related to the baggage facilities in Lands End Airport, then call us to talk about whether or not you could be eligible to file a compensation claim.
Elevator And Escalator Accidents
If a business has escalators and lifts on their premises for use by either staff or customers then they are under a legal obligation to maintain and inspect them regularly. A faulty lift or escalator could cause serious injury. A lift that hasn't been maintained properly could close its doors on someone while they are still in the doorway. A faulty escalator could easily cause someone to fall if its movements were jerky or if it came to a sudden stop.
Follow this link to find out more about businesses obligations when it comes to maintaining escalators and lifts on their property.
If it can be proven that the airport failed to carry out its obligations to ensure that the lifts and escalators were in good working order and that you suffered an injury as a result, then you may be entitled to compensation. Call us for assistance on making such Lands End airport accident claims.
Airport Shuttle Bus Accidents
It is common for airports to operate shuttle bus services from surrounding towns and train stations to the airport, or internal services from the airport's car park to the terminal, and from the terminal to the runway. It is also common for airports to have small electric vehicles operating both outside and inside the terminal. Some airports may have their own dedicated tram and train networks.
If any of these services are operated by the airport, they are responsible for ensuring they are operated safely. Accidents can be caused by the negligence, or lack of training of vehicle operators, or by mechanical faults caused by lack of maintenance or inadequate repair. Accidents can involve:
Passengers on bus, tram or train services falling and hurting themselves in the stations and stops at the airport
Passengers on bus, tram or train services falling and hurting themselves on the bus, either due to the state of the flooring on the vehicle or because handrails were faulty
Passengers being injured in a collision
Pedestrians being injured by airport vehicle (including electric carts operated within the terminal)
If the services are operated by a public transport company rather than by the airport, then our solicitors could be able to help you file a claim against the public company. Read our road traffic accident guide here.
Accidents In Airport Facilities Such As Shops And Restaurants
All restaurants and cafes have a duty of care to abide by food hygiene and safety regulations. Meals containing allergens must be clearly labelled on menus and cross-contamination kept to a minimum. Food items must be stored and refrigerated properly, food that is past its sell by date must be thrown away, and the kitchen and dining areas thoroughly and regularly cleaned.
It may be possible to file a compensation claim against the café or the business which owns the café (depending on whether it is operated by the airport or an outside business). If you have been diagnosed with having food poisoning or having suffered an allergic reaction and you think there is grounds to believe that these safety regulations were not followed, then you may have grounds for a case.
Follow this link to see our guide on claiming compensation for suffering an allergic reaction.
As well as preventing illnesses caused by issues with food poisoning or allergies, cafes and restaurants also need to minimise the risk of accidents as much as reasonably possible. This means cleaning and tidying the floor to prevent slips, trips and falls, checking furnishings and repairing or replacing faulty ones, and ensuring food and drink is served at the correct temperature.
Accidents And Injuries Working At An Airport
Just like all employers, airports are bound by law to ensure that it provides a safe working environment, promotes and enforces safe working practices and provides its staff with the correct training and safety equipment. Workplace accidents and injuries at an airport could include:
Having an accident involving machinery or vehicles in the airport
Being the victim of a criminal assault in the workplace due to inadequate security measures
Having an accident due to receiving inadequate training for your role
The most common reasons for workplace injuries in 2019/20 across all injuries are illustrated below.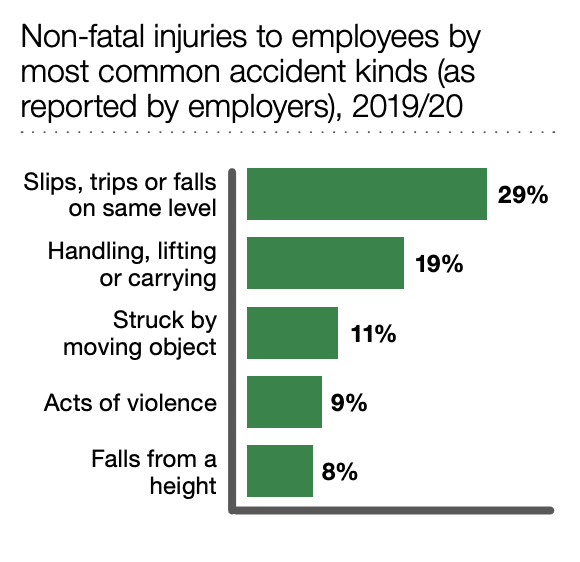 If you work or have previously worked, in Land's End Airport, and anything like the above examples has happened to you then you may have grounds for a case. Contact one of our personal injury solicitors to find out more.
Accidents And Injuries Working As An Airport Baggage Handler
A report on workplace injuries among airport workers found that the most common cause of injury is manual handling. Injuries like these will likely involve an airport's dedicated baggage handling staff. Manual handling of heavy objects will inevitably carry a certain degree of risk, but it is the airport's legal duty to minimise this risk. There are a number of steps they should take in order to accomplish this:
Teaching staff safe and effective ways of lifting and carrying heavy items
Using machinery to move luggage wherever practical
Giving staff regular breaks
Making sure staff don't handle items too big or heavy for them
If you have suffered an injury while handling baggage at an airport, or you have developed a health problem (for example in your back or your knees) and you have reasonable grounds to believe your employers should have done more to keep you and your colleagues safe, then you could have the right to make a claim for compensation. Why not call our team to discuss the matter with them?
In the meantime, you might be interested in reading one of our other guides which deals specifically with accident at work claims.
Calculating Compensation Claims Against Land's End Airport – Updated September 2021
If you are going to make a personal injury claim against Land's End Airport, then you need to know the value of your claim. At this stage, it's possible to gain an idea of the value. Only when you've been examined by a medical expert can your solicitor provide you with a more precise figure.  Although we hope it is informative, we must remind you that if you do make a claim the amount you receive may not match the amounts in this table.
| | | |
| --- | --- | --- |
| Injury | Notes | Compensation |
| Lung disease (b) | Lung cancer causing severe pain and impairment of lung function. | £65,710 to £91,350 |
| Lung disease (c) | Lung disease, such as emphysema, causing severe impairment of breathing and coughing, making physical activity and working restricted. | £51,420 to £65,710 |
| Lung disease (d) | Breathing difficulties requiring frequent use of an inhaler and restricting work and social life. | £29,380 to £51,460 |
| Lung disease (e) | Bronchitis and wheezing causing limited effect on physical activities, ability to work and on social life. | £19,510 to £29,380 |
| Lung disease (f) | Slight breathlessness with little effect on work and social life with good chance of recovery within a few years. | £9,990 to £19,510 |
| Minor injuries (a) | Injuries which heal within seven days | A few hundred pounds to £590 |
| Minor injuries (b) | Injuries which heal with 28 days | £650 to £1,290 |
| Minor injuries (c) | Injuries which heal within three months | £1,290 to £2,300 |
| Mental trauma | Compensation for fearing the victim was about to lose their life | £4,380 |
Airport Accident And Injury Claim Special Damages
You may also be able to claim compensation to recover the costs of money that you have lost or had to spend while recovering or dealing with the after-effects of your injury. For example,  cosmetic surgery or physiotherapy. The crucial thing is to keep all of your receipts.
If you have had to take time off work then you may be able to claim for your lost earnings. If the injuries are severe enough, you may also be entitled to claim compensation for future loss of earnings in the event of a disability preventing further work.
No Win No Fee Accident Claims Against Land's End Airport
You may be thinking that making a personal injury claim is just for those who have the means to afford a lawyer to take up their case. This isn't the case with Accident Claims UK. All of our solicitors can agree to enter into a No Win, No Fee Agreement with you. This means that if your claim is unsuccessful, then you do not have to pay any of your solicitor's fees. If you win, your solicitor will charge you what's known as a success fee. This percentage will be deducted from the compensation awarded. For more information about how this works, just call us.
Why Choose Our Team To Handle Your Claim?
Our team is made up of highly experienced professionals who are always just a phone call away. If you have any questions or queries or want an update on the progress of your claim, call us any time. And, of course, you'll benefit from the protection of a No Win, No Fee Agreement, so in essence, you have nothing to lose.
Start Your Claim
To get started on making a personal injury claim or to find out whether your circumstances make you eligible, just call 0800 073 8801 to speak to one of our accident claims team.
As well as calling us directly you could also use this page to request a phone call from one of our team members.
You can also email office@accidentclaims.co.uk. We aim to reply within three hours.
How would I prove my Land's End airport accident claims?
To make a personal injury claim for an accident at Lands End airport, you would need to provide evidence. Some of this evidence would need to prove that the accident happened, and was someone else's fault. However, some of the most important evidence that you could gather would be the medical evidence that proves your injuries and their severity. You might be under the misapprehension that simply visiting your GP or hospital would provide you with this. However, Lands End airport accident claims could be more complicated than that. You would need to visit an independent medic to have an independent medical assessment. They would examine you, and may ask you some questions about your injuries and how they have affected you. They could also access your past medical notes, and order some tests if necessary. Once they have a full picture of your injury, they would put together a medical report that could be used to evidence the illness or injury you've suffered. Lawyers and the courts could use this to come to an appropriate value for your Lands End airport accident claims.
Would I be able to make lands and airport accident claims for my child or children?
A child is not seen in the eyes of the law to be able to make a compensation claim by themselves. This is because they are not deemed to have the capacity to understand the decisions they would be asked to make. However, if you wanted to make a claim on behalf of your child for an accident in which they were injured that was someone else's fault, you could do so. You would need to register to become a litigation friend for your child, and we could help you with this.
Airport Accident Claim Resources
Claiming compensation from an airport  – find out more about claiming here.
Accident claims solicitors covering Plymouth – help on finding a solicitor.
Accident Claims For Being Injured At Work – Claims guide for work accidents.
Airport Safety Resources
Aviation safety – The Aviation Safety Networks page on Land's End airports safety record.
HSE Aviation Safety – The Health and Safety Executive's page on health and safety in the air transport sector
CAA – The Civil Aviation Authority's page on airport safety
CAA delayed flights -The Civil Aviation Authority page on claiming compensation for a flight delay
We hope this Lands End airport accident claims guide has been helpful to you.