By Joanne Jeffries. Last Updated 28th June 2022. Welcome to this guide to John Lewis compensation claims. If you have had an accident in John Lewis and suffered an injury as a result of negligence then Accident Claims could help you to receive the compensation you deserve. Whether you are a John Lewis customer or an employee, you could be entitled to make a claim against John Lewis if you have been injured as a result of an accident in John Lewis that was not your fault. However, not all accidents in store could lead to John Lewis claims. Here, we discuss who could potentially make John Lewis claims if they're injured due to someone's breach of their duty of care towards them. We also discuss how much compensation those who successfully make John Lewis compensation claims could receive.
John Lewis Claims – Not All Accidents Lead To A Claim – Get Advice Here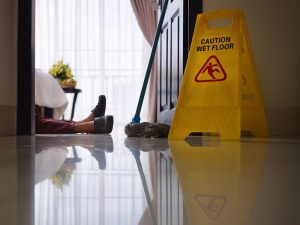 An accident may have occurred on the shop floor, in the store room, in the cafes and restaurants or even in the car park. If you have been harmed on the premises of a retail store due to their negligence  then an Accident Claims provided solicitor could help you to prove that somebody breached their duty of care. This guide will help you to find out more about accidents that could happen in a retail store, read on to learn more.
If you would like to speak to Accident Claims and ask any questions that you may have then please feel free to telephone us on 0800 073 8801. However, we have put a guide together below to inform you on some of the main points when it comes to claiming.
Select A Section
A Guide To Claims For Accidents In John Lewis
Known for their luxurious items and attention to detail, John Lewis pride themselves on a happy shopping experience and John Lewis employees are amongst the most satisfied employees in the UK. They are one of the nation's favourite retailers but unfortunately sometimes things could go wrong. Both shoppers and workers are at risk of an accident in different department stores where standards are not being met. Slips trips and falls as well as shelving and racking accidents are not uncommon in retail stores and can cause serious injury to the unfortunate individual who is hurt. Lifts and escalators also pose a risk, as does food poisoning from shop's eateries and food aisles.
If you have had an accident in John Lewis and have been injured as a result due to negligence then you could make a John Lewis no win, no fee injury claim. Accident Claims are here to help you. Read on for more information.
What Is A John Lewis Accident Claim
A John Lewis accident claim occurs when an individual has had an accident in a John Lewis store which has resulted in an injury that was not their fault. That individual can be a customer or an employee. Both employee and customers are entitled to compensation if they have been harmed whilst on the premises of a retail store. If a retail store can be shown to have been negligent, and that negligence lead to an accident then the company could be held liable for your injury. There are a number of different types of accidents which could occur in a retail store and these will be discussed in the following section.
If you have had an accident in John Lewis then speak to Accident Claims today. We will be able to put you in touch with a personal injury lawyer who can help you to make a claim
Common Types Of Accident Or Injury In A Retail Department Store
The list of accidents and injuries that you could claim for is not exhaustive but some of the most common types of accidents occurring in a retail store include the following:
Slips trips and falls. Slips trips and falls occur with some frequency. They are usually caused by uneven flooring, poor maintenance of floor coverings, obstacles such as boxes or spillages which have not been adequately cleared up. Slips and trips can be minor or can lead to more serious injuries such as fractures and dislocations. If this has happened to you then you could make a claim.
Falling items. Items which have been precariously stacked or have not been put back onto shelves properly may fall off and harm somebody. Obviously, the risk of injury is higher for heavy and large items.
Food poisoning. Most large outlets offer a cafe as well as a food section. If you have experienced food poisoning after consuming food bought at such an outlet, you may be able to make a personal injury claim. Food poisoning is usually caused by food that has passed its use-by date, been stored inappropriately or food that has not been cooked to a high enough temperature. If it can be proved that John Lewis was at fault for your food poisoning then you may be able to claim compensation.
Falls from height. Employees will at times be required to use step ladders to stack items at a higher level or to retrieve items from a high shelf. If you have fallen off step ladders whilst working then you may be eligible to seek compensation especially if you have not been trained to use a step ladder correctly or have not received manual handling training.
Causes of accidents in John Lewis
These types of accidents can sometimes be attributed to a store's failure to implement procedures and regulations designed to protect health and safety, or a lack of training as to how to implement health and safety policies.
What Duty Of Care Does John Lewis Owe?
As an employer, John Lewis has a duty of care to safeguard the health and well-being of all of its employees. This includes following health and safety legislation to reduce any risks to the health of its workers. They can do this by providing training, writing policies specific to their area of work and by monitoring and auditing to check that health and safety regulations are being followed. They should also provide enough resources to enable people to comply with the health and safety rules. Identifying the areas of risk is a crucial part of risk management.
Once the risks have been identified, they can then be eliminated or managed. Any accidents or significant incidents should be identified and followed up with an action plan to make improvements to stop the incident from happening again. John Lewis also have an obligation to report certain incidents to statutory bodies. On the whole the duty of a retail store is very clear in the eyes of the law and any breach of this duty will be seen as negligence on their part.
John Lewis also owe this duty of care to their customers. Accident Claims can help you to identify whether your accident was caused by a breach in John Lewis's duty of care to their customers. If you have experienced personal injury in a shop then one of our provided solicitors can help you to establish blame and make a successful claim.
I Tripped While In John Lewis, Can I Claim?
Both employees and customers alike are vulnerable to slips and trips whilst working or shopping in retail stores. Whether you are in John Lewis shopping or working, you are owed a duty of care and any breach of this could lead to a person becoming injured. Common causes of slips, trips and falls in shops include the following:
Slipping on wet floors that have recently been cleaned or where a spillage has occurred.
Tripping over an obstacle such as boxes or shopping baskets. If something has been abandoned in a walkway and someone trips over it they may be able to claim compensation.
Floor coverings may have come loose and if they are not properly maintained and fixed, any slip or fall caused by the defective floor covering could lead to a claim.
Uneven surfaces and potholes that are present outside of a store but still on the stores  premises, such as the car park could also lead to the company being found liable for a customer's injury.
I Had An Accident While Working For John Lewis Can I Claim?
If you have an accident in the workplace then you should inform your line manager and ensure that it has been recorded in the accident book. Your employer may also have a duty to report the accident to a statutory body. We recommend that you see a doctor who will record your injuries and get you the best possible treatment.
If you have time off work as a result of a workplace injury, you you may be entitled to a certain amount of sick pay depending on your contract. Your contract of employment will tell you how much sick pay you are entitled to if you need to have time off work. Depending on how serious your injury is, and how long it takes you to recover this can prove to be a serious financial problem. Claiming compensation for your injury can help to ease the financial burden. Accident Claims will help you to seek damages following your accident at work. As long as you make your claim within the personal injury claims time limit of 3 years and can prove that your employer breached their duty of care.
Accidents And Injuries Caused By Racking Or Storage Systems
Racking or storage system accidents can be very serious. If an item falls from overhead it can cause serious injury to the head and shoulders. These types of accidents most commonly occur in warehouses when health and safety systems are not properly followed. On the whole there are two main types of racking and storage system accidents that can occur in a shop:
The collapse of shelving or falling items from a shelf that have not been stacked properly. These type of accidents are equally likely to happen to either employees or customers.
Manual handling accidents more commonly happen to employees when they are loading and unloading items.
Accident Claims will be able to talk you through the process of making a claim following a racking or storage system collapse that has led to an injury.
Escalator Or Lift Accident Claims
Most large shops including John Lewis have escalators and lifts to help customers move easily from one floor to the next. However, escalators and lifts can be risky if not used properly or if not maintained well by the store. Falling from an escalator can cause serious injury including broken limbs.
If the emergency stop button was to fail on an escalator, it could prove extremely dangerous for anybody who got a piece of clothing or limb trapped inside of the escalator mechanism.
Lifts also carry risks. If a lift does not stop in exactly the right place, it could cause a tripping hazard when stepping out on to the required floor. The worst possible scenario would be for a lift to fall down the shaft which could cause very serious injury. John Lewis stores using lifts and escalators must be prepared to keep them in good repair and maintain them regularly in order for them to be safe for customers and employees to use. If John Lewis fail in their duty to do this and an injury occurs, then the injured party could be eligible to receive compensation.
What Should You Do If Injured In A John Lewis Department Store?
Although you may feel embarrassed if you are injured in a shop and wish to simply go home and recover, it is crucial that you report the incident before you leave the store. If you wish to make a compensation claim at a later date then your accident needs to be reported to management as soon as possible and you need to begin compiling evidence.
How To Start A Compensation Claim Against John Lewis
In order to successfully claim compensation for an accident in a shop there are a number of things that you should do when the incident occurs:
Seek medical attention. This could be help from a first aider in the shop, a trip to your GP or in the case of a serious injury, ask for an ambulance to be called. It is important that your injuries are recorded by a healthcare professional.
Get witness details. If anybody was witness to your accident then ask for details so that your personal injury solicitor can follow up with the witnesses later on when they are compiling evidence to bring your case. A name, address and telephone number are particularly helpful.
Get staff details. If a member of staff was witness to your accident or came to your aid after you had been hurt then be sure to take their name and details so that they can be contacted at a later date as well.
Gathering evidence – More tips
Take photos. If you have a camera on your phone then try to take a picture of the cause of the accident. This could be an obstruction or a spillage on the floor. Taking a photograph of the trip hazard or item that caused your injury may be helpful when bringing your case.
Accident book. Make sure that your accident is recorded in the accident book of the John Lewis shop that you are visiting. It is a legal requirement that all accidents are recorded in this accident book. It is the responsibility of the shop manager to ensure that this is done.
CCTV can be really helpful in proving exactly what happened during the accident in which you were injured. Your solicitor will be able to formally request the footage at a later date but it is helpful if you ascertain at an earlier stage whether or not CCTV footage is available and ask that it be protected and not overwritten.
Seek a personal injury solicitor. The earlier you instruct a personal injury solicitor, the more chance your solicitor has of compiling a strong set of evidence on your behalf. Accident Claims are here to help you start your claim. We can provide you with a solicitor that can begin collecting the information you will need to successfully receive damages.
What Can You Claim For After Being Hurt In John Lewis?
Following an accident in John Lewis that was not your fault, you may be able to claim for the following types of compensation:
Medical costs
If you have been left out of pocket after paying medical costs relating to your injury received at a store then you could claim back expenses as long as you have kept your receipts.
Travel costs
If you have incurred travel costs as a result of your injury then you may also be able to claim these back. This can include transport to and from hospital appointments or rehabilitation appointments.
General damages
Compensation for general damages takes into account the seriousness of your injury and compensates you for the pain and suffering that you have experienced. The more severe your injury, the greater the payout. Your prognosis will also have an impact upon the level of compensation you can expect to receive in general damages.
Loss of income
Following an injury at a retail store you may be unable to work. If you only receive sick pay this could leave you in a difficult financial position. Claiming compensation for loss of earnings can help to offset some of this financial hardship. If the injury is serious and your prognosis is poor then you may also be able to claim for loss of future earnings if you are unable to return to the same job.
Care costs
If you are unable to complete your daily tasks without help, then the person who takes responsibility for caring for you may be able to claim back the cost of their time.
Accident And Injury Compensation Calculator
A personal injury claims calculator can be helpful to give you an idea of the kind of compensation you may expect to receive following your injury. However, this is no true alternative to a conversation with a personal injury solicitor who will be able to discuss your individual circumstances and give you a more accurate idea of the damages you could reasonably expect to receive.

| Injury | Information | Compensation estimate |
| --- | --- | --- |
| Serious neck injury | Risk of paraplegia or spastic quadriparesis with victim experiencing a loss of movement and ongoing pain. | Up to In the region of £148,330 |
| Severe neck injury | A fracture or dislocation which leads to an ongoing chronic problem or disability. | £45,470 to £55,990 |
| Moderate neck injury | The victim experiences soft tissue damage which leads to limited mobility and future pain. | £13,740 to £24,990 |
| Moderate neck injuries | A dislocation or fracture which could lead to the failure of other bodily functions. | £24,990 to £38,490 |
| Moderate neck injury | Exacerbation of an existing condition caused by a soft tissue injury. | £6,920 to £12,050 |
| Minor neck injury | Soft tissue damage where complete recovery is expected within one year or two. | £4,350to £7,890 |
| Severe back injury | The victim experiences nerve damage and spinal damage which could lead to loss of movement and ongoing problems. | £79,890 to £141,150 |
| Severe arm injuries | Following the injury the victim loses movement in their arm permanently. | £91,090 to £160,980 |
| Severe arm injury | Permanent disability caused by a fracture in the arm. | £39,170 to £59,860 |
| Moderate arm injury | The victim only partially recovers and experiences a permanent loss of movement in the arm. | £19,200 to £39,170 |
| Moderate or minor elbow injury | A fracture or laceration from which the victim is expected to make a full recovery. | Up to £12,590 |
| Serious leg injury | An injury which causes a long-term disability. | £39,200 to £54,830 |
| Less severe leg injury | The victim experiences a leg injury which causes ongoing chronic pain. | £17,960 to £27,760 |
| Severe illness from a non traumatic injury | The victim experiences food poisoning symptoms including diarrhea, vomiting and nausea. | £38,430 to £52,500 |
| Moderate non-traumatic illness | Gastrointestinal symptoms consistent with a mild bout of food poisoning. | £3,950 to £9,540 |
No Win No Fee Compensation Claims Against John Lewis
A no win, no fee agreement means that unless you win your case you are not expected to make any payment to your solicitor. At Accident Claims we do not ask for any upfront costs and will only take a fee if you are successful in receiving compensation. This payment will simply be taken from your final payout, meaning no unnecessary financial burden on you.
Why You Should Make A Claim With Accident Claims UK
Here at Accident Claims we have many years experience in the field of personal injury. We understand how you are feeling at this difficult time when you are trying to recover as well as overcoming the financial difficulties caused by your injury. That is why we seek to take away as much of the burden of claiming as we can. We want to help you through this difficult time by making it as stress-free as possible, whilst still working to achieve the highest level of compensation that we can for your case.
Call Our Team Today
When you have made the decision to make a claim we will be waiting to hear from you. Call us today on 0800 073 8801 and allow us to help you launch a successful compensation claim. Alternatively you can contact us online via our contact form and we will get back to you at a time that you tell us is convenient.
Where To Learn More About An Accident In John Lewis and Claims for Compensation
Trips – More information If it's a trip injury you've had, then this might be an interesting read for you.
Been injured at work? – Our guide should clear up whether you've got a claim
Fractures – BUPA – Information on fractures from Bupa
HSE Information – The Health and Safety Executive provide a lot of information on keeping safe at work.
FAQ After An Accident In John Lewis – Claims Advice
Could I make John Lewis claims?
You may be wondering whether you can make claims against John Lewis could be justified. However, not all shop accidents could result in you being able to make a claim. You would need to prove that someone who owed you a duty of care, failed to uphold the duty they owed you and caused you physical or psychological harm as a result.
I had an accident in John Lewis toilets, could I claim?
You may be wondering 'can I claim after an accident in John Lewis toilets?'. However, in order to seek compensation following an accident, you would need to prove:
Someone owed you a duty of care
They breached the duty of care owed to you
You sustained harm, either physical or psychological, as a result.
For information on when potential personal injury claims against John Lewis could be justified, call our team.