By Joanne Jeffries. Last Updated 21st September 2021. Welcome to this guide on Sumburgh airport accident claims.
If you have landed on this page as you are searching for legal assistance or guidance and support through a personal injury claim, then it may be that you were the victim of an accident in Sumburgh airport caused by third-party negligence in recent years. Whether you were involved in an incident at Sumburgh airport departures or you experienced an airport escalator accident while using them to travel around the airport, as long as it can be proven that another party was at fault for your accident, you could be entitled to compensation for any suffering and any financial losses experienced.
An airport accident could not only be an inconvenience to your travel plans but could also be a traumatic experience for some. The injury or illness you suffer as a result could also have long-lasting effects on your health too, depending on the severity of the accident.
At Accident Claims UK, our panel of solicitors specialise in helping victims of third-party negligence receive compensation for their damages. With up to thirty years' experience, our panel of personal injury solicitors, authorised and regulated by the Solicitors Regulation Authority could help you secure a settlement amount for a range of different accident types, leading to Sumburgh airport accident claims many of which will be described in further detail throughout this guide. If you require more information at any point, call our expert advisors on 0800 073 8801.
Select A Section
A Guide To Making A Claim For An Accident At Sumburgh Airport
One of Scotland's smaller airports, Sumburgh airport is the main serving airport to Shetland. Among many other airlines, Loganair is the main airline at Sumburgh airport which currently provides internal flights to various areas in the Scottish region, including Kirkwall, Inverness, Glasgow, Edinburgh and Aberdeen, along with seasonal flights to Manchester and Bergen.
As with many airports, Sumburgh airport could become increasingly busy at peak times with passengers travelling for either business or pleasure. In such periods, the risk of an accident occurring could potentially increase for those on-site, such as when baggage carousels become overcrowded or hazards which cause slip, trip and falls are not seen to in a reasonable amount of time.
Throughout this guide will be key information regarding common queries for various aspects of a compensation claim, such as personal injury claim time limits and why solicitors might work on a 'No Win No Fee' basis when helping with Sumburgh airport accident claims. While not all accidents will qualify for compensation, it is important to check the validity of your claim in case you miss an opportunity for a monetary amount. As such, our expert advisors could assess your unique circumstances under a free, no-obligation consultation.
If you were involved in a negligent incident and you are searching for advice and information about what steps to take next, please continue reading this guide.
What Are Accidents And Incidents At Sumburgh Airport?
An accident is a form of an unexpected incident which, depending on the severity, could result in injury or illness for the individual(s) involved. While some accidents may be just that, an accident, others could be the fault of another party. In instances where the accident results from negligence, it could be possible to pursue Sumburgh airport accident claims for several damages, including any injury and/or illness, loss of earnings and medical costs.
In order to begin your claim, there are a handful of extenuating factors which must be considered beforehand. For instance, a solicitor must be able to prove:
Another party was at fault for your suffering.
The accident resulted from a breach of the duty of care owed to you.
You were injured as a result of this breach.
If your claim includes some of these details and is within the relevant personal injury claim time limit, you could hold a valid claim. The personal injury claim time limit is typically 3-years, however, there are some exceptions to this. For example, if a child below the age of 18 is made to suffer, then a parent or guardian could conduct a claim on their behalf. If no claim is made once the victim turns 18, they then have up until their 21st birthday to pursue a claim. Always seek advice from our advisors should you be uncertain about these time limits.
Sumburgh Airport Safety Information
By law, all airports are required to uphold reasonable safety standards at all times. This is achieved through the implementation of safety strategies, regulations and varying forms of health and safety management legislation. Without such directives, the probability of an accident occurring may be heightened and compromise the well-being of those on-site.
In a study by the Health and Safety Executive (HSE) of RIDDOR and Enforcement statistics for the Air Transport industry, a rate of 878.2 injuries per 100,000 UK airport employees were recorded over a 5-year span from 2009/10 to 2013/14. For an airport to avoid the infliction of harm upon members of the public and employees, the HSE suggests airports and public spaces alike implement safety strategies to detect hazards early and minimise risks.
There could be a number of tasks undertaken by an airport to sustain an environment with minimal risks. For example, aircraft turnaround is an area in which a significant proportion of accidents are reported to the HSE. Therefore, to reduce the risk of injury during these time-pressing occasions, all companies operating at an airport could look to risk assess their own employees, other employees and implement systems to monitor the activity at the turnaround, among other techniques.
Accidents Affecting People In Airports
There are several different types of accidents that could affect people in airports if health and safety is allowed to fall below the expected standard, some of which we will look at in further detail over the following sections. Every case is unique and no two cases are exactly the same. While it would be seemingly impossible to describe every possible causation, the most common circumstances which may have been previously handled by our panel will be discussed below.
Accidents Caused By Slipping In An Airport
According to this HSE document, a slip, trip or fall accident is the most common cause of workplace injuries in the UK, causing on average up to 40% of all major injuries reported. An accident of this nature could occur from a number of different causations in almost any environment, which is why it is important for airport staff to maintain hazard-free conditions across the Sumburgh airport's facilities to the best of their ability. In order to uphold reasonable standards of health and safety, airport employees should seek to eradicate the root cause of a slip, trip or fall before it escalates.
There are several causations for these types of accidents, some of which include:
Loose cables
Icy surfaces
Spillages (e.g. oil, water, products, etc.)
Weather hazards
Loose mats/rugs/carpeting
Defective surfaces
Potholes
Poor lighting
Obstructions
If you would like to read more about the causes and prevention of slips, trips and falls, please read this HSE guide..
In cases where such an accident has been suffered on an international airport flight due to negligence, Sumburgh airport accident claims could be handled under the Montreal Convention 1999. This allows room for the airline itself to be held responsible for negligence while in-flight, such as injury, illness or loss/damage to personal luggage. There are instances, however, where a claim relating to an accident on board a flight would not be handled by the Montreal Convention but instead would be taken against a tour operator, if the flight you were on was part of a package deal.
Sumburgh Airport Baggage Facility Accidents
If you were made to suffer because of a baggage facility such as a baggage carousel which was improperly maintained, you could make a claim with the assistance of a personal injury lawyer. While these cases are rare, they could be particularly frightening for those involved. It is mandatory for an emergency stop button to be fitted on baggage carousel facilities for such scenarios.
However, if this button fails to halt the conveyer belt and you suffer an injury as a result, you could make a claim for compensation. These facilities must undergo regular maintenance in order to meet safety standards. Failure to spot and act on a potential malfunction could be seen as neglect and thus reasonable grounds for a personal injury claim.
Passenger Escalator And Elevator Accidents
As with baggage facilities, it is important that safety standards are upheld in the case of escalators, lifts, travellators and other such modes of transport in order to avoid a Sumburgh airport accident. Again, these facilities should also be fitted with emergency stop buttons to cease an accident in progress from escalating further. In addition to this, any defects or malfunctions should not only be reported but also resolved as soon as possible. Airports are not always responsible for such modes of internal transport. Sometimes third-party contractors are used when maintaining such movement mechanisms.
Accidents When Using Airport Ground Transport
As a passenger travelling for business or leisure, you may find the need to utilise transport services to transfer between flights, connections and simply travel from terminal to terminal. However, if your mode of transport is operated negligently and you suffer an airport drive accident as a result or another road user possibly acts in a negligent way causing a road traffic accident, you could be entitled to compensation by making Sumburgh airport accident claims for an injury sustained as a result. This could include several forms of transport, from hotel transfer buses and electrical vehicles to trains and apron buses.
According to Citizens Advice, you should seek to gather various materials as soon as an accident occurs in order to strengthen your claim. This includes:
Photographs of the scene
Contact details of witnesses
Accident logs/reports (or reference numbers of such materials)
Medical records/reference numbers (E.g. following treatment for injuries sustained)
If you suffer an injury following a negligent Sumburgh airport crash due to transit systems on the ground, you could potentially make a claim for compensation. Call our expert advisors today to be connected with a solicitor from our panel.
Sumburgh Airport Shopping Facility Accidents
A large majority of airports will provide various facilities for passengers to enjoy while they wait for their flights. These include both food establishments, bars, cafes and shopping facilities. Should you sustain an injury from an accident that takes place in a shopping facility, it could be your personal injury solicitor's first point of contact to establish whether this occurred from the negligence of a third-party. This could be highlighted as a result of an obstruction neglected in a walkway or defective shelves overloaded with heavy items.
Airport Employee Accident Claims
As an employee of an airport, your employer should provide you with the correct tools in order to complete your daily tasks efficiently and safely. This could be by means of training, Personal Protective Equipment (PPE) and supervision of high-risk tasks. In some circumstances, a job may require a certain amount of PPE and supervision in case an accident occurs. This could be especially true for baggage handlers as they may need supervision when carrying out heavy loads so that if they became unstuck someone would be there to help also those who work on the apron may need ear defenders so not to suffer hearing loss due to the noise of the airplane engines.
If your employer neglects their duty of care to protect you as an employee wherever possible and you are injured carrying out work tasks as a result, you could make a claim. For more information about accident at work claims, click here to read our accident at work guide.
You can see key figures from the HSE's 2019/20 report relating to the causes for work-related accidents below.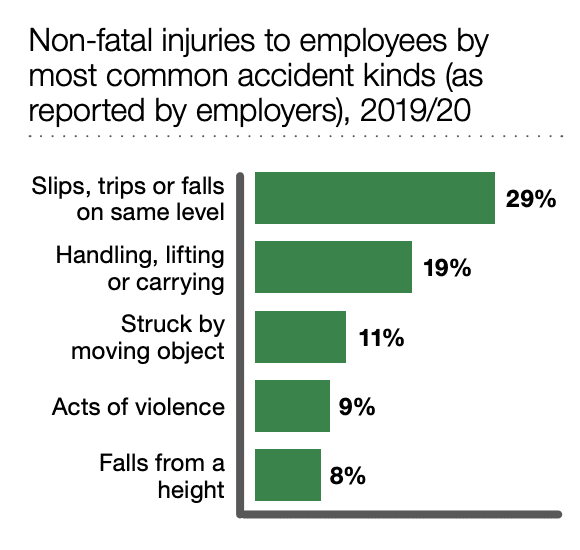 Baggage Handler Manual Handling Injuries And Accidents
A lack of training could result in severe injuries for not only the individual in question but also those in the vicinity of the accident at the time. As previously discussed, your employer owes a duty of care to provide you with sufficient training in order for your job role to be completed effectively and safely. Without these measures, you could face an undesirable situation which may result in unnecessary suffering.
Further from this, it is therefore important for a manual baggage handler to be trained on how to lift heavier items correctly. But the activity must also be supervised in the event that an accident does occur, as outlined by the HSE. Failure to supervise an employee during this activity could be seen as a lack of effective management, plus failings in health and safety and thus an act of negligence.
There are particular circumstances in which an airport employee accident involving manual handling could occur, such as while:
Pushing and/or pulling heavy equipment
Handling baggage inside an aircraft
Manoeuvring items above knee level or shoulder height
Lacking supervision from operating bodies
These are just some of the instances in which you could be at risk of danger when carrying out a manual handling role. Click here to read the HSE's guidance for further information.
Calculating Accident Claims – Updated September 2021
When you begin your personal injury claim, you may be curious as to how much you may receive if successful. This is only natural. As such, while some online personal injury claims calculators could provide you with a generalised estimation of your potential settlement amount, it may be more beneficial to discuss your circumstances with a solicitor. This will provide you with a more accurate total specific to your unique case.
As such, below are some guidelines of compensation amounts awarded for various injuries. These are based on Judicial College (JC) Guidelines used by English lawyers, which means that they may be subject to change for an accident claim under Scottish law at Sumburgh airport.
| Injury | Injury Severity | Compensation Amount | Injury Description |
| --- | --- | --- | --- |
| Head Injury | Moderate Brain Damage (i) | £140,870 to £205,580 | Moderate to severe issues with intellectually capacity, a significant possible personality change, speech and sensors are both effected with a chance of suffering epilepsy. |
| Head Injury | Moderate Brain Damage (ii) | £85,150 to £140,870 | Moderate to modest intellectual capacity, there maybe slight ability to be able to work, but it may not be possible, the risk of epilepsy is not so great at above. |
| Neck Injuries | Minor (i) | £4,080 to £7,410 | In these instances, a full recovery from the injury may be made within 1-2 years. |
| Neck Injuries | Moderate (i) | £23,460 to £36,120 | These injuries may be fractures or dislocations requiring immediate medical attention. They leave markedly impaired function or vulnerability to further trauma, and limitation of activities. |
| Neck Injuries | Severe (i) | In the region of £139,210 | Severe neck injuries are associated with permanent disablement. |
| Paraplegia | Serious | £205,580 to £266,740 | An injury of this calibre is often expected to inflict a shorter life span, depression, limit mobility, and in some cases, a lack of sexual function. |
| Arm Injury | Severe Injuries | £90,250 to £122,860 | Injuries which fall short of amputation but which are extremely serious and leave the injured person little better off than if the arm had been lost |
| Leg Injury | Moderate (iv) | £26,050 to £36,790 | This bracket includes complicated or multiple fractures or severe crushing injuries, generally to a single limb. |
| Food Poisoning | Serious (i) | £8,950 to £18,020 | A serious case of food poisoning is often expect to cause a serious upset stomach, which signs such as diarrhoea and nausea. |
| PTSD | Less severe | £3,710 to £7,680 | Those who endure minor levels of PTSD are often expected to make a full recovery within the span of one to two years. However, they might endure symptoms such as sleep deprecation, anxiety, and depression. |
| PTSD | Severe | £56,180 to £94,470 | Those who experience a severe level of PTSD are often expected to be left with life-long disabilities, minimal job prospects, physical ailments, and mental distress. |
Personal Injury Claim Special Damages
The table above describes the JC Guidelines' estimations under English law for what are known as General Damages. These are areas of your personal injury claim which cannot necessarily be quantified and is therefore based on your prognosis and severity of your injuries.
In addition to General Damages, you could also claim back various expenses and lost earnings suffered as a result of your accident at Sumburgh airport. These are known as Special Damages. Your Special Damages could include travel expenses, medical costs, loss of earnings and future loss of earnings too.
No Win No Fee Claims For Accidents At Sumburgh Airport
Our panel of solicitors works on what is known as a No Win No Fee basis. This type of financial agreement sets out the basis in which your solicitor's fees will be settled for handling your Sumburgh airport accident claims.
As such, if your legal representative is successful in securing a settlement amount for your suffering, then they will take a 'success fee' from the final settlement amount. This is usually represented as a percentage. However, if you are not awarded compensation for your damages, then you will not be held accountable for your solicitor's fees. This means that the financial risk of conducting a personal injury claim could be significantly reduced.
Furthermore, there are no hidden costs or upfront fees associated with beginning a claim on a No Win No Fee basis. For more information about these conditions, call us today.
How To Make Your Airport Accident Claim
Our panel of solicitors could help you pursue a claim for a Sumburgh airport accident caused by third-party negligence. Whether you require further information about the Sumburgh airport accident claims process or you feel ready to get the ball rolling, our advisors are here to help.
Start Your Claim
Your Sumburgh airport accident claims are just a few simple steps away. Call us today for more information and legal support. With lines open 24 hours a day, 7 days a week, there will always be an advisor waiting to take your call.
Could I make Sumburgh airport accident claims for an allergic reaction?
No matter whether you have a peanut allergy or are allergic to gluten or you suffer from dairy allergies, you have a right to know what is contained in your food. There are 14 specific allergens that food businesses must communicate to you if they are contained in their foods. If you purchase pre-packaged foods it must have these ingredients listed and highlighted on the packaging. When you order a meal in a restaurant, you should be able to read an allergy menu or allergen information in writing. In some cases, you may be able to ask the serving staff to prepare your food without an allergen. However, sometimes things could go wrong, if an allergen is missed off the packaging of a pre-packaged food item, or you are given incorrect allergen information by a restaurant, this could lead to you suffering an allergic reaction. If you could prove that a food business was to blame for your allergic reaction, you could be eligible to claim compensation. We would be happy to offer you a free, no obligation assessment for your case, and we could provide you with a solicitor who could take on your claim on a no win no fee basis.
Could I make Sumburgh airport accident claims for a child?
If your son or daughter was injured in a Sumburgh airport accident that was not their fault, it may be possible for you to launch a claim on their behalf. To do so, you would need to apply to be a litigation friend for your child. This would enable you to make the decisions about their case on their behalf. Alternatively, you could have the option to wait until your child turns 18, when they could launch their own claim for compensation. Deciding whether or not to make a claim could be tricky. We would be happy to furnish you with the information you need to make an informed decision. Please do not hesitate to get in contact.
Accident Claim Resources
Below are additional references which you may find useful. These consist of external links to helpful sites and internal links to some of our more detailed guides.
Resolving Travel Problems
Advice and guidance by the Civil Aviation Authority about resolving various travel problems.
Airport Safety
A guide to airport safety by the Civil Aviation Authority.
Air Transport Industry Information
A guide by the Health and Safety Executive (HSE) on air transport.
Fingers Caught In Doors Claims
How to claim compensation for an accident causing a trapped finger injury.
Wrongful Death Claims
If a relative was the victim of wrongful death, you could claim on their behalf. Read our guide to find out more.
Thank you for reading this Sumburgh airport accident claims guide.