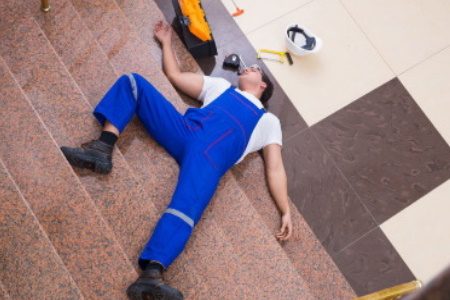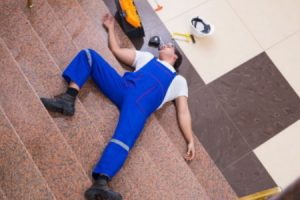 By Joanne Jeffries. Last Updated 17th August 2021. Welcome to our guide to answer the question 'do I have to be an employee to claim for a workplace injury?' As you may know, if an employer causes an accident at work which leaves an employee injured, then they could receive compensation for their suffering. However, we are asked, 'Must you be an employee to claim for a workplace injury?' Therefore, in this article, we are going to look at your workplace rights if you are a temporary worker, agency worker, self-employed worker or contractor. Specifically, we will look at your eligibility to claim compensation following an injury at work.
Accident Claims UK can support you if you decide to take legal action. Our team of advisors can walk you through the process and review your case with you. You will be given free legal advice about claiming as well. If your workplace accident claim appears viable, they could refer you to one of our personal injury solicitors. If they agree to work on your case, they will do so on a No Win No Fee basis.
For free information on making a compensation claim with a reputable law firm experienced in employment law and personal injury law, please call us on 0800 073 8801 today. To learn more about your rights after an injury at work, please continue reading.
Select A Section
A Guide On Must You Be An Employee To Claim For A Workplace Injury?
To claim for workplace injury compensation as an employee, you would have to demonstrate that your employer was at fault for the accident that caused your injury while you were in the workplace. 
The answer to the question, 'Must you be an employee to claim for a workplace injury?' is actually no, you don't. Therefore, this article will show you how you could make an injured in an accident at work claim if you suffer following an accident at work whilst hired as an agency worker, temporary worker, contractor or if you're self-employed.
One piece of legislation used in accident at work law is the Health and Safety at Work etc. Act 1974. According to the Act, employers need to protect, as far as is reasonably possible, the health, safety and welfare at work of all employees. Failure to do so and resulting injuries could lead to a workplace accident compensation claim.
As we progress, we will look at the employer's duty of care. We will also show how much compensation might be paid for specific injuries by providing a personal injury compensation calculator table. We will also show you how long you have to make your claim.
After you have read the information in this article, please let us know if you have any further questions. Our advisors are happy to answer questions about claiming and can review your claim for free. If they suspect you have a valid claim, they could refer you to a No Win No Fee solicitor from our team who have up to 30 years of experience.

What Is A Work-Related Accident?
The types of accident that we are talking about in this guide are those caused by someone else's negligence. To be eligible to claim, the accident needs to have been caused by your workplace and you need to have been made ill or suffered an injury.
As part of your employer's duty of care towards your welfare at work, they should conduct risk assessments regularly. If a potential risk is spotted, the problem needs to be removed or steps should be taken to reduce the risk.
Compensation claims for the suffering caused by a workplace accident might be possible if it resulted from:
Inadequate training on the task that caused your injuries.
Unsuitable Personal Protective Equipment (PPE) provided.
Inadequate health and safety procedures.
Faulty or damaged equipment that had not been repaired in a timely manner.
Failing to maintain equipment in accordance with the manufacturer's advice.
Common workplace accidents include:
Being hit by moving objects (like forklift trucks).
Slips, trips or falls.
Falling from a height (ladders, scaffolding, etc.).
You could be entitled to claim for any type of injury whether it caused a few days of pain or it was more serious and life-threatening.
We are here to help if you want advice on how to claim accident at work compensation. We provide a no-obligation assessment of your case and could refer you to one of our personal injury solicitors for suitable claims.
Please remember that all accepted claims are managed on a No Win No Fee basis. So, why not get in touch today to start the ball rolling?

What Are My Workplace Rights?
Legally, all workers need to be treated the same when it comes to health and safety at work. That means, whether you're a temp, an agency worker, self-employed or a contractor, you'll have the same rights as full-time employees.
When you are working at a business, the owner has a responsibility to:
Protect your health, safety and welfare as much as reasonably possible.
Assess the workplace for risks and remove as many as possible.
Explain any risks to you and give you the appropriate training. Identified risks have to be managed as well.
Consult employees about health and safety issues including how to go about reporting an accident.
Additionally, businesses must display a health and safety poster prominently or provide employees with a copy of the leaflet.
All workers have the right to complain to the Health and Safety Executive (HSE) if they believe their workplace is not safe and their concerns have not been dealt with by the business.
If you would like us to look at whether you have a valid accident at work claim, please call our specialists today. They can give a solid answer to 'Must you be an employee to claim for a workplace injury?'

Contractor Workplace Rights
Contractors do not always have the same employment rights as other members of staff within a business. They are usually hired to complete a certain task for the employer over a defined period of time. As such, the contractor wouldn't be covered by the company's holiday scheme or sickness scheme. As a result, many contractors believe that if they are injured whilst working, they cannot take legal action to claim compensation.
However, businesses have the same duty of care towards contractors (in regards to protecting health and safety) as they do to other members of staff. That means proper training is required, adequate PPE should be supplied, and work equipment should be well maintained.
Therefore, if you have been injured whilst working as a contractor, you could still begin legal action. You may have a valid claim if the accident was caused by the business's negligence and it caused you to suffer.
To find out whether your injuries could lead to a compensation claim, please call Accident Claims UK today. We'll review what happened, consider your evidence and explain what you should do next.

Temporary Worker Employee Rights
Temporary workers are often taken on by businesses during peak times. For instance, a chocolate factory may take on additional staff during the run-up to Christmas. However, just because your contract is time-limited and you're not on a long-term contract or part of a trade union, you still have the same rights regards health and safety as full-time colleagues.
So, that means you should be appropriately trained before you start a new task, have PPE provided where necessary and you should be told about health and safety procedures as well.
If you are injured because your employer is negligent, we could help you. For free legal advice about how to proceed, why not speak to a specialist advisor today? Any advice we give is free whether you decide to make a claim or not. They can also discuss how you don't have to be an employee to claim for a workplace injury.

Self-Employed Workers Rights
Self-employed workers are often used by businesses in the same way as contractors. They may have certain skills that the business needs for a specific task over a finite amount of time. Again, if you are working for a company (but are self-employed), they have a legal duty of care to protect you whilst you carry out your work. This applies if you're working on their business premises or on a site that they are responsible for.
That means you are entitled to adequate training, suitable PPE where needed, information on health and safety and the same rest breaks as other members of staff.
We could help you make a self-employed worker personal injury claim if your accident was caused by the business that hired you. For further details on starting a claim, please call our team today.

Agency Worker Rights In The Workplace
Agency workers are slightly different to self-employed or contract workers. They generally register with an employment agency and are then placed within businesses when needed. You are an agency worker if you have a contract with an agency, but they place you with a business that controls how you work. The agency may, in your contract, be your employer.
As an agency worker, wherever you are working has a duty of care to protect your wellbeing. The agency won't usually be able to manage any risks in the workplace. Therefore, the workplace must treat you in the same way as other employees. Again, health and safety guidance is essential and you must receive adequate on-the-job training to ensure you know how to carry out your tasks safely.
If you are unsure whether you could make an agency worker claim, call today for free legal advice. We will review your claim with you and explain your options.

Do Employers Owe A Duty Of Care To Non-Employees?
As well as looking after the safety of their staff and workers, businesses have a duty of care towards anybody using their premises. That means customers, visitors, delivery drivers and others should all be kept as safe as reasonably possible. While training might not be possible for these groups, the areas they use should be kept safe. The business could take steps like cordoning off areas that are out of bounds and using warning signs.
If you have been injured due to someone else's negligence whilst visiting a business for a legitimate purpose, you could be entitled to compensation. Call today and we'll take a look at your case with you. If you have a valid claim, we could pass it to a personal injury solicitor from our team.

Work-Related Injury Claim Time Limits
As with other compensation claims, personal injury cases are time-limited. The time limit is a 3-year period. For most people, the limitation period will start from the date of the accident.
However, some workplace injuries are not diagnosed until later on. This is usually the case with industrial illnesses like Noise-Induced Hearing Loss (NIHL). In these cases, the 3 years will begin from the date you were told about your injuries or obtained knowledge that negligence at least contributed to the illness (the date of knowledge).
If you would like us to check how long you have to claim, please contact a specialist advisor today.

Calculate Compensation For A Work-Related Injury -Updated August 2021
Now that we have answered the question, 'Must you be an employee to claim for a workplace injury?', it is time to move on and look at compensation amounts. It is true that each claim is different, but the personal injury calculator table below can give you an idea of the amounts involved for injuries. When you speak to us about your claim, we will be able to provide a personalised estimate for you.
Our table has been created using data from the Judicial College Guidelines (JCG). The amounts we have listed are for general damages. That is compensation for any pain, suffering or loss of amenity caused by your injuries. The JCG is used in personal injury claims to help set compensation levels for injuries.
| Body Part Injured | Severity | Compensation Bracket | More details |
| --- | --- | --- | --- |
| Facial Disfigurement | Significant | £8,550 to £28,240 | The disfigurement seen in this category will be reduced after plastic surgery and there won't be much psychological impact. |
| Neck | Minor | £4,080 to £7,410 | This covers injuries where there is a complete recovery in around one to two years. |
| Back | Severe | £36,390 to £65,440 | The injuries in this category will cause chronic suffering. They can include disc fractures or lesions which, after attempted surgery, cause depression, severe pain, or personality change. |
| Shoulder | Minor | £2,300 to £4,080 | Damage of the shoulder with complete recovery taking place in around a year. |
| Wrist | Fracture or soft tissue | Up to £9,620 | Wrist fractures and other injuries that take longer to recover from than normal but in the end full recovery is made. |
| Leg | Simple | £8,550 to £13,210 | Simple femur fractures where there is no articular surface damage. |
| Knee | Moderate | £13,920 to £24,580 | Torn meniscus or dislocation injuries that result in wasting, weakness or other future mild disability. |
| Complex Regional Pain Syndrome | Severe | £49,270 to £78,840 | Severe cases |
| Complex Regional Pain Syndrome | Moderate | £26,300 to £49,270 | Moderate |
It is important to note that the amount of compensation paid is based on how severe your injuries are. For that reason, you will need a medical assessment when you claim. Our solicitors can usually book these in your local area for you.
The assessment will be performed by an independent specialist. They will ask questions, examine the current state of your injuries and also read any medical records they've been given. After they have finished they will report back to your solicitor about your injuries. Furthermore, a prognosis will be offered too.
Due to the importance of this report, medical assessments are necessary for all personal injury claims.

Work-Related Accident Special Damages
On top of general damages claims, you might claim for costs, losses or expenses incurred as a result of your workplace accident. This is referred to as a special damages claim. As before, each claim is unique, but you could ask for:
Medical costs. Most remedial treatment will be provided for free by the NHS. However, you might need to claim for prescriptions or over-the-counter costs as well as treatment not provided by the NHS.
Care costs. This might be claimable if you have needed support during your recovery. For example, you might claim for the time a loved one spent helping you with daily tasks.
Travel costs. It is sometimes necessary to ask for fuel costs, parking fees or public transport fares to be paid back. This could be possible because they were due to medical appointments.
Lost income. If you took time off work while you recovered from your injuries, or needed to visit your GP, you could claim back any income you lost. That might be the difference between your normal income and Statutory Sick Pay.
Home modifications. Should your accident cause a disability, you could claim the cost of modifying your home to make it easier to cope. For instance, you could claim the cost of a ramp to aid wheelchair access.
Future lost earnings. For any injury that prevents you from working in the same role as before, you could request that future lost income is considered as part of your claim.
Evidence will be needed to show why you are claiming special damages. Therefore, you should keep hold of receipts, bank statements, wage slips and anything else that might help.

No Win No Fee Work-Related Accident Solicitor
After we have been asked, Must you be an employee to claim for a workplace injury?, the conversation often moves on to the cost of hiring a solicitor. After all, nobody wants to lose money if a claim is lost. That's why our team of personal injury solicitors offer a No Win No Fee service for all accepted claims. By doing so, you could get expert legal representation.
Initially, the solicitor will need to verify that there is a reasonable chance you'll be compensated. Should they agree to accept your claim, you will receive a Conditional Fee Agreement (CFA) to sign. This contract tells you what your solicitor will need to do if they are to be paid. Also, it will make it clear that:
No solicitor's fees have to be paid if the case is unsuccessful.
You won't be billed for solicitor's fees while they work on your case.
The claim can begin quickly as no upfront payment is required.
The only time your solicitor will receive payment is if you are compensated. If that does happen, your settlement will have a success fee deducted from it. Within your CFA, the success fee is listed as a percentage of your compensation. This success fee is legally capped. Also, as it is detailed in the CFA, you'll know about it before you sign up with the solicitor.
We can check if your claim is suitable for a No Win No Fee service if you call an advisor today.

Contact A Work-Related Accident Solicitor
We have almost reached the conclusion of this article. Hopefully, we have answered the question 'Must you be an employee to claim for a workplace injury?' If you now wish to contact us to begin a claim, you can:
When you contact our team, your claim will be reviewed in a telephone consultation. Any evidence will be considered, and you will be given free advice on what to do next. If the claim is deemed suitable, you could be referred to one of our personal injury solicitors. If they accept your claim, it will be processed on a No Win No Fee basis.

Employment Rights And Related Guides
Thank you for visiting our site and reading about claiming following an accident at work. Our final section contains some external links to resources which you might find useful. If you require any additional advice about workplace injury claims, please speak to an advisor.
How To Deal With Workplace Problems: A range of guides from Acas on resolving issues in the workplace.
Agency Workers: This government page explains the rights of agency workers.
Managing Risks At Work: Guidance on how to reduce risk to employees in the workplace.
Finally, because we support various types of claims, we have listed a few of our guides below:
Gym Injuries: Details on how a personal injury lawyer could help you claim if you're injured in a gym.
School Accidents: This article shows when you might be able to claim if your child is injured at school.
Public Place Accidents: Information on how to claim against the right person if you're injured in a public place.
FAQs Related To Do I Have To Be An Employee To Claim For A Workplace Injury?
What are the common causes of workplace injury?
According to HSE figures for 2019/20, the most common cause of workplace injury was a slip,trip or fall all on the same level. You can see how this compares to other accidents in the graph that follows.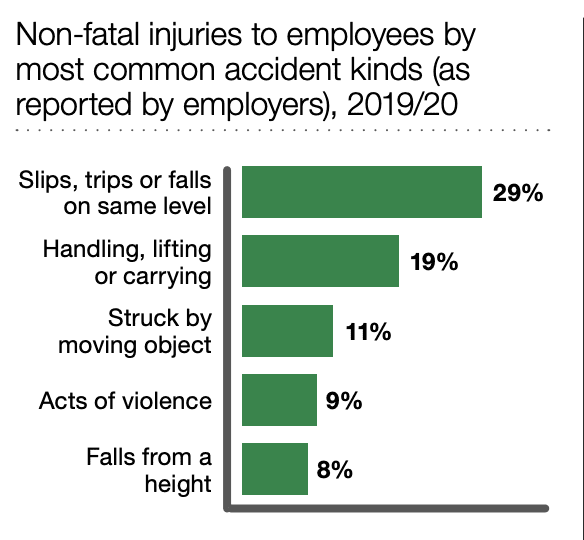 It is therefore important for any employer, or anyone responsible for the workplace to ensure that slip, trip and fall hazards are minimised.
A failure to remove trailing wires or highlight slippery surfaces could leave an employer open to claims made against them for injuries resulting from this type of accident.
How Do I Make A Work Injury Claim?
It might surprise you to learn that someone who wants to make a claim against an employer doesn't legally require a solicitor. However, due to the complexity of such claims, many people prefer to make claims with a lawyer's help. A personal injury solicitor could make the process of claiming work injury compensation much less stressful, by taking on all of the legal legwork of the claim. They could also help ensure that you were claiming for everything you're entitled to claim for.
What Evidence Would I Need?
The evidence you'd generally need to provide is:
Evidence that the accident happened- this could include the accident book report, any photos of the site and injury, as well as any witness details.
Some evidence of your injury – this could include an independent medical report as well as any records of you having visited your own doctor or local hospital.
Evidence of costs – Any financial impact of your injury could lead to a claim for special damages.
If you'd like further details on evidence that could be included, please don't hesitate to call us.
Thank you for reading our guide answering the question 'Must you be an employee to claim for a workplace injury?'  Hopefully we've answered your question of 'Do I have to be an employee to claim for a workplace injury?'