By Joanne Jeffries. Last Updated August 26th 2021. Here, you will find our guide to accident claims solicitors covering Bognor Regis. Below we explain why you don't have to use personal injury solicitors covering Bognor Regis that are based locally.
Dealing with the impact of injuries caused in an accident can be tiring and cause a lot of hassle. If the injuries were caused in an accident by somebody else's negligence, then you could consider claiming compensation for the pain, suffering and impact the injuries had on you. This guide will explain how accident claims solicitors covering Bognor Regis could help you make a claim.
If you'd like to talk to us today about beginning an accident claim in Bognor Regis, give us a call on 0800 073 8801. Our team of helpful specialists are ready to discuss your options today and will provide a free, no obligation, assessment of your accident claim.
If you'd rather find out more before calling us, then please carry on reading.
Choose A Section
What Is An Accident Claims Solicitor Covering Bognor Regis?
A personal injury lawyer could help you seek accident compensation if you're injured in an accident caused by somebody else's mistake, negligence or deliberate act against you.
Some examples of accidents and claims they could help with include:
A car accident in Bognor Regis.
Accidents in public places.
Trip and fall claims.
An accident at work compensation claim.
Clinical negligence in Bognor Regis.
So long as the injuries you sustained were caused by somebody else  who owed you a duty of care in which they breached, and this happened within the accident claims time limit, you could be eligible to make a claim. The time limit is 3 years from the date of your accident or from when you found out about the injuries. Of course, there are exceptions to the rule if you are not sure how long you have to claim please call our advisors who can answer your questions.
When hiring accident claims solicitors covering Bognor Regis, you should look for those who will:
Assess your claim for free.
Help you to find supporting evidence to back up your claim. This may include medical records, CCTV footage or witness statements.
Will handle all communication with the defendant or their lawyer.
Give you sound advice about what to do if you receive a compensation offer.
In very rare cases where a claim can't be settled out of court, then the solicitor would also represent you in court.

Trip And Fall Claims
A common accident which can cause serious injuries are slips, trips or falls. They can occur almost anywhere and, if caused by something somebody else did or didn't do, could lead to a compensation claim. Our accident claims solicitors could help with claims where:
You were injured following a fall down the stairs caused by a broken handrail.
If you slipped on a wet floor because there were no warning signs to highlight the risk.
When you trip over cables which were trailed across corridors.
If ice wasn't cleared properly causing you to slip over and injure yourself.
It's advisable, following a slip or trip, to photograph the cause of the fall. Then you should contact our advisors to discuss whether you could claim.

Accident At Work Compensation Claims
There is legislation in the UK that makes employers responsible for their staff's safety while at work. The Health and Safety at Work Act 1974 states that employers should secure the "health, safety and welfare of persons at work". This means that they need to make any necessary changes to make the workplace safer where possible.
This means they need to:
Perform risk assessments.
Make changes, where possible, for any risks identified.
Train staff fully.
Provide adequate safety equipment to reduce risks.
Fix any faulty machinery quickly when identified.
If any of the above hasn't happened and leads to you suffering an injury in an accident at work, you could be eligible to seek compensation.

Arun Area Work Injury Statistics
To show how many accidents at work in the Arun region occur, we've created the table below. It shows accidents in the Arun district (which includes Bognor Regis). The data comes from this Health and Safety Executive (HSE) report.
| Location | Total - Non Fatal Injuries | Total - Non Fatal Injuries per 100,000 workers | Fatal Injuries |
| --- | --- | --- | --- |
| Arun | 104 | 248 | 0 |
Below, we have included a graph showing the common causes of injuries at work according to the HSE's statistics for 2019/20.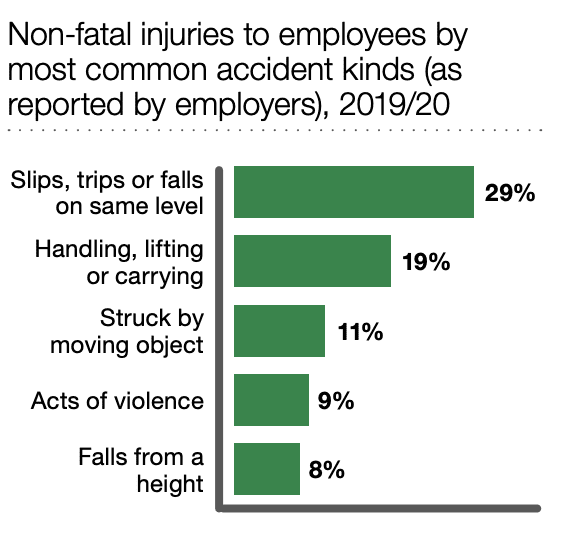 Car And Road Traffic Accidents In Bognor Regis
Any road traffic accident in Bognor Regis which is caused by another road user and causes you to suffer an injury, could mean you're entitled to compensation. Any road user including pedestrians, drivers, passengers, motorcyclists or cyclists could make a claim if injured in an accident caused by another road user even in cases where another driver leaves the scene or is uninsured.
If you're involved in an RTA, claiming could be easier if you:
Photograph the scene of the accident prior to vehicles being moved.
Seek medical treatment and ask for a copy of any medical records.
Ask witnesses for their details.
Gather any dashcam footage that shows how the accident occurred.
Ask the other driver for their details including their insurance providers details.
Once you've got all of the above, give us a call and let us help you decide whether you might be eligible to make a compensation claim.

Compensation For Assaults Or Criminal Injuries
It's not that well known that if you suffer an injury because a crime is committed against you, then you can seek compensation. It's usually unlikely the claim will be against the criminal. When a personal injury claim is made it is usually against the defendant who has insurance to cover the compensation amount. If the person who commits the criminal act does not have means to pay for the damage caused then claims can be made through the CICA.
Criminal Injuries Compensation Authority (CICA) can award compensation to victims who have been injured physically/mentally by a criminal act.
CICA claims have their own time limits, rules on eligibility and don't provide 100% compensation when you have multiple injuries. In these cases, if approved for a payment, you'll get 100% compensation for the first injury and then reduced payments for subsequent injuries on a sliding scale.
Claims can be considered by CICA for any of the following:
Physical and mental injuries caused by a violent crime.
Sexual abuse.
Physical abuse.
Payments in the case of a fatal injury including funeral costs, bereavement payments and losses linked to financial dependency.
Loss of earnings.
Other special expenses linked to losses incurred because of your injuries.
If you'd like us to submit your claim to CICA, ensuring it's filed correctly and with full details of your injuries, please get in touch and provide details of the injuries you suffered.

Accidents In Public Places
Claims for accidents in public places can be made in the same ways as other claims. The problem that can occur though is being able to identify who's responsible. It's not always obvious if land or a property is owned by a local authority, and individual or a business.
You could ask neighbours if they know or you could make a land registry check on a property. If you're unable to identify a responsible party, then making a claim could be tricky. The case can be made even harder if, having identified the owner, they deny liability or blame a tenant instead.
Let our team of specialists help you determine if you're eligible to claim and, if so, who the claim needs to be made against.

Claim For Medical Negligence Compensation
If you undergo any form of treatment from a medical professional, then you are automatically owed a duty of care to be kept as safe as possible. This is the case for medical treatment as well as cosmetic procedures.
Any professional treating you should:
Explain the procedure and any potential risks or side effects.
Follow the correct procedure throughout the treatment wherever possible.
Use the correct equipment.
Ensure hygiene standards are met to reduce the risk of infection.
If a medical professional acts in a negligent way which results in you being avoidably harmed then you may be able to seek compensation for the harmed suffered as well as special damages such as loss of earnings .
Claims can be made against private companies as well as the NHS and could include professionals such as GPs, surgeons, nurses, dentists, midwives, care workers, beauty technicians or hospital staff.

No Win No Fee Accident Claims Solicitors Covering Bognor Regis
The cost of making accident claims in Bognor Regis might cause you to wonder whether claiming is worth the hassle. But what if you could remove the financial burden from the claim? Well that's how no win no fee solicitors work.
Using accident claim solicitors who work on a no win no fee basis means you won't pay them anything if they fail to win you any compensation.
If they do win, you'll pay them a success fee. This is a fixed percentage of your compensation (limited to 25% by law). It's deducted straight from the compensation payment which means you won't have to find the funds to pay it.
All of our accident claims solicitors provide a no win no fee service for claims they handle.

Talk To Our Team
If you're ready to discuss how we could help you make a claim, you can contact us by:
Frequently Asked Questions About Accident Claims
You might have a lot of questions to ask now you've read this guide. Therefore, to save you time, we've answered some of the most common questions we receive from new clients.
Am I Eligible To Claim Compensation with accident claims solicitors covering Bognor Regis?
When looking at taking on a claim, many solicitors will want to check that:
The defendant owed you a duty of care;
Which they breached, causing an accident to happen; and
You suffered an injury, became ill or an existing condition was made worse because of the accident.
If you are able to show that the above are true, an accident claim solicitor might be willing to take your claim on using a no win no fee service.
Our panel of accident claims solicitors are professional, friendly and have up to 30 years' experience of handling personal injury claims.
Should I Make A Claim With A Solicitor Near Me?
You might think that your personal injury lawyer, needs to be based locally but that's not the case. Many solicitors are happy to deal with claims over the phone and using email. Therefore, you could choose accident claims solicitors covering Bognor Regis rather than those who are physically located there.
The fact that a solicitor doesn't require face to face meetings could mean questions are dealt with more quickly and waiting times might be reduced.
Will I Be Asked To See A Medical Expert?
It's really important that your personal injury solicitor can demonstrate how you were affected by your injuries and what impact they could have on you going forwards. Therefore, any accident claim that we submit will require you to undergo an independent medical assessment.
The doctor who assesses you will take a look at how you're recovering and the injuries you sustained and then provide a report which will be used as evidence to back up your claims.
Where Could I See This Expert?
Our panel of doctors and medical experts are based all across the UK. Here are some local to Bognor Regis that we could use for your assessment:
Phillipa Keech
Forum House,
Stirling Road,
Chichester, PO19 7DN.
Ali Al-Bahrani
Physio and Sports Clinic,
Basin Road,
Chicester, PO19 8DU.
Muhammed Ather
177 Goring Road,
Worthing, BN12 4PA.

My accident wasn't reported in an accident book– could accident claims solicitors covering Bognor Regis still help?
If your workplace accident wasn't recorded in the accident book or if your workplace doesn't have one, you could still be eligible to claim compensation, but it might mean your claim is a little more complex. If you have no workplace accident book, it would be wise to report the incident to your employer in writing yourself. Personal injury solicitors covering Bognor Regis could help you pull together enough evidence to support your claim even if it hasn't been recorded in the accident book. They could assist in gaining access to CCTV footage, and could take statements from any witnesses that saw what happened.
Accident claims solicitors Bognor Regis – Can my employer fire me for claiming?
There are lots of laws in place to protect workers from being treated differently because they have exposed wrongdoing at work. Your employer should not treat you any differently because of your claim. If they do, they could find themselves in serious trouble. It would be wise to remember that in many instances, employers have insurance in place to pay your compensation. In addition to this, many employers would be able to make changes to the way things are done because of the accident, so they could effectively make the workplace safer and avoid further similar incidents.
What should I look for in accident claims solicitors covering Bognor Regis?
While you now know that as a Bognor Regis claimant, you wouldn't have to use a local solicitor, you may want to know what to look out for when making a choice of what law firms or solicitors to use for your claim. There are certain things you may want to consider, which could include:
Are they registered in England and Wales?
Do they have a good track record?
Are they authorised and regulated by the Solicitor's Regulation Authority?
Are they easy to get hold of?
How many years experience do they have?
Have they handled claims like yours before?
Do they operate on a No Win No Fee basis?
We believe we could represent a great choice when it comes to making your choice. We have an excellent track record in helping claimants secure the compensation they deserve. In addition, we have great reviews from previous claimants as to the service we provide, which could give you the confidence that we'll handle your claim effectively.
Bognor Regis Area Resources
If you require any further information regarding accident claims solicitors covering Bognor Regis, then please get in touch. For now, you might find the links and guides below useful.
Employers Responsibilities – Information from the HSE about what employers need to do to ensure workers are safe at work.
Whiplash Injuries – Guidance from the NHS about how to spot and treat whiplash injuries which can be sustained in a car crash as well as other accidents.
Chichester Court – The local court serving Bognor Regis.
Personal Injury Claims Calculator – A guide which shows accident compensation amounts that could be paid for different types of injury.
Compensation for Assault in the UK – This guide explains how to claim under the CICA scheme following an attack and other crimes against you.
Burn Injury Claims – If you suffer a burn injury in Bognor Regis, then this guide explains when you could seek compensation for your injuries.
We hope you found our guide to accident claims solicitors covering Bognor Regis useful. We hope we have adequately explained why you don't have to use personal injury solicitors covering Bognor Regis that are based locally.