By Joanne Jeffries. Last Updated August 27th 2021. Welcome to our accident claims solicitors covering Bridgend guide. Here, we look at why you don't need to use local personal injury solicitors for Bridgend accident claims.
If you're looking for accident claims solicitors covering Bridgend, then you will find this guide helpful. It's full of accident claims advice and will explain which types of claim a personal injury solicitor could help you make. If you've been injured in an accident that was caused by somebody else through third party negligence, you may have the right to make an accident claim in Bridgend for compensation.
If you would like to discuss how we could help you start your claim today, give us a call on 0800 073 8801. We offer a free assessment of your claim and could introduce you to one of our no win no fee accident claims solicitors if you've got a strong case.
To find out more about what to do following a Bridgend accident, please continue reading.
Choose A Section
What Is An Accident Claims Solicitor Covering Bridgend?
There are so many scenarios and types of accidents that could lead to a compensation claim that it's impossible to list them all here. Some that could happen include a trip injury, an accident at work, a criminal injuries compensation claim, a bike accident or even an injury caused by medical negligence.
The main points to consider when working out whether you could claim or not are whether the person responsible for your injuries owed you a duty of care and was negligent in any way. This can be tricky sometimes and is why having accident claims solicitors working with you can really help.
Using their knowledge of UK legislation, solicitors who specialise in accident claims can help you decide who was at fault and whether you are able to claim.
You should remember that, in most cases, there is a 3-year accident claims time limit. This'll either begin from when your accident occurred or when you were told about your injuries.
If you'd like to make an accident claim today and would like our help doing so, please call and speak with one of our friendly advisors.

Traffic Accidents In Bridgend, Wales
When you're involved in a road traffic accident (RTA), it's important to gather evidence as swiftly as possible if you're likely to make a compensation claim. That's because, unless the accident was captured by CCTV or dashcam, once the scene is cleared, proving who was at fault could be tricky.
Therefore, following an RTA, you should:
Photograph the scene of the accident if it's safe to do so. Try to do this before any vehicles are moved to the side of the road.
Ask the other driver for their details, number plate and insurance provider.
Gather any witnesses' details.
Report the accident to the emergency services. If there are injuries, do this via 999 otherwise you can call 101 or report online.
Seek medical treatment for any injuries such as whiplash at your GP surgery or A&E.
We have specially trained advisors who can help by assessing your RTA so please call today to discuss your options.

Bridgend Wales, Reported Injuries At Work
The table below shows how many accidents were reported to the Health and Safety Executive (HSE) under RIDDOR regulations in the Bridgend area over a number of years.
| Location | Total - Non Fatal Injuries | Total - Non Fatal Injuries per 100,000 workers | Fatal Injuries |
| --- | --- | --- | --- |
| Bridgend | 176 | 319 | 1 |
You can view the full report and compare Bridgend with other areas of the UK here.

Below, we have taken details from the HSE statistics for non-fatal work injuries from 2019/20 to show you some common causes of workplace accidents.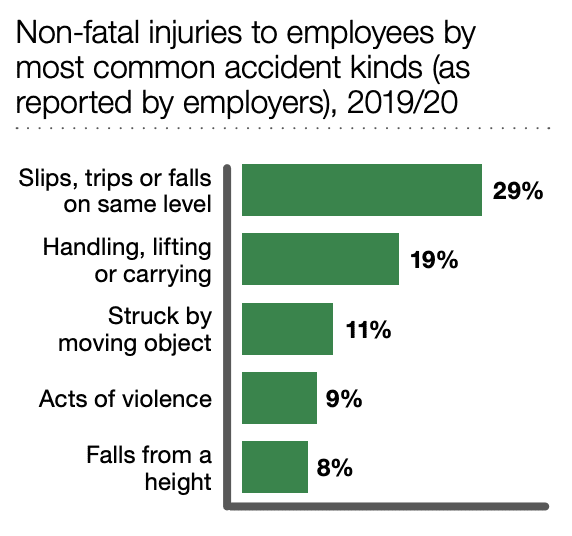 Injury At Work Compensation Claims
If an accident happens in your workplace because of the negligence of your employer, then they may be in breach of the Health and Safety at Work Act 1974. This legislation places a duty of care on employers to ensure staff remain safe, wherever possible, while at work.
It is probably impossible to eliminate all risks from the work environment, but employers need to:
Perform risk assessments of work processes.
Make changes to the process if a risk has been identified.
Train staff on how to complete the task properly and safely.
Provide safety equipment, such as goggles or hard boots, to reduce risks where necessary.
Ensure equipment is repaired when faulty and regularly maintained.
When an accident at work occurs because one of the above hasn't happened when it should have, you could claim compensation if you're injured during the accident. Your employer cannot treat you differently or discipline you for making a claim.
If you think you've got a valid claim for injuries sustained at work, why not check with one of our advisors. It's free and they can provide advice on what steps you should take next.

Slip And Fall Compensation Claims
Slips, trips and falls can happen almost anywhere and at any moment. If you're injured following a fall and you believe it was caused by somebody else's mistake or negligence and they have breached their duty of care towards you, then you could begin a claim against them.
For instance, slip, trip or fall accidents caused by the following might lead to a claim if they cause you an injury:
Broken handrails.
Doormats at the entrance to buildings that are not sited correctly.
Wet or slippery floors with no warning signs.
Trip hazards that are difficult to see because of broken lighting.
Cables being trailed across corridors.
Criminal Injuries Compensation Claims
If you're injured during a crime against you, then you might not really consider making an accident claim or you may not even be aware that you have the right to do so.Even if the defendant is not identified it is still possible to pursue a claim. There is a government scheme operated by the Criminal Injuries Compensation Authority (CICA), which could provide some compensation for your suffering.
It is different to any other type of claim we've discussed so far. Compensation amounts are different, eligibility rules differ, and time limits might be less too. Therefore, if you've been injured during a criminal act, call one of our advisors for free claims advice and to discuss whether you could claim through the CICA scheme.

Public Place Accident Claims In Bridgend
Some accidents happen in places where it's not immediately obvious who's responsible. In some public places the duty of care you might be owed could be from the local authority, a landowner, a tenant (or occupier), company owner or an individual.
If you're involved in an accident in a public place, we'd recommend you make a note of where it happened, look for any witnesses and photograph the cause of the accident. Then you should call us to discuss whether you have a valid claim and how you can prove who was responsible.

Clinical Or Medical Negligence Claims
When you need to undergo a medical procedure, the medical professional performing the treatment will owe you a duty of care to keep you as safe as possible throughout. The same is true if you elect to undergo a cosmetic procedure.
When we talk about medical professionals, we can include the likes of nurses, surgeons, GPs, dentists, paediatricians, care home staff, hospital staff, beauty technicians and anaesthetists amongst others.
If a medical professional provides substandard care which causes you to suffer an injury, to become ill or makes your existing medical condition worse, then you could make a claim against them, the NHS or a private business or healthcare provider.

No Win No Fee Accident Claims Solicitors Covering Bridgend
Now that you've read about how an accident claim solicitor can help you seek compensation for your injuries, you might be wondering what they cost to hire. Well the good news is that our accident claims solicitors work on a no win no fee basis for any claim they take on.
When you work with a no win no fee solicitor, you'll start by signing a conditional fee agreement or CFA. This agreement will explain clearly that you don't have to pay the solicitor anything at all if they fail to win compensation. This really reduces the financial risks involved with making a claim and reduces stress drastically.
The solicitor is only paid a success fee if they win compensation for you. It's taken directly from the compensation and is limited, by law, to 25% of anything you receive.

Talking To A Solicitor Covering Bridgend
Now that you've read our guide explaining how accident claims solicitors covering Bridgend can help you seek compensation; we hope you're read to speak with our team here at Accident Claims UK.
To get in touch you can call 0800 073 8801 or, if you prefer, request a call back from a specialist by filling in this online form. Our phone lines are open 24/7 so you can call whenever is best for you.

Q And A
To help save time when you get in touch, we've answered some of the most common questions we're asked by new clients below.
Can I Make An Accident Claim In Bridgend?
To be eligible to make accident claims in Bridgend, you'll need to be able to demonstrate that the defendant owed you a duty of care. Then you need to show they breached it which caused an accident in which you were injured. If you can do so then we could help you begin a claim.
If you're not sure if you were owed a duty of care, start by calling one of our advisors. We'll assess your claim for free and let you know whether you could claim or not. If we think you can, we'll introduce you to one of our panel of accident claims solicitors. They have many years' experience (up to 30 in some cases) of handling personal injury claims and always strive to get the right level of compensation for your injuries.
How Important Is Where My Solicitors Offices Are?
If you want to look around for accident claims solicitors who cover Bridgend, rather than those who are based in the area, then you are free to do so. That's because many national personal injury law firms are happy to handle claims over email or by telephone.
This might mean the claims process is easier for you as there's less travelling involved and you don't need to wait for face to face meetings.
How Important Is It To Have My Injury Assessed By A Doctor?
There are many pieces of evidence that will be used in any accident claim to help prove how serious your injuries were. One such piece of evidence is a report by an independent doctor following a medical assessment.
These are carried out to determine what injuries you sustained, their severity and the impact (and future impact) they caused. This report will be submitted by your personal injury lawyer, along with other medical records if there are any, to substantiate your claim. It could also help to determine the level of compensation you'll receive. It is therefore an essential part of any claim.
Could I See A Doctor In My Part Of Wales?
We have a panel of medical experts and doctors across the UK to ensure you won't have to travel far for your medical assessment. Here are some in the Bridgend area we could use for your assessment:
Johnathan Lari
Bridgend Clinic,
Princess of Wales Hospital,
Coity Road,
Bridgend, CF31 1RQ.
Sian Edwards
Oak Tree Surgery,
Whitethorn Drive,
Bridgend, CF31 2PQ.

What kinds of work injury claims could accident claims solicitors covering Bridgend help me with?
When it comes to your health and safety at work, we have already mentioned that your employer has a duty of care to protect you. There are many things that could go wrong with this, however, and personal injury solicitors covering Bridgend could assist with all manner of work injury or illness claims. For example:
You could claim if your employer failed to ensure you were given the correct PPE, you were trained to use it and it was fit for sue, if you suffer injury because of this.
A claim could be made if you suffer a slip on a wet floor at work that has not been signposted to you or cleared away.
Claims could also be made for manual handling injuries if you haven't been trained in how to lift safely.
Workplace conditions such as RSI, hand-arm vibration syndrome (HAVS) and asbestosis could also lead to claims.
You could claim for an assault at work that your employer had failed to protect you from.
Those suffering stress because of their working conditions/workload could potentially have a claim for compensation
You could claim for injuries from faulty machinery if your employer has failed to maintain the machinery properly
These are just a few examples of incidents that could lead to a claim. If you believe you could have a valid claim, please call us. We would be happy to conduct a case assessment free of charge.
Could accident claims solicitors covering Bridgend help with data breach claims too?
If you're searching for a solicitor for a data breach claim, we could help with this too. As you may already be aware, there are certain laws in place to protect your data privacy and security. GDPR and the data protection act are just two of these laws. Should your employer, healthcare provider, or another organisation you deal with fail to protect your personal data, you could be eligible for data breach compensation. You could claim not only for any financial impact of the breach, but also any emotional harm such as stress, anxiety or depression. You would, however need to demonstrate that wrongdoing on the data controller's part led to the breach. This could mean they sent your information to someone else in error, or that they left their systems open to unauthorised access, for example. Our solicitors could assist you with making a claim for compensation after a data breach.
Resources For Those In Bridgend, Wales
You've now come to the end of this guide regarding accident claims solicitors covering Bridgend. Feel free to get in touch if you require any further information or alternatively, take a look at the guides and links below which may be helpful.
NHS Direct Wales Whiplash Guide – Information from the Welsh NHS regarding whiplash injuries.
Bridgend Court – Court that covers Bridgend
Occupiers Liability Act 1957 – Legislation which can be used in public place accident claims.
Accident at Work Claims – A more detailed look at when you could seek compensation for an injury at work.
Medical Negligence Claims – Information on beginning compensation claims against medical professionals for injuries sustained following substandard treatment.
Road Traffic Accidents – This guide will be useful if you've been involved in an accident on the A48 or an accident on the M4 in Bridgend.
We hope our accident claims solicitors covering Bridgend guide was useful. Now you'll understand why you don't need to use local personal injury solicitors for Bridgend accident claims.