By Joanne Jeffries. Last Updated September 2nd 2021. Here you can read our guide to accident claims solicitors covering Burton Upon Trent. Below, you'll find out why personal injury solicitors for Burton Upon Trent don't have to be based there.
Do you need to learn about how accident claims solicitors covering Burton upon Trent can help you to make an accident claim? A claim for an injury caused by an accident that was the responsibility of a third party. This online guide contains all of the basic information you need to know about accident claims in Burton upon Trent.
We have tried to include all of the information you need, but every claim has its own unique aspects. Therefore, you may have questions that this guide doesn't answer fully. If this is the case, speak to one of our claim advisors on 0800 073 8801. They will answer your questions for you, and if you wish, refer you to our panel of no win no fee accident claims solicitors who will help you to make your claim.
Choose A Section:
What Is An Accident Claims Solicitor Covering Burton upon Trent?
Most people understand that a solicitor acts as their legal representative when making a claim for accident compensation. But this isn't the only thing that your accident claim solicitor will do for you. For example, our accident claims solicitors can help you with many other aspects of the claims process, such as:
Making sure all of your documented evidence is in order.
Evaluating your claim and telling you how much compensation would be a suitable amount to aim for.
Processing your claim for you, and hopefully procuring a compensation settlement for you.
If you would like to know more about the service our solicitors offer, please speak to a member of our claims team on the number at the end of this guide. They can give you the information you need.

Claims For Accidents At A Public Place
When you are in a public place, there will generally be a third party that is responsible for your safety. This can be somewhere like a local park or children's playground that is operated by the council, or it can be business premises such as a shopping mall, or a pay-and-display car park for example. Regardless of whether it is the council or another organisation that operates the place, there are certain rules and regulations related to public safety that must be complied with. When compliance fails, it could result in a member of the public being injured.
If you have an accident at a public place, then if it can be proven that the third-party responsible for the location has caused the accident in some way, then you could be able to use a personal injury lawyer to process a personal injury claim for you.

Claims For Medical Negligence In Burton upon Trent
If you visit accident and emergency in Burton and do not receive the standard of service in which you would expect or if a paramedic provides substandard service in which causes your condition to worsen, you may have grounds for a medical negligence case. If a medical professional is negligent when treating a member of the public due to error, oversight or omission, in a way that could have been avoided and this has caused unnecessary suffering, then this could potentially be deemed as negligence. This applies to all kinds of medical professionals, such as:
Hospital nurses.
Your GP.
A surgeon.
Your dentist.
Care home staff.
Your optician.
Any medical professional that causes you unnecessary harm while treating or advising you, could have failed in their duty of care. Therefore, this could leave you in a position to make a clinical negligence or medical negligence claim in Burton.

Claims For Accidents In The Workplace
What happens if you have an accident at work? For example, you trip over trailing loose wires across the floor. You may think it is your own fault, you didn't see the hazard, and you should have been more aware. This isn't the case though. Your employer has to comply with all Health & Safety directives applicable to their business, and make the best effort possible to remove all hazards that could cause a workplace accident, or a work-related illness.
Therefore, whenever you are injured at work by a hazard that your employer was responsible for, you could be able to make a work-related accident claim. If you are unsure whether you have a valid claim or not, please speak to one of our claim advisors. They can go over your claim with you, and if applicable, they can arrange for one of our accident claim solicitors to process a claim for accident at work compensation on your behalf.

Statistics For Reported Injuries At Work
The table below relates to the Staffordshire region, and shows statistics pertaining to work-related accidents in the period 2014/15 – 2019/20.
| Location | Total - non fatal injuries | Total - non fatal injuries per 100,000 workers | Fatal injuries |
| --- | --- | --- | --- |
| Staffordshire | 1052 | 324 | 0 |
You can find further detailed information about the period 2014/15 – 2019/20, at the following link:
Below, you can also see the most common injury causes in 2019/20, according to the HSE.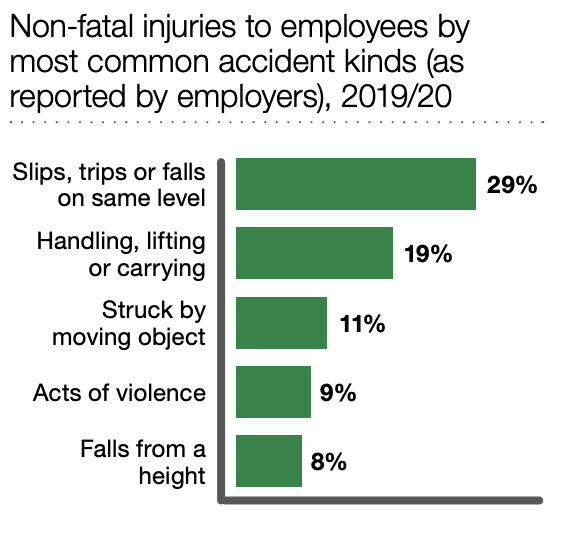 Claims For Road Traffic Accidents In Burton upon Trent
Road traffic accidents do happen all over the UK and all over the world as a matter of fact. Sometimes they can be the cause of third party negligence. So if you have had an accident on the road in Burton maybe a Burton car accident if you are injured and it was the fault of another road user you may be able to make a claim for any harm that you have suffered among other things. Road users and those who could be affected by a road traffic incident may include;
Pedestrians crossing the road.
Passengers in a car or on public transport.
People in control of a vehicle such a car, motorcycle, lorry, or bicycle.
Other road users such as horse riders.
No matter how serious the accident you were involved in was, from a minor accident to a serious accident in Burton, we could be able to help you to claim if a third party was to blame for a road traffic accident. Speak to a member of our claims team to learn more about how we can help.

Claims For Slip And Fall Injuries
What happens when you slip or trip over at work, walking down the street, or anywhere else? Is it your fault for not taking care? Well, that depends on whether an actual hazard caused the accident. If you slip, trip or fall over an actual hazard or obstacle such as a torn carpet, a broken paving slab, oil that has been spilt, etc, then it could be the person, company or organisation that is responsible for causing the hazard that is to blame.
Whenever you are injured in this kind of accident, if a third party is even partially to blame for the hazard that caused it, it could be possible for you to claim slip and fall compensation. Our solicitors can help with slip and fall injury claims, please speak to one of our claim advisors on the number below to learn how.

Claims For Criminal Injury Compensation
As the victim of a violent crime, you may never know the identity of the person who committed it. Many criminals go uncaught. So how would you make a compensation claim when you don't know who to make a claim against? Well, there is a special Government operated organisation, known as the Criminal Injuries Compensation Authority (CICA), that provides compensation to those who have suffered due to a criminal act. The process of making such a claim is a little different than the examples we have covered so far. We recommend that you speak to one of our claim advisors on the number below, who will go over the process of making a criminal injury compensation claim with you.

No Win No Fee Accident Claims Solicitors Covering Burton upon Trent
If you are injured in an accident in Burton that was not your fault, you may want to use a solicitor to process the claim for you. We can provide you with a No Win No Fee solicitor as part of our service offering. This would mean you wouldn't be charged to start a claim with us, or during the time the claim is being processed. You also won't be charged by your solicitor if you don't successfully receive a compensation settlement. The only time you are expected to pay your solicitors fees, is when they have been sent a compensation payment for you. The fees are then automatically taken from this money, and the rest is handed over to you. To learn more about this service, please talk to a member of our claims team on the number below.

Contact An Accident Claim Solicitor Covering This Area
Do you need some free accidents claims advice? Perhaps you are not sure you have a valid claim? Or maybe you are sure that you do, and you need a good legal team to help you? No matter what you need, just call 0800 073 8801 any time of the day or night, 7 days a week. One of our claim advisors will be able to help you when you contact us.

FAQs About Accident Claims
Below, we have included some extra information that you may find useful, as it relates to the process of making a claim.
How Does A Personal Injury Claim Work?
The process of making a claim is fairly straightforward, to get started, all you need to do is:
Prepare any evidence, such as proof of financial loss, or photographs of the cause of your accident. You may also like to gather contact details for any witnesses.
Call our claims team on the number above, they will evaluate your claim for you, and provide key information related to the accident claims time limit, etc.
If you have a valid claim, one of our solicitors will be able to process it for you.
It is that simple, just follow the three steps above to get your claim started ASAP.
Why Choose A Personal Injury Solicitor Near Me?
There is no reason to choose a solicitor near you. A better idea is to choose a solicitor that specialises in accident and injury claims. We are a nationwide claims service, your location doesn't really matter. We can keep in touch with you via email or the telephone as we process your claim for you.
Do I Need Medical Evidence?
A personal injury claims calculator will give you a rough estimate of the value of your claim. As part of the claims process your injury/illness will need to be looked at by an independent doctor. In order for this to happen, you will likely have to undergo a medical examination, which will prove how mild/serious your injuries are/were.
Where Could I Be Examined By A Doctor?
If we need you to go for a medical examination, we can arrange one locally in Burton upon Trent from the following doctors:
| | | | |
| --- | --- | --- | --- |
| Mallika Sahebagouda Biradar | Burton Physio and Sports Injury Clinic | Burton on Trent | DE14 1RU |
| | 3, Derby Road | | |
| Mallika Sahebagouda Biradar | Curzon House | Burton on Trent | DE14 2DH |
| | Curzon Street | | |
Reach out to our claims team on the number above if you are ready for us to organise this on your behalf.

What do I need to think about when choosing accident claims solicitors covering Burton upon Trent?
Now you will be aware that you don't need to use a local solicitor for claims in the Burton upon Trent and surrounding area. While this may open up a lot more choice for you, the vast array of law firms and solicitors across the country who may be similar in the fact that they are authorised and regulated by the Solicitors Regulation Authority, and are registered in England and Wales, there may be some significant differences between them.
For example, not every solicitor will offer a no win no fee service. Nor would they all provide free, no obligation legal advice. Some may not have many years experience in helping claimants with a vast array of personal injury claims. Others may charge you to check your eligibility to claim. As you can understand, this could present some problems when it comes to you choosing the solicitor the best suits you.
We would advise you, therefore to speak to the solicitors you're considering using. You could ask them all the questions you have about their experience, success rate and legal service. You could also get an idea of whether you could work well with them on your claim. We would be happy to speak to you about your claim, offering you free legal advice without any obligation to go ahead and use our services. We want you to have peace of mind that you've chosen the right personal injury solicitors for your Burton upon Trent case, who could fight for the maximum compensation possible for you.
Could I use accident claims solicitors covering Burton upon Trent for a hit and run accident claim?
Even if you hit hurt by a car that has sped off after the accident, you may be worried about whether you could get compensation. After all, if the police could not trace the driver, who would you claim against? In situations like this, that is an organisation who could compensate you. The Motor Insurers Bureau not only helps to reduce uninsured driving in the UK, but it could also compensate you if you've been injured by somebody who is untraceable or uninsured that has caused a road traffic accident. We could help you with such claims, so please get in touch and we'll be happy to assess your case for free.
Helpful Services In This Area
These external links have further information:
Finding A Court In Burton upon Trent
These other guides might also be of use to you:
Claiming For A Work-Related Back Injury
How To Claim Against Your Landlord
A Guide To Claiming For Sexual Abuse
Hopefully, you've enjoyed reading our guide to accident claims solicitors covering Burton Upon Trent. You should now know why personal injury solicitors for Burton Upon Trent don't have to be based there.