By Joanne Jeffries. Last Updated 8th September 2021. Below you can read our accident claims solicitors covering Cardiff guide. This could help if you're looking for personal injury solicitors for Cardiff accident claims.
Are you looking for a personal injury solicitor because you've been injured in an accident caused by somebody else? Are you struggling to know where to begin your search? If so, this guide will help you begin a claim using accident claims solicitors covering Cardiff.
In this guide, we'll explain when you could begin an accident claim, explain the different types of incidents that could lead to accident compensation or negligence claims and why somebody else might be to blame.
If you already know that you'd like to begin a claim with a law firm who could get you the compensation you deserve, then our panel of accident claims solicitors could help you. Please call our team of advisors on 0800 073 8801 to discuss your accident.
Alternatively, feel free to continue reading if you would like to know more about beginning a no win no fee personal injury claim.
Choose A Section
What Is An Accident Claims Solicitor Covering Cardiff?
An accident claim solicitor, sometimes called a personal injury lawyer, is one who specialises in helping clients claim compensation following a non fault accident.  They will use different types of legislation such as the Health and Safety at Work Act 1974 to assist them when processing a claim on behalf of the claimant. Claims could be made for a fatal accident, clinical negligence, and workplace accidents, to name but a few examples, and could be made for anything from spinal injuries to a broken nose.
Because our panel of accident claims solicitors covering Cardiff often work on a no win no fee basis, they'll usually try to determine that the following 3 statements are true:
The defendant owed the claimant (you) a duty of care (the person you blame for your injuries;
That the defendant breached their duty of care; and that
The breach in duty of care led to an accident causing the defendant to become ill or injured.
You'll also need to show that either the accident happened within the last 3 years or you found out about the injuries within that time period as it is the accident claims time limit.
Our panel of solicitors off a no win no fee basis service and will usually provide the following services:
A free assessment of your claim.
Collation of medical records, witness statements, and other supporting evidence.
Handling of communication with the defendant or their solicitor.
Offering advice to their clients when a compensation offer is made.
Our accident claims solicitors could help with claims on a no win no fee basis. Please get in touch with our personal injury team at our registered office to discuss your options today.

Statistics Showing The Reporting Of Accidents At Work In Cardiff
We'll explain how employers could be liable for accidents in the next section. To show how many accidents happen in Cardiff workplaces, we've included the table below. To see the same statistics for the whole of the UK, take a look at this government report.
| Location | Total - Non Fatal Injuries | Total - Non Fatal Injuries per 100,000 workers | Fatal Injuries |
| --- | --- | --- | --- |
| Cardiff | 449 | 189 | 1 |
On a national level, Health and Safety Executive (HSE) figures show that 69,208 workplace injuries were reported in 2019/20 and around 1.6 million workers are suffering from work-related illnesses. other key facts can be seen below.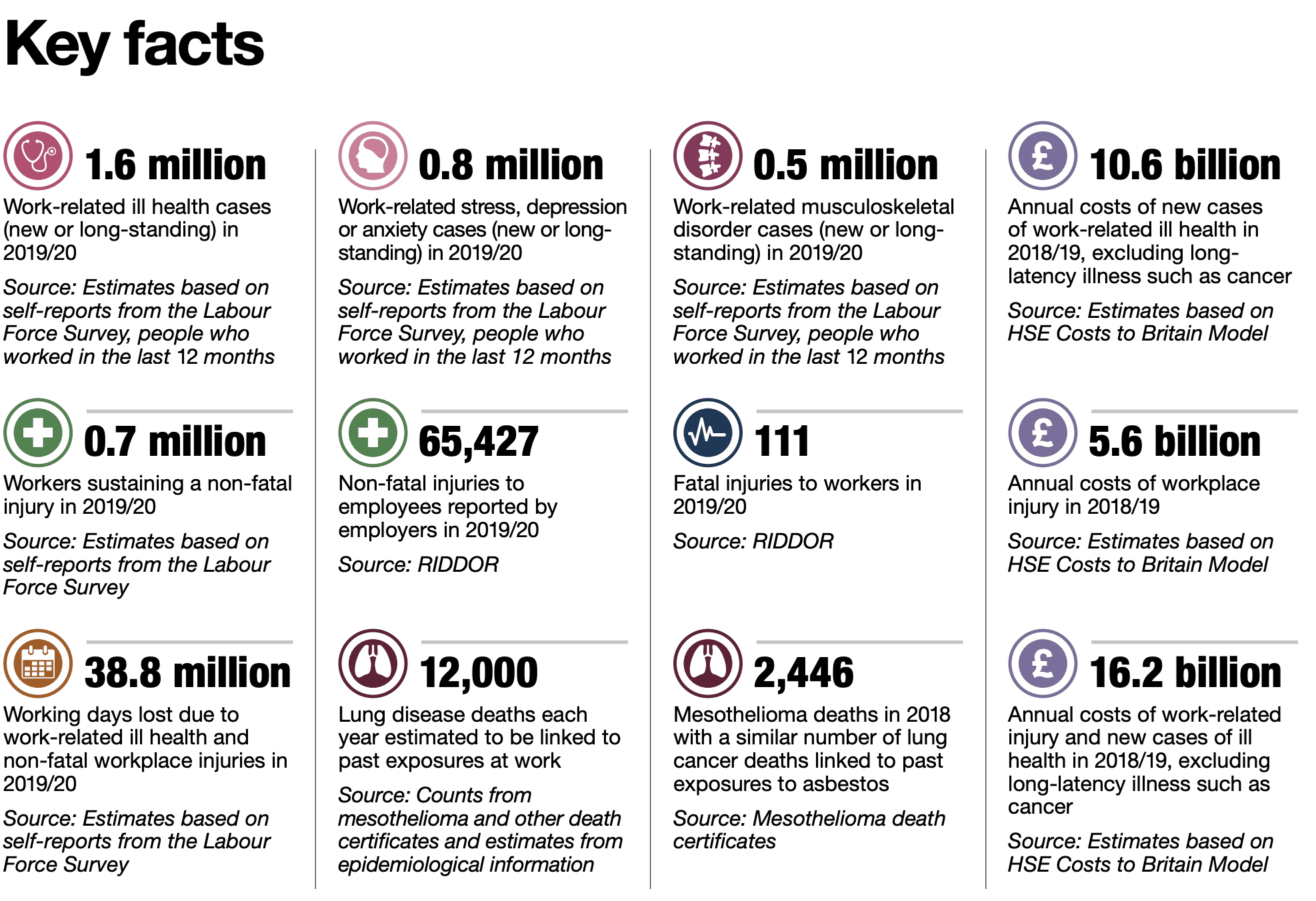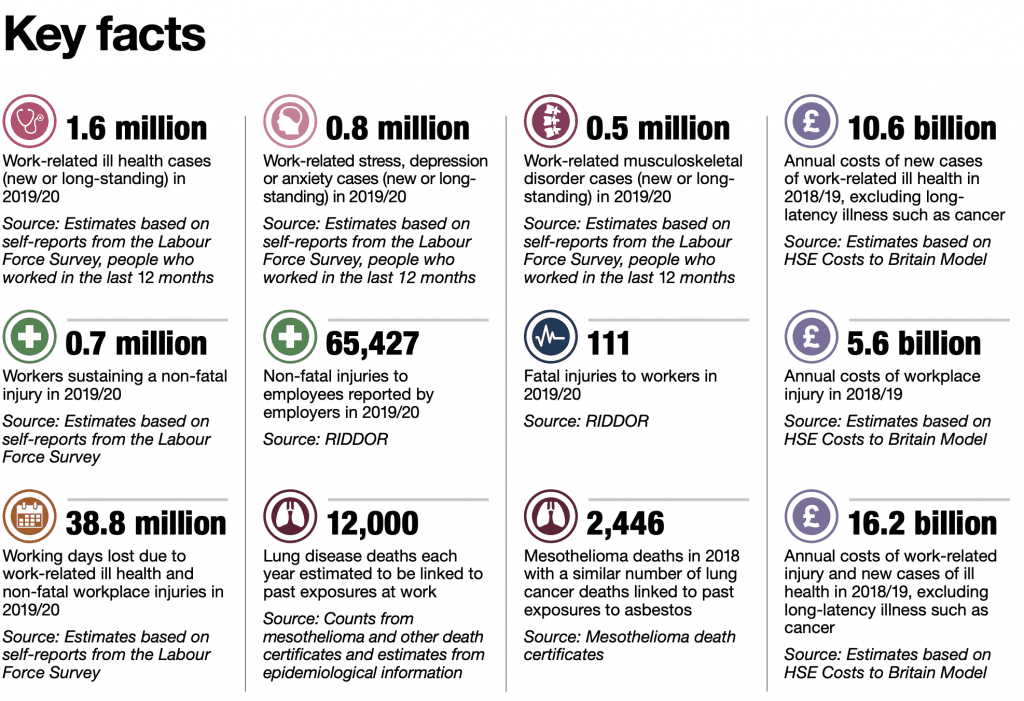 Claims With Accident At Work Solicitors
You might worry about suing your employer for an accident at work because they may treat you differently afterwards but this is not allowed to happen. Employers have liability insurance to cover accidents at work so you shouldn't be put off from making a claim.
All employers have a duty of care to ensure, as much as possible, that the working environment is safe. They should perform risk assessments and make changes for any dangers that are identified. Accident claims solicitors covering Cardiff could help make a claim for accidents that occur because:
Staff were not fully trained.
Safety equipment wasn't provided or was inappropriate.
Equipment was faulty, damaged or not being used for the right task.
Accident at work claims could be possible for accidents to employees based in offices, factories, warehouses or retail outlets as well as those that work in remote workplaces. If you're asking, "I've had an accident at work, what should I do?", then pick up the phone and speak to one of our advisors for free accident claims advice.
Reporting an accident at work in the UK must be done via an accident report book or reporting system. You could ask for your employer for a copy of the report as further evidence that the accident happened.

Cardiff Road Traffic And Car Accident Claims
If you are injured in a road traffic accident in Cardiff, then you may be able to claim compensation for any injuries and damage caused. The car accident claims process is similar to most other claims but gathering evidence quickly is essential.
This means that, before any vehicles are recovered or moved from the scene, you should try and photograph the accident scene. Also try to gather witness details, any dashcam footage and, of course, get the other driver's details.
Our panel of accident claims solicitors covering Cardiff could help pedestrians, passengers, drivers, cyclists, motorcyclists or any other type of road user who would like to seek compensation for injuries caused by other road users.
Common accident injuries include whiplash, bruising, head injuries as well as hand and wrist injuries. We can help with car accident claims so please get in touch today.

Claims For Slip, Fall, And Trip Accidents
Another common accident claim is one for a slip or trip that leads to a fall.  Essentially, these can happen just about anywhere in daily life and can lead to some very serious injuries.
Here are some examples where somebody else could be at fault for a fall:
When cables are left trailing across walkways causing you to trip.
When lighting is damaged which caused you to trip on a hazard that you could not see.
If a floor is slippery or wet and there were no warning signs in place to alert the risk to you.
When a handrail is broken causing you to slip down the stairs.
If a road defect like a raised paving slab or pothole causes you to trip and fall.
Here are Accident Claims UK, we could help you claim for injuries caused by a slip or fall if it can be proven that somebody else was to blame.

Criminal Injury Compensation Claims
The UK government operates the Criminal Injuries Compensation Authority (CICA) to compensate those injured as a result of a criminal act that was committed against them. The claim can be for physical or mental injuries, loss of income and other expenses caused by the crime.
The process for claiming is a bit different to other personal injury claims and compensation is paid on a sliding scale in the case of multiple injuries. There's 100% compensation paid for the main injury and then reduced payments for subsequent injuries. A claim made through CICA has a time frame of 2 years, but this can differ in cases of historical sexual abuse. For more information regarding making a claim for the criminal injuries that you have endured, please do not hesitate to contact us.

Claims For An Accident At A Public Place
Our accident claims experts, based here in the UK, can help with claims for accidents in public places. These can sometimes be tricky when it's unclear who owns a piece of land/building or if the owner and occupier dispute who is to blame for the accident.
Our team have experience in making these types of claim and can help you determine who the claim needs to be made against and under what specific piece of legislation.  Please get in touch if you need help beginning a claim for an accident in a public place. Alternatively, you can read our extensive public place guide here.

Cardiff Medical Negligence Claim
Every medical professional owes their patient a of duty of care. This means that they need to do everything possible to ensure the patient remains safe during any treatment.
Negligent acts could include:
When the medical professional doesn't follow normal procedures.
If the patient is injured during treatment.
When the patient is made ill because the wrong medicine is prescribed or administered.
When a patient suffers because of delay in treatment caused by a misdiagnosis.
If the patient becomes ill because hygiene standards aren't maintained.
Claims can be made against the NHS as well as private healthcare operators.  They can also be made for negligence during cosmetic treatment as well as medical procedures.

No Win No Fee Accident Claims Solicitors Covering Cardiff
Many accident claims solicitors covering Cardiff offer a no win no fee claims service.  This helps clients because it reduces a lot of financial risk and eases the stress involved with making a claim for compensation.
No win no fee agreements (or conditional fee agreements) mean that:
There's no upfront fee required for the solicitor to begin the case.
You won't pay the solicitor for their work if they fail to win compensation on your behalf.
The solicitor will be awarded a success fee (maximum of 25% of your compensation) if they win the case.
The compensation is sent directly to the solicitor and they deduct their success fee prior to sending you the rest.

How To Start An Accident Claim
Hopefully this guide has made it clear that you have the choice of hiring accident claims solicitors covering Cardiff.
Our accident claims solicitors can cover the Cardiff area so please get in touch by calling 0800 073 8801 today or by filling in our contact us form if you're ready to discuss your claim.

Frequently Asked Accident Claims Questions
When new clients contact us, we often get asked a lot of common questions.  Therefore, we've answered some of them here.
How Could An Accident Claims Solicitor Help Me?
Our panel of accident claims solicitors are friendly and professional personal injury claims specialists. Some have up to 30 years' experience in the accident claims field.
We offer a free consultation when you want to discuss your claim and our accident claims solicitors offer a no win no fee service for any claim they take on.  If you have any questions, we'll happily provide free legal advice about making a claim.
Does My Accident Claim Solicitor Need To Be Near Me?
Modern communication methods mean that many solicitors are happy to help with a claim without face to face meetings. This means that you don't have to choose a solicitor based on their office location. You could therefore choose them based on their expertise, customer feedback or their recent successful claims.
What Are Medical Examinations For Accident Claims?
A personal injury solicitor will need to provide a medical assessment to the defendant to demonstrate how an injury has impacted on the claimant and how it might affect them in the future.
Therefore, for any claim, you would need to undergo an assessment prior to the claim being submitted. This will be used in conjunction with any other medical evidence that you provide.
To make the process easier, we use a panel of doctors across the UK, including in Cardiff, to undertake these assessments.
Where Could My Medical Examination Take Place?
Here are a sample of the medical specialists in Cardiff that we could use:
Heena Singhal
50-52 Station Road,
Cardiff, CF14 5QP.
David Hughes
Oaktree House,
Mulberry Drive,
Cardiff, CF23 8RS.
Sian Edwards
2 Fitzalan Road
Cardiff, CF24 0EB.
We could use these or other specialists in and around Cardiff if you decide to let us help you with your claim.

Could accident claims solicitors covering Cardiff help me with a data breach claim?
If you are asking this question, it could be because you have had your personal data protection breached. The organisation that breached your data may have been your employer, healthcare provider, financial institution or any other organisation that collects and stores your data. All data controllers in the UK must abide by the UK's application of GDPR. This means that they must take great care to protect your data privacy and security. If they have done something wrong however, and this led to your data being accessed without authorisation or unlawfully, for example, this could lead to a claim. You could claim compensation for a data breach for the financial impact you've suffered. In addition to this you could also claim for a violation of your privacy, and any psychological injuries that result from the breach. This could include loss of sleep, anxiety or depression, for example.
The way in which the organisation breached your data could vary. They may have accidentally sent your personal data to your old address, when you have provided them with a new one, for example. Other incidents could include them failing to install cyber security software, leaving files in public places, and even disclosing information to colleagues about your sick record who were not authorised to hear such information.
If you believe you could have a data breach claim, why not call our team for a free, no obligation assessment of your case.
What do I need to ask when choosing accident claim solicitors covering Cardiff to make sure I've made a good choice?
If you are looking into claiming compensation, you might have noticed that most solicitors websites show that they are authorised and regulated by the Solicitors Regulation Authority, and that they are registered in England and Wales. However, this does not mean they all offer the same level of legal services. It would not tell you whether they provide good communication, and how many claims like yours they've handled before. It could maybe tell you how many years experience their solicitors have, but it may not tell you whether they could give you free legal advice on your case without putting you under an obligation to use their services. While they might have reviews on their site, it may be better to check on independent review sites for a broader picture of how claimants have found their services. Taking all this into consideration and calling to ask questions would be a good way to ascertain whether a solicitor would suit your needs.
Learn More
Thank you for reading our guide about accident claims in Cardiff.  We've added some more resources, links, and guides below which we hope you'll find helpful.
Request A Road Traffic Accident Report – Information from South Wales police about how to request a copy of their collision report.
Cardiff Court – Important information about the local court including opening times and contact details.
Accident At Work Reporting – Guidance from the HSE about what types of workplace accidents need to be reported and when.
Accidents At Work – This guide provides a more detailed look at accidents at work injuries and when you could seek compensation.
Medical Negligence Claims – This guide provides information regarding medical negligence and the types of injuries that you could claim for.
Whiplash Injury Claims Calculator – A useful guide explaining what amounts of compensation can be awarded for Whiplash injuries.
Thank you for reading our accident claims solicitors Cardiff. Now you should be aware of what to look for when seeking personal injury solicitors for Cardiff claims.