By Joanne Jeffries. Last Updated August 31st 2021. Welcome to our accident claims solicitors Fareham guide. Here, we offer insight into what to consider when choosing personal injury solicitors for Fareham claims.
Accident claims solicitors covering Fareham could help you seek compensation if you've been injured in an accident caused by somebody else's negligence. Not all accidents are eligible though, so this guide will explain when a claim might be possible, how to prove liability and what evidence you should provide. If need help with accident claims in Fareham, then we could help you.
Although we're not based in the area, our panel of accidents claims solicitors are happy to help with claims for accidents that have occurred in Fareham on a no win no fee basis.
If you're ready to begin a claim today, you can call us on 0800 073 8801. If you want to know more about the types of accident claims you could make and how an accident claim solicitor could help, please continue reading.
Choose A Section
What Is An Accident Claims Solicitor Covering Fareham?
There are so many accidents that could lead to a personal injury claim that it's impossible to list them all here. We will provide some examples of the more common ones though. Accident claims could include injuries caused by a slip trip or fall, a bike crash, an accident at Fareham train station or a public space accident claim, among others.
How do you know if you can claim though? Well, using the checklist below, if you answer yes to all 3 questions, a no win no fee solicitor may be able to help you claim. Here are the questions:
Did you suffer an injury or were you made ill?
Was it caused by somebody else's negligence which caused an accident to happen?
Did they owe you any type of duty of care?
If you've answered yes to all 3 questions, or even if you're unsure if you were owed a duty of care, call our advisors for a free assessment. We could help you with your claim which means you could receive compensation for your injuries.
Our accident claim solicitors help with evidence gathering, compiling your claim, submitting it, communication with the defendant and offering expert advice about any compensation offer you receive. You do need to be aware of the accident claims time limit though. This is a 3-year period following your accident or from the date you were made aware of your injuries. There are exceptions so for more information please speak with our advisors at the number provided.

Slip, Trip And Fall Accidents
A slip trip or fall can be caused by a number of different things and happen just about anywhere. If they cause you to suffer an injury and the accident happened because somebody else was negligent, you could possible seek a compensation claim against them. That might be a local authority, a business or even an individual.
Following a fall, you'll need evidence to support a compensation claim. You should attempt to:
Take pictures of the root cause of the accident (before it's removed or repaired).
Get medical treatment for your injuries and ask for a copy of the medical records.
Report the accident and ask for a copy of the accident report book entry.
Ask witnesses for their details.
When you've gathered as much evidence as possible, call to speak with an accident claims expert for advice on your next steps.

How To Claim For A Criminal Injury
It's not commonly known that, but if you're injured because of a criminal act against you, there's a government scheme that you could claim compensation from. The Criminal Injuries Compensation Authority, or CICA, allows claims to be made for physical, mental and sexual injuries caused by crimes.
CICA claims have their own criteria, time limits and compensation amounts. That said, it might be that you could be compensated through the scheme when there are no other options available to you.
If you would like us to assist you with a CICA claim, please get in touch. Our accident claims solicitors understand how the scheme works and can ensure your claim is filed correctly.

Claiming For An Accident At Work
Some workers are afraid of the consequences of making an accident claim against their employers. That shouldn't be the case though as it's against the law for an employer to treat staff differently for making an honest claim for an accident at work.
Under the Health and Safety at Work Act 1974, employers need to ensure workers are as safe as possible by removing risks wherever they can.
They also need to train staff properly in all work tasks.  Other responsibilities include providing protective equipment, maintaining equipment properly, fixing any faults and keeping the working environment safe. Therefore, if you're injured in an accident at work because the above hasn't happened, you could seek compensation against your employer.

Fareham Injury At Work Statistics
The table below shows data taken from a national HSE report. It shows accidents at work in Fareham that were reported to the HSE over a number of years.
| Location | Total - Non Fatal Injuries | Total - Non Fatal Injuries per 100,000 workers | Fatal Injuries |
| --- | --- | --- | --- |
| Fareham | 74 | 129 | 0 |
Below, you can see the HSE's 2019/20 statistics relating to the most common causes of workplace injury.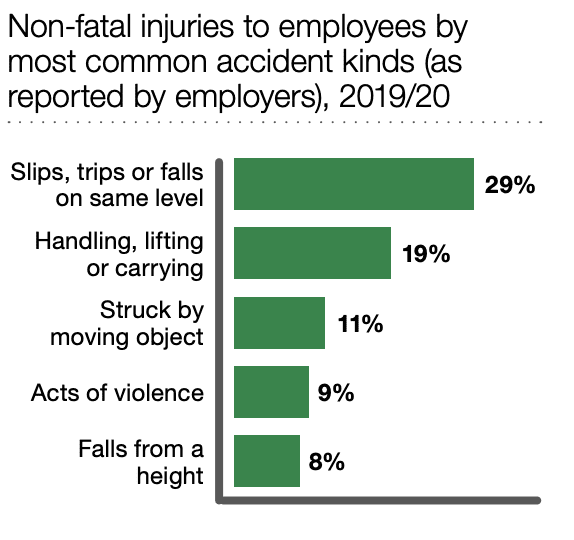 Fareham Road Traffic Accident Claims
You may want to make an accident claim for a road traffic accident if you were injured because another road user caused the accident through negligence. Whether it's an A27 accident, an M27 accident or an accident in the cul-de-sac outside your house, you could claim if it can be shown that your injuries were caused because of someone else's mistake.
Importantly, claiming for an RTA requires you to gather some evidence to support the claim. The types of evidence you could use include:
Photographs of the accident scene (before vehicles are moved if possible).
Photographs of any visible injuries.
Medical records following treatment at a GP surgery or hospital.
Witness statements.
Dashcam or CCTV footage.
To begin your claim, please discuss the accident with one of our specialists as soon as you're able to do so.

Public Space Accident Claims
If an accident occurs in a public place, you'll need to try and find out who's responsible for the area if you wish to make a claim. It might be obvious but, if it's not, you might need to do a bit of investigation. You could start by asking neighbours about the ownership or you might be able to complete a land registry search online.
Not all accidents that happen in a public place will be due to the failure in responsibility of the owner or operator but if you feel that your accident could have been prevented had the right procedures been in place and you are injured as a direct result you may have the basis for a compensation claim.

Making A Clinical Negligence Claim
Any substandard treatment by a medical professional that causes you to suffer could lead to compensation claim against them. That could be an NHS healthcare provider, a private healthcare provider or a cosmetic surgeon.
Making a clinical negligence claim can be tricky and require complex medical evidence to support the claim. Therefore, accident claims solicitors covering Fareham could be used to improve your chances of demonstrating how the negligence caused your injuries.
Claims could be made for:
Wrong site surgery.
Where the correct procedure or equipment was not used, causing you to suffer.
Any suffering caused by incorrect medication being administered.
Suffering caused by a negligent incorrect diagnosis leading to a delay in treatment causing the current condition to worsen.
To discuss whether you've got a valid claim for medical negligence, get in touch today. Remember, we'll assess your claim for free and with no obligation.

No Win No Fee Accident Claims Solicitors Covering Fareham
Many people are worried about the cost of hiring a personal injury solicitor to help with accident claims in Fareham. We understand that and it's why our accident claims solicitors work on a no win no fee basis.
A Conditional Fee Agreement (CFA), is the legal name for no win no fee and is used as a contract between clients and their solicitor. It is used to ensure it's clear from the start that:
The client doesn't need to pay up front for the solicitor to begin the case.
They won't have to pay their legal team if compensation isn't awarded i.e. the case is lost.
A success fee (up to 25% of your compensation) is deducted if the solicitor wins the claim.
Because the success fee is deducted at source, clients don't need to find the funds to pay the solicitor if the case is won. It's one of the ways in which no win no fee can reduce the financial risk of making a claim. It also allows more people to do so.

Speak To An Expert
You're now coming the end of this guide about accident claims solicitors covering Fareham. We hope that we've demonstrated how we could help you and you'd like to discuss your claim with us today. If so, you may contact us by calling 0800 073 8801, using our live chat facility or by requesting a call back by filling in this online form. Your call will be answered 24/7 and 7 days a week.

Frequently Asked Questions
It's fair to say that, when we're contacted by new clients, we're often asked very similar questions. We don't mind, but to allow you to concentrate on your accident when you call, we've answered some of the more common questions below.
How Could Your Team Help Me?
Accident Claims UK has a team of experienced and friendly specialist advisors. They offer free accident claims advice and a free assessment of your claim. When they've talked about your accident with you, if they believe you've got a good chance of being compensated, they could refer you to one of our panel of accident claims solicitors.
They will have up to 30 years' experience of making accident compensation claims. They're also dedicated in trying to ensure that you'll receive the correct amount of compensation that your injuries warrant. Our accident claims solicitors handle all cases they take on using a no win no fee service which should remove some of the stress involved with making a claim.
Do I Need A Local Solicitor
If you don't fancy the idea of face to face meetings with a solicitor and having to travel to their offices, then you may be pleased to hear that you could use accident claims solicitors covering Fareham rather than those based there.
That's because, many solicitors are able to handle compensation claims by discussing the accident over the phone and using emails. It means that you can use solicitors based anywhere in the country and choose them for a number of different reasons rather than just choosing the most local option.
Do I Need To See A Doctor?
The compensation for your injuries is based largely on how severe the injury was, what affect it had on you and how it might affect you later in life. Therefore, your personal injury lawyer needs to prove the severity to ensure you're compensated correctly. To do this they'll send you to a doctor for an independent medical assessment.
The doctor will complete their assessment, ask you some questions. They'll then complete a report with all the details required about your injuries. The report will then be used by your solicitor, along with any other medical records (from your GP or a hospital), as the basis for your compensation request.
Therefore, a medical assessment is a vital part of any claim.
Where Could I See A Doctor?
Our panel of doctors and medical specialists are based all over the UK to try and ensure there's no need for long distance travelling. Here are some, based locally, that we could send you to for a medical assessment:
Phillipa Keech
Fareham Enterprise Centre,
Newgate Lane,
Fareham, PO14 1TH.
Kashif Aziz
Hampshire Health,
Havant Road,
Emsworth, PO10 7LF.

Could accident claims solicitors covering Fareham assist if I have a data breach claim?
There are lots of reasons people might want to make a claim for compensation and there are lots of personal injury solicitors covering Fareham that could help with those claims. When it comes to data breaches, if you've suffered financial harm or psychological harm (including distress) because of a data breach, there are laws that could allow you to claim compensation. These laws include the General Data Protection Regulation and the Data Protection Act 2018. To make a claim, you'd need to be able to prove that wrongdoing on a data controllers part led to a breach, and the breach caused you harm.
Data breaches could happen in a number of different ways. Some examples could include:
Your employer sending your payroll details to another colleague in error
Your healthcare provider sharing your medical notes with an unauthorised family member
A credit card company failing to protect data held online, leading to someone accessing it unlawfully or without authorisation
These are just a few examples. If you believe you have been harmed financially by a data breach, whether this involves identity fraud or theft, we could help you begin a claim for compensation. Likewise, if you've suffered anxiety, stress or depression due to a data breach, we could help with this too.
Claiming for a hit and run accident – could accident claims solicitors covering Fareham assist?
Have you been injured in an accident that was not your fault where the party  that caused the accident fled the scene? This could be referred to as a hit and run accident. But how could you claim compensation for your injuries if the driver cannot be traced? Here is where the Motor Insurers' Bureau comes in. You could make a claim through the MIB if you've suffered injuries because of an untraceable or uninsured driver. We could assist with such claims and would be happy to assess your case to help you get the compensation you deserve.
Do accident claims solicitors covering Fareham all offer the same service?
If you're looking for personal injury solicitors for Fareham claims, you'll now know you don't have to use a locally based law firm. However, it would be wise to check that they're registered in England and Wales, authorised and regulated by the Solicitors Regulation Authority, and they have experience in handling claims like yours.
Fareham Area Resources
We hope that you now know everything you need to about how accident claims solicitors covering Fareham can help you with your claim. If you do require any further information, please call our friendly team of advisors. We've provided some links, resources and guides below which you may find useful.
The Health and Safety at Work Act 1974 – Information from the HSE about legislation used in accident at work claims.
Report a Fareham Traffic Accident – An online tool from Hampshire Police where you can report some RTAs.
Local Court – Information about the court serving Fareham including contact details.
Accident at Work Claims – This guide explains when claiming for an accident at work could be possible.
CICA Claims – If you're wondering, "How do I claim criminal injury compensation?", then this guide will prove useful.
Whiplash Claims – This guide explains how whiplash can occur in a car accident and when you may be able to claim compensation for it.
We hope you enjoyed reading this accident claims solicitors Fareham guide. When choosing personal injury solicitors for Fareham claims, we hope you'll consider us.