By Joanne Jeffries. Last Updated August 23rd 2021. Welcome to our guide to accident claims solicitors for Huddersfield claimants. We offer guidance on personal injury solicitors for Huddersfield accident claims.
Have you suffered an injury due to an accident that was not your fault in Huddersfield? Our expert accident claims solicitors can cover the Huddersfield area and can help those who have suffered an injury through no fault of their own claim compensation using a no win no fee agreement.
There are many different types of accident circumstances which could result in harm, from accidents in the workplace to those on the road, pavement, in a public place or through negligent treatment of a healthcare professional. If someone else was at fault for your injuries, you could be eligible to make a personal injury claim.
Our FAQ section at the bottom of this guide will provide you with additional information about the medical assessment, who it may be conducted by and how to begin your case with accident claim solicitors from our panel.
When you feel ready to begin your claim, contact our team of specialist advisors by calling 0800 073 8801.
Choose A Section
What Is An Accident Claims Solicitor Covering Huddersfield?
Regardless of what precautions are put in place, accidents can and do happen under almost any circumstances in daily life. You could be entitled to compensation for harm caused by an accident if it wasn't your fault. This could be the result of negligent actions of another person, such as an employer, public body, owner of private premises or even a healthcare provider. It is vital that those you hold responsible owed you a duty of care.
It doesn't matter if you have suffered from a work-related injury or been involved in road traffic accidents in the Huddersfield area as long a third party who owed you a duty of care acted in a negligent way that caused an avoidable injury you may have the grounds to claim. As we will explain further on into this guide, you could use the services of any legal provider across the country, so there's no need to limit yourself to accident claims solicitors in Huddersfield.
To ensure you have the best chance of securing the highest possible settlement for your injury, you may want to consider the services of a personal injury solicitor. They could not only help you with their knowledge and expertise but also provide you with impartial, accident claims advice.
A personal injury solicitor, also referred to as a 'personal injury lawyer', is a legal specialist who is able to help people claim accident compensation for an injury that wasn't their fault. Personal injury solicitors covering Huddersfield, as long as they are registered in England and Wales could be based in Huddersfield or elsewhere in the country.
Some of the services a solicitor could provide may include, but is not limited to, the list below:
A personal injury lawyer could accurately estimate the amount of compensation you are entitled to rather than using an online personal injury claims calculator.
Whether your case is applicable within the accident claims time limit will be assessed by your solicitor.
Your accident claim solicitor will help collect evidence to support your case.
Our website helps you to obtain more information about how personal injury solicitors could help you make accident claims in Huddersfield.
West Yorkshire Accident At Work Statistics Explained
According to the Labour Force Survey, 0.7 million injuries occurred at work in Great Britain between 2019/20. In addition to this, 38.8million working days were lost during this period due to work-related illnesses and workplace injuries. More information on these statistics can be found in this report by the HSE.
The table below takes a closer look at the total number of fatal and non-fatal workplace injuries, as well as the rate per 100,000 workers for the West Yorkshire area.
| LOCATION | TOTAL – NON FATAL INJURIES | TOTAL – NON FATAL INJURIES PER 100,000 WORKERS | FATAL INJURIES |
| --- | --- | --- | --- |
| West Yorkshire | 2,393 | 247 | 0 |
Work Related Injury Claims
When we talk about a work related injury, we are referring to instances whereby an employer may have failed implement basic health and safety standards for their employees or not trained them appropriately or possibly not provided them with the correct protective wear. In such circumstances, these negligent actions may cause an employee to suffer from an injury or illness which they wouldn't have otherwise experienced had the proper safety precautions been put in place. In 2019/20, an estimated £16.2 billion annual costs of work-related injuries and new cases of ill health excluding long latency illnesses such as cancer.
Some examples of the steps employers should take to uphold the duty of care they owe their employees may be:
If you feel that your injury or illness was caused by your workplace, contact our panel of accident claims solicitors today.
Trip, Fall Or Slip Accident Claims
Trip, fall or slip accidents are one of the most common ways in which people are injured in the UK. Of the estimated 693,000 non-fatal injuries to workers across the UK in 2019/20, 29% were caused by slip, trip or fall accidents.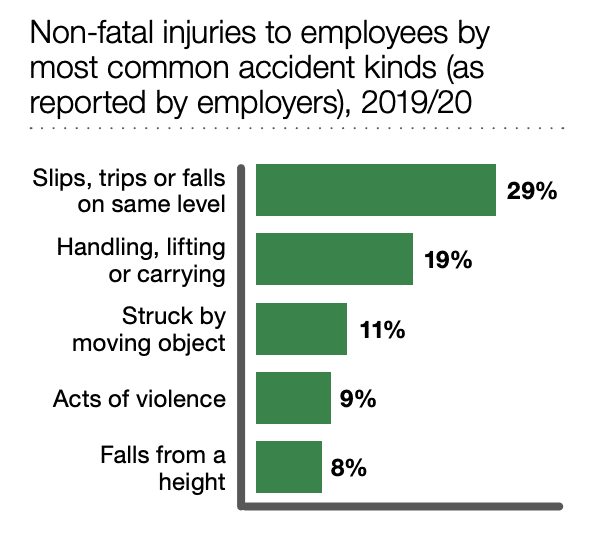 These types of accidents could be caused by a variety of different forms of negligence, such as:
Icy pavement that have been improperly maintained.
Potholes on the road causing pedestrians to trip and fall when crossing.
Obstruction of footpaths by someone negligently leaving items, which may cause hazards.
Such examples could cause injuries such as sprains, fractures, or other musculoskeletal injuries.
To make personal injury claims in the UK for trip, fall or slip accidents, contact our accident claims solicitors today.
Examples Of Criminal Injury Claims
Alongside the various other types of claims mentioned in this guide, our accident claims solicitors could help you claim compensation for harm caused by a criminal act against you.
If a person has deliberately harmed you, you may be able to claim compensation for the injury you have suffered from. In order to be entitled to criminal injury compensation your circumstances and injury must fit into a criteria set out by the Criminal Injuries Compensation Authority. 
This government organisation provides blameless victims of violent crimes with compensation ranging anywhere from £1,000 to £50,000 depending on the severity of the injuries suffered. Find out today if you, a friend or family member are entitled to compensation under the victim compensation scheme.
Claims For Injuries In Road Traffic Accidents
This section of the guide may be of use to you if you have been searching online for 'Huddersfield car accident claims' or 'car accident solicitors near me'. While it is generally safe to travel on the country's road networks by vehicle or foot, some people are unfortunate enough to be harmed in a cycle accident or other road traffic acccident due to the negligent actions of another road user. A road traffic accident claim could be brought against any type of road user, including a car driver, moped rider, cyclist or pedestrian crossing the road if they have acted in a negligent way which has caused you to become injured.
If you have been involved in a road traffic accident, as part of the car accident claims process you will need to gather some information;
Photographic evidence of the scene and any damage – this could be taken by yourself or a witness.
Full contact details of all parties involved, including any witnesses.
The number plates of any motorised vehicles involved.
Photographs of any visible injuries.
Speak to an accident claims solicitor from our panel today for more information.
Public Place Personal Injury Claims
Where most public places can encompass large numbers of people at any given time, there is a potential for accidents to occur. This could be in a local park, the street, a leisure centre or a shopping centre.
You may be able to bring a claim against a public body or private owner depending on the space in question, as long as you have been harmed by negligence and there has been a breach in the duty of care.
There are countless examples of hazards in public places which could be considered as public liability. Public and private owners should be on the lookout for hazards in order to minimise risks at all costs.
For example, if the equipment in a gym is faulty or incorrect advice is given to members on how to use equipment and this leads to an injury, a compensation claim could be made.
Although some Huddersfield personal injury solicitors may be able to help you claim compensation for public place personal injuries, our accident claims solicitors have the knowledge and expertise to deal with these cases even though we are not based in Huddersfield. We could help you secure the maximum compensation possible for your claim if you seek compensation through us.
Clinical Negligence
The term 'clinical negligence' refers to circumstances where a patient has been caused harm in the form of a new injury or illness, or an existing condition getting worse, as a result of a substandard of care and negligent treatment delivered by a healthcare professional.
There is no legal requirement to limit yourself to medical negligence solicitors in Huddersfield for clinical negligence claims just because your experiences were in the West Yorkshire area. You could find a suitable solicitor with the knowledge and expertise to help progress your case from anywhere in the country.
To ensure your personal injury claim is successful, we always advise that you choose a medical negligence solicitor that specifically specialises in the type of clinical negligence that you have suffered so that you have a greater chance of securing compensation as they will need to gather supporting evidence and argument for your claim. You will also need to undergo an impartial medical assessment to provide evidence on the effect the negligence has had on you and how it may affect you in the future. You can find details about this in the FAQ section below.
No Win No Fee Accident Claims Solicitors Covering Huddersfield
By choosing to make a claim with our panel of accident claims solicitors, you will be provided with a No Win No Fee agreement to claim compensation under. This means that providing your claim is valid, you will only have to pay up to 25% from your damages for your solicitor's services. This percentage will be agreed prior to beginning the claim process by way of a conditional fee agreement. If the claim is not successful you will have to pay nothing to your legal team for their time and service.
If you have any further questions about No Win No Fee solicitors and agreements, contact our expert team of advisors today.
Contact Our Personal Injury Claims Experts
Your next step should be to contact our specialist accident claim solicitors who can help you begin the claims process. They could help you make a claim for a variety of different types of accidents, from clinical negligence to a work related injury. Although we are not based in Huddersfield, we have a panel of expert personal injury lawyers who could cover the Huddersfield area to provide you with specialist legal services.
To start your claim today, click here to see how you can get in contact with us or call the number at the top of this guide.
Accident Claim Solicitors – FAQs
Below are some of the most frequently asked questions with additional information about making a claim with a personal injury solicitor.
Could I Start An Accident Claim In Huddersfield?
While there may be sufficient law firms in the Huddersfield area who could help you make a compensation claim, we believe that you shouldn't restrict yourself to the legal services in your area. Our solicitors have up to thirty years' experience under their belt in handling accident claims, alongside specialist knowledge and expertise, which is why we may be able to help you.
If you have any queries or concerns, our lines are open 24 hours a day.
Could Accident Claims Solicitors Covering Huddersfield Help With Claims Under The Whiplash Reforms Programme?
There have been significant changes that have been brought in by the government in order to simplify the claims process for insurers and reduce the risk of people making false claims for low value soft tissue injuries. The Whiplash Claims Reforms were brought into force in May 2021. Not only does this mean there is a fixed government tariff for the amount of compensation you could receive which is based on how long you suffer. It also means there is now a ban on any such claims being settled without the claimant obtaining medical evidence of their injuries. Further to this, legal costs can no longer be claimed from the liable party. Despite this, we could speak to you about whether it could be appropriate for personal injury solicitors covering Huddersfield claims to help with a low value soft tissue or whiplash claim. In some cases, you may be unaware that your injury is worth more than the 'low value' limit of £5,000. Whatever your questions about claiming, we'd be happy to help you.
Fatal Accident And Child Accident Claims – Accident Claims Solicitors Covering Huddersfield Help?
There may be some circumstances in which you may be looking for personal injury solicitors covering Huddersfield claims on the law society website to assist you in making a claim on behalf of someone else. In some circumstances, you may want to make an accident claim on behalf of a child. If so, you could register to be their litigation friend. This would allow you to make decisions about your child's case on their behalf. Their compensation would usually be held for them until they come of age. However, if you don't claim on behalf of your child, they could be able to make a claim of their own once they turn 18. They would normally have 3 years to do so.
If you lost a loved one in a fatal accident, you could also make a claim for their wrongful death. This could mean you could receive a bereavement award, compensation for funeral costs, and even compensation for the loss of household income due to your loved one's death. If you would like to speak to accident claims solicitors covering Huddersfield fatal accident claims or child accident claims, we would be only too happy to talk to you about your claim. We could offer the guidance and support you're looking for.
Will I Need To Find A Local Lawyer?
To put it simply: no. With so many different forms of communication available to us, it's easier than ever to utilise the services of legal providers based anywhere in the country.
Your case could be handled by a no win no fee solicitor who is based on the opposite side of the country in exactly the same way as accident claims solicitors in Huddersfield.
In many cases, your personal injury solicitor will communicate with you via email, phone or through the post.
Do All Claims Need Medical Evidence?
To make a successful accident claims in Huddersfield, you will be asked to undergo a medical examination. The purpose of this assessment is to gather evidence that could support your case.
A doctor covering the Huddersfield area will produce an impartial report from this assessment about the extent of your injuries, how the accident has impacted your life, and to what extent the injury has affected your health. It may also provide information about what treatment you require and your future prognosis.
Where Could I See A Doctor For My Assessment?
We work closely with a panel of doctors who are able to conduct medical examinations across the country. In Huddersfield, these include:
Rahena Rehman
Thornton Lodge Surgery,
60 Thornton Lodge Road,
Huddersfield,
HD1 3SB
Hafiz Rehman
Thornton Lodge Surgery,
60 Thornton Lodge Road,
Huddersfield,
HD1 3SB
Majella Okeahialam
116 Fitzwilliam Street,
Huddersfield,
HD1 5PH
Where To Obtain More Information
Building Sites Accident Claims
A guide to making a claim for accidents on building sites.
Wrongful Death Accident Claims
Impartial advice about how to bring forward a wrongful death claim for compensation.
Whiplash Claims
Our guide to whiplash claims to make it as straight forward as possible for you.
Reporting Workplace Accidents
How to report a workplace accident.
Reporting A Car Accident In Huddersfield
What to do when witnessing a car accident and how to correctly report it.
Courts In Huddersfield
What courts are available to you in the local area.
We hope you've enjoyed our guide to accident claims solicitors for Huddersfield claimants. We could offer guidance on personal injury solicitors for Huddersfield accident claims. Why not get in touch.