By Joanne Jeffries. Last Updated September 9th 2021. Welcome to this guide covering accident claims solicitors for Maidstone claims. Here, we explain what you need to know about finding personal injury solicitors for Maidstone injury claims.
Have you been injured through an accident which wasn't your fault? If so, you may be able to make an accident claim against the person or business responsible for your injuries. If you're considering hiring accident claims solicitors covering Maidstone Kent, then this guide will help you through what can be a tricky task. Making any personal injury claim can be tough, especially when the other party denies liability, that's why we'll provide advice on how to choose the right personal injury lawyer suited to your circumstances to help make your claim.
To save time, you could call one of our specialist legal services advisors on 0800 073 8801. They offer free legal advice on accident claims as well as a free assessment of your claim. If they believe you have a strong case, they could introduce you to one of our panel of accident claims solicitors.   Even though we're not based in the area, our accident solicitors can cover claims in the Maidstone area on a no win no fee basis. We have a proven track record in helping claimants understand the claims process for a wide range of claims.
If you'd like to find out more before you call us, please continue reading this useful guide.
Choose A Section
What Is An Accident Claims Solicitor Covering Maidstone?
An accident claim solicitor is a legal professional who helps clients claim compensation for injuries caused by a third party. They often offer a no win no fee service for clients which means they don't take on all cases. To help understand if you could use a no win no fee solicitor, see if you answer yes to the following 3 questions:
Did the business or individual you're claiming against owe you a duty of care?
In some way, did they breach that duty of care?
As a result of the breach, did an accident happen which caused you to suffer?
If you've answered yes to those questions, then our accident claims solicitors could help you begin a claim. If you're unsure of any of the answers, then call and speak with an injury claim specialist from our team for free accident claims advice.
Usually, when you contact accident claims solicitors covering Maidstone, you'll receive some or all of the following services:
To start with, a free consultation about your accident and injuries.
Help compiling and gathering evidence that supports your claim, like medical records and witness statements (If they are needed).
The solicitor will field any queries or objections presented by the other party, their solicitor or their insurer.
It is very rare for claims to end up in court, but there can sometimes be instances.  If that happens, your solicitor will also represent you during court proceedings.
One more thing that you should be aware of is the accident claims time limit which is currently 3 years. This usually starts from the date of your accident or it could begin when you find out about injuries from a doctor or medical professional. There are some exceptions to this, please contact us for more information.

How Many People Are Injured At Work In Maidstone?
To demonstrate the number of accidents at work in the Maidstone area, we've included the following table. It shows the number of reported injuries including any fatal accident in Maidstone workplaces.  The data came from this government report.
| Location | Total - Non Fatal Injuries | Total - Non Fatal Injuries per 100,000 workers | Fatal Injuries |
| --- | --- | --- | --- |
| Maidstone | 157 | 211 | 0 |
Nationally, according to the Health and Safety Executive, in 2019/20 1.6 million employees suffered from illness related to work. In 2021, sadly, 142 workers lost their lives due to an accident at work. You can see the industries involved below.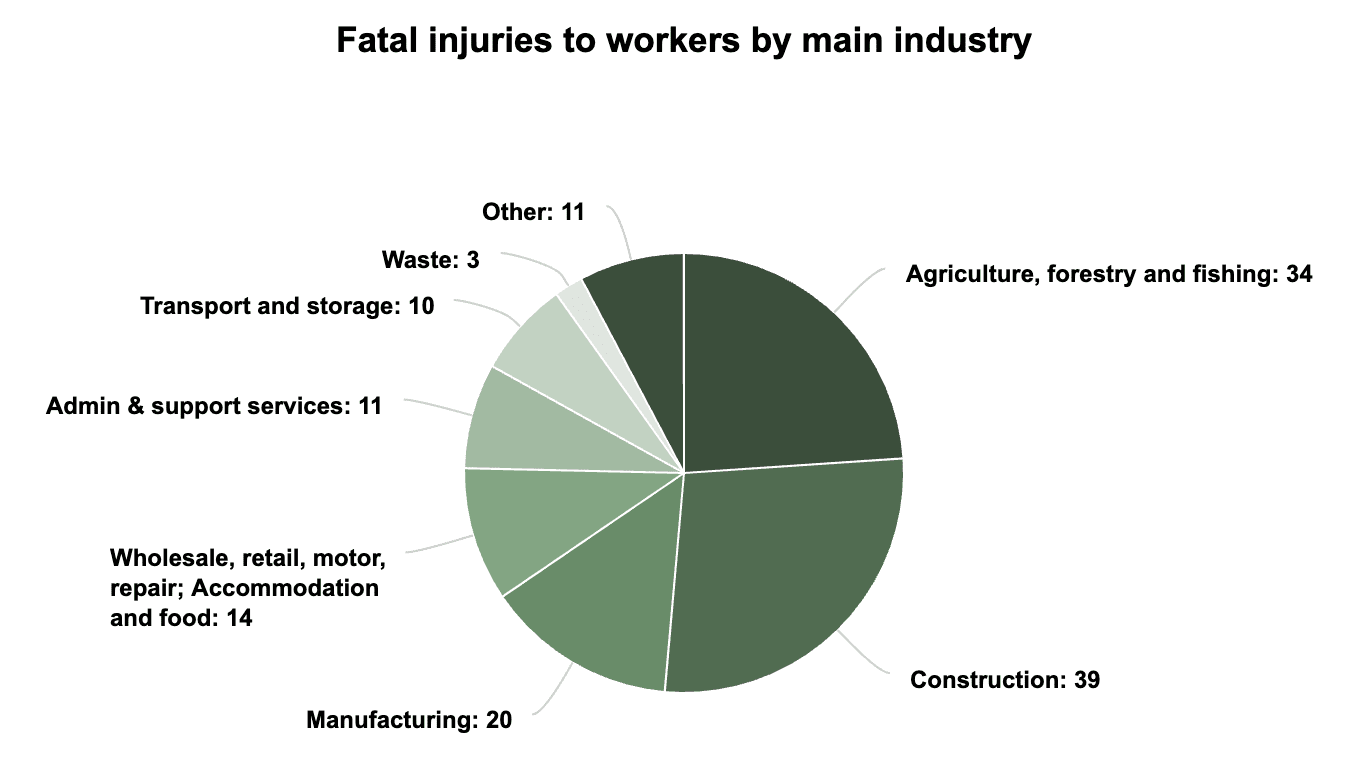 Claim If You Have An Accident At Work
You may be able to claim compensation if you're injured at work if the accident was caused by the neglect of your employer. This doesn't need to be a deliberate act, it could be caused by an accident, a procedural error or a breach of health and safety regulations.
Employers are duty bound to risk assess the workplace and reduce any risks identified.  This can be done by:
Changing any risky process for an alternative.
Ensuring staff are fully trained.
Making sure equipment is fit for purpose.
Providing protective equipment or clothing.
If any of the above has not been done and you have an accident at work which is linked to a negligent act, then accident claims solicitors could help you begin a claim for compensation.  Claims could be for workplace accidents, industrial disease and even a car accident at work, so please get in touch to discuss whether you could claim.

Maidstone Road Traffic, Car And Bike Accidents
It's quite common for accident claims solicitors covering Maidstone to deal with road traffic accident claims. If you're injured by another road user because they were negligent, you could seek compensation against them. Forms of negligence could include:
Not paying attention to other road users.
Dangerous driving or speeding.
Pulling out in front of you.
Criminal acts like drink or drug driving.
Pedestrians stepping out in front of you.
This is a small sample of reasons that you may be able to make claims for head injuries, back injuries, whiplash, broken bones or soft tissue damage caused by the accident.

Injuries Caused By Slips And Falls
You could end up with very serious injuries from what looks like an innocuous trip or slip. This type of accident can happen just about anywhere you can think of from your workplace, in the street, on a bus or in a shop.
To seek a settlement for a slip and fall claim you'd need to prove that a third party was liable for your fall. If you simply tripped because you were not paying attention then the chances are, you wouldn't be able to claim.
Some examples of where another person could be held liable for your accident can include:
Where cables have been left trailing across a walkway, corridor, shop floor or similar pathway but with no warning signs.
If a floor is too slippery or wet which causes you to slip because there were inadequate warning signs in place.
Where you fall down some stairs because a handrail is not fitted properly, is damaged or missing.
If a doormat at the entrance to a building is not level or has moved from it's normal position, causing you to trip.
For more information, read our guide about slips, trips and fall claims.

Claim If You Were The Victim Of A Crime
Some victims of crime are unaware that there is a government compensation scheme in place which allows them to claim for their injuries.  Even if the criminal involved is known to you or, on the other hand, is never identified, you could seek compensation from the scheme called the Criminal Injuries Compensation Authority (CICA) for any injuries suffered.
Here are some criminal compensation examples that you could claim for:
Any physical injury caused by the crime.
Sexual or physical abuse.
Funeral expenses.
Mental injuries.
Lost income and expenses incurred because of your injuries.
Accident claims solicitors covering Maidstone can help you with claiming through the CICA to ensure you follow the correct procedures when submitting the claim.

Injuries And Accidents In A Public Place
Public places are generally the types of places you can visit, use or pass through without asking permission.  This can include shops and shopping centres, public highways (paths, roads, footpaths etc) and public amenities (parks, rivers, green spaces etc).
If you're injured while using these public places, then you might need to know how to make a public liability claim. The first thing to do is photograph the scene of the accident to show what caused it and seek treatment for your injuries.  Following that, you'd need to identify who owns the building or place. In some cases, this is very simple but in others it can be complex especially if the occupier is a different person or company than the actual owner.
In these cases, if both parties deny liability, the claim can become complex.  That's why we recommend you speak with us about the accident. We'll help determine who the claim should be against and connect you to our panel of solicitors.
Types of public liability claims that could be made include:
Injuries caused by road / path defects such as potholes or raised kerbs.
Suffering caused by children using public parks caused by damaged play equipment.
Injuries caused by falling signs in shops or buildings.
Accidents in public car parks caused by faulty barriers.
We can help with these and many other public insurance accident claims so please call today to discuss your options.

Negligent Medical Care
If you've received treatment which could be deemed substandard, negligent, dangerous or careless from a medical professional which has caused you any form of suffering, then you could be eligible to make a clinical negligence claim for damages.
This could be against a dentist, surgeon, GP, care worker, nurse or hospital staff.  Claims can be made for negligence during medical procedures or cosmetic surgery and could be made against the NHS or private healthcare providers.
As this is quite a complex type of claim, please refer to our medical negligence guide.

No Win No Fee Accident Claims Solicitors Covering Maidstone
If you're considering an injury claim in Maidstone, you'll probably want to consider utilising a no win no fee agreement. This is because they reduce the financial risk involved with making a claim and make the whole process a lot less stressful.
With no win no fee:
You don't have to pay the solicitor for the claim to begin.
There's nothing at all to pay the solicitor if the solicitor loses.
And the success fee that pays for the solicitor is taken directly from the compensation meaning you don't need to fund the solicitor yourself. Success fees are limited in law to 25% but maybe less.
Our accident claims solicitors covering Maidstone work exclusively in this way for of their clients.

Talk To Our Expert Team
If you'd like to discuss how we could help you begin your claim, need accident claims advice or have any queries now that you've read this guide, please call us today using the number at the top of the page.
Alternatively, you could fill in our accident claim form so that we can call you back at a suitable time.

Your FAQs Answered
We often get asked very similar questions from new clients including "What is the process of a making claim?.  Therefore, we've answered some commonly asked questions below to save time.
What Could A Solicitor Do For My Claim?
When you contact us to discuss your claim, our friendly team will discuss your claim with you, assess the evidence and help you decide whether you have a valid claim or not.
Then, if the case is strong, you could be introduced to one of our panel of accident claims solicitors all of whom offer free legal advice and a no win no fee service for claims they take on.
We believe it's important to have a specialist on your side when making a claim. This is to ensure your claim is dealt with professionally and to try and ensure you receive the compensation you're entitled to.
Is It Important To Have A Solicitor Near Me?
Many solicitors these days are happy to manage claims over email and the telephone.  In some cases, this could save time because it means there's no need to book appointments for face to face meetings.
This means that you don't necessarily need to look for accident claims solicitors in your area and can base your choice on experience and success as well.
Is It Important To Get A Medical Report
You'll need to undergo a medical assessment before your claim is filed.  These are used to prove how the injuries have affected you and if they're going to affect you in the future. They can be used in conjunction with any medical records that were created if you visited a doctor or hospital at the time of your accident.
Would I See A Local Doctor?
To ensure you don't have to travel far for your medical assessment, we use a panel of doctors around the UK.  A sample of those in and around Maidstone include:
Soran Saeed
Physiofit Kent,
Loose Road,
Maidstone, ME15 9QD.
Kashif Aziz
Oakwood Park,
Maidstone, ME19 8AE
Tariq Ayyoub
26 Kings Hill Avenue,
Maidstone, ME19 4AE.

Steps for locating accident claims solicitors covering Maidstone for your case
If you are thinking about making a personal injury claim, you may be looking to find experienced and reputable personal injury solicitors covering Maidstone to help you. Here are some of the steps you might want to take when determining who to hire:
Ask your family and friends for some suggestions
Do some digging online and read reviews from others
Make a shortlist
Check the solicitors to make sure that they have the required experience and they are registered in England and Wales as well as being authorised and regulated by the Solicitors Regulation Authority.
Enquire and see if they provide free legal advice
Ask if they will work on a no win no fee basis
Find out how communication would take place if you agreed to use their service
If you want to use the services of solicitors that can provide you with an efficient and empathetic service, please do not hesitate to get in touch with the team at Accident Claims UK today.
Could accident claims solicitors covering Maidstone help if I'm making a claim on the behalf of someone else?
You may be thinking about making a claim on the behalf of someone else and wondering whether or not this is possible. There are three main scenarios whereby this tends to happen:
You want to claim on the behalf of someone who has passed away due to the accident they were involved in
You want to claim on the behalf of someone who is under the age of 18
You want to claim on the behalf of someone who does not have the mental competency to do so
These are all situations whereby claiming on the behalf of someone else could be possible, and you could become what is known as a litigation friend. This means that you make decisions on a claim with someone else's best interests in mind because they are unable to do so.
When it comes to making a claim for someone who has lost their life, there are a number of things you can potentially claim for. For example, you may be compensated for the loss of life and the trauma the person experienced. You may also receive a payout to cover the costs of the funeral. If the person was the financial provider for you, you may also be able to receive compensation to cover loss of income as well.
Where To Find Out More
To help further, we've provided some additional resources which you might find useful.
Maidstone Court – Opening times and contact details.
RTA Reporting – Guidance from Kent police about reporting road traffic accidents.
Bike Accident Claims – A guide regarding what to do if you're involved in a bike accident in Maidstone and need to make a claim.
Laser Hair Removal Claims – A guide to how you can claim for a laser hair removal burn.
Accident At Work  – How to make a claim for an accident that occurred at work.
Now you've reached the end of this guide covering accident claims solicitors for Maidstone claims. Now you should know more about finding personal injury solicitors for Maidstone injury claims.