By Joanne Jeffries. Last Updated 16th September 2021. Welcome to our guide covering accident claims solicitors for Sale claims. Hopefully, this will help you understand what personal injury solicitors covering Sale claims could help with.
Unless you have prior experience, you probably don't know much about the process of making a personal injury claim, or even how to find a good personal injury solicitor to give you legal advice. You may need a little help and advice to firstly work out whether you have a valid claim or not, and secondly, on how to move forward with a claim to get you the compensation you deserve. Well, this is the intent of this guide, to provide you with the information you need when making accident claims in Sale.
Our accident claims solicitors covering Sale and Greater Manchester could help you to make a claim for compensation if you have been injured or made ill by a negligent third party who had a responsibility to keep you safe. If you call 0800 073 8801 and speak to one of our advisors, they will be able to explain to you how our no win no fee claims service works, and also answer any questions that you may have.
Choose A Section:
What Is An Accident Claims Solicitor Covering Sale, Greater Manchester?
Do you need to know how accident solicitors covering Sale and Trafford might be able to help you? Well, there are a great many things that one of our solicitors can help you with. For example, they can help you to get your evidence into shape, making sure you have documented all financial losses properly, and arrange for you to undergo an impartial medical examination.
The primary way that solicitors help claimants, is in actually processing a claim on their behalf. The solicitor will investigate the claim and then moving forward prove that the defendant is liable (or a reduced level of liability if the claimant was partially to blame for the harm they suffered). The solicitor will then negotiate a compensation settlement, that includes all damages that are applicable to the claim. If you need to know more about how a solicitor can assist you, speak to our team on the number at the bottom of the page.

Public Place Accident Claims
When we talk about an accident in a public place, we are generally looking at incidents that occur within one of two types of places/premises, and these are:
A council run public place – this would include public roads, public parks, public footpaths, playgrounds, leisure facilities and council run premises such as your local library.
A company run publicly accessible place – this would be a place such as a shopping centre, an airport, a restaurant, or any other premises that a member of the public has general permission to enter.
Both the local council, and any company that allows members of the public onto their premises, is expected to provide a safe environment, and ensure that maintenance is carried out, and hazards are removed. When this doesn't happen and a member of the public is injured because of it, then accident claim solicitors could be able to process a claim on behalf of the injured part.

Instances Of Accidents At Work In Greater Manchester- HSE Statistics
The table below shows data related to work-related accidents in the Sale and Greater Manchester area.
| Location | Total - nonfatal injuries | Total - nonfatal injuries per 100,000 workers | Fatal injuries |
| --- | --- | --- | --- |
| Greater Manchester | 2710 | 228 | 1 |
You can find further detailed information about the period  at the following link:
Below you can see key facts from the HSE regarding workplace illness and injury.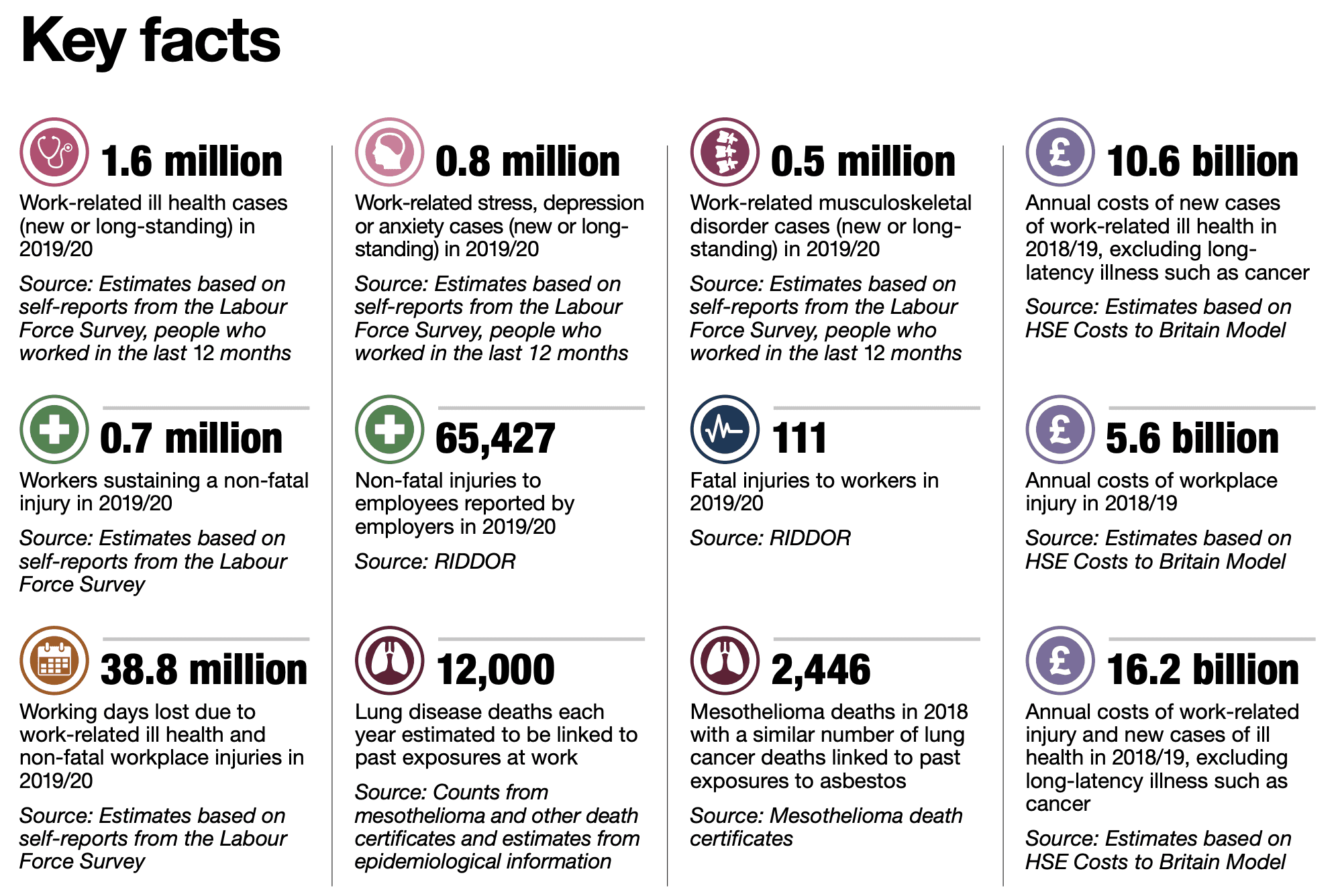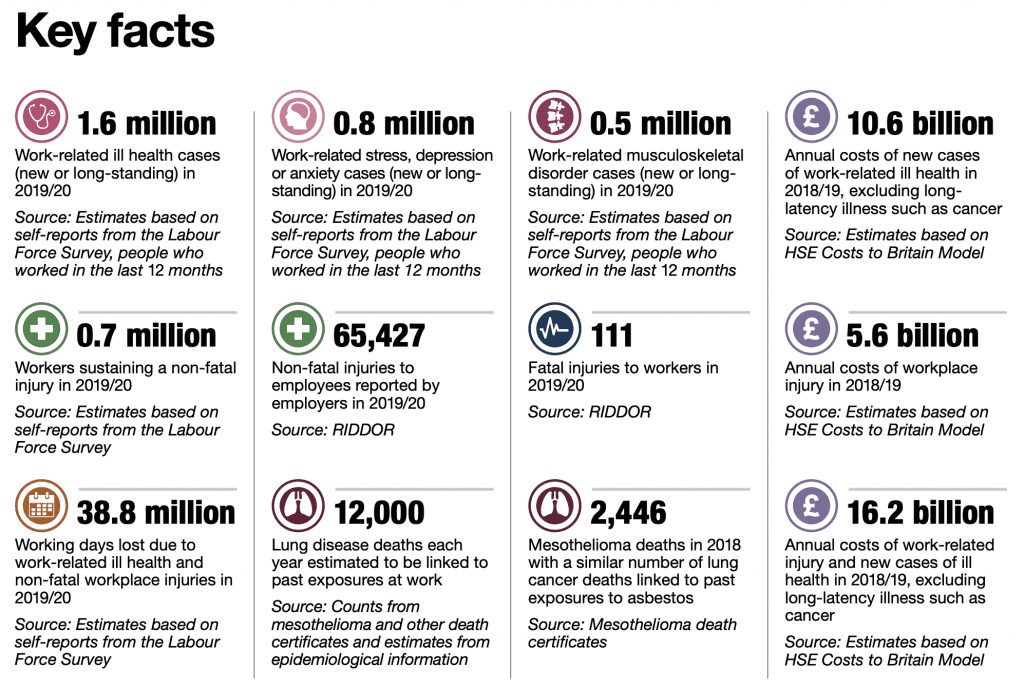 Accidents In A Workplace
In answer to the question, I had an accident at work can I claim? Workplace accidents, especially in some industries such as construction, manufacturing and heavy engineering, are an ever-present risk for employees. Even though each company in the UK has a legal obligation to evaluate risks, and then mitigate any that are uncovered accident could still happen. Examples of different kinds of work-related accidents are:
Falling from a height (as opposed to falling over).
Falls, trips and slips (i.e. slipping on oil, tripping on a power cord, etc.)
Road traffic accidents involving employees driving or riding in company vehicles.
Manual handling and lifting accidents (due to insufficient training for example).
Exposure to high volumes of noise, or harmful chemicals as there is no protective wear supplied.
If you are injured in a workplace accident that could have been avoided had the right health and safety policies been implemented correctly you maybe eligible to make a claim for accident at work compensation.

Road Traffic And Car Accident Claims
Road traffic accidents can range from minor to severe in terms of injuries. If you are injured in a road traffic accident that was not your fault but caused by third party negligence you maybe eligible to pursue a claim for damages. You will have to prove that a third party (driver, passenger, pedestrian or some other road user) was the cause of the road traffic accident. Common causes of RTA include:
A driver being distracted (using a mobile phone while driving as an example).
Driving while under the influence of drugs, alcohol or some prescription medications.
Driving too fast (especially at night or in the rain).
Reckless driving (such as not obeying speed limits or jumping a red light).
Our solicitors are well experienced in the car accident claims process, and can help you to make a claim for any harm suffered plus special damages, if a third-party were to blame.

Accidents Involving Tripping Or Falling
Slip, trip and fall accidents are really common as they could be caused by many different hazards. These common accidents can happen at any time, and in any place. They are generally caused by hazards such as:
Wet or dirty floors – that should have been cleaned or marked clearly with a hazard sign.
Faulty floor coverings – such as a torn carpet, a warped wooden floorboard or a cracked flooring tile.
Damage pavements or road surfaces – such as broken curbstones or paving slabs that have been laid unevenly.
The elderly or people suffering from a medical condition that weakens bones, are at risk of serious, even fatal injuries caused by simple slips, trips and falls. Our team is experienced in slip and fall claims handling and can help you to claim if you have been injured by such an accident.

Compensation As A Victim Of A Crime
Criminals who carry out violent crimes such as rape, assault, mugging or even murder, often cause their victims unimaginable harm both physically and mentally. Even when criminals are caught, in some cases they will lack the financial means to pay any compensation that their victim should be awarded. So, how do the innocent victims of violent crimes claim damages for the harm they have suffered.
In order to claim compensation as a victim of crime, your solicitor will make a claim through a special Government scheme, called the Criminal Injuries Compensation Authority (CICA). When the victim of a violent crime has no other way open to them to receive compensation, a solicitor can help them claim through the CICA.

Clinical Negligence Claims Advice
In the UK, every doctor, nurse, surgeon, cosmetic surgeon, dentist, optician and every person working in a healthcare role, has a duty of care towards their patients. When this duty of care is not met, it can cause harm to a patient. A basic clinical negligence definition could be:
A medical professional had a duty of care towards a patient they were treating, advising, or otherwise helping in an official capacity.
The medical professional failed to meet this duty of care, and this indirectly or directly caused avoidable harm (physical or psychological) to the patient.
The medical professional could have avoided breaching the duty of care.
If the three statements above ring true in your own case, a personal injury lawyer will be able to give you clinical negligence advice, and could also help you to make a claim for the harm you suffered.

No Win No Fee Accident Claims Solicitors Covering Sale, Greater Manchester
Have you thought about using the services of a No Win No Fee solicitor to process your claim for medical negligence, and accident on the road in Sale M33 or work accidents for you? If you use such a solicitor, you wouldn't be expected to pay anything for them to start your claim, while they process your claim, and if they can't get you any compensation. You only pay when the solicitor receives a compensation payment for you, and at such a time they will deduct their fees and give you the compensation left over. If you need more information on how our No Win No Fee claims service works, one of our advisors will be happy to go over the facts with you, and then help you to get your claim started.

How To Get Injury Claim Advice
Do you need some general accidents claims advice? Or maybe you already know you are ready to start a claim for accident compensation? We can provide you with one of our panel of accident claims solicitors, who will help to value your claim, and then if appropriate, process it for you. Speak to one of our advisors on 0800 073 8801 today to learn more.

Injury Claim Advice FAQs
What Services Could A Solicitor Provide Me?
So, you believe that you are ready to move forward to making your clam after reading this guide? If so, you need to understand the kinds of things a solicitor can do for you. Our accident claims solicitors can:
Value your claim for you (even if you already got a rough evaluation using a personal injury claims calculator).
Let you know which accident claims time limit will apply in your case.
Arrange for you to undergo a medical examination.
Provide you with general injury claim advice.
To learn more about how we can help you, speak to a member of our claims team on the number below.
Does It Matter Where My Solicitor Is Based?
Location bears little weight in choosing a solicitor these days. In the past, using a solicitor close to where you live made dealing with them easy. Now, we all have access to simple and cheap methods of communication that allow us to speak to our legal team at any time. Therefore, when choosing a solicitor to handle your accident claim, we would recommend you evaluate the solicitor's expertise, and whether they would be able to do a good job of processing your claim for you.
Why Does My Claim Require A Medical Exam?
A solicitor will need the claimant to undergo a medical examination, so that the value of the claim can be evaluated. In other cases, the accident claim solicitor may recommend that the claimant has a medical examination so that the results can be used as evidence, to prove the level of impact the injuries had on the claimant's life.
Where Could I See A Doctor For My Medical Appointment?
As part of our claims service, we can arrange for you to have a medical examination from a local doctor:
| | | | |
| --- | --- | --- | --- |
| Abdul Wahab | Centric Consulting Rooms, | Sale | M33 3HP |
| | 21a Marsland Road | | |
Could accident claims solicitors covering Sale help me if I want to make a claim on behalf of a child that I am responsible for?
If your child has suffered any type of injury in a road traffic accident, accident in the school playground, at school or on a school trip, or in a public place, you might be feeling rather angry. If the accident could have been avoided had somebody not been negligent or acted dangerously, you might feel that your child deserves compensation. If you could prove that someone else was at fault for your child's accident, you may be able to launch a claim for compensation on your child's behalf. Our personal injury solicitors covering Sale would be happy to make child accident claims for your child's no-fault accident. You would be able to make decisions on your child's case as their litigation friend. One of our specialist solicitors, who are authorised and regulated by the Solicitors Regulation Authority, could fight for compensation for your child. This compensation could be held in a trust for your child until they come of age. However, if you did not want to make a claim on behalf of your child, preferring to wait until your child is 18, so they could make their own claim, you could do so. This is not an easy decision to make, however. In some cases, it could be more difficult to obtain the evidence needed to prove your child's claim once years had passed. We could help give you the measure and guidance you need to decide on whether to claim for your child, however ultimately, the decision is yours.
What evidence would accident claims solicitors covering sale need for me to make a claim?
The type of evidence you might need to prove your claim could include a medical report, witness statements, and more. Essentially, you would need to be able to prove that somebody with a duty of care towards you had been negligent or acted irresponsibly, breaching their duty of care to you and leading to you suffering harm.
Local Resources And Further Claims Guides
You may find these external links have additional information that could apply in your case:
How To Report An Accident At Work
How To Report A Car Accident In Greater Manchester
Also, you might like to read these other guides that we have published to get more information:
How To Claim For A Fall From A Ladder
Claiming For Historical Sexual Abuse
A Guide To Claiming For An Accident While Riding A Horse
We hope this accident claims solicitors for Sale claims guide was useful. Now you will know what kinds of claims personal injury solicitors covering Sale could help with.