By Joanne Jeffries. Last Updated August 25th 2021. Welcome to this guide on choosing accident claims solicitors covering Scunthorpe. Here, we explore why you don't need to use local personal injury solicitors for Scunthorpe claims.
If you're involved in an accident, caused by somebody else's negligence, an you suffer an injury, you might be able seek compensation for any suffering caused to you. It doesn't have to be a deliberate act; it could have been caused by a mistake or accident. Whatever the reason, you might be able to use accident claims solicitors covering Scunthorpe to pursue accident claims in Scunthorpe for any harm suffered.
Our accident claims solicitors can cover the Scunthorpe area and can help you make a claim on a no win no fee basis. If you'd like to discuss how, call our advisors on 0800 073 8801 today.
If you would like to gather more information about using an accident claim solicitor before you call us, please carry on reading this helpful guide.
Choose A Section
What Is An Accident Claims Solicitor Covering Scunthorpe?
There are many types of accidents which could lead to a compensation claim including a road traffic accident in Scunthorpe, a steelworks accident, a trip and fall accident or injuries which result in a public liability accident claim.
Whatever type of accident you're involved in, before taking on your case, a personal injury lawyer would usually try to determine if:
The defendant owed you any form of duty of care; which
They breached which led to an accident happening; and
You were injured or made ill by the accident; and
The accident occurred within the accident claims time limit of 3 years.
If all of the above statements are true in your case, then you could begin a claim against the defendant for the pain and suffering caused by their negligence.
Having a solicitor on side can be very helpful, especially in cases where the defendant denies responsibility or suggests the injuries weren't as severe as claimed. Your solicitor will usually:
Assess your claim to determine whether you're likely to succeed.
Work with you to gather the supporting evidence like witness statements and medical records.
Communicate on your behalf with the defendant.
Explain your options should you receive a compensation offer.
Accident Claims UK can help you begin your claim under a no win no fee agreement. To discuss your options, please speak to an advisor today.

Public Liability Accident Claims
Accident claims solicitors covering Scunthorpe are sometimes used to help make claims for injuries sustained in public places. These are places you're allowed to pass through, use or visit without seeking prior permission. Examples of public places include riverbanks, footpaths, public highways, green spaces, shopping centres, parks and public car parks.
In some cases, it's quite easy to identify who owns a public place and to start your claim against them. In others though, it's not always as straightforward.
Firstly, you need to identify who owns the land or building. Secondly, you'll need to determine if they are liable for your accident or if an occupier, such as a tenant, was responsible. What can make it harder is if the owner and the occupier both point the finger at each other, and you're left in the middle trying to work out what's going on.
That's where our specialist advisers and our accident claims solicitors could help. In any public liability accident claim, it could be much easier to handle any objections if you have a specialist on your side.
Please call to discuss your claim with one of our advisors today.

Claims For Trip And Fall Accidents
An injury caused by a slip or fall can be very serious and might require a long period of recovery. Some common injuries caused by a fall include:
Concussion and other head injuries.
Soft tissue damage.
Broken or fractured bones, particularly in the hands or wrists when used to break a fall.
Back injuries.
If the fall was caused by an act of negligence, you could be able to claim compensation to help you recover from your injuries. This might be the case if:
You fell down some stairs because a handrail was missing, damaged or faulty.
A wet floor caused you to slip over and there were no, or inadequate, warning signs.
You tripped on a doormat at the entrance to a building which was not seated correctly.
A trailing cable caused you to trip.
Your fall was caused by a trip hazard that wasn't visible due to poor lighting.
Work Accident Claims
Every employer has to ensure that their staff remain safe, wherever possible, while at work. While no workplace is completely risk-free, the Health and Safety at Work Act 1974 dictates that:
Employers perform risk assessments of all processes.
They take steps to reduce the risks.
That staff are trained in the correct procedures to complete their tasks.
And that the correct protective equipment is used to help reduce any risks.
Failure to do any of the above, which causes an accident at work to happen and for a member of staff to be injured, could lead to a compensation claim being made against the employer.

Rates Of Injuries Reported In The Workplace In North Lincolnshire
In the table below, we've shown figures which show the number of accidents in North Lincolnshire workplaces.
| Location | Total - Non Fatal Injuries | Total - Non Fatal Injuries per 100,000 workers | Fatal Injuries |
| --- | --- | --- | --- |
| North Lincolnshire | 243 | 385 | 0 |
To compare the local figures with any other UK area, you can take a look at the full report here.

You can also see updated statistics for 2019/20 relating to workplace illnesses below.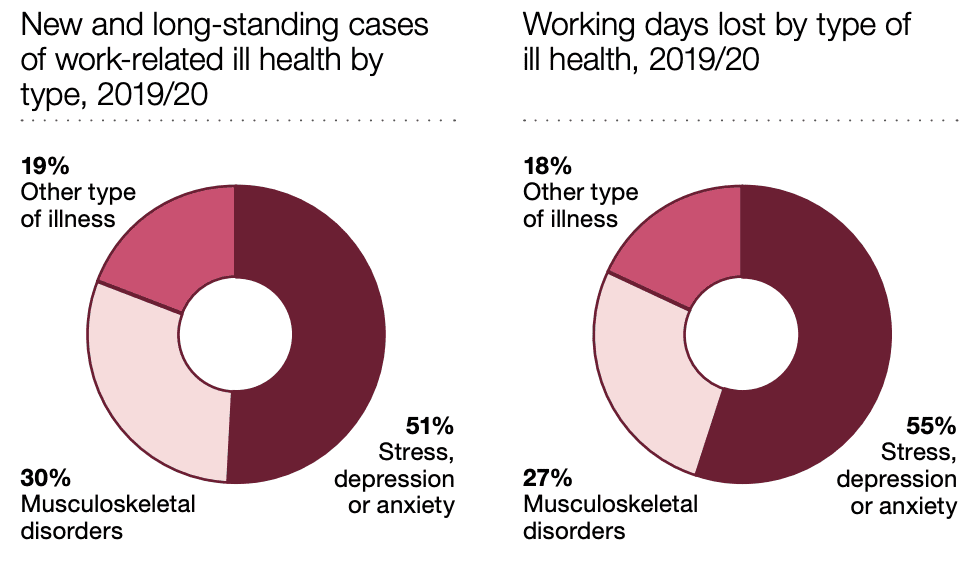 Claims For Road Traffic Accidents In Scunthorpe
Another common occurrence that accident claims solicitors covering Scunthorpe can be asked to help with are injuries sustained in road traffic accidents.
Any type of road user could make a claim including drivers, passengers, cyclists or pedestrians if their injury was caused by the negligence of another road user.
Gathering evidence at the scene of a road traffic accident can be really helpful as, once the scene of the accident has been cleared, it can be difficult to obtain later.
We recommend, that if involved in an RTA, you:
Photograph the scene before anything is removed.
Ask any witnesses for their details.
Seek medical treatment if needed.
Ask for the other driver's insurance details.
Report the accident to police if there's been a serious injury or you think a crime was committed.
Finally, you should contact us, with all of your evidence, for a free assessment of your chances of claiming compensation.

Criminal Injury And Assault Compensation Claims
Those injured by criminal acts might not be aware of the Criminal Injuries Compensation Authority or CICA. They are a government body set up to compensate for criminal injuries.
Claims can include compensation for:
Injuries from physical or sexual assault.
Mental injuries.
Loss of income.
Funeral expenses.
Other expenses linked to the crime.
The scheme has its own rules which differ from a standard personal injury claim. Therefore, contact us to help you file your claim correctly and to try and help ensure you don't miss out on compensation you could be entitled to.

Medical And Clinical Negligence Claims
You could also use accident claims solicitors covering Scunthorpe to help you claim for injuries or illnesses caused by medical negligence.
A definition of medical negligence might be:
That you received negligent treatment from a medical professional;
Which caused you to become ill, suffer an injury or an existing condition became worse.
Medical negligence claims are possible against the NHS or private providers. You could also make claims for suffering caused by cosmetic treatments.
If you think a doctor, nurse, cosmetic technician, surgeon, dentist, care worker or any other medical professional has caused you to suffer, please call today to discuss your options.

No Win No Fee Accident Claims Solicitors Covering Scunthorpe
We know that many people worry about the cost of hiring a personal injury solicitor. That's why any accident claim solicitor we connect you with will offer to work on a no win no fee basis.
The agreements are now known as conditional fee agreements (CFA). A CFA will explain that:
Our accident claims solicitors don't charge anything up front.
You don't pay anything at all to us if we're unable to win your case.
There's a success fee, which is deducted from your compensation, if we win the case.
A success fee is used to cover the solicitor's fees. It is limited by law to 25% of your compensation. As it's deducted from your compensation, you don't need to pay the solicitor from your own funds.
Therefore, you shouldn't worry about beginning a claim as using a no win no fee solicitor reduces the financial risk from claiming and a lot of stress too.

Talk To An Accident Claims Solicitor
Now that you've reached the end of this guide about accident claims solicitors covering Scunthorpe, we hope you'd like to discuss your claim with us today.
To do so, you can:
FAQs For Accident Claim Solicitors
When we're contacted by potential new clients, we often get asked some common questions. To save time when you call, we've answered some of them below.
Why May I Need A Solicitor?
Accident Claims UK have a friendly and helpful team of advisors ready to help you make a claim today. We offer free accident claims advice on any Scunthorpe accident claim.
We also offer a free initial assessment of your claim. If we believe you have a good chance of being compensated for your injuries, we could introduce to one of our panel of accident claims solicitors.
With up to 30 years' experience in personal injury claims, they could help you with your claim and they always try to ensure you receive the right level of compensation for your injuries.
Why Does A Solicitors Location Not Matter?
We live in a world where it's much easier to communicate than it has been previously. This means that some accident claims solicitors covering Scunthorpe are happy to handle all aspects of the claim over email or the phone.
You could choose a personal injury lawyer to handle your accident claim based on their experience and recent history of handling cases similar to yours, rather than where they're based.
Why Do I Need To Visit A Doctor?
When you file a personal injury claim, before agreeing to compensate you, the defendant's legal team will want evidence of your injuries. They'll also want to see how the injuries could affect you in the future.
To demonstrate this, an independent medical assessment is required. We have a panel of doctors around the UK who can perform these assessments. Following your assessment, a report is produced and provided as evidence to support your claim. It can be used in conjunction with other supporting evidence such as any initial assessment by a GP or hospital doctor.
Where Is The Closest Medical Expert To Me?
We know that you probably won't want to travel far to complete your medical assessment. Therefore, we have a panel of doctors up and down the country. Here are some in Scunthorpe we could use:
Syed Naeem
Scunthorpe General Hospital
Private Patient Reception
Scunthorpe, DN15 7BH.
Mata Molinero
Rowland Road
Scunthorpe, DN16 1SU.

What type of accident and injury at work could accident claim solicitors covering Scunthorpe help me with?
Ask we mentioned briefly previously in this guide, if your employer does not take reasonable steps to protect your health and safety at work and you are injured you could claim compensation. There are many ways in which unemployable breached their duty of care to you, leading to injury. These could include situations such as:
Slips trips and falls at work – if you suffer a slip trip or fall due to insufficient safety signage, poor lighting, a spillage that hasn't been signposted or cleared up, poor workplace maintenance, these are situations that could lead to a claim.
Faulty work equipment – should the equipment you use not be safe, whether this is due to poor maintenance or a manufacturer's fault, and you suffer injury, this could also lead to a claim.
Lack of PPE – If your role demands it, your employer should provide you with PPE that is not only fit for purpose, but that you have been trained to use correctly. If you suffer injury due to inadequate, ill-fitting, poorly maintained PPE, or because you weren't trained to use it correctly, this could lead to a claim.
Lack of training – Your employer should give you relevant health and safety training. For example, if you're expected to perform lifting or handling tasks, your employer needs to make sure you have the training to lift safely. If you are working at height, your employer also needs to ensure you have training to do so safely.
These are just some examples of the types of claim our personal injury solicitors covering Scunthorpe could assist with. Please call our team and we'd be happy to offer you a free of change case assessment.
What could I look for when choosing accident claims solicitors covering Scunthorpe?
While you should now be aware of the fact that you don't need to choose a solicitor based on location, there may be some things you should consider when choosing from the huge range of law firms and solicitors available to you. You might want to check they're regulated by the Solicitors Regulation Authority, and you could also make sure they're registered in England and Wales. You might also want to consider how long they've been trading, how successful they've been and whether they could offer you a No Win No Fee claims service.
Local Resources
Thanks for taking the time to read our guide about accident claims in Scunthorpe. To help you further, we've linked to some more useful guides, links and external resources below.
The Health and Safety Executive – Information from the body which governs workplace health and safety.
Reporting Incidents – A website from Humberside Police where you can report non-injury road traffic accidents.
Scunthorpe Court – If you need to visit the local court, you'll find the necessary contact details and directions here.
Car Accident Claims – A more detailed look at road traffic accident claims. This guide could also help with a bus accident, a motorbike accident or any other road accident.
CICA Claims – Information on claiming compensation for criminal injuries and assault injuries.
Personal Injury Claims Calculator – A good resource which can show how much accident compensation might be paid for certain injuries.
We hope you enjoyed this guide on choosing accident claims solicitors covering Scunthorpe. Now, hopefully, you know why you don't need to use local personal injury solicitors for Scunthorpe claims.