By Joanne Jeffries. Last Updated June 14th 2022. Welcome to our accident claims solicitors covering Stevenage guide. This guide explains why personal injury solicitors covering Stevenage don't have to be based locally. We discuss the average compensation for a Stevenage car accident, and explain what other types of Stevenage accident could lead to a claim. Further to this, we explain why searching for 'car accident solicitors near me' could mean you miss out on a wide range of solicitors who could handle your claim.
There is legal action that you can take if you have been involved in an accident that wasn't your fault but was caused because there was a breach in the duty of care owed to you that has left you with an injury and/or with lasting psychological harm. You can make a legal claim for accident compensation from the organisation, business, public authority or the individual responsible.
Accident Claims UK can offer you no win no fee solicitors as our accident claims lawyers can cover the Stevenage area. If you are unsure whether you have a case for accident claims in Stevenage why not call our advisors the number is located near the end of the guide. Read on in the article below to find out more about different types of accident claims you can make and how our accident claims solicitors can help you.
Choose a section
What Is An Accident Claims Solicitor Covering Stevenage?
To have the best chance of winning your accident claims case we recommend you find yourself an accident claims solicitor, an accident claims solicitor is another term for a personal injury lawyer. They will represent you in your accident claims case, gather supporting evidence and provide you with any legal guidance you need throughout the case. Although we may not have accident claims solicitors based in your area, we do have accident claims solicitors covering Stevenage.
Accident At Work Claims
Safety has generally improved a good deal in workplaces in Britain, according to the government's statistics the number of reported injuries today in workplace accidents is one third less what it was in the year 1990. An employer is obliged to perform risk assessments, provide safety equipment and safety training and to ensure that their workplace does not contain avoidable accident hazards. If our accident solicitors can prove that it was the employers failure to ensure the workplace was safe then we could secure accident compensation for our clients for any harm suffered.
In addition to workplace accidents compensation, it is also possible to make a claim for workplace stress or to make a claim if you have been assaulted at work as a result of your employer not providing adequate security. You can read up on workplace accident claims on our website. You can also read up more on what to do about making a claim for having been assaulted at work here. Each of these pages has a personal injury claims calculator to help give you an idea of how much compensation you may be owed. You should also read up on how to report an injury at work to the government on the government website.
Rates Of Injuries At Work In Stevenage
Here is a table outlining some of the figures for workplace injuries in Stevenage. The number of non-fatal injury accidents, the rate of non-fatal injuries in accidents per 100'000 workers and the number of fatal injuries in workplace accidents for the years 2020/21. This link here will take you to the source of these statistics as well as the statistics for all the other major towns across the UK. This should give you an idea of how common it is for people to be harmed in workplace accidents in Stevenage and across the country as a whole.
| Location | Total - non-fatal injuries | Total- non fatal injuries per 100,000 workers | Fatal injuries |
| --- | --- | --- | --- |
| Stevenage | 84 | 194 | 0 |
Below, we also include statistics relating to the number of injuries causing days of work to be lost to workplace injury.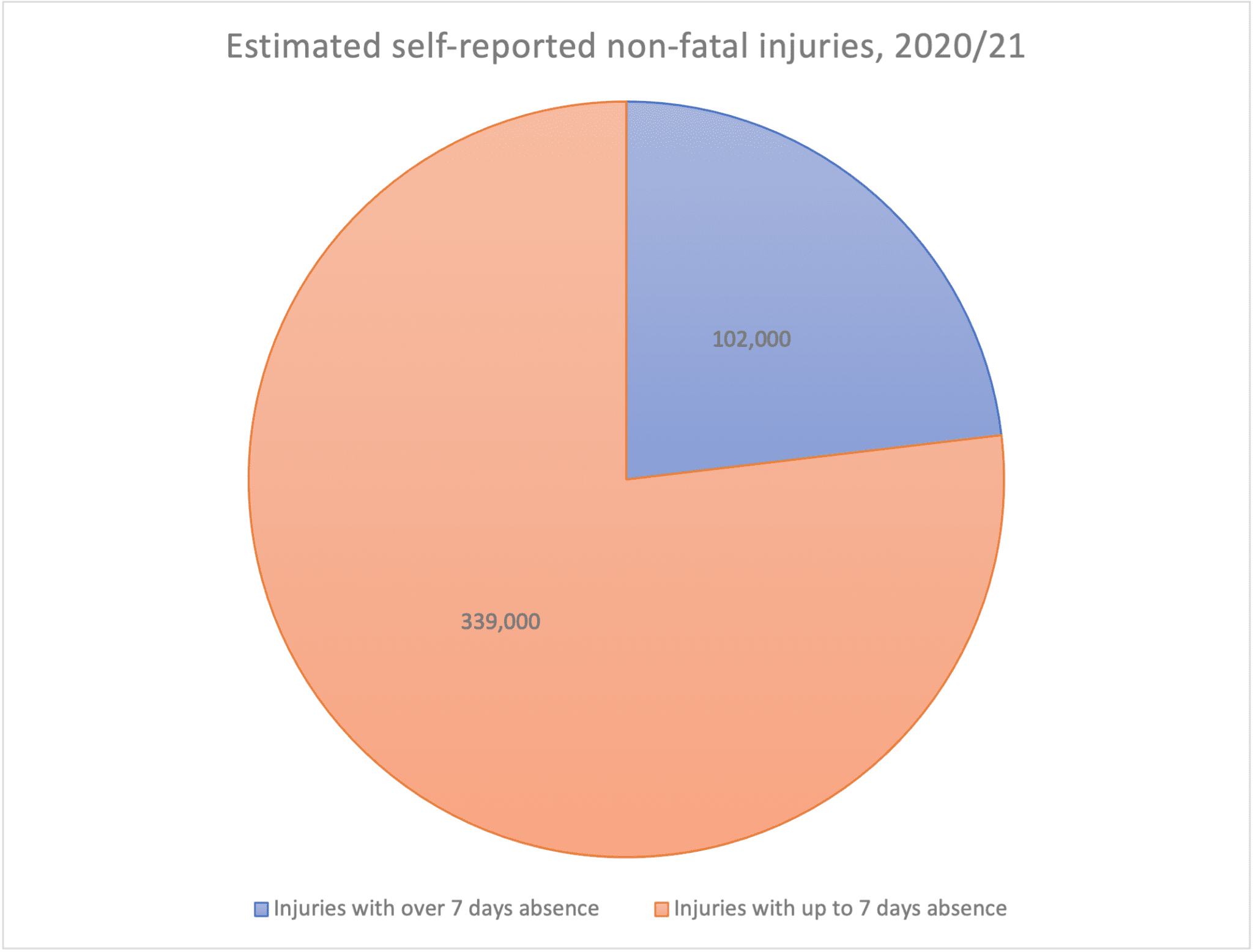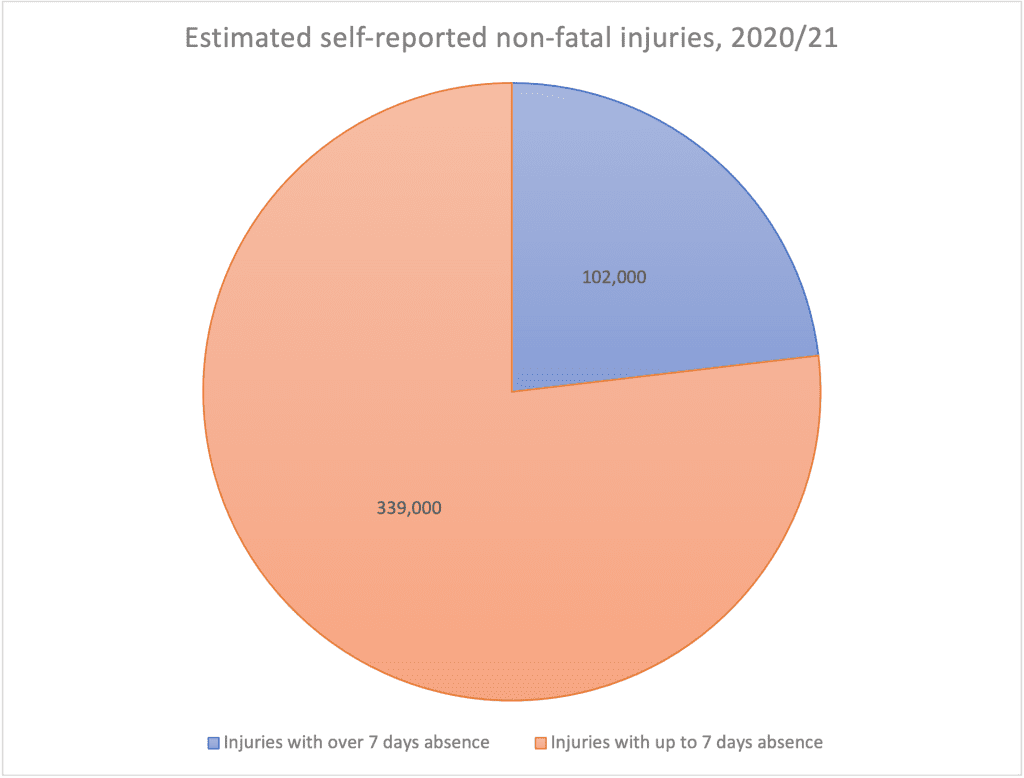 Stevenage Car Accident And Road Accident Claims
You can make a claim for accident compensation if you have been injured in a road accident in Stevenage that was not your fault. Our accident solicitors can help you make a claim and gather the evidence you need to win injury compensation. This type of claim covers any car accident, bike accident or motorcycle accident in Stevenage that was caused by the negligence of a third party resulting in avoidable injuries. You can also claim for compensation if you have lost a loved one to a crash death in Stevenage.
You should also note that you can make a claim against someone who was a pedestrian who caused you to have an accident while in a vehicle the only problem with this is they may not have the means or insurance to cover the damages. Read more about road traffic accident claims on our website. This page also contains a personal injury claims calculator to help you work out how much injury compensation you may be entitled to. You can report a road collision to the police with the information on this link.
Slip, Trip And Fall Accident Claims
The owner of premises can be held liable for paying compensation if someone falls over and injures themselves on their property if there is evidence that the accident was caused by their failure to remove all tripping or slipping hazards within reason (person must have permission to be on the premises). Those who own or occupy spaces where people are able to go are obliged to perform a slip, trip and fall risk assessment and to make sure that there aren't any avoidable hazards presenting the public with a risk of falling over and hurting themselves.
Floors should not be left with puddles or wet patches, for example, if they have recently been mopped or if something has been spilled, unless a wet floor sign is placed out to warn people. Wires should not be allowed to trail across the floor where people might trip on them. If certain potential tripping hazards are unavoidable, such as steps, they should be marked out i.e. with a "watch the step" sign. You can find more information about slip, trip and fall claims on our website.
Criminal Injuries And Assault Claims
As well as making accident compensation claims for injuries caused by accidents, you can also claim for injuries you have suffered from being assaulted through our panel of accident solicitors. With the government's Criminal Injury Compensation Authority (CISA) you can receive compensation covering either physical injuries or psychological harm that you have suffered as a result of being the victim of an assault. You can make a successful assault compensation claim regardless of whether there has been a person convicted of the assault, so long as it can be proven that your injuries are from an assault that did take place. Making an assault compensation claim can also include claiming for an incident of sexual assault or rape. Read more on our website about claiming for being the victim of assault here, and for being the victim of sexual assault here.
Claims For Accidents In Public Places
Similarly to slip, trip and fall accident claims that we discussed in an earlier section, claims can be made against the owner or operator of a public place if a member of the public has suffered an injury in an accident on their property due to negligence, or health and safety issues or failure to comply with safety legislation. If it can be proven that the owner of the property has failed to take the necessary steps to ensure that their property does not present the public with avoidable accident risks and hazards then the claimant may be entitled to receive financial compensation for any harm suffered as a consequence.
"Public place" is any property open to the public or for public use. This could include, shops and shopping centres, bars and restaurants and public amenities such as playgrounds and leisure centres.   For example a café or a restaurant should not serve food or drink at too high a temperature so that it may cause scalding or burning, equipment in playgrounds, gyms and leisure centres must be in full working order and properly labelled to ensure that it won't break or allow a person to injure themselves on it.  Follow this link to our website page on accidents in public places to find out more about different types of common accidents in public places.
Clinical Negligence Claims
Our panel of accident solicitors and medical negligence solicitors can help you to make claims for clinical negligence. Clinical negligence is when a patient suffers harm, such as infection or injury, as a result of a professional in the healthcare sector failing to follow the correct procedure and uphold their duty of care to their patients. Hospitals, nursing homes, dentist's practices and GP's in both the NHS and the private sector all owe their patients a duty of care. You can read about the different types of clinical and medical negligence claims that our panel of no win no fee solicitors covering Stevenage can deal with, and how much compensation you may be able to receive for different types of clinical negligence claims, on our website.
No Win No Fee Accident Claims Solicitors Covering Stevenage
If you are looking for a no win no fee solicitor to handle your accident claim, then Accident Claims UK can provide you with one. Our panel of accident solicitors are always happy to offer their clients with a no win no fee agreement.  A no win no fee agreement means that if your claim is valid, but unsuccessful, your solicitor will not charge you for their time and services. If your accident compensation claim is successful and you are awarded a financial sum, then your solicitor will take a certain portion of said sum as their payment.  You and your personal injury solicitor will decide beforehand how much of the compensation the solicitor will take in what's known as a Conditional Fee Agreement (CFA). The maximum amount that a no win no fee solicitor can take from your compensation as payment is 25% of the sum.
Talking To Our Team
If you want to begin the accident case claims process with one of our accident solicitors, then call us on our 24/7 phone line number 0800 073 8801 or fill in one of our contact forms and we will be in touch with you right away. You can also contact us for free accident claims advice from our team of legal experts.
Accident Claim FAQs
What Services Do Solicitors Provide?
Our accident claims solicitors will carry out a number of different tasks in helping you to make an accident claim. First they will advise you about the best course of action regarding your claim, answering any questions you may have and of course determining whether there are any legal obstacles to making your claim. The accident claims time limit is one such example. They will gather evidence to support your accident claim case, one of the most important aspects of this role will be arranging for you to have a medical examination by one of the doctors in our panel of medical experts.
There is more information on medical examinations later in this article. Our solicitors have a policy of keeping their clients regularly updated on every stage of their case's progress. Our accident solicitors have up to three decades of legal experience and offer their services on a no win no fee basis.
Do I Need Accident Solicitors Near Me?
You may be wondering "which company has the best solicitors near me?" This is a trick question, because in truth you do not need to have a solicitor based in your area, the location of your solicitor in fact isn't very important at all. Our panel of accident solicitors can cover accident claims in Stevenage without being based in the area. All the communication and arrangements required between you and your accident solicitor can be done by phone calls, texts, emails and so on, there is no actual requirement for you and your accident claims solicitor to meet in person in order to carry out the accident case claims process if you do not want to.
What Is A Medical Examination?
You will be required to have a medical examination to have you injuries assessed. The report will be done by an impartial doctor and the findings will be used in your compensation settlement. We work with a panel of doctors to provide all our clients with expert medical examinations in their area to confirm the nature and extent of their injuries.
Where Could I Have This Medical Exam?
Our panel of doctors operate all over the UK and can cover any region where they are needed by our clients, this includes covering Stevenage.  This means we are able to provide you with a medical examination in your local area rather than requiring you to travel far for it. The names of the doctors we work with to cover Stevenage and the addresses of the practices are listed below.
Sola Osindero
Stevenage Clinic, 265 Chellis way
Stevenage
SG2 0HN
Rajesh Rachha
Holiday Inn Express, Denestrete
Stevenage
SG1 1XB
Could Accident Claims Solicitors covering Stevenage help if I suffer injuries due to an uninsured driver?
If you're been injured in a car accident in Stevenage, you might be worried about whether you could claim if the at-fault driver was not insured. Whether their insurance had lapsed, or they hadn't purchased a policy in the first place, there are many reasons someone could be driving without the relevant insurance to cover claims made against them. So what happens if this happens to you? Luckily, there is an organisation that could still pay your compensation. The Motor Insurers' Bureau could pay compensation to you for injuries caused by an uninsured driver.
We would be happy to help you make a claim for road accident injuries via the MIB. In fact, this is something our personal injury solicitors covering Stevenage could make much less stressful than if you were to go ahead and make a claim on your own.
What about hit and run accidents? Could Accident Claims Solicitors covering Stevenage assist here too?
Just like with uninsured drivers, the MIB could also compensate you for injuries caused in a hit and run accident. Whether you've been injured as a pedestrian, motorcyclist, on a pedal bike or in a car, our personal injury solicitors could help you launch a claim via the MIB. We would try to make the claims process as easy as possible for you. However, we should mention that if the driver is being prosecuted, there could be somewhat of a delay to your claim being finalised, as the police report couldn't be released until the case was finished.
What should I look for when choosing accident claims solicitors covering Stevenage?
Firstly, it could be wise to choose a solicitor authorised and regulated by the Solicitors Regulation Authority. They would also need to be registered in England and Wales, although it doesn't matter whereabouts in the country they're based. When you have a shortlist of law firms and personal injury solicitors covering Stevenage to choose from, why not consider asking the following questions?
Do they offer free legal advice and could they check the validity of my case?
Could they offer No Win No Fee terms?
How successful have they been in the past and how many years experience do they have?
Are they easy to contact and do they keep claimants up to date?
Do they have good reviews on independent websites?
Where can I get insight into the average compensation for a Stevenage car accident?
It's difficult to provide an average compensation for a Stevenage car accident because each claim is assessed based on several factors, such as the severity of your injuries and whether you experienced any financial losses. 
However, solicitors may often refer to the Judicial College Guidelines to help them calculate how much your claim is worth. Below, we have created a compensation table containing figures from the 2022 edition of the guidelines. 
These guideline figures are only meant as rough guidance, however. They only relate to general damages too, which is the head of claim that awards compensation for the pain and suffering caused by your injuries.
We should remind readers that they could also receive compensation for the financial impact of their injuries under special damages. This could include loss of earnings, as well as care costs, medical and travel expenses. 
Reason for claiming
Compensation Bracket
Comments
Arm injuries (c) Less severe
£19,200 to £39,170
Significant disabilities but substantial recovery
Big toe -amputation
Around £31,310
-
Pelvic injuries (a) Severe
£78,400 to £130,930
Extensive fractures, dislocations of lower back and bladder
Hand injury (g) Less serious
£14,450 to £29,000
Severe crush injuries for example, which result in significantly impacted function, despite or without surgery
Back injuries – Severe (i)
£91,090 to £160,980
The most severe cases are those whereby there is disability and severe pain. This includes spinal cord damage and nerve root injury.
Back injuries – Moderate (i)
£27,760 to £38,780
This includes injuries such as ligament/muscle disturbance, and where people have a residual disability of a lesser extent.
Back injuries – Minor (i)
£7,890 to £12,510
A payout of a lower amount is for cases when claimant makes a full recovery within a few months. If the recovery takes longer, a number of factors are considered to determine the payout amount. This ranges from the impact of the symptoms on the claimant's life to the degree of pain encountered.
Neck injuries – Severe (i)
In the region of
£148,330
The biggest payout is for incomplete paraplegia for example.
Neck injuries – Moderate (i)
£24,990 to
£38,490
This includes cases when existing injuries have been worsened. Also, dislocations and fractures.
My injury from a Stevenage accident was not in the table – where can I get guidance on how much compensation I could receive?
If you cannot find your injury in the compensation table, we could give you further insight into compensation for other injuries sustained in a Stevenage accident over the phone. Call us using the number above.
Why is searching for 'car accident solicitors near me' not the best search term to use?
If you are looking for a solicitor to help you claim for a Stevenage accident, you might be tempted to search for 'car accident solicitors near me' or 'Stevenage work accident solicitors'. However, by restricting your search to only the local area, you could be missing out on a solicitor that has experience in handling claims similar to your own. Why not call our team, and we can assess your case. Then we can find an appropriate solicitor for you who could handle your claim under No Win No Fee terms.
Important Local Information
Hertford Court And Family Court
Reporting A Road Accident Or Collision To Hertfordshire Police.
Reporting Of Accidents In The Workplace.
Thank you for reading this accident claims solicitors covering Stevenage guide. We hope we've explained why personal injury solicitors for Stevenage claims don't have to be based there.