By Joannne Jeffries. Last Updated 3rd September 2021. Here, you can read our guide to accident claims solicitors covering Watford. In it, we give you more information on choosing personal injury solicitors for Watford accident claims.
Are you aware that any time you are injured in an accident that was the fault of a third party, you could be able to make an injury claim? Your eligibility to claim depends on many factors, some of which we will cover in this guide. We will also explain why finding a good personal injury lawyer is vital in maximising your chance of making a successful accident claim in Watford, or indeed, anywhere else in the UK.
Our team of advisors are just a phone call away on 0800 073 8801. Each of them is an expert in personal injury claims, and will be able to provide you with advice on how best to proceed with your claim, as well as answer any questions that you have. If you have a valid accident claim we can provide you with a no win no fee accident claim solicitor covering the Watford area. Call them today to get your claim started as soon as possible.
Choose A Section:
What Is An Accident Claims Solicitor Covering Watford?
An accident claim solicitor provides services related to assisting a person that has been injured in a way that was not their fault, to claim damages for the physical and psychological harm and financial losses they have suffered. The solicitor acts partially in an advisory capacity, providing information and advice, such as informing the claimant of the accident claims time limit that will apply to the claim. The solicitor will also value the claim, and indicate to the claimant how much compensation they could be able to pursue for. The solicitor also acts in the capacity of a representative, processing the claim on behalf of their client, and negotiating a settlement with the defendant's legal team. We can provide accident claims solicitors covering Watford, that will help you to make a claim for the harm you have suffered at the hands of a third party.

Public Place Accidents And Injuries
Not all accidents in Watford take place on private property, some take place in a public area. For example, if you are injured in a slip, trip or fall accident on a public street, it could be the local council that you bring a personal injury claim against. The local council is responsible for maintaining all public places including public roads, parks, leisure areas, and public buildings.
Furthermore, the local council is also responsible for maintaining road surfaces. It is expected to fix any reported pothole or other damage to a road surface within an acceptable timeframe. When the council doesn't do this, it could, in some cases, be possible to make a claim for road traffic accidents that have been caused by the hazard.

Accident At Work In Watford
The Health & Safety Executive is responsible for enforcing regulations that pertain to providing a safe working environment for employees. In the case of a failure in an employer's obligation to comply with Health & Safety regulations, the HSE would also be responsible for investigating an accident at work in some situations (such as multiple injured employees, death, etc.) Below is a list of injuries that could occur as a result of an accident in the workplace;
Head injuries caused by a fall from height.
Back injuries caused by a manual handling accident.
Cuts, bruises and soft tissue injuries caused by slips, trips and falls.
Burns and respiratory problems caused by exposure to a harmful chemical.
In order to be able to make an accident at work claim it must be proven that either your employer acted in an irresponsible way breaching their duty of care or an employee was the cause of your accident as they were negligent in their work duties. The accident in question will have lead to harm in the way of an avoidable injury.

Watford Accident At Work And Injury Statistics
The table below covers the period 2014/15 – 2019/20, and shows data related to working accidents in Watford and Hertfordshire.
| Location | Total - non fatal injuries | Total - non fatal injuries per 100,000 workers | Fatal injuries |
| --- | --- | --- | --- |
| Watford | 80 | 135 | 0 |
| Hertfordshire | 966 | 215 | 2 |
You can find further detailed information about the period 2014/15 – 2019/20, at the following link:
You can see the 2019/20 statistics for mental health conditions relating to work below. You could also be eligible to claim for psychological harm due to your employer's negligence in protecting you from suffering work-related stress, for example.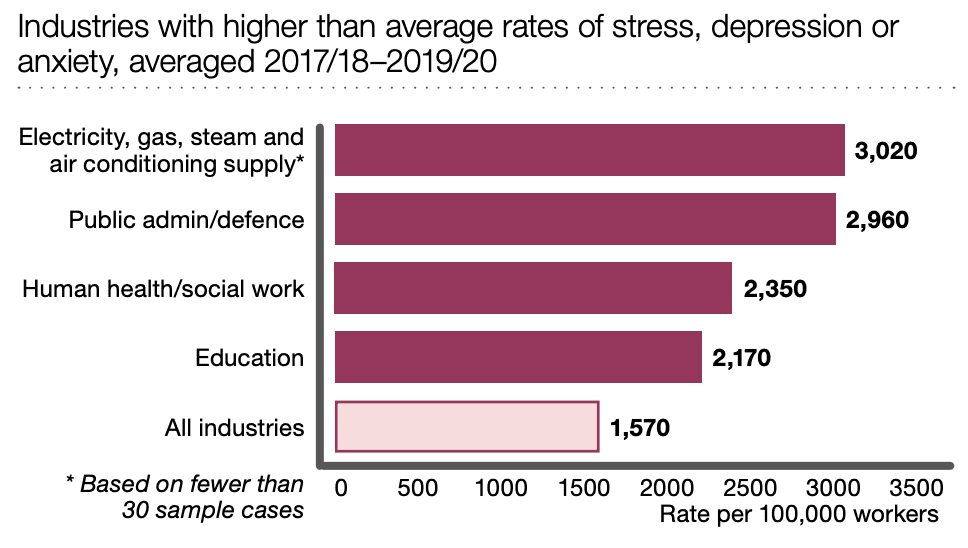 Traffic And Road Crash Accidents
We can provide you with a solicitor that is experienced in the car accident claims process, and will be able to help you to claim any compensation you are eligible for. It isn't only the driver of a car, lorry, or any other form of motor transport that can make such a claim. It is any road user, or legal entity that suffers damage due to an RTA that shows third party liability.
In order to be able to pursue a claim for a road traffic accident there must be third party negligence and liability, that means another road user through error or negligence caused the accident which lead to you suffering unnecessarily. To learn whether you have a valid RTA claim or not, please speak to one of our claims team on the number below.

Falling And Tripping Accidents
When you step out of your front door, on to the street, you are constantly exposed to potential slip, trip and fall hazards. There is a reason why these are the most common type of non-vehicular accidents in the UK. Every step we take, could possibly result in a slip, trip or fall especially if there are potential hazards and the entity responsible for maintaining the place you are walking in has neglected their safety responsibility. Typical examples of hazards that could cause these accidents include:
Floors that have become wet or dirty, and have not been marked with a hazard sign.
Damaged floor coverings, such as a warped floorboard, a chipped or cracked floor tile, or a frayed or torn carpet.
Uneven paving surfaces such as poorly laid cobbled, crack paving slabs and unevenly laid curbstones.
Maintenance or cleaning equipment left causing an obstruction in a public place.
If you are injured due to a slip, trip or fall that was caused by a hazard created by a third-party, we could be able to help you make a claim for accident compensation, and our team is very familiar with the slip and fall settlement process.

Claims As A Victim Of A Criminal Injury
Nobody wants to think about being the victim of a crime, especially a violent one. Unfortunately, violent crimes do take place, for many reasons, from purely financial such as a mugging, to sexual, such as rape, or simply due to pure violence, such as an assault or even a murder. When a criminal commits a violent crime, they may go uncaught. Alternatively, the criminal is apprehended, but don't have the finances available to pay damages to their victim. So, how can the victim of a crime claim compensation for their suffering? Through the UK Government-run organisation called the Criminal Injuries Compensation Authority (CICA), which enables victims of crime payments in cases where no other route to compensation is possible.

Bringing A Clinical Negligence Claim
We all trust medical professionals to provide treatment in a professional safe manner, at all times. Every medical professional, either working for a private healthcare provider, or the NHS, is legally obligated to never cause unnecessary harm to a patient. Unfortunately, mistakes could happen, and if clinical errors harm a patient in some way this could cause medical negligence. Proving negligence can be very complex as it must be proven that another physician or healthcare worker of the same capacity would not have caused similar harm given the same circumstances. Therefore, bringing a clinical negligence claim can be a difficult process, and one that may require the help of an experienced clinical negligence solicitor to reach a successful resolution. We can arrange for a specialist negligence lawyer to assist you in making your claim, and processing it for you. Talk to one of our advisors to learn more about this.

No Win No Fee Accident Claims Solicitors Covering Watford
Choosing a No Win No Fee solicitor can carry all the risk. The solicitor wouldn't charge you to start working on your claim, or while they are processing it for you. You would need to sign a No Win No Fee agreement though. They also wouldn't charge if your claim was unsuccessful. They would only charge a fee when they have received a compensation payment for you. Legal fees would then be deducted automatically, and the remainder of the compensation passed over to you. Would you like to know more about legal fees and the cost of making a claim? If so, speak to one of our advisors today on the number below.

Contact Us
Are you ready for one of our panel of accident claims solicitors to begin working on your claim for you? Or perhaps you still have questions about the claims process, or need some of the information in this guide expanded on? No matter what you need, our team is here to help. Give them a call on 0800 073 8801, explain what you need, and they will help you.

Answering Frequently Asked Questions
How Could A Solicitor Help Me Make An Injury Claim?
You solicitor will be able to provide you with vital information and accidents claims advice such as an accident claim estimate for many different compensation claims. They will also answer any questions you have, such as; accident claim how long does it take? However, the primary role that your accident claim solicitors will fill, is negotiating a compensation settlement with the party responsible for causing the accident that harmed you. They will handle all the legal aspects of the claims process, and hopefully, secure a compensation payment for you.
Is It Best To Find A Local Law Firm?
You can use a local personal injury solicitor if you want to for personal injury cases in Watford. But you don't have to, there is no rule saying you must. You would be best off choosing a solicitor based on whether they would be effective in processing your claim, and give you a good chance of your claim being successful.
Why Do Claims Need Independent Medical Assessments?
You can use a personal injury claims calculator to get a rough estimate, but that is where their ability stops they do not take into account any special damages that will be awarded as each and every case is different. The solicitor will require you to undergo a medical examination, to evaluate your injuries, before they can give you an accurate estimate of the amount of compensation you might receive.
Where Could I See A Doctor From Your Panel Of Experts?
All claimants unless accepting a pre med offer will undergo a medical assessment as the solicitor will need to do this so that they can put together a compensation package for their client. We have a panel of doctors all over the UK that can undertake this assessment on our clients behalf:
| | | | |
| --- | --- | --- | --- |
| Reheela Khand | 54 Clarendon Road, | Watford | WD17 1DU |
| Hassan Mehdi (Medco) | Holiday Inn Express - London Watford Junction | Watford | WD17 1UE |
| | 19 Bridle Path | | |
| Asef Zafar | 15-17 Exchange Road | Watford | WD18 0JD |
| Pankaj Tanna | Bridgewater House Surgeries | Watford | WD18 7QR |
| | 7 Printers Avenue | | |
If you want us to go ahead with this, give us a quick call on the number above and we can start arranging the appointment for you.

Could accident claims solicitors covering Watford assist me if the driver that caused the accident isn't insured?
If you are injured in a road traffic accident caused by someone else, you could usually claim compensation against their insurance. However, what happens if they don't have insurance at the time of the accident? Could you still claim compensation? Could personal injury solicitors covering Watford assist you in this? Luckily, even if a person has no insurance at the time of an accident, if the accident wasn't your fault, you could claim via the Motor Insurers' Bureau. This is an organisation which aims to reduce the number of incidents of uninsured driving in the UK. They also could compensate victims of uninsured driving that caused personal injuries. We could help you make a claim for compensation if you've been injured in this way. In addition, if you were injured by someone who left the accident scene and couldn't be traced, the MIB could also compensate you in this situation. If you'd like us to take a look at your case to see if you could have a valid MIB claim, we'd be happy to do so.
What do I need to find out about accident claims solicitors covering Watford before choosing them for my claim?
Your lawyer could have a significant effect on not only the success of your claim but also the compensation settlement you receive. Therefore, you should choose the law firm or solicitor you work with carefully. You'll now be well aware that you don't have to opt for a local solicitor for your case, which is good news, as you have lots of solicitors registered in England and Wales to choose from. However, will all this choice, you might want to ask them some questions to narrow down your options. Some of the questions we could advise you to consider could include:
• Are they authorised and regulated by the Solicitors Regulation Authority?
• Do their previous clients recommend their service?
• How many years experience do the solicitors have, and how successful have they been in past cases?
• Have they dealt with any claims that are similar to yours?
• Could they provide free legal advice and a free, no-obligation case check to see if you could have a valid claim?
• Would they work with you on a No Win No Fee basis?
• How do they keep you updated throughout the claims process?
Accident Claims UK advisors would be happy to answer these and any other questions you'd like answering when making your choice. We want you to have peace of mind that our solicitors could fight for the maximum compensation possible for your case.
Local Information And Services
How To Report An Accident At Work
The Local Hertfordshire Council
Data Related To RTA In Hertfordshire
You might also like to read these other guides on this site:
How To Claim For A Rail Accident
Claiming For An Accident In A Public Place
Thank you for reading our guide to accident claims solicitors covering Watford claims. We hope this provided useful information on choosing personal injury solicitors for Watford claims.