By Joanne Jeffries. Last Updated August 24th 2021. Welcome to our guide to accident claims solicitors for Weston-Super-Mare. We hope this guide explains why personal injury solicitors for Weston-Super-Mare claims don't have to be based in the local area.
If you have suffered an injury or psychological harm as a result of an accident that was not your fault, whether it was at work, in public, in a car accident or while you were receiving medical care, then you may be entitled to make a personal injury claim, specifically an accident compensation claim.
An accident compensation claim is when the victim of an injury caused by an accident makes a legal claim against the individual or private or public entity responsible, to pay the victim a financial sum as compensation for the negligent preventable harm caused to the victim. The person, business or public entity against which the claim is made will be deemed responsible for the accident if it can be proven that they had failed to meet their duty of care they had towards the victim in question. We have a panel of accident solicitors who can help you to make a claim for accident compensation in Weston-super-Mare. Although our accident claims solicitors are not based in Weston-super-Mare with the advances in telecommunication then can easily conduct your case as if they were around the corner. Read the article below to find out more about different kinds of personal injury claims in Weston-super-Mare our accident solicitors can cover and how our accident solicitors can help you. You will also find the contact details for getting in touch with us near the bottom of this article as well.
Choose a section
What Is An Accident Claims Solicitor Covering Weston-super-Mare?
An accident claims solicitor is a personal injury solicitor who works to represent their client's case and assists them in winning financial compensation for the injuries and/or psychological harm that they have suffered as a result of an accident caused by someone else's negligence.  We advise you contact a professional expert to fill you in on the details of the legal process, to arrange the gathering of supporting evidence and to represent your case.
Accident Claims UK can do just that by providing you with a no win no fee solicitor from our panel of accident claims solicitors. Our solicitors are not based in your area; however they can cover accident claims in Weston-super-Mare. They can keep in touch with you without you having to meet them face to face and their decades of experience means they have probably dealt with many cases similar to yours in the past.
Work Accident And Injury Claims
If you have suffered an injury in an accident at work and you believe it was the fault of your employer then you could possibly make a claim for a workplace injury with our accident solicitors. Your employer has a legal obligation to provide a safe working environment; they must provide you and your co-workers with safety training and safety equipment where needed and must perform risk assessments. If it can be proven that your employer was responsible for the incident by not adhering to proper safety procedures, then could be entitled to compensation for any preventable harm suffered. As well as claiming for compensation for injuries caused by workplace accidents, you could possibly make a claim if you have been affected by work related stress.
Workplace Injuries Recorded In Weston-super-Mare
Here is a table outlining how common workplace injuries and fatal workplace injuries are in your part of the UK. This table also includes the rate of workplace injury per 100'000 workers. This will give you an idea of how common workplace accidents are in your part of the UK. You can also read the statistics for the rest of the UK for yourself by following this link here to the governments health and safety statistical report.
| Location | Total Non Fatal Injuries | Non Fatal Injuries Per 100,000 | Total Fatal Injuries |
| --- | --- | --- | --- |
| North Somerset | 227 | 308 | 0 |
Below, we illustrate some important statistics relating to 2019/20 relating to workplace injuries.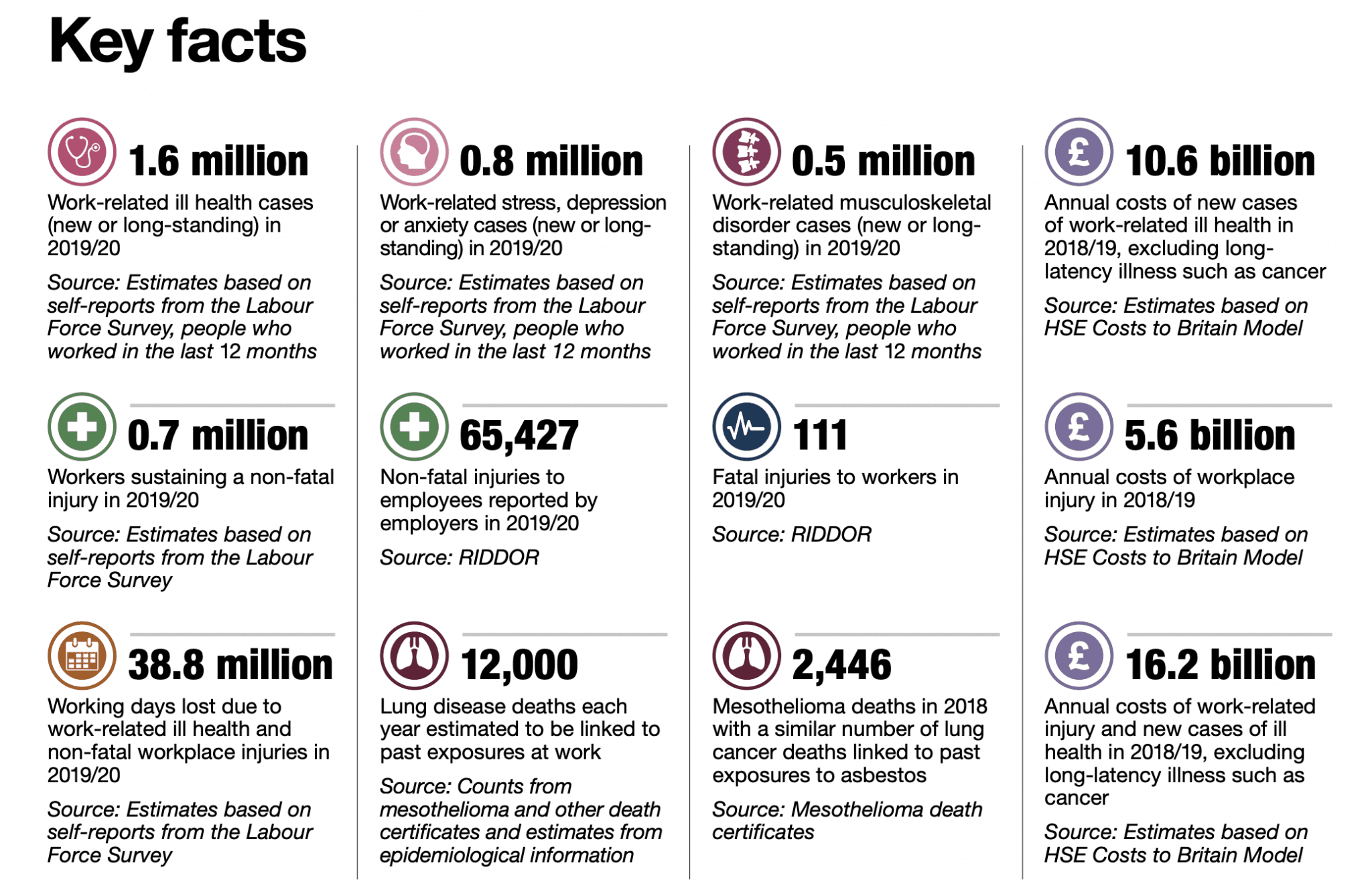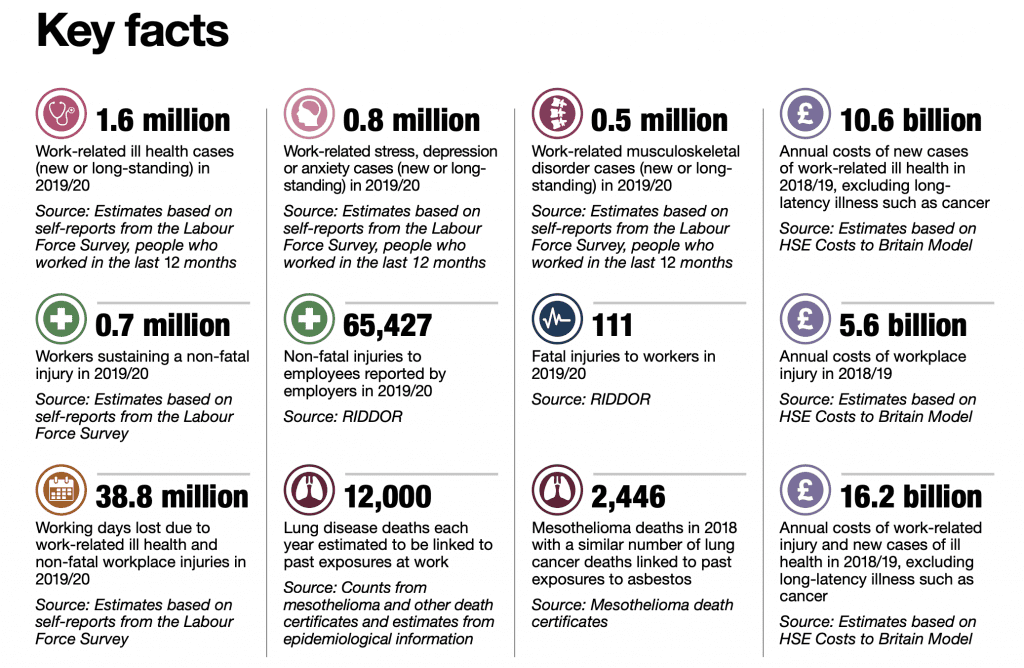 Car And Other Road Accident Claims
Our accident claims solicitors covering Weston-Super-Mare can also conduct road traffic accident compensation claims. If you have been injured in a road accident that was not your fault then you maybe able to make a claim against the person responsible for the accident. All road user no matter how you use the road whether on foot, cycling, as a vehicle driver have a duty of care to all other road users not to act negligently which could lead to an accident happening and result in people being injured. If another road users acts in a negligent manner causing a road traffic incident and someone is injured then the injured party maybe eligible to  make a claim for compensation. For more information on making road accident claims with our no win no fee accident claims solicitors use  this link here to view our websites page on road traffic accident claims.
Trip Or Fall Compensation Claims
Tripping or slipping and hurting yourself may seem like a minor issue to take legal action over, but the owner, occupier, manager of any given property has a legal obligation to make sure that it is safe for people using the space and if you have been injured because they allowed a tripping or slipping hazard to arise, then you have every right to claim for compensation. Tripping injuries can be caused by leaving wiring out across the floor, slipping can be caused by spilled drinks not being cleaned up, or recently cleaned floor not being marked out with a wet floor warning sign. To read more about trip and slip claims and how you can claim for trip and fall compensation, read our slip trip and fall guide.
Criminal Assault And Attack Compensation Claims
As well as claiming compensation for accidents, our accident claims solicitors can help you claim compensation for injuries and/or psychological harm you have suffered as a result of a criminal assault. Claiming compensation for a criminal assault does not require the person who assaulted you to have been found guilty. The compensation comes through the governments Criminal Injury Compensation Authority (CICA). The assaults that you can claim for include sexual abuse, rape, physical assault, sexual assault and so on. You can read more about claiming for sexual abuse here. You could possibly also make a claim against your employer if you have been assaulted at work and you believe it was a result of your employer providing insufficient security. Click on our assault at work guide to read more about what you can do if you have been the victim of an assault at work.
Claims For Public Place Accidents
Although we have a separate section on slips, trips and falls any kind of accident in a public place could be grounds for making an accident claim against the owner of that property only if it can be proven that they are liable. Public accidents could happen anywhere for a multitude of reasons they are not always the fault of a third party. If the owner or occupier of the property where the accident took place can be found to have not met their responsibilities to keep the property safe, then they could be held responsible for injuries that are caused by such safety hazards.
The owner of a property that is open to the public is obliged to ensure that they keep their property as safe and as free of hazards as possible. For example equipment that the public would be expected to use, such as playground equipment, gym equipment or indoor rock climbing walls should be kept maintained, safe and labelled. Food and drink in bars, cafes and restaurants should not be served at a temperature, or on cutlery, hot enough to cause burning or scalding. The owners of the property must carry out risk assessments. If you have been affected by an accident and injury in a public place that was caused due to negligence then please get in touch with us today and talk to us about what our accident claims solicitors can do for you.
For more information about claims for accidents and injuries in a public place caused due to a breach in a duty of care, why not browse our other guides.
Medical Negligence Claims In Weston-super-Mare
Another form of accident claim you can make is a claim for medical negligence. Medical negligence is when someone has been harmed through negligent medical treatment; where doctors and other medical staff have failed to follow proper procedure and uphold their duty of care. Medical professionals could include GP's, dentists, nursing home workers, hospitals medical staff and so on. Examples of medical negligence could include negligent misdiagnosis of cancer which causes avoidable suffering, surgical errors causing avoidable injuries and neglect of elderly people in care homes. Read up more here on making no win no fee medical negligence claims with our panel of accident solicitors covering Weston-super-Mare if you or a loved one has been affected by medical negligence.
No Win No Fee Accident Claims Solicitors Covering Weston-super-Mare
Our solicitors offer no win no fee agreements for the claims they represent. In a no win no fee agreement, you will not be charged by your accident claim solicitor if your claim is unsuccessful (provided the claim was valid in the first place). The payment your solicitor will take will come from the compensation you are awarded. Before the accident claims process begins you and your solicitor will agree upon a percentage the solicitor will receive, this amount cannot exceed more than 25% of the awarded compensation.
Talk To Our Team
If you want to speak to our team or a personal injury lawyer about making a claim with our no win no fee solicitors covering Weston-Super-Mare, or if you want free accident claims advice from our team of experts then call our 24/7 phone line on 0800 073 8801 or fill out this start a claim form on our website. We may also be able to estimate how much compensation you may be entitled to claim instead of using a personal injury claims calculator. W
FAQs About Accident Claims
How Does The Accident Claim Process Work?
Our accident solicitors covering Weston-super-Mare will begin the process by answering any questions you may have and by making sure that you are eligible to make an accident claim, for example by making sure that your claim does not fall outside of the accident claims time limit. They will then begin gathering evidence to support your case, this will include arranging a medical examination of your injury. While the case is ongoing your accident solicitor will keep you regularly updated and fully informed of the progress of your claim.
Do I Need Solicitors Near Me?
Don't waste time thinking "how can I find good solicitors near me?". The location of the solicitor you work with isn't always important. You can arrange for an accident solicitor to represent your case, arrange a medical examination and prepare other evidence and be kept updated on the progress of your claim all entirely by phone or email. We may not have solicitors based in your area, but our panel of accident claims solicitors covers the whole of the UK, this includes solicitors covering Weston-super-Mare.
Why Does My Claim Require A Medical Exam?
The medical is vital in assessing the level of your injury and how it will affect you in the future. The report on your injuries will be what your accident solicitor can use as evidence to support your claim.
Where Could My Medical Be?
Your medical examination can be done in Weston-super-Mare or in the local area around it. We work with a panel of doctors that operate all over the UK in order to provide all of our clients with access to a medical exam near where they live. The name and addresses of the doctors we work with near you are listed below.
Micheal Pimm
87 New Bristol Road, Worle
Weston-Super-Mare
BS22 6AJ
Anna Ross
Cowan House 21
Ellenborough Park North
Weston-Super-Mare
BS23 1XQ
Could accident claims solicitors covering Weston-Super-Mare assist with data breach compensation claims?
Has someone breached your data protection? Whether your employer breached your payroll information by sending it to the wrong address, or your healthcare provider failed to protect company systems against unauthorised access by a third party, your data could be breached in many different ways. However, there are data protection laws that protect the security and privacy of your data. Therefore, if you could prove wrongdoing by a liable party has led to you suffering non-material or material harm because of a breach, you could be eligible for data protection breach compensation.
We would be happy to explain data breaches to you in more detail. We could explain the laws that protect you, and how they could allow you to claim not only compensation for financial damage, but for emotional harm, such as distress too.
What type of personal injury solicitors covering Weston-Super-Mare should I choose?
When you're looking for accident claims solicitors covering Weston-Super-Mare, we should remind you that so long as they're registered in England and Wales, you should be able to choose a solicitor anywhere in the country. However, there are some questions you might want to as the law firms and solicitors you're considering, such as:
Do you operate on a No Win No Fee basis?
Have you a proven track record and years of experience?
Do your clients recommend you to others – do you have good reviews?
What kinds of claims have you helped others with? Have you been successful?
Are you authorised and regulated by the Solicitors Regulation Authority?
Do you offer free of charge eligibility checks?
Here at Accident Claims UK, we'd be glad to speak to you about our experience and track record. We hope to give you confidence that we are well-placed to handle your claim and our solicitors could fight for the maximum amount of compensation possible for your claim.
How long will accident claims solicitors covering Weston-Super- Mare take to settle my claim?
This all depends on the type of claim you have and whether the liable party admits fault. In straightforward cases, your lawyer would try and get you a settlement as quickly as possible. However, information gathering takes some time, and if your medical condition is complex, it may take some time to get the medical evidence you need for your claim. In cases where the liable party disputes their liability this could delay your claim too. Your personal injury solicitor would keep you updated throughout.
Local Information And Resources
Reporting A Crime To The Police.
Weston-Super-Mare County Court
We hope you found our guide to accident claims solicitors for Weston-Super-Mare useful. We hope this guide explained why personal injury solicitors for Weston-Super-Mare claims don't have to be based in the local area.