By Joanne Jeffries. Last Updated 15th October 2021. Welcome to our guide on making an airbag injury compensation claim. When people think of an airbag, they think of a soft inflatable cushion that helps to prevent injuries in a car accident. This may be true, but although they are known to reduce injury statistics, an airbag can cause injuries itself. While it may sometimes help prevent serious injuries in an accident, an airbag can cause injuries to hands, the face, the chest, as well as internal injuries. They can vary in severity, and treatment for an airbag injury may also greatly vary according to what type it is and how serious it is.
It is possible to make an airbag injury claim if you have been injured by an airbag in an accident. Your airbag injury symptoms may have been caused by a failed deployment of an airbag, a defective airbag, or they may even have been caused by a normal operating airbag as a result of an accident that was not your fault. These cases can vary greatly in establishing who is liable to cover your compensation for an airbag injury, but even if there is split liability, it may still be possible for you to make a claim.
This guide outlines the basics of making a no win no fee personal injury claim for an airbag injury. It contains information on the common causes, the types, and the process of claiming for an injury caused by an airbag in an accident that was not your fault. If you can't find what you're looking for here, or you have any further questions about making a claim, our team is always happy to oblige and provide free, no-obligation legal advice. You can contact us today on 0800 073 8801, or if you prefer, you can have us call you back at a time you choose by filling out our online contact form.
Select A Section
A Guide To Making An Airbag Injury Claim
This airbag injury compensation claim guide has been designed to discuss the topic of making an airbag injury claim. It is common for people to ask, "Can airbags cause injuries?" They ask this because many people may not realise that even though airbags are designed to help prevent injury, they can sometimes be the cause themselves.
Airbag injury symptoms could be caused by a faulty airbag, through the incorrect deployment of an airbag, or by a normally working airbag that deployed because of an accident. The injuries resulting from this can vary from minor to severe, and in some cases, treatment for an airbag injury could include hospitalisation. It is no surprise to us then that people may seek compensation for an airbag injury that was caused by an accident or issue that was not their fault.
Throughout this guide, we have included sections that explain how airbags work, possible injuries they may cause, who may have a duty of care to drivers and passengers, and advice on what to do if you have suffered from an airbag injury. This guide also contains information on how no win no fee claims work, as well as a personal injury claims compensation calculator that may help to give you an idea of the typical amounts awarded for airbag injuries in the UK. Read on for more information, and if you ever need further information, don't hesitate to get in touch with our friendly advisors.
What Are Airbag Injuries?
In order to understand how grounds for making an airbag injury compensation claim can be established, let's first look at what airbag injuries could be.
When trying to understand how an airbag can cause an injury, people may ask, "What is an airbag injury?" or "How do you treat an airbag injury?"
Essentially, an airbag can cause an injury even in normal deployment due to the fact that it deploys and inflates rapidly, coming into contact with a person's body at high speed. If a bag deploys incorrectly because of a faulty installation or because it has a manufacturing fault, it can either fail to prevent injuries from a crash or cause further injury because it threw out debris as it deployed.
Airbag injury car accident claims can include injuries to different parts of the body depending on a person's height and how close their seat is positioned to the steering wheel or airbag itself. Airbag injury symptoms can vary depending on the type, and they have been known to occur mainly in the upper body. You can:
Develop airbag injuries to your arms
Airbag injury to the chest
Traumatic brain injury from an airbag
A fractured skull
 Fractured ribs
Suffer whiplash injuries
There are many other possible injuries, and they can range from minor to very severe. Due to the variable nature of these injuries, airbag injury treatment is also greatly varying and depends purely on the type, location, and severity. We have included more detailed information on the possible types below in our airbag injury compensation claim guide.
How Do Airbags Work?
As mentioned, airbags are designed to help prevent and reduce serious injuries caused by a collision. They are positioned at different points all over a vehicle but are primarily found in the steering wheel and dashboard in front of the front passenger seat. They are deployed during a collision by crash sensors that notice a sharp reduction in speed and then triggers the release of the airbags. Essentially an airbag is a large nylon sack that is quickly filled with a gas that helps to absorb the impact of a sudden stop of the person sitting in the seat. It also creates a cushion between the person and the wheel or dashboard, helping to prevent them from coming into contact with either in the event of a crash.
They deploy at about 200mph from their housing, and the reason for this is to have the bag fully inflated before a person can come into contact with it or something else in the event of a crash. While this may help to prevent injuries, it can also be the main cause of airbag injuries, either in normal deployment, if there is a fault, or if it fails to deploy at all.
To find out what injuries you might make an airbag injury compensation claim for, read on.
What Injuries Could Be Caused By An Airbag?
When someone pictures airbag injuries, they might think of neck or head injuries. However, there is a wide range of possible injuries a person might develop after an accident involving an airbag, even hearing loss.  You may ask, "Do airbag burns scar?" or "What are common airbag injuries?" We have added a list below to give you a little more information on the common injuries caused by an airbag, which can include but are not limited to:
An abrasion, contusion, or burns on the skin
A wrist injury like a sprain or strain
A spinal injury
A fracture or break in certain bones in the upper body as a result of blunt force trauma
A skull fracture
A rib cage injury
An internal injury such as a ruptured heart muscle, or damage to other organs, and internal bleeding
Head injuries such as a concussion or brain damage
Eye injuries
In pregnant women, it is also possible for damage to be caused to the baby or other injuries
It might be possible to make an airbag injury compensation claim for any of the above injuries if they were caused by an accident or issue with an airbag that was not your fault. It may be possible to claim compensation for airbag burns, fractures, head injuries, etc. If you believe your airbag injuries have been caused by something that was not your fault, like a car accident, or fault in the bag itself, contact us today for advice on making a claim.
Preventing Airbag Injuries
In 2020, there were 115,584 people reported to have suffered injuries in road traffic accidents, according to the DfT as you can see from the table below.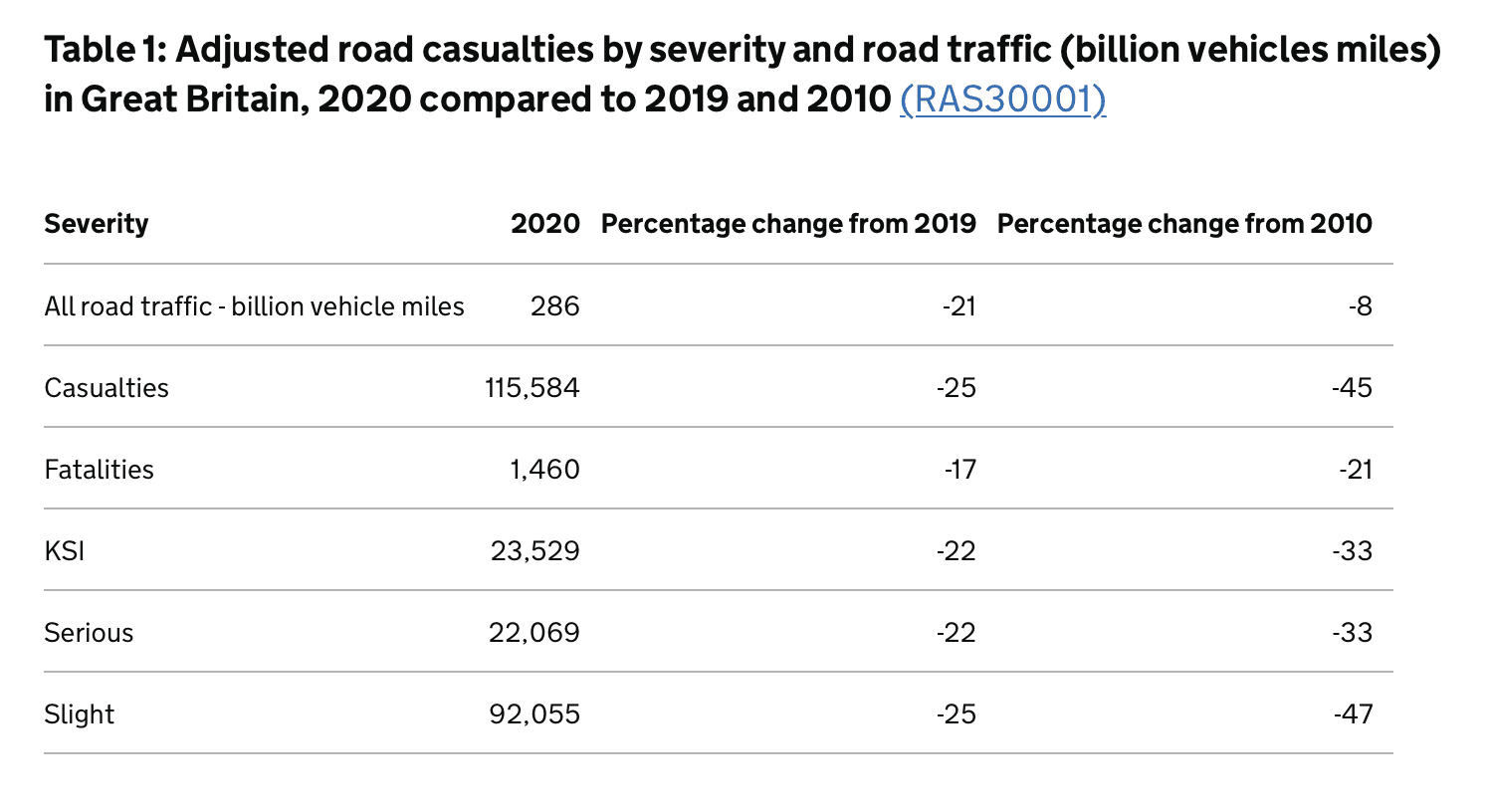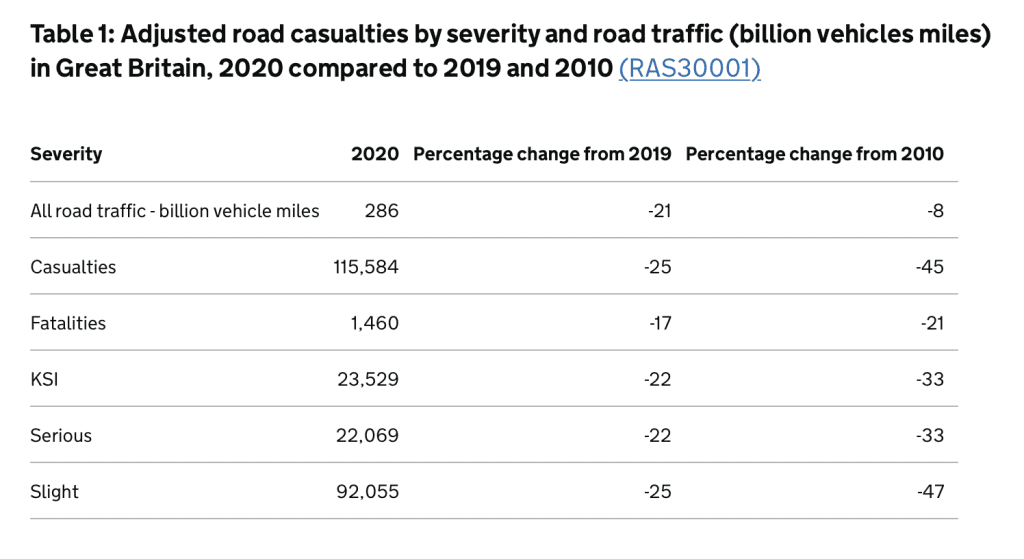 There are steps you can take to help prevent an injury from an airbag, and these can include:
Avoid positioning seats too close to the steering wheel or dashboard, and try to keep them at least 10 inches away.
Avoid allowing children younger than 12 to sit on the front passenger seat, and always ensure that you have used the correct car seat for their height and weight. Children should also be sat in the correct position and securely restrained at all times.
Ensure everyone wears their seatbelt, as not wearing one increases the chances of being injured by the airbag as they are designed to work in conjunction with each other.
Injuries Caused By Defective Airbags
An airbag injury compensation claim can be made for injuries caused by defective airbags. These claims are different because they fall under the law of strict liability, as the injuries they caused would not have happened if the bag was not defective. In these cases, to claim compensation for an airbag injury, you may need to collect evidence that there was unreasonable danger caused by a defective bag, incorrect installation, assembly issues, etc., which caused your airbag injury symptoms and subsequent need for treatment.
If you can collect this evidence, then you could have valid grounds to pursue a case against an airbag or car manufacturer, or in certain cases, a garage that was responsible for checking the airbags but failed to notice a fault or issue.
Airbag Manufacturers Duty Of Care To Car Drivers And Passengers
An airbag manufacturer has a duty of care to ensure that they follow expected standards and reduce the chances of an injury occurring as a result of a defect or fault on their part. In the event that an injury is caused because of a faulty airbag, or an airbag that failed to operate correctly because of a manufacturing error, they could be liable to pay compensation for an airbag injury if that person pursues a claim against them.
How Do I Prove My Airbag Injury Claim?
If you've decided you would like to start an airbag injury compensation claim but aren't sure where to begin, this section can help. A personal injury solicitor could help guide you through the process of collecting all the necessary information, facts and evidence needed to support your claim. As we will outline in the next section, there are multiple things you should keep a record of and steps you should take in gathering evidence that could make a vital difference to making your claim a successful one. This can include; medical reports, witness details; photographs of the accident and your injuries; video evidence of the accident; the other driver's details; evidence that there was a manufacturing fault; as well as details of anyone else that may have been involved.
What Should I Do If I Have Suffered An Airbag Injury
If you wish to make an airbag injury compensation claim, there are some important things you could do that could help to greatly strengthen your case. These can include collecting important information relating directly to your injury and the accident that caused it.
Although you might automatically seek medical attention for your airbag injury symptoms, it is important to keep any medical reports given by the medical professional who gave you treatment for your airbag injury. This helps to provide evidence of the extent of the damage later on, which may be used in calculating your overall compensation for an airbag injury.
Photographic evidence is very helpful in showing the extent of your injuries, in analysing the scene of an accident, or in assisting in proving liability in some cases, and it is always highly recommended to take photos yourself or have someone take photos on your behalf.
If there were any witnesses for what happened, you might want to take their details, as your solicitor could ask them to make an official statement about what they saw during your accident. Their statements could be used in support of your case, and proving that what you said happened, actually happened.

Evidence of financial costs should also be gathered and kept track of. This includes travel costs, medical costs, care costs, etc., all of which may be included as part of your claim.

Keep a log of everything that happens and write down everything you remember about the accident. This includes the time leading up to it, the accident itself, and events that have happened since then. This can help you keep track of everything, as memory can fade or become confused over time.
Airbag Injury Claims Calculator – Updated October 2021
If you're thinking about making an airbag injury compensation claim, you are probably wondering how much of a payout you could get.
Injuries caused by airbags can vary significantly, and any amounts awarded for said injuries will vary according to the severity and overall impact on a person's life. You might want to contact us directly so we can give you more accurate estimated figures relating to your personal injuries. Despite this, we have included a personal injury claims calculator to help give you an idea of the typical amounts awarded for airbag injuries in the UK.
Updated April 2021.
| Injury | Amount | Comments on severity |
| --- | --- | --- |
| Very Severe Brain Damage | £264,650 to £379,100 | This bracket is for head injuries resulting the person being in a non-responsive to very little response state, requiring full time care. |
| Moderate Brain Damage (iii) | £40,410 to £85,150 | In these cases, the person has experienced a change in memory and concentration, their work ability has been reduced and there is a small risk of epilepsy. |
| Severe Neck Injuries | In the region of £139,210 | This bracket is for cases resulting in incomplete paraplegia or permanent spastic quadriparesis. |
| Moderate Neck Injuries | £23,460 to £36,120 | This bracket is for cases where severe fractures and symptoms may require spinal fusion to treat and experience symptoms that affect other parts of the body. |
| Severe Shoulder Injuries | £18,020 to £45,070 | This bracket is for injuries that commonly accompany neck injuries resulting in significant disability. |
| Moderate Shoulder Injuries | £7,410 to £11,980 | This includes cases of frozen shoulder, soft tissue damage and limited mobility with symptoms lasting two years. |
| Chest Injury (a) | £94,470 to £140,870 | Resulting in the removal of one lung, damage to the heart, a permanent significant scarring. |
| Chest Injury (c) | £29,380 to £51,460 | Continuing disability caused by damage to the lungs and chest. |
| Severe Arm Injury | £90,250 to £122,860 | This bracket is for injuries just below amputation but are severe enough that the arm is still of no use. |
| Serious Damage To Both Hands | £52,310 to £79,360 | This bracket is for injuries resulting significant loss of function, and permanent cosmetic disability. |
The above figures are only indicative, and we always recommend getting in touch with us to discuss more accurate estimations that are directly related to your individual situation.
Special Damages Which Victims Of Airbag Injury Could Claim
As with any personal injury, calculating compensation for an airbag injury will usually be based on how serious the injury was and the effect it had on your quality of life. This is known as claiming general damages for the pain and suffering endured as a result of your injury. There are, however, other special damages that can be included as part of your airbag injury compensation claim. Every claim is different, and not all of these may be a part of your claim, but we have included some of them below to help you understand what could be claimed.
Medical expenses accrued for treatment of your airbag injury symptoms, for prescription costs, physiotherapy sessions, or counselling sessions could be included as part of your claim.
Loss of earnings can be claimed for if your injury prevents you from working, forces you to seek other employment, or affects your ability to work in the future.
A care claim could be filed if you required care while recovering from your injuries. In this case, the claim would be made by the person who cares for you.
Costs of travel could also be included if they built up while attending medical appointments for your injury. You can also include travel costs incurred while attending legal appointments directly related to your case.
No Win No Fee Airbag Injury Compensation Claim
No win no fee is defined by its name. Essentially, by making a no win no fee airbag injury compensation claim, you will not have to pay the personal legal fees of the solicitor who handled your case unless they win you compensation. This is because no win no fee cases are handled via a Conditional Fee Agreement (CFA), which also states that in the event that the claim is won, the fees for the solicitor are deducted from the overall amount awarded.
A solicitor's personal legal fees are limited to a small percentage of the overall award, and these fees, plus any additional costs, should always be agreed upon by you and your solicitor before you proceed with making a claim. Here at Accident Claims UK, our solicitors handle all of our personal injury claims on a no win no fee basis.
How Our Team Could Help You Claim For An Airbag Injury
If you choose to proceed with making an airbag injury compensation claim, our advisors will use all the facts you give them about your situation to match you with the right solicitor for your case.
Having a solicitor with experience in handling cases similar to yours is one of the ways we try to secure the best possible outcome for your claim. Your personal injury lawyer will keep you informed during every step of your case, keeping you up to date on its progress and ensuring you understand the stages and actions required during the process. We are dedicated to trying to secure you the best possible amount to compensate you for your injuries and the hardship you have suffered.
Using a solicitor in airbag injury compensation claims
However your airbag injury was sustained, you can almost be sure of one thing: if you seek compensation, it will be through an insurance company.  Here's the thing, though, no matter how serious your injuries are, an insurer will always try to limit how much compensation they pay (if any). They are a business and it's in their interests to keep costs down. Therefore, there must be compelling evidence that a) their client caused your accident and b) your injuries were sustained in the accident. Even when you believe you have the evidence to support your claim, insurers could still try to deny liability. That's where our personal injury solicitors could help.
If your case is accepted, your solicitor will work hard to ensure your case has enough evidence to make it difficult for the insurer to fight. The first part of the claims process is to try and get the insurer to agree to liability for your accident. If that can be settled upon, your solicitor will move on to try and agree on the correct amount of compensation for you. To help with this, your solicitor will use medical notes and reports from specialists to show the full extent of your suffering.
During your claim, you'll be provided with updates as the case progresses. Importantly, your solicitor will handle all communication. This means you won't need to be worried about being flummoxed by technical legal jargon from the insurer. If you'd like us to look at your airbag injury compensation claim, why not call our team today.
Airbag injury Compensation Claim FAQs
How could I make an airbag injury compensation claim for my child?
According to the law, children under the age of 18 do not have capacity to claim for themselves. If your child has been injured by an airbag, and it was not their fault, you could make a claim for compensation on their behalf. When you do so, you would be acting as their litigation friend. This could mean that you'd be able to make the decisions on their case and settlement on their behalf. We could help you apply to be your child's litigation friend. We could also provide you with the solicitor to help you make a no win no fee claim for your child's injuries. Once a settlement has been agreed, the compensation would be paid into a trust for your child. They would usually be able to access this when they come of age. However, if your child's injuries are so serious that they require some of the funds released for medical care, or other exceptional reasons, you could apply to the courts to release some of these funds for your child. You could also choose to wait until your child turns 18 start Nexus and allow them to make a claim for themselves once they are able to do so. If you're wondering whether this would be the right decision to make or not, we could provide you with guidance and support so that you can make the right choice for your child.
Do I need a solicitor to make an airbag injury compensation claim?
You might be surprised to learn this, but it is not a legal requirement for you to have a solicitor to make an airbag injury compensation claim. However, making such compensation claims could be tricky, if you do not know the law. Therefore, many claimants prefer to have a solicitor on their side to assist them.
How long does it take airbag injuries to heal? 
The amount of time it takes an airbag injury to heal will depend on the kind of injuries sustained in the accident. As these are wide-ranging, there's no one answer to the question "how long will my airbag injuries take to heal?".
For minor scrapes and bruises, you should be back to normal within a week or two. Fractures to bones in your upper body can take around 6 to 8 weeks to heal, and this can be even longer if the fracture was complicated. Some injuries caused by airbags, like spinal injuries or head injuries, might have a permanent effect.
How quickly should my airbag deploy? 
In terms of the speed at which the airbag deploys, it can fill with 30 litres of gas within 25 and 40 milliseconds. Once they inflate, the air immediately starts to leave the bag through vents.
The timing of the airbag's deployment is really important in its effectiveness at keeping you safe. If the airbag deploys too quickly, then by the time you hit it it will have already begun to deflate. This would mean the cushioning effect of the airbag would be reduced. And if the airbag deploys too late, then you may have already made an impact with your steering wheel or dashboard.
How much could I be entitled to claim?
Each case is valued according to the extent of each claimant's suffering. This, therefore, means that payouts vary widely on a case-by-case basis. Please get in touch today for a free assessment.
How long do I have to make a claim?
3 years is the maximum time limit to make a personal injury claim.
Can I claim on behalf of another?
Yes, this is called acting as a litigation friend. For example, if your child is injured before their 18th birthday, you could claim for them.
How could a No Win No Fee agreement be of use?
If you're worried about the cost of legal fees involved in the claims process, these types of agreements can help. By claiming on a No Win No Fee basis, there are no upfront or hidden fees and you don't have to pay your lawyer unless they win your claim for you.
Where can I find a No Win No Fee lawyer?
You don't need to look any further than our panel of specialist solicitors at Accident Claims. They have over 30 years of experience in the claims process and can start work on your case right away to win you the maximum compensation you deserve.
Who are Accident Claims?
We are a claims management company, offering legal advice and support every step of the way. We work with a panel of personal injury lawyers that we can connect you with after a free initial consultation about your case. Why not get in touch today?
How can I get in touch with Accident Claims?
Please see the next section for contact details.
Start Your Airbag Injury Compensation Claim Today
If you think you might have grounds to make an airbag injury compensation claim, whether from the faulty design or manufacture of an airbag, or an injury due to negligence of someone else, try to contact us sooner rather than later. This is because the personal injury claims time limit is generally 3 years for most claims and can vary depending on the circumstances.
You can contact us today to find out about making a claim or whether we act as a compensation calculator to give you a rough idea of compensation on 0800 073 8801, and our friendly advisors can answer all of your questions. Alternatively, you can use our online contact form to arrange a time for us to call you back.
Essential References Related To An Airbag Injury Compensation Claim
Whiplash – See our online guide to making a claim for whiplash injuries
Road Accidents Claims Guide – See our online guide to making a claim for a road traffic accident.
Claiming As A Passenger In A Car Accident – See our online guide to making a claim as a passenger involved in a car accident.
Airbag And Vehicle Passenger Safety
Road Safety Fact Sheet – See this factsheet from the Royal Society for the Prevention of Accidents (ROSPA).
Child Car Seats – See this article from ROSPA for more information on airbags and child car seats.
How To Check If A Vehicle, Part Or Accessory Has Been Recalled – See this government page on how to check if there has been a recall on your car or any parts of it.
When to visit A&E– An NHS guide to visiting A&E
Thank you for reading our guide on pursuing an airbag injury compensation claim.