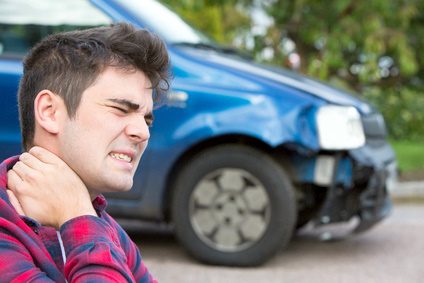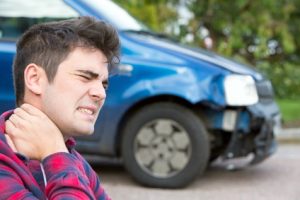 By Cat Troi. Last Updated 11th May 2022. This guide is going to explain when you could make an Aviva car insurance whiplash claim. In general, this could be the case if you're involved in a car accident, and an Aviva policy holder is negligent and causes the accident to happen. We'll also provide information about what you can include within the claim, how much compensation you could be entitled to and when you could use our No Win No Fee service to make your claim.
It's important to note that since the 31st of May 2021, the way low-value whiplash claims are made has changed due to the introduction of the Whiplash Injury Regulations 2021. If you are a driver or passenger aged 18 or over, and your injuries are valued at £5,000 or less, you must now make your claim through the Government's online portal. You can contact our advisors to learn more, and to find out if you have a valid claim.
When you contact us here at Accident Claims UK, our friendly team of advisors will provide a no obligation assessment of your claim. They'll also offer free advice about your options. If your case is strong enough, they could connect you with a personal injury solicitor who could help you make a whiplash claim against Aviva using a No Win No Fee agreement.
To discuss your claim with one of our specialists right away, please call us on 0800 073 8801 today. Otherwise, if you'd like to find out more about how you could make a whiplash claim through an insurance provider, please continue reading.
Select A Section
A Guide To Claims Against Aviva Car Insurance For Whiplash
Following a car accident, if you are caused whiplash through third party negligence you might be unsure what you need to do to make a car insurance claim for whiplash. You might be wondering who was liable, whether you should claim against your own policy or whether it's even worth claiming at all. Hopefully, by time you've finished reading this guide, you'll understand your options and know what you need to do to proceed with a claim.
For a personal injury solicitor to consider your case for a No Win No Fee claim, you'll need to be able to show them that:
A third party owed you a duty of care
This duty of care was breached
Your injuries were a direct result of this breach
To help you understand how No Win No Fee agreements work, we have a whole section about them later in the guide.
When seeking a whiplash payout from Aviva (as well as all other insurers), there is a personal injury claims time limit of 3-years. This begins from the date of your accident or from the date a doctor diagnosed your injuries.
Are you wondering if you can make an Aviva car insurance accident claim? In cases where a third party was negligent, resulting in your injury, you may be entitled to compensation. Contact our advisors to learn more.

Whiplash Symptoms And Causes
According to this article from the NHS, you could suffer from whiplash following any accident which causes your head to move suddenly. It doesn't have to be a dramatic collision either, whiplash can be caused by relatively low speed incidents too. Something to bear in mind if you're involved in an accident is that whiplash injuries aren't always immediately obvious. Therefore, you should take care for up to 24-hours following a collision.
Here are some of the main symptoms the NHS suggests you look out for:
Neck pain.
Headaches of any severity.
Spasms and pain in the muscles of the shoulder and upper arms.
Difficulty in moving the head because of stiffness in the neck or head.
Often people who've been injured in a car accident will use neck braces to provide relief, but the NHS advises against this. Also, they say not to rest too much either. The advice they offer is that if you carry on with normal activities, it might be painful but should lead to a faster recovery time. You can use ibuprofen or paracetamol to help with the pain and we recommend that you visit a GP or your local accident and emergency department for an assessment. That will mean you should get confirmation of what injuries you've sustained. Also, when considering a personal injury claim, you'll be able to use the medical records as evidence to support the claim.

Could I Claim For A Whiplash Injury On My Own Insurance?
If you are in a car accident that was caused by third party negligence and you are injured as a result you have the right to make a claim for damages against the third party's insurance company. If you are involved in an accident that was your fault you would not be able to make a claim for any injuries suffered against your own policy or another insurance company as you will be responsible for your own suffering.
If you are at fault in a car accident and injuries are caused to those in your vehicle as well as other road users then they may be eligible to make a claim against your insurance policy. If you are injured in a collision and the person responsible is uninsured you maybe able to claim through the Motor Insurance Bureau.
When you use our personal injury solicitors to make your claim, you can rest assured that they have the experience (up to 30 years in some cases) and knowledge to be able to handle Aviva car insurance whiplash claims in a way which could mean you'll receive the correct level of compensation for your injuries.
What To Do When Claiming For Whiplash Injuries
Even if you don't intend to claim through your insurance, if you have been in a car accident, you must report this to your insurance provider. For example, if you are insured by Aviva, you could call the Aviva accident number to report the accident.
For more information on Aviva accident reporting, or to find out if you have a valid claim, contact our expert team today. Our advisors can provide further guidance on what to do when making your whiplash injury claim.
Whiplash And Other Insurance Claim Insights
An investigation by the Financial Conduct Authority (FCA) found that you're likely to receive more compensation if you use somebody else to help you claim and when you reject the first offer that is made.
As such, we recommend using one of our No Win No Fee solicitors to represent you. They have the knowledge to know when an offer isn't fair. Furthermore, they'll ensure you have the right medical evidence to support your claim and to be able to justify why the insurer should compensate you correctly.
Compensation can enable you to recover properly from your injuries. Therefore, accepting a low offer might mean that you can not recover and recuperate as well as if you had all the funds to be able to do so. Accepting a low offer can mean you are not compensated accordingly and what is vital to note is that you only get one go at it you cannot go back and ask for more if your injuries get worse or you are unable to work.

Partial Or Split Liability Whiplash Claims
An Aviva car insurance whiplash claim (as well as claims against any insurer) could be settled in a number of different ways even if you were partly to blame for the accident. If there is no one at 100% fault it could be split in the following ways;
Split Liability
This could be when 1 road user is not entirely to blame for the whole accident but that you played a part in the accident happening. If the split if 25/75% this may mean that you contributed 25% of the fault and that you will be compensated 75% worth of your 100% damages.
Partial Liability
In some cases, where both drivers are equally to blame for the accident, the two insurance companies might decide to settle on a knock-for-knock basis. This will mean they will compensate their own policy holders rather than the other way around. This is good for the insurers because they reduce the legal fees they'd normally pay. However, if you settle in this way, you're effectively claiming against your own policy which means you premiums could be affected. Also, you'd probably have to pay a policy excess. 
For free advice about whether you should accept some of the liability for the accident which led to your whiplash injury, please speak with an advisor today.

Should I Accept The First Offer From The Insurance Company?
When you're offered a settlement by an insurance company, you should consider your options carefully before accepting. Although it might be the quickest way to settle, it might not be in your best interests. Here are some things to take into account:
You'd probably be offered a higher amount if you use a personal injury solicitor or if a court settled the claim. That's because the insurer is likely to be acting in their own best interests.
You have up to 3-years to make your own claim. Therefore, you shouldn't feel pressured into accepting the offer.
Just because an insurance company recommends a solicitor, it doesn't mean you have to use them. You are free to choose your own.
If you're asked to sign anything, check that you understand what it is because once signed, it's difficult to retract from.
Make sure you seek medical advice about your injuries before accepting any offer because without a medical assessment, you're unlikely to understand how the injuries could affect you in the future.
You are under no obligation to accept an offer.
Finally, remember that when you sign an agreement, it will be a final offer. This means you can't ask for more compensation in the future if you realise that your injuries are worse than first thought.
Should I Take A Pre Medical Whiplash Settlement Offer?
During any Aviva car insurance whiplash claim, you might be contacted with a pre-medical settlement offer. These are legal in UK whiplash insurance claims but highly unlikely to be the best way of settling your claim.
They are usually made by insurance companies because they want to settle for less than they would if medical evidence substantiated a larger amount. The only real benefit to you would be that by not undergoing a medical assessment, the claim would probably be settled quicker.
However, as mentioned in the previous section, without a medical assessment of your injuries, it's highly unlikely you'll understand the impact they will have on you. If you accept the pre-medical settlement but you're still suffering pain many months or years later, you can't ask the insurance company for any more money as you'll have accepted their final settlement.
Remember, a pre-medical settlement offer will only be the interests of the insurer and not you. Therefore, the better option in our opinion is to use a personal injury lawyer who'll have you medically assessed by an independent doctor who'll produce a report with full details of your injuries. The solicitor can then try and ensure you receive the compensation you're entitled to.

Whiplash Claims Calculator
As we mentioned earlier, since May 31st 2021, the way low-value whiplash claims are made has changed due to the introduction of the Whiplash Injury Regulations 2021. Because of this, if you are a driver or passenger aged 18 or over and your injuries are valued at £5,000 or less, your claim will be handled through a Government portal.
The table below illustrates what you could receive when you make a whiplash claim through the new tariff-based system set out in Section 2 of the Whiplash Injury Regulations 2021.
| Injury Length | Table A Compensation Amount – Regulation 2(1)(a) | Table B Compensation Amount – Regulation 2(1)(b) |
| --- | --- | --- |
| 3 Months Or Less | £240 | £260 |
| Between 3 To 6 Months | £495 | £520 |
| Between 6 To 9 Months | £840 | £895 |
| Between 9 To 12 Months | £1320 | £1390 |
| Between 12 To 15 Months | £2040 | £2125 |
| Between 15 To 18 Months | £3005 | £3100 |
| Between 18 To 24 Months | £4215 | £4345 |
However, if your injuries are valued at over £5,000, you can make a personal injury claim through the traditional channels. In the following table, we have included some guideline figures from the 16th edition of the Judicial College Guidelines (JCG). This is the latest edition published in April 2022.
| Injury | Amount | Notes |
| --- | --- | --- |
| Severe PTSD (a) | £59,860 to £100,670 | Permanent effects which prevent any function at the pre-trauma level. |
| Severe Psychiatric Damage (a) | £54,830 to £115,730 | Severe problems coping with work, education, and social life. |
| Moderate PTSD (c) | £8,180 to £23,150 | Cases of large recovery, with no grossly continuing effects |
| Moderate Psychiatric Damage (c) | £5,860 to £19,070 | Problems coping with day-to-day life, but with a chance of recovery. |
| Less Severe Brain Damage (d) | £15,320 to £43,060 | Cases of good recovery with the possibility of returning to work. |
| Moderate Neck Injuries (b) | £24,990 to £38,490 | Injuries such as dislocations that may require spinal fusion. |
| Minor Back Injuries (c) (i) | £11,980 to £18,020 | Recovery made without surgery within one to two years. |
| Moderate Shoulder Injuries (c) | £18,020 to £45,0700 | Limitation of movement as a result of frozen shoulder with persisting symptoms. |
The figures provided are only guidelines, based on previous settlement amounts, and as such, the amount you could potentially receive may vary. To find out if you have a valid claim, contact our team of advisors today.

Could I Be Compensated For Other Costs And Damages?
There are many different parts of a compensation claim. These parts are known as heads of loss. Your solicitor can use different heads of losses depending on how you were affected by your injuries. Here are a sample of the losses that could be included in your claim:
General Damages
As seen in the table in the previous section, general damages are paid for specific injuries. They are used to compensate for pain, suffering and loss of amenity caused by your injuries.
Special Damages
Travel Costs – You might need to travel a lot during your claim because you need to visit your GP or a physiotherapist for treatment. If that's the case, you could claim back fuel and parking costs. Furthermore, if you are unable to drive due to your injuries, you could claim back the cost of alternate travel arrangements.
Medication Costs – Although the NHS provides excellent treatment for free, you might incur expenses because of prescriptions or over the counter medication. Therefore, it's possible that these costs can be claimed back.
Care Costs – If you require any form of professional care while you're recovering from your injuries, you may be able to include the costs in your clam.
Lost Income – When you lose money from your pay packet because you've had time off to attend doctor's appointments or to recover at home, you could claim the losses back. Also, in the case of long-term injuries, you might be able to claim back loss of future earnings too.
Personal Property Damage – When an item of personal property such as clothing, jewellery or a mobile phone is damaged during your claim, you could include the costs of repairing or replacing the item. 
Aside from the general damages element of your claim which are given for the pain and suffering caused, the financial aspects are known as special damages. These are paid to try and ensure that, following your claim, you're not worse off financially.
It's important that you can justify why you claimed these expenses and also that you have evidence to prove you made them. Therefore, always try and keep hold of receipts, bank statements and parking tickets which can be used as supporting evidence. Also, you could keep a log of any spending you make that is linked to your accident so that it's easier to explain when your solicitor asks.
Finally, if you're unsure whether you'll be able to include any expenses in your claim, check with your solicitor. They'll be able to advise you before you commit to any spending to try and help make sure you're not left out of pocket.

No Win No Fee Whiplash Injury Claims Against Aviva Insurance
If your claim is valid, one of our solicitors may offer you a Conditional Fee Agreement (CFA). This is your contract which explains clearly that you don't need to pay the solicitor's fee unless you are awarded compensation.
Even when that happens, you won't need to have the funds available to pay the solicitor yourself. That's because, their fees are covered by a success fee. This is automatically deducted from your compensation before it's paid to you. So everything is clear right from the start of your claim, the level of success fee is detailed within the CFA and will not change. By law, a success fee can't be any higher than 25% of your claim.
To discuss whether you could make a no win no fee claim, read the next section to find out how to get in touch with us.

Talk To Accident Claims UK
Now that you've come to the end of this guide regarding Aviva car insurance whiplash claims, we hope you'd like to use Accident Claims UK to make your own claim. If so, you can reach us by:
We are available to help you claim 24 hours a day and 7 days a week. Therefore, please feel free to contact us whenever it's convenient for you.

Further Guides
We hope that you've gained enough information from this guide to help you decide whether to make a car insurance whiplash claim or not. To help you further, we've provided some links to external resources and guides which we hope you'll find useful below.
Motor Insurers Bureau Claims Process – Information from the MIB about how they plan to reform whiplash claims to help reduce the impact on insurance costs.
Stiff Necks And Neck Pain – A guide from the NHS explaining what to do if you're suffering from neck pain.
Find A Doctor – This useful tool from the NHS allows you to search your area for doctors or hospitals.
Road Traffic Accident Claims – This guide looks at all sorts of injuries you could claim for following a road traffic accident, not just whiplash injuries.
Criminal Injury Claims – A guide that looks at when you could claim for injuries sustained during a violent crime against you. It is possible to suffer whiplash during an assault.
Accident At Work Claims – This guide could prove useful if you've suffered a whiplash injury following an accident in the workplace.
Fatal Motorcycle Accident Claims – This guide will provide further information on fatal motorcycle accident claims.
Claiming Compensation For An Accident In A Car Park – Through this guide, you can find out how to claim compensation following an accident in a car park
Thanks for reading our guide, if you require any more information, please call an advisor today.
Article by BH
Edited By Mel.