By Joanne Jeffries. Last Updated 1st October 2021. Welcome to our guide on whiplash recovery time. Are you wondering how long the average recovery time for whiplash is because you have suffered this kind of injury and haven't yet recovered? Or are you looking at claiming for a previous whiplash injury and want to know how the recovery time frame may affect your whiplash injury claim payout?
This whiplash recovery guide provides useful information and guidance on what you need to know about making a personal injury claim of this nature and also explains how long it may take to recover, the personal injury claims time limit, and why No Win No Fee solicitors could provide assistance when filing a whiplash injury claim.
Should you have any further questions about whiplash recovery time, treatment options, or other injuries to the neck and shoulders, or you're ready to begin a claim with a personal injury lawyer from our panel, please call us on 0800 073 8801.
Choose A Section
A Guide To Whiplash Recovery Times
If you suffered whiplash in a road traffic accident or another accident that wasn't your fault, you may be wondering how your whiplash recovery time could affect the amount of compensation you could receive. This whiplash recovery guide offers information on the length of time it may take you to recover from this type of neck injury and provides information on how it's caused, what whiplash associated disorders there are, whether the cervical spine injury could heal on its own, and the amount of whiplash injury compensation you may be awarded in a successful claim.
Most whiplash injuries are from road traffic accidents. Many whiplash injury claimants heal within 2-3 months. However, if your neck injury is more serious, it could take you longer to recover.
Accident Claims UK can provide advice and assistance with making whiplash claims and could introduce you to a personal injury solicitor to act on your behalf.
What Are The Causes Of Whiplash?
To learn about whiplash recovery time, let's first look at the injuries themselves.
Whiplash is, essentially, a soft tissue injury to the neck, which happens when the head moves suddenly and violently forward and back, or sideways, in a jerking movement. It is the ligaments and tendons that support your neck, and if these are stretched and put under strain, soft tissue damage could occur. It could affect your range of motion in some cases.
Whiplash could be caused in a number of different accidents, which includes the following:
An assault
Sporting activity
A road accident
The most common cause of this type of injury occurs in road traffic accidents which a high-impact rear accident or low-speed collision. If an accident caused your whiplash and it was someone else's fault, you may be able to claim compensation for your pain, your suffering, and any costs that you had to bear as a direct result of the injury.
Whiplash Symptoms And Recovery
Whiplash symptoms and recovery can vary depending on the severity of damage done. With this said, some people suffer immediately after an accident, while in others, the symptoms of whiplash come on over a period of time. It is also worth noting that some people suffer more pain than others, and some may suffer more than one of the following commonly seen symptoms:
Stiffness of the neck, back and/or shoulders
A headache
Tingling in the arms or legs
Numbness in the arms or legs
Insomnia
Dizziness
Fatigue
In mild cases of whiplash, recovery time may be only a few days, but with others who suffer more serious damage, the symptoms can last for years. However long your whiplash recovery time happens to be, you could look into making a whiplash claim if the accident was someone else's fault. Simply give us a call, and we could assess your case. We could also introduce you to a No Win No Fee solicitor who would act on your behalf.
What May Be The Short Or Long-Term Effects Of Whiplash?
A sprain injury to the neck, like whiplash, could result in short or long-term damage. As such, whiplash recovery time can vary, but there are some short and long-term effects that are worth noting:
In The Short Term
If you were involved in a low or moderate speed collision, you might find you suffer a milder form of whiplash. The more common symptoms for this could include the following:
Neck stiffness and pain
Pain in the upper back
Headaches
In The Long Term
If you were in a particularly high speed or violent collision, there could be a higher chance of you experiencing more of the symptoms we listed above, and you may have more difficulty moving your neck. It is also worth noting that your whiplash recovery time may be longer if you did not experience any symptoms straight away and only manifesting anything from 6 to 12 hours after the accident happened.
The full effects may only be felt after a few days have passed. Headaches in such cases may be more severe, and you may also experience visual disturbances, as well as insomnia if certain nerves were negatively impacted.
Whiplash Recovery Time – Can Symptoms Get Worse Over Time?
The stiffness and neck pain associated with whiplash often gets worse over the few days following an accident. While many whiplash injuries resolve by themselves over a short period of time, in some cases, symptoms could get worse as time passes, which could extend your whiplash recovery time to months or even, in extreme cases, years.
Whiplash recovering time is not predictable, but risk factors that could be linked to a longer recovery time may include:
A previous whiplash injury
Age
Pre-existing back, neck and pain (or difficulty moving your head)
Does Diagnosis And Treatment Affect Whiplash Recovery Time?
In this section, we'll explore treatments for whiplash, such as physical therapy. You may wish to see a doctor after a car accident or sporting injury regardless of the injuries you received. As mentioned previously, worsening symptoms may come on over time, and your doctor may need to rule out other injuries such as a torn ligament or disk injury.
A doctor would listen to you describe your symptoms if they are present and could examine your neck to see if there is any pain over the neck area. They could offer useful whiplash recovery tips. According to NICE guidelines, you should be discouraged from immobilising your neck and encouraged to return to usual activities that would not cause strain to the existing injury as soon as you are able. You may be told to take muscle relaxants or acetaminphen tylenol, or given other treatment options.
You may be referred for physiotherapy if it is deemed appropriate, and you could be advised to take over-the-counter painkillers if you are in pain. Some people who suffer from depression because of the pain in long-term cases of whiplash, or chronic whiplash, could be referred to a psychologist. They may also be referred to psychologists if they have developed PTSD.
The way you treat your injury could potentially have some effect on your whiplash recovery time. For example, if you return to contact sports too quickly after you have suffered whiplash, you may aggravate the injury. Inactivity may also lead to a longer recovery time. As such, it is prudent to follow your doctor's advice and ask any questions about activities you undertake to determine what the best course of action could be for the most appropriate whiplash injury treatment and recovery advice.
Will Whiplash Heal On Its Own?
While in most cases, whiplash is a self-limiting condition that does not require invasive treatment, you should still see a doctor if you suspect you might have whiplash in order to get the most accurate advice and to rule out any other injuries you may have sustained.
However, if your symptoms do not appear to be healing and you feel that the pain is lasting longer than you thought it should, you should go back to your doctor for further advice and perhaps a referral to a physiotherapist or osteopath, if appropriate. If you make a whiplash injury claim, you may even be able to include the cost of any treatment not covered by the NHS in your whiplash claim.
Predicting Whiplash Recovery Time
Research has shown that while an exact prediction of whiplash recovery time would not be possible as no two cases are exactly the same, there are ways of predicting whether whiplash could cause long-term pain or whether it could resolve quite quickly. A study of over 3000 whiplash cases in Canada showed that those suffering from whiplash pain level was less than 5 on a scale from one to ten after three weeks, and the prognosis was that they would recover more quickly than those who rated it higher than this. Other factors that could affect recovery also included the patient's expectations of recovery, according to another study from Sweden.
Compensation Calculator Relating to Whiplash Recovery Time – October 2021
Whatever your recovery time, you may be wondering how much compensation you could receive if you were injured in an accident that wasn't your fault. The table below provides an indication of payout brackets. These figures are taken from the Judicial College Guidelines for specific injury types and could prove a good alternative to using a personal injury claims calculator.
While we have included those injuries that may be relevant to readers of this guide, alongside whiplash, you may have suffered other injuries, and you might wish to know more about how much compensation could be claimed for these too.
| Injury | Bracket | Notes |
| --- | --- | --- |
| Neck injury/ies - Moderate | £23,460 to £36,120 | Chronic injuries, fractures and dislocations could be included here. There could be a higher level of vulnerability for future trauma, or long term loss of function. |
| Neck injury/ies - Moderate | £12,900 to £23,460 | Wrenching injuries and disc lesions could be included here. Long periods of pain and suffering may deem your injury moderate enough to be included in this bracket |
| Neck injury/ies - Moderate | £7,410 to £12,900 | If your injury has aggravated another condition, or you've suffered a longer recovery period, or if your injuries could leave you vulnerable to future harm, this bracket could be appropriate for your claim. |
| Neck injury/ies - Minor | Up to £7,410 | Payouts under this bracket would depend on how much the injury has affected your ability to work, whether there was back pain involved and how much pain you might have suffered. Usually injuries within this bracket will heal within 2 years. |
| Mental Anguish | £4,380 | Fear of impending death |
| Fracture of Clavicle | £4,830 to £11,490 | Award depends on extent of fracture |
| Shoulder injury - minor iii) | Up to £2,300 | Recovery within three months |
| Shoulder injury - minor ii) | £2,300 to £4,080 | Recovery within a year |
| Shoulder injury - minor i) | £4,080 to £7,410 | Recovery within a year |
If you do not see the injury you have suffered above, or you've experienced multiple injuries, then you may wish to call the Accident Claims UK team to find out the guidelines amounts for the injuries you've suffered. We would also be able to provide you with a solicitor to help you build a whiplash claim against a liable party if you were eligible to do so.
Special Damages You Could Claim For Whiplash Injuries
Claims for this type of injury, no matter what your whiplash recovery time happens to be, may not just include the pain and the suffering that you experienced because of your injury. If you have lost money because you were off work recovering from your injury and could not perform your usual tasks, you could claim for these losses. Likewise, if you have incurred extra costs because of your whiplash injury, you might find that these could be covered by your claim. This could include the following:
Travel expenses (including parking charges, bus/taxi fares)
Medical expenses such as private physiotherapy or pain medications
If you incurred a cost for anything directly connected to your injury, you would need to provide receipts to support your expenditure.
No Win No Fee Whiplash Damages Calculator
Regardless of your whiplash recovery time, you could be entitled to make a claim for your injury, of which legal help could significantly boost your chances of securing compensation.
When you are considering making a whiplash claim, you may want to retain the services of a personal injury solicitor who offers No Win No Fee terms. As part of this type of agreement, you're not required to pay your lawyer unless they win your case for you.
This Conditional Fee Agreement (CFA) that you sign establishes that you will pay your lawyer in the event of a successful claim. This payment would be a percentage of the payout amount and will likely be referred to within your agreement as a 'success fee'.
The main benefits of making No Win No Fee claims would include the following:
Not being required to fund your claim out of your own pocket
Having less financial risk of further losses
Knowing your solicitor would only be likely to take on claims they felt were strong enough to secure compensation
In some cases, your solicitor may speak to you about taking out an insurance policy to cover you in the event of an unsuccessful claim. If you'd like to know more about this and the costs involved, please do give us a call, and we could explain further.
For more information on whiplash recovery time, please read on.
Whiplash Recovery Time FAQs
What are the symptoms of whiplash? 
If you've been in a road traffic accident and found that the impact of the crash has jolted your head forwards, then you may be suffering from whiplash. Sometimes, it can take a couple of hours for the symptoms of whiplash to become evident. You can experience symptoms of whiplash from a read end collision, a head-on crash or if someone has hit you from the side.
The most common symptom of whiplash that most of us are familiar with is pain and stiffness in the neck, headaches, and pain in the muscles of your arms and shoulder pain. If you're suffering from whiplash, then you may also experience blurred vision and pain when you swallow, as well as dizziness. You might find that your whiplash causes you difficulty concentrating.
Should I take medication for whiplash? 
If you find that the pain caused by your whiplash is interfering with your ability to do everyday activities, then you can take pain relief in the form of paracetamol and ibuprofen to ease the pain. If you visit your GP because of your whiplash symptoms, then they may prescribe you a stronger painkiller like codeine to reduce pain. You can also use an ice pack to relieve pain and reduce muscle spasms.
How long do I have to claim?
3 years, according to the usual personal injury claims time limit.
Can I claim for someone else?
Yes, providing they can't claim for themselves, you could act as a litigation friend. They may be a claimant before their 18th birthday or a claimant lacking the mental capacity to make legal proceedings, for example.
Do I need a lawyer to claim?
No, it's not legally a requirement but it could help you win your case.
What is a No Win No Fee lawyer?
Simply put, they don't charge to handle your claim unless they win it for you. Therefore, this minimises any financial risk.
How can I find a No Win No Fee lawyer?
Here at Legal Expert, we could connect you to our panel of personal injury lawyers with more than 30 years of experience in the claims process if you have a valid claim.
How can I contact Legal Expert?
Please see below for contact information.
Talk To Accident Claims UK About Your Whiplash Injury
Do you think you might be ready to begin a claim with us, or would you like further advice on making a claim for pain, suffering and losses you've had to bear throughout your whiplash recovery time?
When you talk to our team of advisers, we will go through all the details of what has happened to you. We may ask you numerous questions relating to your case, so we can be sure we have all of the details needed to assess your case. Once we have all this, we'll offer some advice and guidance on what you could do next. If we think it may be possible for you to claim compensation, we could offer to provide a solicitor to you in order to build a claim against the liable party.
If you don't want a lawyer at this point and are not ready to claim, then we will not pressure you into doing so. All our advice is free of charge, and we do not hold you under any obligation to use our services.
If, however, you do decide to allow us to help with your claim, we could provide you with a lawyer working on a No Win No Fee basis. We are proud of the services we and our lawyers offer and will work with you in any way we can to offer you guidance and support with your whiplash injury claim.
We can be reached in a number of ways:
By phone – 0800 073 8801 – you can call our team at any time, and we'll go through your case and offer essential legal advice.
By email – office@accidentclaims.co.uk – Feel free to send over any queries or details about what has happened to you, and we'll aim to get back to you as quickly as we can.
Via live chat – If you see a popup with our live chat option, then simply type in the box, and someone will answer your query.
Whichever way you prefer to get in touch, our panel of personal injury lawyers is here to offer assistance.
Essential Links Relating To Whiplash Recovery Time
What is the whiplash reform programme?
There have been some sweeping changes to the way in which minor, short term soft tissue injuries caused by car accidents will be compensated. From the end of May 2021, the Whiplash Reform Programme means that claimants of such injuries that are valued under £5,000 would need to be made via an online portal that the government has put in place.
If you have a minor soft tissue injury such as whiplash, you'll need to claim via this portal. You could get help with this from a personal injury solicitor. However, legal costs would not be recoverable from the liable party. In addition, the compensation amount you'd receive would be in accordance with the government's new tariff. The tariff works on a sliding scale depending on how long it took you to recover from your injury. Another part of the reform is to block claims where there is no medical evidence of your injury.
Would this apply to my claim?
Before you assume your claim would need to be made in this way, it might be prudent for you to speak to our team for a free, no-obligation consultation. Our expert advisors would be able to take all the details of what's happened to you, and we could then assess your suitability to claim. If we believe your claim would need to be made via the portal, we could help you with this. However, we may believe your injuries fall outside of the remit of the programme, in which case, we could help you claim outside of the portal.
Statistics Relating To 2020 Road Traffic Accidents In The UK
Below, you can see the Department For Transport's figures for 2020 relating to UK road traffic accident casualties. As you'll see, there are different types of road users that could be affected by a road traffic accident, such as those in cars and other motor vehicles, as well as those on push bikes and on foot. You might be surprised to see a reduction in the number of people injured on UK roads in 2020, as per the comparison below. However, we must consider the fact that during this period, the UK had a few lockdowns. Therefore, there would be less traffic on the roads during this period.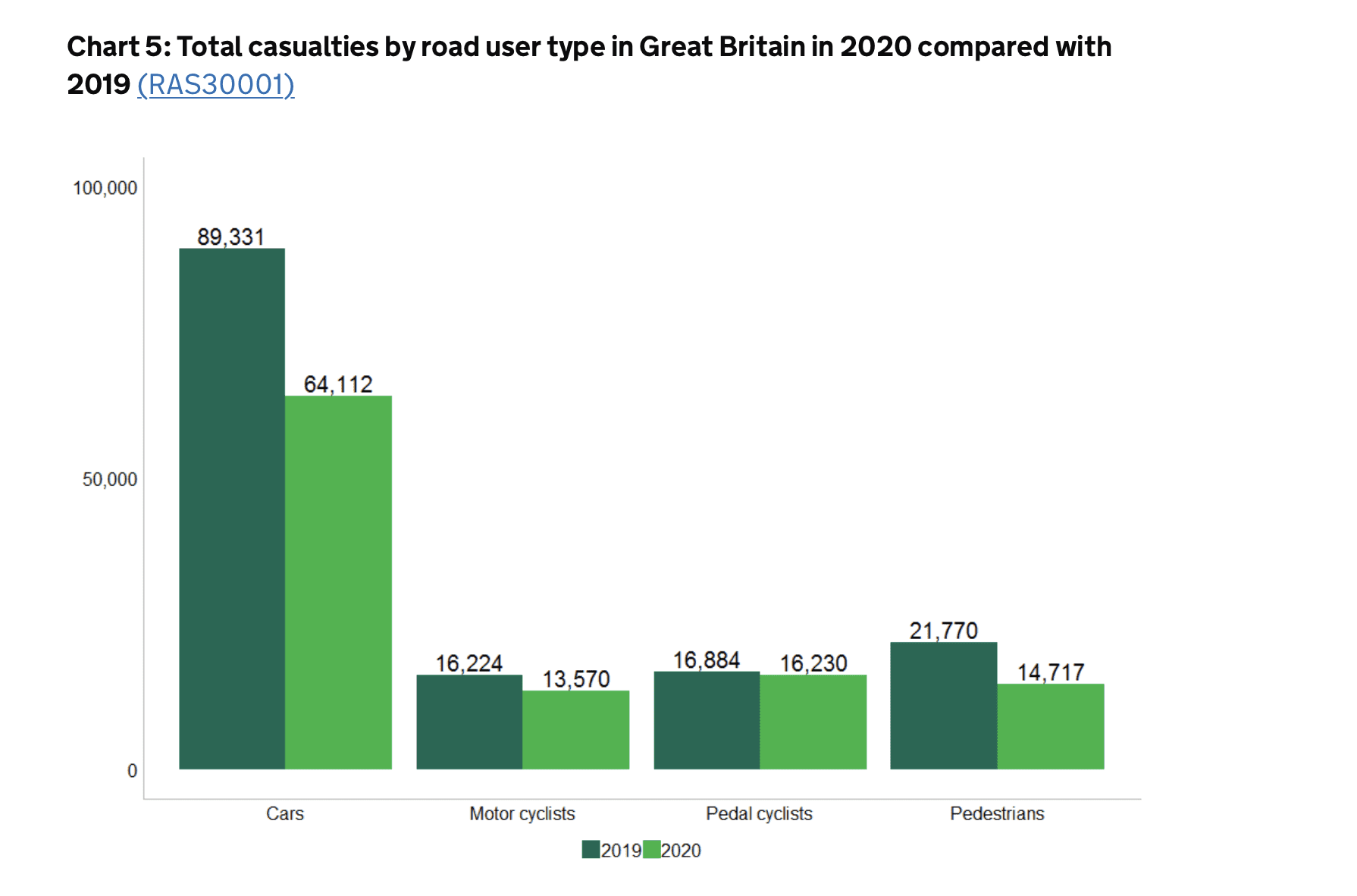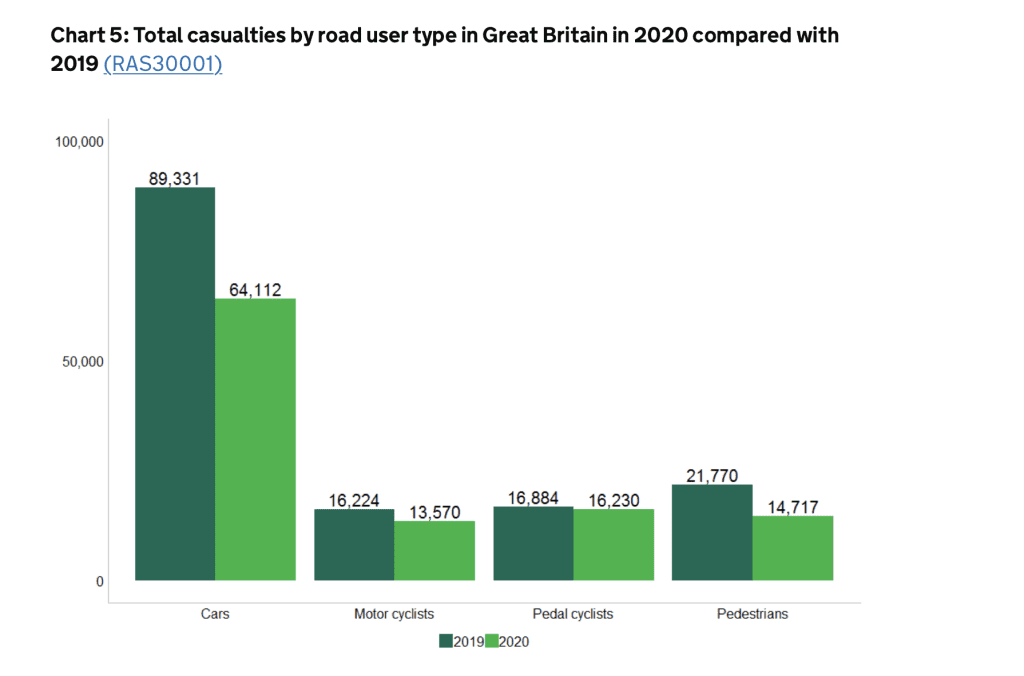 One of the interesting things about these figures is that there was not a drastic reduction in injuries to cyclists. During the lockdown period, many people used their bikes not just to travel to perform essential work, but also for leisure. This could account for this.
Could my whiplash recovery time be longer if I suffer with a pre-existing condition?
If you have a pre-existing neck or back condition, you might find you experience a more protracted recovery time from whiplash. Your compensation for whiplash could depend on how long you suffer symptoms for. If you have a pre-existing condition, it could be wise to get a solicitor who is experienced in dealing with such claims. That way, they'll know how to go about handling claims that have exacerbated previous injuries.
Thank you for reading our guide on whiplash recovery time.