Cycling activities have never been more popular, but do you need to make cycling activity personal injury claims after being hurt through no fault of your own? Perhaps you are an employee or a customer of a cycling activity centre who has been injured biking because of insufficient health and safety provisions?
In this guide, we will discuss how to launch cycling activity personal injury claims after you were hurt at work or as a customer of a cycling activity centre. We explain the law that supports health and safety in this area and what evidence you can use to calculate a realistic compensation request from the party at fault.
At Accident Claims, we're also ready to advise you right now in person. Find out how one of our personal injury solicitors could help by:
Select A Section
A Guide To Cycling Activity Personal Injury Claims
Who could be liable if you were injured whilst at a cycling centre? How could you be awarded compensation for your injuries if you suffered an injury while at work in a cycling activity centre due to employer negligence? How does one prove negligence caused the injury?
Firstly, the law is clear on the duty of care. At work, Section 2 of the Health and Safety At Work, etc Act 1974 requires all UK employers to ensure that they have put in place all reasonable steps to safeguard the wellbeing of their employees. As someone who owns the cycling activity centre, this means your employer must ensure that you and all participants are kept free from avoidable risks.
Generally, some companies that provide adventure activities to young persons under 18 have to abide by The Activity Centres (Young Persons' Safety) Act 1995 and the Adventure Activities Licensing Regulations 2004.
Likewise, as a customer or participant at a cycling activity centre or event, the operator has a legal obligation under the Occupiers' Liability Act 1957 to remove or reduce risks to health and safety as much as is reasonably practicable. Obviously, employees and members of the public must enforce their own safety as well.
What Is A Cycling Activity?
Cycling activities can cover a wide range of adventure settings. They can include:
Cross-country bike riding groups
Mountain bike centres
Rallies and dirt bike centres
Cycling activity centres
Any group of people can meet and ride their bikes together as an activity. Whilst on public roads they are subject to the rules of the Highway Code but in an activity centre, the controller may have ultimate responsibility for safety. Speak to our team for clarification if you are unsure.
What Are The Most Common Cycling Activity Accidents?
Cycling accidents consist mainly of falling from the bike or colliding with something. However, negligent organisation and preparation could create a whole array of other cycling activity accidents. A few examples could include:
Crashing with another cyclist because the activity centre is overcrowded.
Falling due to a hired bike being defected.
Supplied with a bike that's brakes are broken
Poor supervision results in inexperienced riders being allowed to use trails of experienced riders
How Many Cyclists Are Injured Each Year?
According to statistics from RoSPA, for 2019, the severity and age range of cyclists injured are as follows: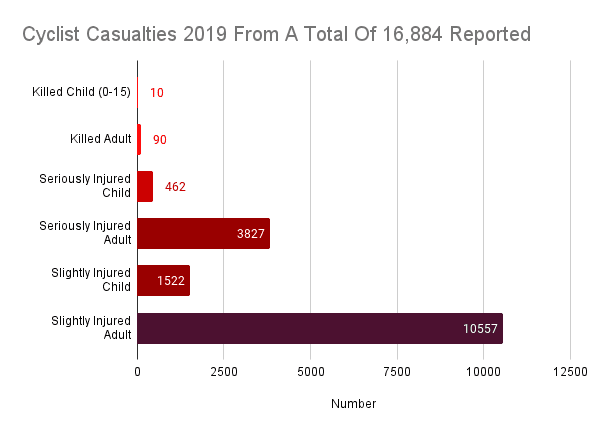 What Are Some Of The Most Common Cycling Activity Injuries?
Cycling injuries can often be of a serious nature due to the speed a cyclist can travel and the fact that they have little protection. It can be possible to:
Fall from the bike and sustain heel fractures, soft tissue damage, and cuts or bruises
Suffer concussion from the wrong (or no) appropriate helmet supplied
Collide in tightly or overly packed groups of cyclists and suffer multiple injuries
Suffer back injury from a supplied bike that is too large or heavy to manoeuvre properly
Become ill from extremes of weather on cycling trips if not supplied with the correct protective wear or advised on the rigorousness of the track.
How To Prove Cycling Activity Personal Injury Claims?
To prove a cycling activity personal injury claim, it's essential to have some foundation facts in place first. As an impacted employee, you will need to show in what way your employer owed you a legal duty of care at the time and place of the injury and how deficient measures on their part breached that duty, permitting actual injury.
An accident alone may not be sufficient grounds – there must be an actual injury. Also, it's important to show that you did all you reasonably could to avoid the accident.
As a member of the public or service user injured because of a deficient health and safety provision, you also need to identify exactly who had the legal duty of care in that area at that time. Collect as much evidence as you can to prove why it happened or chat with our team for help on this.
How Are Cycling Activity Personal Injury Claims Valued?
Personal injury claims can be valued by looking at two areas – the physical and emotional damage and the financial impact. These are called general and special damages. General damages can take the results of an independent medical assessment and compare your injuries with those listed in a publication called the Judicial College Guidelines, an excerpt of which we show below:
Body Area of Injury
Degree of Severity and JC Guideline Bracket Award
Supporting Notes
Head (Brain Injury)
(c) Moderate Brain Damage (iii) - £40,410 to £85,150
Cases that impact work, concentration and memory with a risk of epilepsy
Shoulder
(b) Serious - £11,980 to
£18,020
Dislocations and nerve damage, rotator cuff injuries and persisting symptoms after surgery
Elbow
(b) Less Severe Injuries - £14,690 to £30,050
Injuries that cause impaired function but no permanent disability
Wrist
(b) Wrist Injuries - £22,990 to £36,770
Cases of permanent disability with some remaining use
Hip/ Pelvis
(c) Lesser Injuries (i) - £3,710 to £11,820
Despite serious initial injury, a complete recovery occurs within 2 years
Leg
(c) Less Serious Leg Injuries (i) - £16,860 to £26,050
Issues that leave impaired gait or limp, sensory loss and nerve damage
Knee
(a) Severe (i) - £65,440 to £90,290
Joint disruption, ligament tears and considerable loss of function
Ankle
(b) Severe - £29,380 to
£46,980
An extended period in plaster, leaving instability or scarring and impacting sleep and work
Foot
(e) Serious Foot Injuries - £23,460 to £36,790
Continual pain and risk of arthritis, prolonged treatment or fusion surgery needed
Foot
(f) Moderate - £12,900 to £23,460
Fractures to metatarsal bones causing permanent deformity and osteoarthritis risk
This is an index of award brackets for monetary amounts considered appropriate to acknowledge the pain, suffering, and loss of amenity for each specific injury.
Special damages can use any documented evidence you have of financial loss and present these in your cycling activity personal injury claim as well. For instance, you may have incurred out-of-pocket expenses because of the injuries such as:
The need to pay for medical procedures not available freely on the NHS such as scar treatment or physiotherapy
Domestic help costs from family, friends, or paid professionals
The need to make modifications to your home or car (wheelchair access for example)
Child care needs
Damage to your pension contributions or attendance bonus at work
Damage to personal items such as eyewear or mobile phone
With actual documented evidence in the form of receipts, statements, and invoices, you could put these costs forward as part of your overall compensation request from your employer or negligent cycling operator.
Why not speak to our team to see what other items may be eligible for inclusion. Alternatively, we provide a compensation calculator which you can use.
Getting Help With Cycling Activity Personal Injury Claims
Facing cycling activity personal injury claims against an employer or an operator may feel daunting. But you do not have to face it alone when expert legal representation can help. When a personal injury solicitor works under a No Win No Fee agreement on your case, there are many immediate benefits to the claimant. Such as:
No Win No Fee solicitors require no upfront fee to secure their services
They require no payment as the case moves ahead
They do not require any fee if the case is unsuccessful
The fee comes from the final payout to cover their success fee
Why not speak to our team about launching a No Win No Fee cycling activity personal injury claim against the party that failed in their legal duty to you?  You can:
Related Cycling Activity Claims
In addition to cycling activity personal injury claims, below are some guides that offer further reading on this topic: