By Joanne Jeffries. Last Updated 1st November 2021. Welcome to this page which includes information on personal injury claims payouts for a foot fracture.
This is a case study in which we look at a case where a claimant claimed compensation for a foot fracture. We should note that Accident Claims UK has done a case study on this claim. We are using this case as an illustration of claiming compensation for a foot fracture. In this case the claimants foot fracture was on her heel.
The claimant was a woman in her early sixties. She suffered a broken foot requiring NHS treatment after being involved in a road traffic accident. Prior to the accident the claimant worked at a bar and had an active social life including dancing and playing spots such as badminton. At home she enjoyed decorating and tending her garden. The effect of her broken heel meant that she was not able to carry on with these activities and her quality of life was seriously impacted. Liability in this claim was not disputed by the defendant and a settlement was negotiated.
At Accident Claims UK we have helped people from across the country to make successful personal injury claims. Our specialist team could also help you. After reading about this claim, you can find details of how to contact us, as well as additional resources where you can find information on the injury and on making personal injury claims.
Statistics Looking At How Common Road Traffic Accidents Are In The UK
How common are road traffic accidents, such as that experienced by the claimant in this case, in the UK. The first thing to note is that the total number of accidents on the road and injuries or deaths caused by them is on a decreasing trend. 2016 had the lowest number of casualties on record at 181,384 people injured across all levels of severity. The number of people seriously injured in an accident on a road numbered 24,101. We can see the fall in the number of fatal accidents on the road in the graph below.
You can find more about road safety and road accidents in the UK in this report from the government. Whilst somme statistics do show an increase in the number of people injured in an accident on the roads, it should be noted that recording methods has changed in recent years which can make it look like there is an increase in incidents.
Even despite 4 months of national lockdowns, in 2020, over 115k people suffered road traffic accident injuries, as you could see below.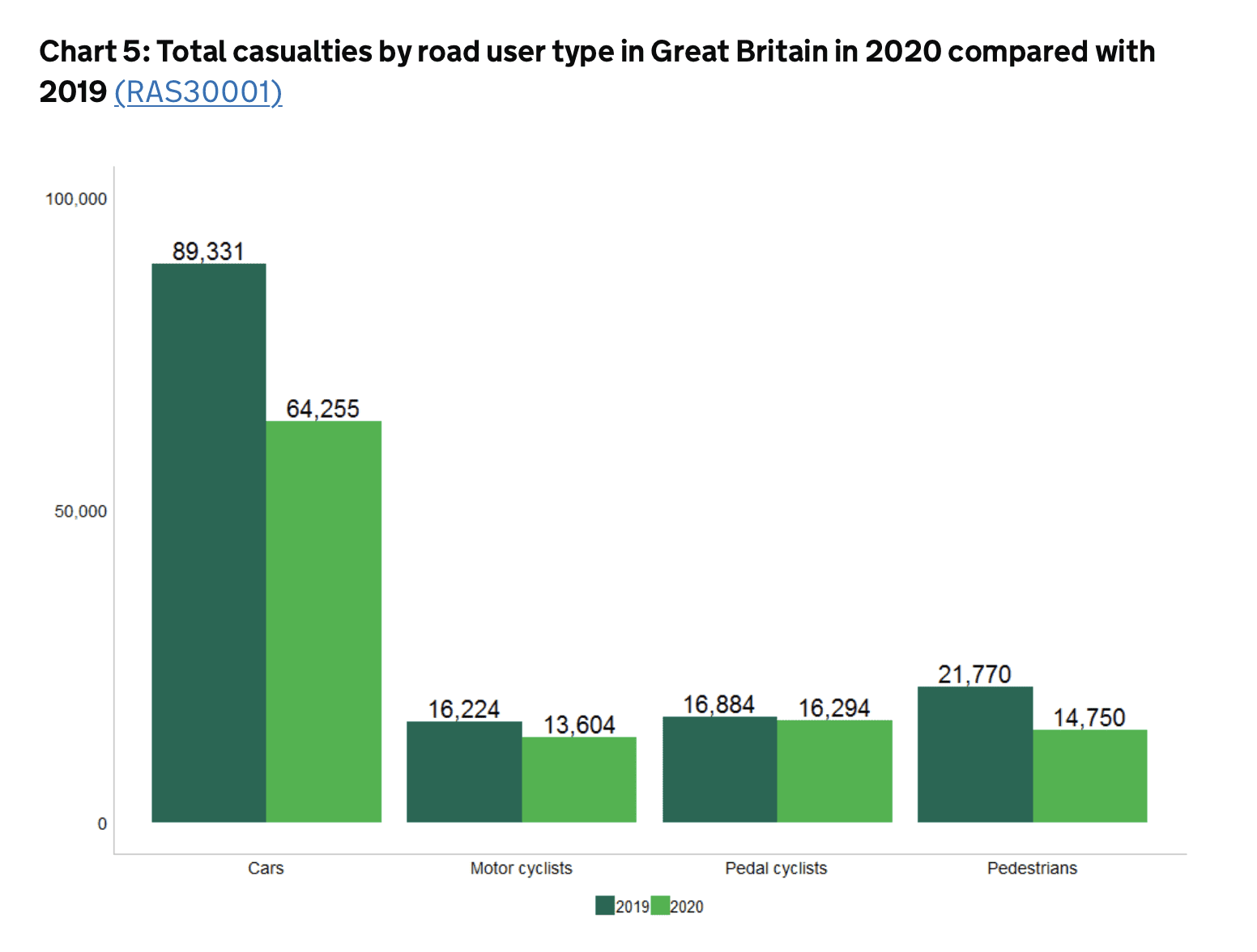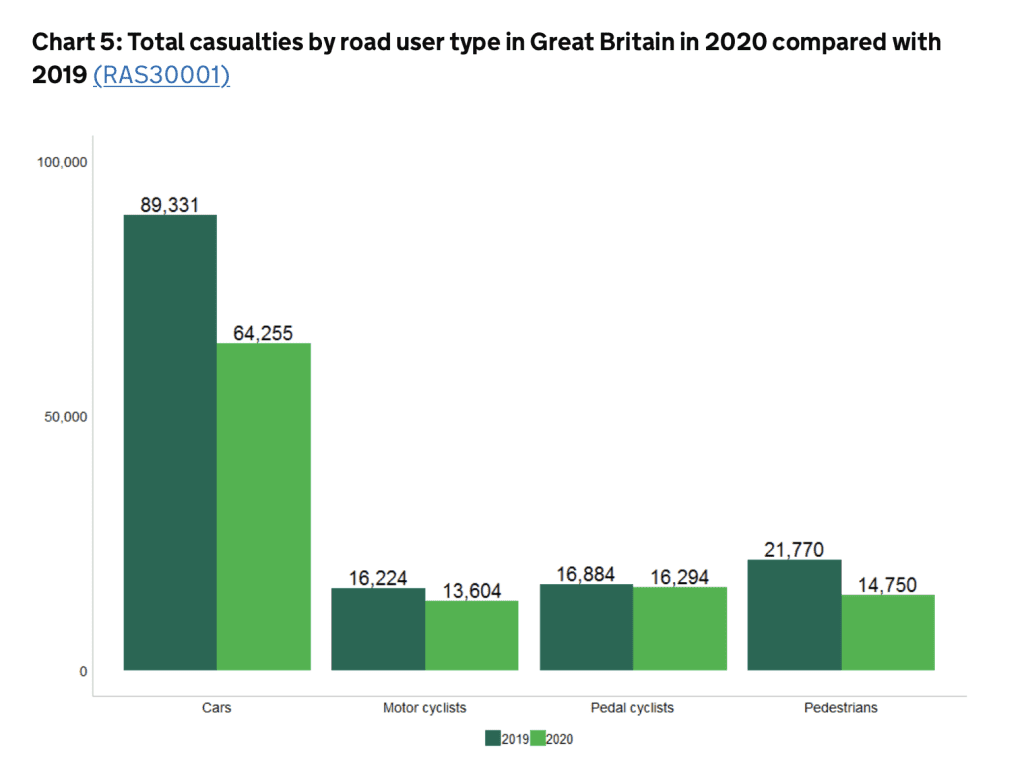 Fractures And Breaks To The Feet And Progression Of The Claimants Injuries
In this case the claimant suffered a broken foot, or more specifically a broken heel. She also suffered whiplash injuries to her neck and back. Additionally to her fractured foot symptoms and other physical injuries, the claimant also experienced the symptoms of post traumatic stress disorder (also referred to as PTSD). She experienced symptoms such as an overall fall in confidence, becoming less outgoing, and suffering depression.
It is difficult to say how long it takes for a broken heel to heal. This is because each break or fracture might be different. You can find information about foot pain such as broken foot symptoms vs sprain symptoms in this NHS guide. The claimants recovery progress was quite slow at first. Initially her broken foot NHS treatment required a 28 day hospital stay. The foot was placed in a cast and she had to keep all weight off the foot. Following this, she then needed to spend twelve weeks using a walking frame and had extensive physiotherapy. For her psychological injuries she also had to have cognitive behavioural therapy in conjunction with antidepressant medication.
All personal injury claims need to have a medical report in order to provide evidence of the injuries suffered, what were they and how serious was the effect of the injury. In this case, medical experts who assessed the claimant determined that her psychological symptoms would have been resolved. However, her broken foot symptoms and their effects could not be resolved.
What Allegation Was Made And How Was Liability Established?
In the compensation for a foot fracture claim, the claimant alleged that her injuries were the result of the road traffic accident which she was involved in. The allegation used supporting medical evidence to show expected normal broken foot healing time stages and that this claimant was not expected to recover fully. The allegation and medical evidence also established a causal link from the whiplash like injury and her dizziness. The broken heel bone also meant that she would be left permanently in pain, would not be able to walk or stand much and would find it difficult to return to her previous job working at a bar.
Taking The Case To Court For 
Personal Injury Claims Payouts For A Foot Fracture
The case progressed all the way through the process of making a compensation claim right through to having to go to court. This is unusual as most personal injury claims can be resolved without needing to go to court. It is only in the most complex of cases, or cases in which the defendant disputes either their liability, or what they should pay. In this case the compensation for a foot fracture was finally awarded four years after the accident happened. The total award of £82,000 was broken down into two parts.
General damages awarded for pain, suffering, and loss of amenity (loss of ability to use the foot as much as she could before) – £40,000.

Special damages awarded for expenses such as care costs and financial losses, such as her loss of income (money not earned) – £42,000.
The total settlement received by the claimant in this case was £82,000.
No Win No Fee Claims For A Broken Or Fractured Foot
At Accident Claims UK we are glad to be able to offer claimants we work with our services through what is called a conditional fee agreement. Put simply this type of contract means that your solicitors fee is conditional upon their being able to successfully win your claim for you. This type of agreement is also more commonly called a 'no win, no fee agreement', doing exactly what it says. We understand that in the case of a claimant such as highlighted above, injuries such as a broken heel bone or a broken top of the foot could cause very serious consequences for your quality of life, and your financial status. If you have had to leave a job, or taken extensive time off, you may not be able to afford legal fees upfront.
Conditional fee agreements between a solicitor and claimant set out exactly what services the claimant can expect to be provided with, the conditions under which the solicitor expects to be paid, their fee, and how this fee can be paid. Typically in such cases the legal costs can be recovered from the compensation settlement. Being offered a no win no fee agreement should also signal to you that the solicitor is highly confident that they can win your claim.
Arrange A Callback From Accident Claims UK Today About 
Personal Injury Claims Payouts For A Foot Fracture
If you have suffered a foot injury and need to make a claim, such as claiming compensation for a foot fracture, please contact Accident Claims UK today. We have one of the most comprehensive resources on personal injury claims including guides to claiming compensation for different types of injury, case studies such as this. We have created these resources so that even before you contact our specialist team you are armed with the knowledge necessary to make informed choices through the claims process. Our guides also show how an expert personal injury solicitor can make the difference between a successful claim, and not being awarded compensation.
The best way to begin your personal injury claim or to find out more is to talk to the specialists at Accident Claims UK. Our team is here seven days a week to help you start your claim. Whether you need to claim compensation for a foot fracture, were involved in an accident on the road, or experienced a different accident or injury we could help. Call us today on 0800 073 8801, or send us an email to office@accidentclaims.co.uk. You can also request a call back from our friendly team by using the form above.
What other reasons could I receive personal injury claims payouts for a foot fracture?
There are lots of reasons you could receive personal injury claims payouts for foot fractures. When it comes to claiming compensation payouts in the UK, as long as you could prove that somebody had a duty of care to you and could be held liable for your injuries because they breached their duty of care to you, you could claim. Some common reasons for personal injury claims payouts in the UK could be found below.
Workplace accidents leading to compensation payouts in the UK
Every employer has a duty of care to look after the health and safety of those working in their premises. If an employer fails to make the workplace safe to use, or fails to train their employees in how to work safely, and they are injured, they could claim compensation. This could include compensation payouts for manual handling accidents, forklift truck accidents, and slips trips and falls in the workplace.
Road traffic accidents leading to compensation payouts
As in this case study, if you were injured in a road traffic accident that wasn't your fault, whether you were a pedestrian, a cyclist, or another motorist, you could claim compensation. If your injuries were only minor, this may mean you'd need to claim through the low value soft tissue injury claims protocol. This could also be called the whiplash claims reform programme. We could help with these kind of claims too.
Clinical negligence leading to personal injury compensation payouts
Unfortunately, sometimes in medical care things go wrong. Whether you have suffered a misdiagnosis of a foot fracture, or you have been subjected to clinical negligence when it comes to advice or treatment for your injury, this could lead to compensation. When claiming personal injury compensation payouts for clinical negligence, you would need to prove that the negligence had led to your injury or illness becoming worse. You need to have suffered undue harm due to the negligence of a medical professional. If you're wondering how common this is, we can show you the below statistics relating to how much compensation was paid out for clinical negligence by the NHS in 2020- 2021.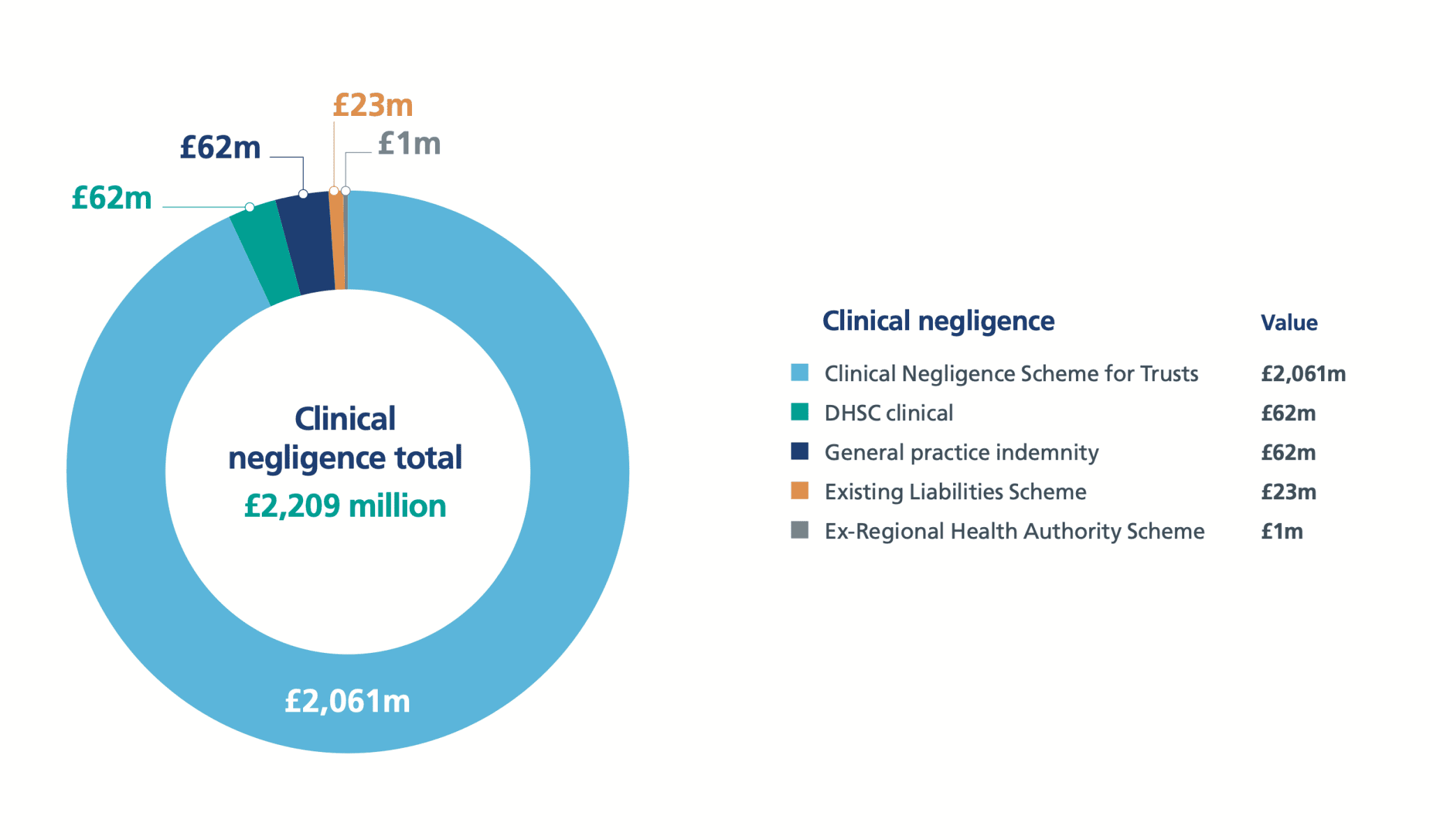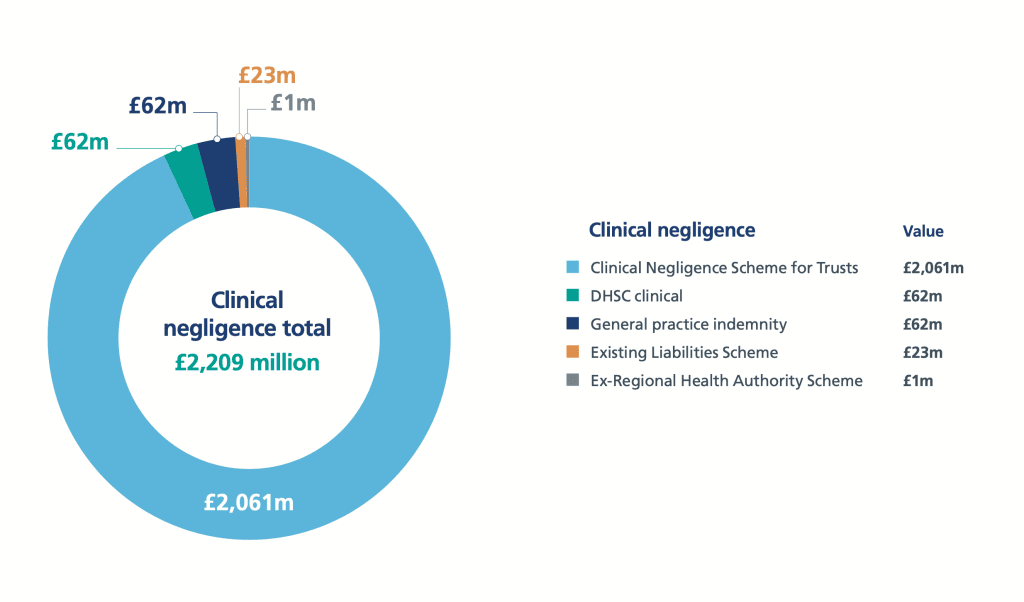 How could I maximise personal injury claims payouts for a foot fracture?
To maximise the compensation payouts you'd receive for your injuries and their associated costs, you would need to provide sufficient evidence. The amount of compensation you could receive would depend significantly on the evidence submitted as part of your claim. This is why you would need to go and see a medical professional that is independent of your case. They would examine you and write a detailed report regarding your injuries and prognosis. In terms of other evidence you would need to maximise personal injury compensation payouts photographs of the scene of the accident in your injury could be useful. As could witness details, as they could back up your story as to what happened to you. You would also need to provide a written statement. In addition to this, being able to prove how much your injuries cost you in terms of loss of earnings, and any other costs associated with your injuries or the accident would be vital when claiming special damages.
Useful Links Relating To Personal Injury Claims Payouts For A Foot Fracture
Foot Injury Compensation Claims
Find out more about making a personal injury claim for an injury to your foot or feet, including for breaks and fractures, in this guide.
Fracture or Broken Bone Compensation Claims
Have you suffered a fractured or broken bone? Find out how to make a successful compensation claim in this guide.
Heel Pain, Including Symptoms Of Broken Bones
Find out more about heel injuries such as soft tissue injuries, fractures or broken heel bones in this NHS guide.
Thanks for reading this page on personal injury claims payouts for a foot fracture. Whether you are claiming compensation for a broken food leading to a long term or permanent disability, or you're looking for personal injury lawyers to help you understand whether a compensation calculator could provide you with an accurate compensation amount for a foot injury claim, call 0800 073 8801 today.