By Joanne Jeffries. Last Updated 17th April 2022. Welcome to our guide on claiming compensation for a fractured vertebrae. In the sections below we explain how compensation for a compression fracture you could receive, as well as answered questions about a cracked vertebrae, a broken vertebrae or a fractured back injury that was caused in an accident that wasn't your fault.
Vertebrae are small bones in the neck, back and lumbar region that form the spinal canal. They house the spinal cord and nerves and protect them from damage. Any injuries involving vertebrae can be dangerous, painful and sometimes life-changing. If the accident that caused those injuries was caused by somebody else's negligence, then you might need to consider making a fractured vertebrae compensation claim.
Therefore, in this guide, we'll look at how the claims process works, what injuries might be claimed for and what level of compensation could be awarded.
Helping you get compensation for a compression fracture, broken vertebrae, cracked vertebrae or a fractured back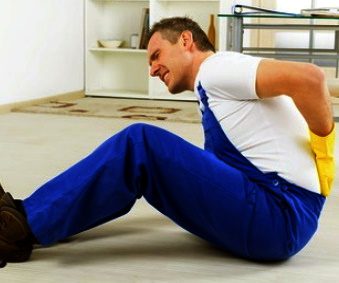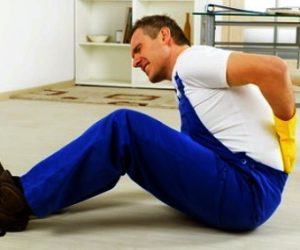 Accident Claims UK is here to support you if you are considering taking action. To start, we provide a no-obligation telephone consultation and free legal advice about your options.
If your claim appears to be favourable, we could connect you with our specialist personal injury lawyers. They'll represent you on a No Win No Fee basis if your case is taken on. That means that if no compensation is awarded, you won't need to pay any solicitor fees whatsoever.
How Much Are Vertebral Fracture Claims Worth?
To discuss whether you have grounds to start a claim, why not call our advisors on 0800 073 8801 today? Alternatively, you can find out more about vertebrae injury claims before calling by reading the rest of this guide.
Select A Section
A Guide On Claiming Fractured Vertebrae Compensation
The thought of breaking a bone in the back is something many people are fearful of, and with good reason. If the bone splinters, it could cause damage to the spinal cord and lead to excruciating pain and long-term suffering. If that suffering results from somebody else's negligent actions, then you may think about seeking compensation. That's what we'll concentrate on in this article.
There are many scenarios that could lead to fractured vertebrae compensation claims. They include:
Falling from height in an accident at work because your employer didn't provide the necessary protective equipment.
Motorcycle or car road traffic accidents caused by a negligent road user.
Violent criminal acts.
Slips, trips and falls caused by negligence i.e. if you fall down a flight of stairs because of a broken handrail that was overdue to be fixed.
If you do want to take action, you should be aware that time limits apply. Mostly, you'll have 3 years to claim from the date of the accident in which you were injured. However, if you didn't find out about the fractured vertebrae until later on, it is possible that your time limit will begin from your date of knowledge.
Also, if a child fractures vertebrae, the 3-year time limit will not apply until their 18th birthday.  However, a parent (or another litigation friend) could claim on their behalf at some point before their 18th birthday.
There are other exceptions to the 3-year time limit. To find out if they're applicable to your case, get in touch.
Evidence To Support Fractured Vertebrae Compensation Claims
When making personal injury claims, you need evidence to show what happened, the injuries you sustained and who caused them. The types of evidence that could help include:
Photographs of the accident scene.
Copies of medical reports from the hospital.
Contact details of any witnesses who saw what happened (for statements).
CCTV, dashcam or other camera footage.
Accident reports.
Details of any financial harm caused by your injuries.
As we continue, we'll supply more information on spinal fractures and when you could be compensated for them. When you have finished reading, please contact us with any questions or if you'd like to start the claims process.
What Is A Spinal Fracture?
A spinal fracture is where one or more of the spine's vertebrae is dislocated (fractured). It is an orthopaedic injury that can be caused by accidents involving high-velocity impact. Spinal fractures can occur in the cervical spine (neck), thoracic spine (back) or lumbar spine (lower back). The main types of vertebrae fractures include compression and axial burst fractures.
In terms of claiming fracture vertebrae compensation, you will need evidence that shows:
The defendant in the case owed you a legal duty of care; and
That duty was breached which caused an accident; and
Because of that accident, you suffered a fractured vertebrae injury (and/or other injuries).
If you can demonstrate all of the above, then a solicitor may agree to represent you on a No Win No Fee basis. The evidence we listed earlier could be used to prove how the accident happened and what injuries were sustained, but how do you prove a duty of care existed? Well, it is usually established by different pieces of legislation.
For example, every road user owes each other a duty of care because of the Road Traffic Act 1988. Similarly, all employers have a duty of care towards their employees' welfare because of the Health and Safety at Work etc. Act 1974.
You needn't worry too much about what laws apply in your case though. If one of our solicitors agrees to take on your case, they'll do the groundwork for you. Why not call today to learn more?

Fractured Vertebrae Statistics
Let's now take a look at some statistics relating to back injuries. In a report based on NHS and charity data, a charity that supports those with spinal injuries explained that:
It is estimated that 2,500 individuals sustain spinal cord injuries (or are diagnosed with one) every year. This estimate was previously 1,000 per year.
There are around 50,000 people in the UK living with spinal cord injuries. This is an increase of 10,000 on previous NHS estimates.
The charity believes that more inclusive definitions of what constitutes a spinal cord injury contribute to these increased figures. They also believe that there are now better record keeping and reporting processes which explain the increased estimates too.
In the final part of the report, the charity explains that NHS data show it's not just motorbike accidents, for example, that lead to spinal injuries. It says that paralysis caused by spinal injuries is now being recorded because of falls at home and the diagnosis of cancer and other illnesses.
To discuss fractured vertebrae compensation, why not reach out to our advisors for no-obligation, free legal advice?

What Is The Structure Of The Vertebrae?
The spine is made up of 33 bones (vertebrae) and is split into 5 different sections. They are the:
Cervical spine: The first seven vertebrae are connected to the base of the skull.
Thoracic spine: Twelve vertebrae at chest level that contain joints to the rib cage.
Lumbar spine: These five vertebrae are the load-bearing bones in the back.
The Sacrum: This is actually formed of five vertebrae that are all fused together.
Coccyx bone: Often called the tail bone, the coccyx is made of (usually) four vertebrae fused together.
The vertebrae form part of the spinal column that provides shock absorption, protection for the spinal cord and allows for upright posture. They typically consist of the body and vertebral arch. Most of the vertebrae provide a range of motion except for the sacrum and coccyx. The spinal canal runs through each vertebra and protects the nerves and spinal cord contained within.
Due to the close proximity of the vertebrae and the spinal cord, any fracture could result in severe pain and could also lead to paralysis if the spinal cord is damaged. For this reason, paramedics and other medical professionals will conduct a number of tests and act with caution if a back or neck injury is suspected.

Causes Of Fractured Vertebrae
Fractured vertebrae can be caused by various factors. Some of the most common ways they are sustained include high-speed car crashes, falling from height and high-velocity collisions in contact sports. It is also possible for vertebrae fractures to occur because of some cancers and osteoporosis.
The types of fractures that can occur are:
Compression fractures. This is where a vertebra is fractured which causes it to shorten in height. This type of fracture is often described as a wedge fracture. It can be painful and is often referred to as a stable fracture.
Axial burst fractures. this is a fracture that can be sustained when the victim falls from height. The result is that both the front and back of the vertebrae is fractured and loses overall height. This type of fracture can lead to spinal cord damage because of bone splinters. To assess this type of fracture, X-rays, MRI scans or CT scans will be needed.
Chance fracture. These vertebrae fractures can often happen in high-speed car crashes. For example, they occur as a result of the range of movement caused by the collision and the fact the body is restrained by a seatbelt.
Whatever form of injury you've had, if it wasn't your fault we could help you claim fractured vertebrae compensation. Why not call today and ask for advice on your options?

Vertebrae Fracture Risk Factors
Anybody could suffer fractured vertebrae following a high-velocity impact but some are more at risk than others. This might be the case where the victim has a bone weakness. It is possible for this to happen if they are affected by osteoporosis or cancer that has metastasised to the vertebrae.
Where you suffer more severe injuries due to these conditions, then it may lead to a higher compensation payout. That's because you may have a much longer recovery period or you may suffer significantly more pain.
We can review how much compensation you might receive when you call our advisors. Remember, we will happily review your case for free and explain whether your case is likely to succeed.

Vertebrae Fracture Symptoms
Symptoms of vertebral fractures will vary. For example, they can be dependant on the location of the fracture. Symptoms can include:
Mild to severe back pain. This is likely to get worse if the back is moved.
Muscle spasms and tingling.
Numbness and weakness.
Bladder or bowel problems.
If you have any of these symptoms or have been involved in an accident that is likely to have caused a spinal injury, a hospital may use X-rays to confirm your diagnosis. Treatments that might be used include pain relief (medication), spinal fusion and spinal braces.
These symptoms can have a huge impact on your daily life. They could affect your ability to work, socialise, deal with household tasks, participate in hobbies or look after your children. Therefore, you may decide to seek fractured vertebrae compensation for your suffering. If that is what you want to do, please get in touch with us today.

What Injuries Are Likely?
In this section, we are going to summarise the different injuries that could result in fractured vertebrae compensation. They include:
Vertebrae fractures: When a vertebra is broken because more pressure is exerted on it than it can take.
Vertebrae dislocations: Where the bones come out of alignment because the discs or ligaments linking two vertebrae are torn or stretched.
Unstable fracture-dislocations: When the ligaments and bone are torn or broken.
Each of these injuries is likely to cause some level of discomfort and pain. Again, it might be possible to seek compensation if your suffering has resulted from somebody else's negligence. For example, you could claim for a spinal injury after a fall in a shopping centre caused by a wet floor with no warning signs, despite it being noticed by staff.
For free legal advice on taking legal action, please call our advice centre today.

Negligent Treatment Of A Fractured Vertebrae
It is imperative that any spinal injury is treated correctly. You could claim against any medical professional who treats you negligently if their actions or inactions mean your suffering is made worse. For example, you could claim if:
You were not given the right pain relief due to negligence, which meant you felt more pain.
Your condition was diagnosed by your GP as bruising and you weren't sent for extra tests at the hospital, despite clear indications of fractures.
A doctor failed to interpret your X-ray correctly even though the image was clear.
If a medical professional has provided you with substandard care and you suffered unnecessarily as a result, you could be eligible to claim. To find out how we could help you to start a claim, why not call today?
Calculating Fractured Vertebrae Compensation
We are now going to look at what level of compensation might be paid for some different back injuries. To do so, we have listed some figures from the Judicial College Guidelines in the compensation table below. The Guidelines show a list of potential compensation for varying injuries and severities.
We haven't listed every possible injury so don't be concerned if yours isn't listed. If you call, our advisors will be able to provide further information.
| Injury | Severity | Compensation Bracket | Additional Details |
| --- | --- | --- | --- |
| Neck | Severe (i) | In the region of £139,210 | Injuries that result in incomplete paraplegia or where the injured party has little or no neck movement after wearing a collar over a prolonged period for 24 hours a day. |
| Neck | Severe (ii) | £61,710 to £122,860 | Covers serious damage and fractures to the cervical spine that give rise to considerably severe disabilities. |
| Neck | Severe (iii) | £42,680 to £52,540 | For injuries that result in dislocations or fractures that cause chronic conditions and disabilities. |
| Back | Severe (i) | £85,470 to £151,070 | The most severe back injuries that cause damage to the nerve roots or spinal cord. They are likely to cause incomplete paralysis and severe pain. |
| Back | Severe (ii) | £69,600 to £82,980 | Injuries causing loss of sensation, impaired bladder and bowel function, impaired mobility and sexual difficulties. |
| Back | Severe (iii) | £36,390 to £65,440 | Fractures to the discs or disc lesions which cause continuing pain and disability despite treatment. |
The main factor that determines compensation levels is the severity of each injury and its financial effects on the claimant. Therefore, as part of the claims process, you will need a medical assessment. This isn't anything to worry about and to save you from having to travel too far, our solicitors can usually book a local appointment.
Your assessment will be conducted by an independent medical specialist. They will examine your injuries, review any medical records and discuss what impact your injuries have caused. After that, they will produce a report to explain your prognosis.
The report aims to:
Illustrate the severity of your injuries.
Establish whether your injuries were caused or worsened by the accident that wasn't your fault. (If it finds no link between your injuries and the accident, you could find it difficult to claim.)
Your solicitor may also use the report to help them value your claim.
No Win No Fee Claims For Fractured Vertebrae Compensation
The process of claiming fractured vertebrae compensation may seem daunting. In particular, you might be concerned about the upfront cost of hiring a solicitor to help you. However, that's something you don't need to worry about if you work with us. That's because our personal injury solicitors provide a No Win No Fee service.
What are No Win No Fee agreements?
Before accepting your claim, a solicitor will review it carefully. If they believe the case is strong enough and decide to represent you, they will send a Conditional Fee Agreement (the formal term for a No Win No Fee agreement) to you. This will clearly show you what conditions must be met before your solicitor is to be paid.
If you do receive compensation, a small percentage of it will be deducted to cover the cost of your solicitor's work. The percentage is listed in the No Win No Fee agreement and is called a success fee. Importantly, these fees are legally capped so you cannot be overcharged.
To check if a solicitor could represent you on a No Win No Fee basis, please call today.

Start Your Claim
Thank you for reading this article on fractured vertebrae compensation claims. If you would like to find out if we could help you, you can:
We realise that finding the time to discuss your claim can be tricky. Therefore, to make things easier, our claims line is open 24 hours a day, 7 days a week.

Learn More About Back And Spinal Injury Claims
In this section, we have provided a few links to resources and guides that might help if you do decide to claim fractured vertebrae compensation.
Back Up – A UK charity that inspires those affected by spinal cord injuries.
Slipped Disc – Information from the NHS on how slipped disc injuries are diagnosed and treated.
Driving With A Back Injury – Government information on what you must do if you've sustained a back injury and would like to drive.
Back Injury Claims – This guide looks at the other types of back injuries that could lead to a compensation claim.
Wet Floor Accident – Advice on when you could claim for injuries sustained in a wet floor accident.
Road Traffic Accident Claims – This guide might be helpful if you've fractured your vertebrae in a road traffic accident.

FAQs About Fractured Vertebrae Compensation Claims
To finish this guide on fractured vertebrae compensation, we have provided answers to some common questions for you. If there is anything else that you would like to know, please feel free to use live chat to connect with an advisor.
How serious are fractured vertebrae?
Any spinal fracture could be classed as a serious orthopaedic injury. Where bone fragment damages the nerves or spinal cord, the injury can become a lot worse. While some fractured vertebrae injuries may cause discomfort or make it difficult to walk, others can lead to paralysis where the victim is unable to move their arms, legs or both.
What is the average settlement for a spinal injury?
According to the version of the Judicial College Guidelines at the time of posting, compensation for back injuries can fall anywhere in the region of a few thousand pounds up to over £150,000. The amount of compensation awarded is based on the severity of the injury which would be assessed by a professional as part of your claim.
How long do I have to claim fractured vertebrae compensation?
In most cases, a 3-year time limit will apply from the date your back was injured. In some circumstances, the start of the limitation period might be later if you did not find out about the fracture being caused by negligence until later on.
For children who have been injured in this way, the 3-year time limit won't immediately apply and a claim can be made on their behalf at any time before they turn 18 years old. However, once they're 18, they'd claim for themselves if nobody had already done so on their behalf.
How much compensation for a compression fracture could I receive?
The amount of compensation for a compression fracture you could receive would depend largely on the severity of the injury and the way it has impacted you physically, mentally and financially. If you successfully prove you suffered the injury due to someone else's negligent breach of their duty of care towards you, your damages could include compensation for all of the above. 
You would need to evidence your mental and physical injuries, as well as the financial impacts to receive such damages.
What's the difference between a cracked vertebrae and a broken vertebrae?
There is no difference between a cracked vertebrae and a broken vertebrae. These are just different terms for the same injury. 
If you have suffered such an injury due to an accident that wasn't your fault, you could be eligible for compensation. Please call our team for a free case assessment. We'll tell you whether you could have a valid claim.
I suffered a fractured back at work, could I claim?
As we mentioned, if you could prove someone's negligent breach of their duty of care towards you caused an injury, you could be eligible to claim for it. An employer has a duty of care toward employees when it comes to their health and safety at work. If they fail to protect you from reasonably foreseeable harm in the workplace, and you are injured, you could be eligible to claim.
This could apply to work-related musculoskeletal conditions too. The HSE has revealed that in 2020-21, the second most common area in which worker's experienced musculoskeletal disorders was the back.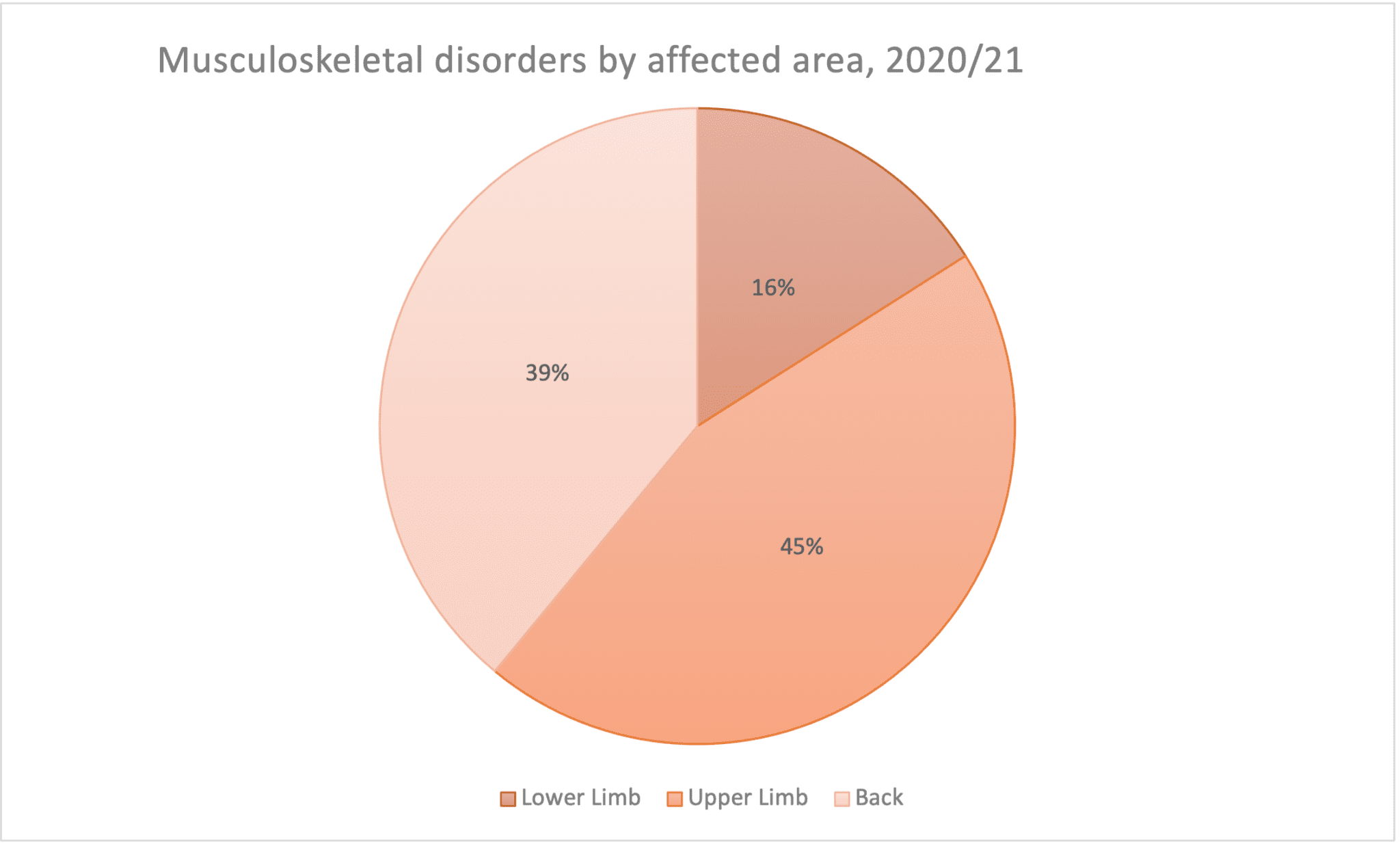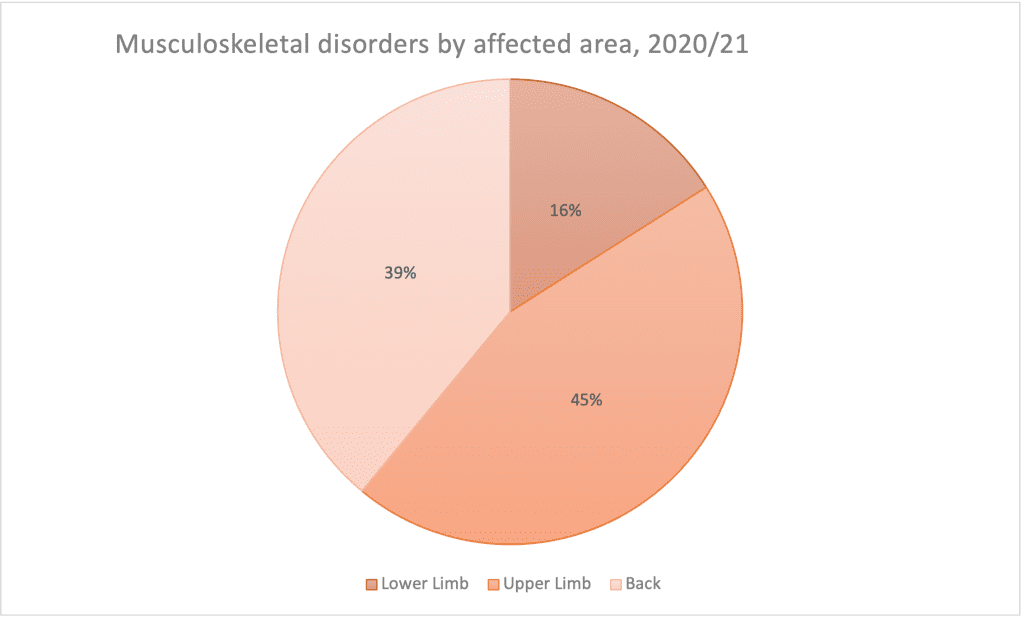 Thanks for visiting and reading our guide on fractured vertebrae compensation. Hopefully now, we've explained more about compensation for a compression fracture, fractured back, broken or cracked vertebrae. 
Guide by BH
Edited by RV