By Joanne Jeffries. Last Updated 29th December 2021. Welcome to our guide on children's accident at school claims. Within this guide, we take a look school accident claims and provide insightful information. We also take a look at how our comparable team of personal injury solicitors could offer to handle your claim under a No Win No Fee agreement.
How Much Compensation Could I Claim If My Child Is Injured In A School Accident?
When you leave your child at school, you have to place your trust and faith in school staff to keep them safe. In fact, the school has a duty of care to ensure children are as safe as possible while they're on school premises. Therefore, if your child is injured in a school accident, and the school can be shown to have been negligent, then you could claim compensation for their injuries. In this guide, we'll explain how you could claim on your child's behalf, when a school could be deemed negligent and how much compensation could be awarded in school accident cases.
Accident Claims UK has a team of advisors who can provide free legal advice. They will also assess your claim for free and without any obligation to proceed. In cases deemed strong enough, they could introduce you to one of our solicitors. When that happens, you'll be offered a No Win No Fee service to make claiming less risky. If you'd like to discuss starting a claim right away, please call 0800 073 8801 today.
If you'd prefer to find out about the types of child school accidents that could lead to a claim, please continue reading. And you will learn a lot about personal injury compensation for accident at a school claims as a result.
Select A Section
A Guide To Claims For Children's Accidents At A School
Let's be honest; children can be injured in accidents which are nobody else's fault. They can just happen with no apparent reason and no obvious cause. In these cases, an accident claim wouldn't be possible. However, if a child is injured at school because the staff were negligent, or something could've been done to prevent the accident from occurring, then a compensation claim might be possible.
In general terms, for children's accident at school claims to succeed, a solicitor will usually want you to demonstrate the following:
That a member of school staff was negligent;
Which caused an accident; in which
Your child suffered an injury.
In these circumstances, a solicitor might take on the claim on a no win no fee basis. However, as a child isn't legally able to represent themselves, a parent or responsible adult will need to become their 'litigation friend' to make child accident claims.
Litigation Friends For School Accident Claims
This is a process where a court allows the litigation friend to act on behalf of the child. They deal with the solicitors on behalf of the child but with their interests at heart, not their own. When a case is settled, a court will check that the compensation awarded is fair and the money will be managed by the court in a trust fund.
A parent can claim on behalf of their child at any point before they turn 18 for relevant accidents and injuries. If this doesn't happen, then the normal personal injury claims time limit (3-years) applies when the child becomes an adult. Therefore, they have until they're 21 to make their own accident at a school claims.

What Are Children's Accidents At A School?
School accident claims are essentially personal injury claims made for accidents that happen in school due to negligence or wrongdoing by the school. A school accident could leave a student, a teacher or a parent injured. If something happens on school grounds, leading to a person suffering an injury that was not their fault, they could make a school accident claim for compensation.
To prove that you have a valid claim, you would be expected to provide evidence that:
The school had a duty of care towards you, whether as a member of staff or a parent, or a student
They breached that duty of care towards you in some way, by way of being negligent or by doing something wrong
You were injured in an accident that was caused by the negligence of the school
In some cases, you may be able to make a claim against the local authority if it is responsible for the school. For private schools, you may be able to make a claim against the owners/operators of the school.
Examples of School Accident Claims
Some examples of what could lead to school accident claims are referenced in the sections below. A brief overview of the type of accident that could lead to a claim could include:
Negligence in supervising children leading to them suffering an accident
Abuse by teachers against children
Playground accidents due to faulty equipment
School trip accidents
Teacher injuries from faulty equipment
Slips, trips and falls due to poorly maintained grounds
If you believe you could have cause to launch an accident claim against the school, please contact our team. We would be only too happy to assess your case to see if you could have a valid claim.
When Is A School Liable For A Child Being Injured?
According to the government, schools have a responsibility for the health and safety of your child while they're at school and while they're on school trips. This means that the school need to try to ensure the safety of children during school hours. To do this, they should:
Have a health and safety policy.
Ensure staff are trained adequately in health and safety procedures.
Perform regular risk assessments and remove any dangers identified where possible.
Provide safety equipment to reduce risks where needed.
Supervise children properly.
Ensure the pupils know the rules of the school, i.e. no running in corridors etc.
If a school accident happens because one of the above didn't happen, the school could be held liable. If the case were to go to court, a judge would look at what caused the accident and whether the school had taken enough steps to prevent it. If the school are found to be liable, a compensation claim against the school might be possible.
It's worth pointing out that some accidents are completely unavoidable. In cases where the school could not have done anything to prevent an accident or to predict it might happen, no accident at a school claims would be possible.

Schools Duty Of Care For Pupils And Children
We've mentioned the school's duty of care throughout this guide so, in this section, we'll explain this in a bit more detail. The main element of the duty of care is that the school should try and keep pupils safe while in school. This can be achieved by:
Taking reasonable care to try and ensure pupils aren't caused a foreseeable injury.
Teachers actions should be the same as a reasonably careful parent. The level of care and supervision should reflect factors such as the age of the children.
Schools should ensure an effective supervision system is used in school.
If the school provides safety equipment, such as safety goggles for science lessons, it is the teacher's responsibility to ensure they are used.
Good standards and correct procedures should be followed at all times.
To be eligible to claim compensation on behalf of your child, you'd first need to show that a member of staff breached their duty of care and then explain how that breach caused your child to be injured. Read on to learn more about filing successful children's accident at school claims.

Common Accidents Which Could Happen In A School
Accidents in schools happen every day across the country. There are way too many different types to list in this guide, but if you were to look in a school accident book, there would be a common theme for many of the accidents. Some of the more common accidents which happen in schools include:
Play equipment accidents.
Playground accidents could lead to a compensation claim if the accident were caused by damaged or faulty equipment. You might also be able to claim if your child was injured due to others behaving badly and there was no supervision by school staff.
Slips, trips and falls.
If your child slips and falls while at school, it might be possible to claim their injures if the fall was caused by negligence. Therefore, it might be possible to claim if they tripped on cables laid across corridors, slipped on a wet floor with no warning signs or fell down some stair because of a broken handrail.
Dangerous buildings.
You might be aware of stories in the news about dwindling school budgets. This could mean that building repairs aren't carried out in a timely fashion causing risks to children and also the staff. However small the school budget, they still have a duty of care to prevent children from being hurt by cordoning off risky areas until repairs are carried out.
Sporting accidents.
While PE lessons are an essential part of the curriculum, staff need to ensure pupils complete activities safely. If your child is injured in a sporting accident, you might be able to claim the school if it was caused by a lack of supervision or untrained staff.
Damaged Equipment.
A claim might also be possible if your child suffers an injury due to faulty equipment, including chairs and desks.
Food Poisoning
Finally, in schools where food is served to the pupils, it could be possible to claim food poisoning. This occurs when food isn't stored, handled, prepared or cooked correctly. If you suspect your child has suffered food poisoning, you should visit a doctor to receive a proper diagnosis and treatment. If the medical records confirm food poisoning, you could begin a claim against the school. It might be worth checking with other parents to see if any other children suffered simultaneously. And if this is the case, then it could strengthen your cause to file accident at a school claims.

Accidents Which Could Happen Outside Of School Property
It is fairly common for accidents outside of schools, especially at the beginning or end of the school day. The local authority will usually implement road safety measures near schools to try and reduce the risks. These include:
Pelican or zebra crossings.
Reduced speed limits during the school run.
Zigzags to prevent parking immediately outside of a school entrance.
However, even with these restrictions in place, accidents still happen. In general, the school are not responsible for the restrictions. They should be managed by the local authorities, and checks can be made by the local police force.
If a road traffic accident happens outside of a school involving a student, any compensation claim would usually be against the vehicle's driver if they were found liable for the accident. If it is found that the child caused the accident because they ran out in front of a vehicle then a claim would probably not be possible.
To help prove what happened ahead of your children's accident at school claims, we recommend that you:
Ensure your child is treated by a GP or at the local accident and emergency department.
Report the accident to the police.
Ask witnesses for their details and a statement of what they saw.
Photograph the scene of the accident before the vehicle moves away.
Obtain the driver's details, including their name, address, contact number and insurance details.
See if there is any dashcam footage that captured what happened.
Accidents Which Could Happen On School Trips
As mentioned earlier, the school's duty of care towards pupils extends to school trips. The types of accident which could happen on a school trip include:
Coach collisions while being transported to the trip.
Accidents while participating in outdoor activities.
Accidents while competing for school sports teams.
It's up to the school to try and foresee any potential accident and to ensure any firms hired to run events have the correct safety procedures in place. However, the school won't be liable in all cases.
If you'd like advice on whether you could claim injuries sustained during a school trip, please call the number at the top of the screen today. We're accessible 24/7 to discuss your potential accident at a school claims.

Injuries Which Could Happen To A Child At School
As you'd expect, any number of injuries could be sustained in a schoolchild accident. Here are some common injuries which could lead to a child accident at school compensation claim:
Head injuries, including concussion.
Broken or fractured bones.
Cuts, bruises or lacerations.
Ligament or tendon damage.
Back and neck injuries (including whiplash).
Food poisoning.
If your child suffers any form of injury, enquire with the school to determine if there is a school accident report entry. They're legally obliged to record all accidents with details of what happened, where it happened, what caused it and what advice or treatment was provided. Having a copy of the school accident form could really help if you decide to go on and make children's accident at school claims.

Children's Accident At A School Personal Injury Calculator
We're often asked how much compensation will be paid when a child has an accident at school. As you'll see in the next section, many elements make up a clam, so providing an estimate isn't possible until we've understood how you, and your child, were affected physically and financially.
For now, you could use the personal injury claims calculator table below to see how much specific injuries could be awarded under the 'general damages' element of your claim.
| Injury | Severity | Compensation Range | Additional Notes |
| --- | --- | --- | --- |
| Neck | Severe | In the region of £139,210 | Included in this range are injuries such as a severe neck injury resulting in incomplete paraplegia or injuries with the same outcome. |
| Neck | Minor | £4,080 to £7,410 | Included in this range are injuries such as soft tissue type injuries where recovery happens within 1 and 2 years. |
| Back | Moderate | £26,050 to £36,390 | Included in this range are injuries such as fractures of the back (compression or crush fractures). |
| Back | Minor | £7,410 to £11,730 | Included in this range are injuries such as those where recovery occurs, without the need for any form of surgery, within 2 to 5 years. |
| Shoulder | Severe | £18,020 to £45,070 | Included in this range are injuries such as those connected with neck injuries and that include damage to the brachial plexus causing some form of significant disability. |
| Pelvis | Moderate | £24,950 to £36,770 | Included in this range are injuries such as a significant pelvis (or hip) injury with a permanent disability that is classed as minor. |
| Pelvis | Minor | Up to £3,710 | Included in this range are injuries such as tissue damage where complete recovery occurs. |
| Arms | Loss of one | £102,890 to £122,860 | Included in this range are injuries such as an above the elbow amputation of one arm. |
| Arms | Moderate | up to £11,820 | Included in this range are injuries such as simple arm fractures, lacerations and most elbow fractures. |
| Hand | Moderate | £5,260 to £12,460 | Included in this range are injuries such as penetrating wounds and deep lacerations. |
| Foot | Moderate | £12,900 to £23,460 | Included in this range are injuries such as displaced metarsal fractures. |
| Foot | Modest | up to £12,900 | Included in this range are injuries such as simple metarsal fractures and puncture wounds. |
You'll notice that each injury is compensated based on its severity. Therefore, your personal injury solicitor needs to demonstrate exactly how serious the injuries were. Our solicitors will use various pieces of evidence, including medical records and reports from independent doctors. They aim to ensure enough evidence is presented to help ensure your child receives the highest amount of compensation possible for their injuries.

Special Damages Which Could Be Claimed If A Child Is Injured At School
When you claim for a child accident in school, your solicitor can use several different 'heads of loss' to try and ensure the correct level of compensation is paid. These heads of loss include:
General Damages.
These are paid to compensate your child for the pain and suffering caused by their injuries. They also cover the loss of amenity caused by the school accident.
Medical Expenses.
Generally, your child will receive free care and prescriptions from the NHS. However, you might have to pay out for over the counter medications and other treatments. Therefore, you could claim these expenses back as part of your claim.
Care Costs.
If your child needs professional care to help them recover or rehabilitate, you could claim any costs back. If you, a grandparent or friend, cares for them, it might be possible to include any lost earnings back as part of the claim.
Travelling Expenses.
Should you need to travel to and from medical appointments while your child receives treatment, then fuel cost might be claimable. Also, you could include car parking costs in this part of the claim.
Home Adaptations.
In some cases, that results in some form of disability, it might mean your home needs changes to allow your child to function as normally as possible. If so, the cost of these changes might be included in your claim.
Personal Property Costs.
Finally, you might be able to claim for the cost of repairing or replacing any personal property damaged during the school accident. That could include school uniform, spectacles or school bags.
To help support your accident at a school claims, we recommend that you keep hold of any receipts for spending linked to your child's injuries.

No Win No Fee Claims For Children's Accidents At A School
There are several reasons why parents don't claim a children's accident at school. One major reason is the cost of hiring a personal injury solicitor. That's why our solicitors offer a No Win No Fee service for any personal injury claim they take on. We believe offering such a service allows more people to claim because the stress levels and financial risk is greatly reduced.
When a solicitor agrees to take on your claim, you'll both sign a copy of a conditional fee agreement. This is important as it's explained that you don't have to pay the solicitor's fees unless they successfully win compensation for you. It then goes on to explain what success fee you'll pay if they do win the case.
A success fee, used to cover the solicitor's fees, is a percentage of your compensation retained by the solicitor before the rest is paid to you. By law, the success fee can't be higher than 25% of your settlement figure for your children's accident at school claims.

How Our Team Could Help If Your Child Is Injured At School
While we hope this guide has helped you, we also hope that it has demonstrated that Accident Claims UK is the right people to help you with your claim. Here are some reasons we think you should choose us to represent you:
Our claims line is open 24-hours a day 7-days a week.
We provide free advice about your claim.
Previous clients have given us excellent feedback.
We can assess your claim for free and with no obligation to proceed.
Our team of solicitors have up to 3-decades of experience handling personal injury claims.
And they will always try to ensure your child receives a full and fair settlement for their injuries.
If you require any more information about how we could help your accident at a school claims, please call and speak with an advisor today.

Start Your Claim For A Children's Accident At A School
We hope you're now ready to begin your claim for injuries to your child in a school accident. If so, there are several ways to contact Accident Claims UK. These include:
Calling a specialist advisor on 0800 073 8801 for free advice about your options.
Using the live chat facility from any page on this website.
Sending an email with details of the school accident to office@accidentclaims.co.uk
Or, finally, you could begin your school accident compensation claim by completing this form.
Remember that we'll offer a free, no-obligation assessment of your claim no matter how you get in touch. If your claim is deemed likely to succeed, we could introduce you to a personal injury lawyer. If that happens, they'll offer a No Win No Fee service to handle your children's accident at school claims.

Essential Resources Relating To School Accident Claims
You've now reached the end of this guide about school accident claims. To assist you further, we've included some further guides, links and other useful resources.
School Health And Safety Responsibilities – A document outlining schools health and safety responsibilities from the Department for Education.
Concussion And Head Injuries – This is a useful guide from the NHS that you might find useful if your child suffers a head injury in a school accident.
Accident Report Books – Schools need to keep accident report books to log school accident cases. This guide from the Health and Safety Executive explains what to record and when to do so.
Slip, Trip And Fall Claims – This guide could be useful for school accidents involving slips. It explains when negligence could be the cause and how much compensation might be paid.
Playground Accident Claims – A guide that could help you claim if your child had an accident at school while on the playground.
Bus Accident Cases – If your child had a school bus accident, you could find the information in this guide helpful.
Accident At A School Claims FAQs – Common Questions About School Accident Claims
School Accident Statistics -HSE
According to the latest statistics from the Health and Safety Executive, on the three year period 2018/19 – 2020/21, there were 53,000 workers in the education sector injured at work. You can see how many led to absences from work below.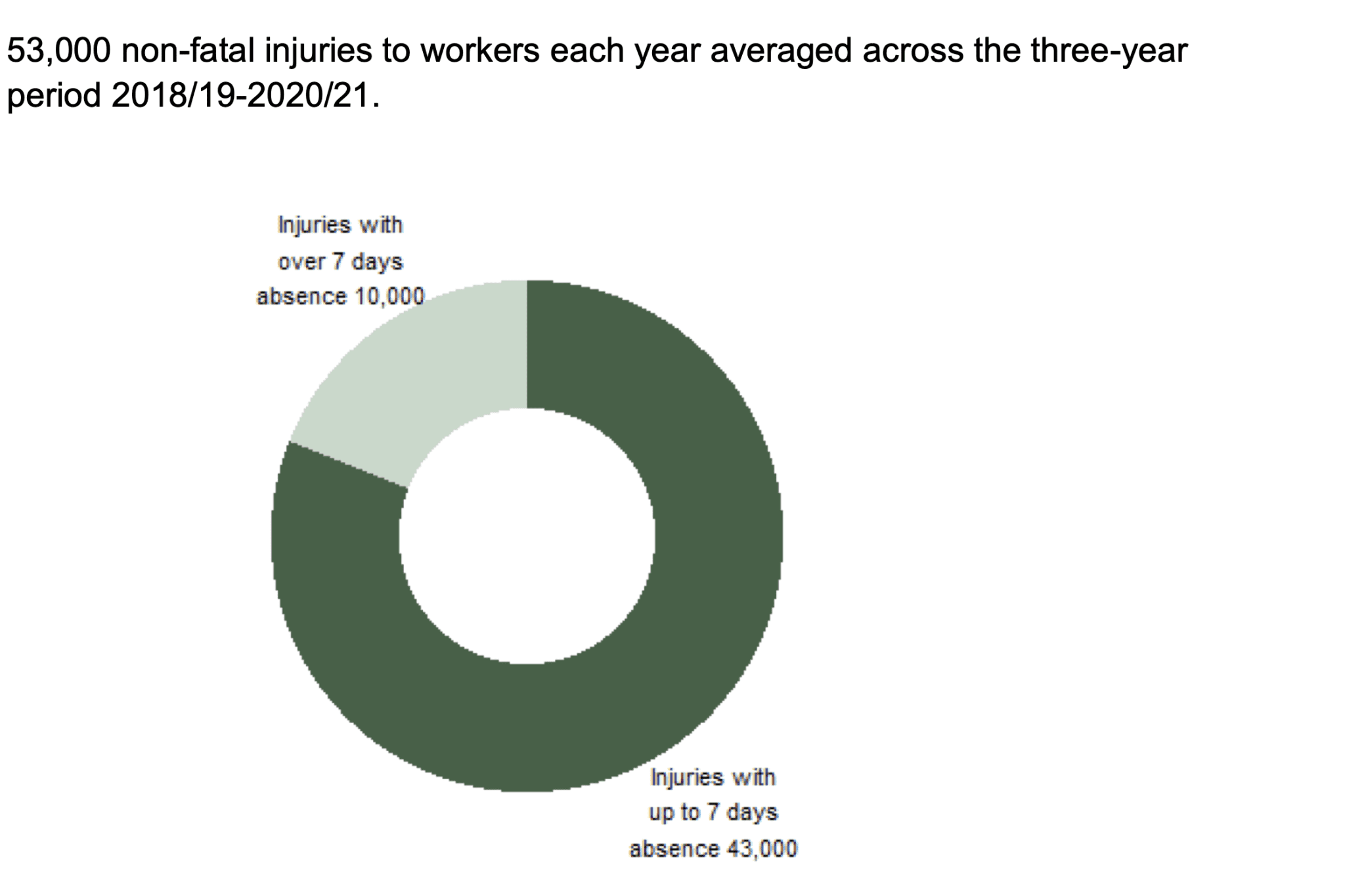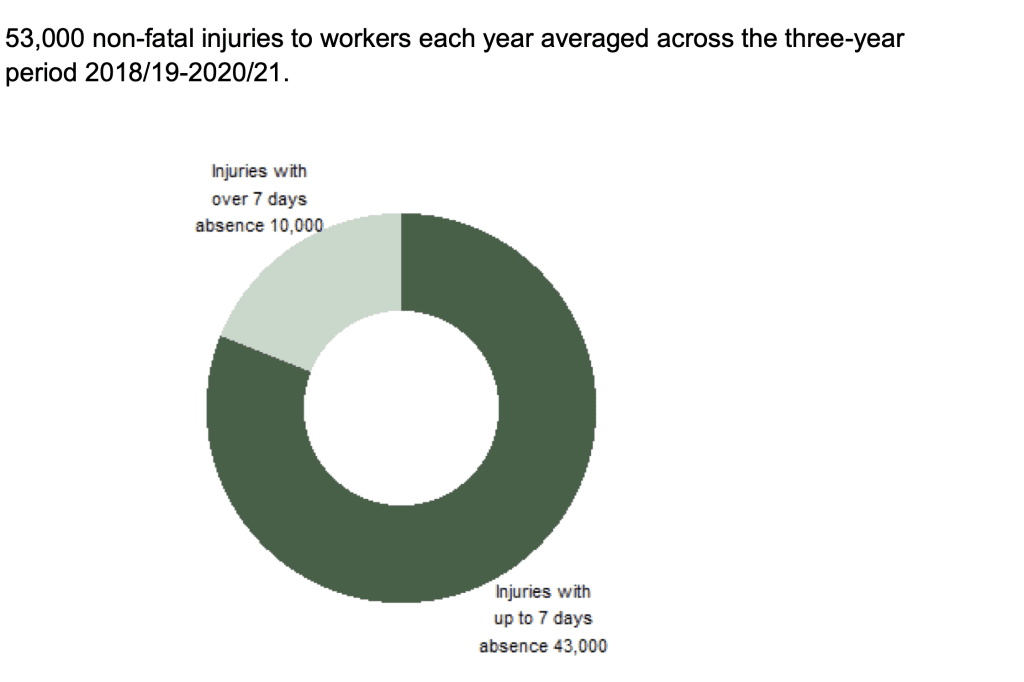 What is the most common classroom accident?
Slips, trips and falls are among the most common types of accidents to happen at a school. Here are some of the most common places:
Hallways.
Corridors.
Playgrounds.
Stairs
What to do if your child has an accident at school?
If your child has been injured due to the negligent actions of a third party, then you could have grounds to claim on their behalf. To claim on behalf of a child under 18, a litigation friend would be appointed.
What does a litigation friend do?
As stated by gov.uk, a litigation friend is appointed by the court to make decisions about a court case. In doing so, the litigation friend will:
Make decisions.
Ensure they carry out and make decisions with the interest of the individual in mind.
Converse with the solicitor to gain advice and support.
Is a school liable for injuries?
A school has a duty of care towards looking after everyone on-site, from pupils to staff. So, a breach of this duty of care could make the school as a whole liable.
How do you prove negligence?
This relies on proving the duty of care, a breach of duty, causation and subsequent injuries.
Is it hard to prove negligence?
Not really, so long as you have sufficient supportive evidence in relation to the accident.
What are the different kinds of negligence?
These include comparative negligence, gross negligence, contributory negligence and vicarious negligence.
What is the most difficult element of negligence to prove?
The cause, or causation, is the most difficult element because it relies on determining the exact reason for the accident taking place.
Thank you for taking the time to read our guide accident at a school claims. We hope you've learned a lot about children's accident at school claims. If you would like more insight on school accident claims, please call our team.