By Jo Jeffries. Last Updated 11th January 2022. Welcome to our guide to chemical burn claims for chemical burn at work compensation. In it, we answer questions such as 'how long does a chemical burn take to heal?' and 'how long do I have to claim caustic burn compensation?'.
If you have suffered from a chemical burn either in the workplace or in a public area then you may be entitled to claim compensation for your injury. Chemical burns can be extremely painful and even result in disfigurement or long-term discomfort as well as psychological injuries. If the incident in which you were injured was not your fault and was the result of somebody else's carelessness or negligence, then they may be responsible to pay damages for your injury.
Read on to find out more about chemical burn injuries and ways in which you can claim. Accident claims UK are here for you if you decide to proceed with a chemical burns injury claim. Our phone number is 0800 073 8801. We're waiting to take your call.
Select A Section
A Guide To Making Chemical Burn At Work Compensation Claims
This guide will help you to understand the action you should take if you have been injured as a result of a chemical burn. Chemical burns can be caused by injuries at work, for which your employer may be held responsible. If you have been injured as a result of a chemical burn in a public place then the occupier of the premises in which you were hurt may be held liable. And so you could look at filing chemical burn claims.
To clarify, if you would like to make a chemical burn claim, you will need to show that a) somebody who owed you a duty of care was negligent; and b) because of that negligence, you suffered chemical injuries. Claims could involve workplace accidents, product defects, spillages in public places and other similar scenarios.
It is important that you understand how to care for your burn and what you should do after a chemical burn injury has occurred. We will cover this in our guide. There is usually a three-year personal injury claims time limit so we recommend that you pursue your claim as soon as possible. Accident Claims UK is a personal injury claims specialists and we have a team dedicated to injuries such as the one you have suffered. Call us today for more information.
What Are Chemical burns And How Long Does A Chemical Burn Take To Heal?
A chemical burn injury happens when chemicals or other irritants come into contact with the eyes or skin. Common irritants which cause chemical burns can include sodium hydroxide, nitric acid, ammonia and sulfuric acid. It is also possible to get chemical burn injuries from simple household bleach.
How Long Does A Chemical Burn Take To Heal?
If you're asking 'how long does a chemical burn take to heal?' this could depend on the treatment and advice you are given as well as the seriousness of the caustic burn. If you have been burnt by a chemical you may experience a burning sensation, redness and irritation of your skin. Chemical burns to the eyes can be very serious and can result in blindness or a change in your ability to see. If the burn is minor and only affects your top layer of skin then the scarring should be minimal and should heal normally following first aid treatment. As long as you check your dressing regularly and take measures to prevent infection then your skin should return to normal.
How Long Does A Chemical Burn Take To Heal If It's More Serious?
However, if the burn is more serious then you may need to visit the hospital and even be admitted for a number of days. Skin grafts can sometimes be necessary if the area of burnt skin needs to be removed. Severe burns can take as long as several years to heal and leave permanent scarring.
If you experience a burn then you should wash off the chemical with water as thoroughly and quickly as you can, clean the burn and cover it with a dressing. Seek hospital treatment if the burn appears to be serious.
If you have suffered from a chemical burn in an accident that was not your fault then you may be owed compensation. To learn more about chemical burn claims, please continue reading.
Statistics For Chemical Burn Accidents And Injuries
The Health and Safety Executive allows for chemical burns that cover more than 10% of the body (and affect the eyes, respiratory system or other vital organs) to be reported via RIDDOR.
Burns are classified as first, second or third-degree to establish the level of seriousness. First-degree burns are the least serious injuries. A first-degree burn to the skin will make it red and painful. Second-degree burns are more serious. The tissues are damaged more deeply and the skin will usually blister. Third-degree burns are the most serious burns you can receive. They kill off the tissue where the burn occurred and you may require a skin graft.
If you have been unlucky enough to receive a chemical injury then please speak to one of our advisors who will be able to recommend the next steps for you to take in order to receive chemical burn compensation.
Could A Caustic Burn Be Fatal?
While the Health and Safety Executive's figures from 2021 show that there were 142 people killed at work, none of these seem to relate to chemical burn injuries. Below, we have given you statistics from the HSE fatal injury report, which show what industries were affected with fatalities in the workplace.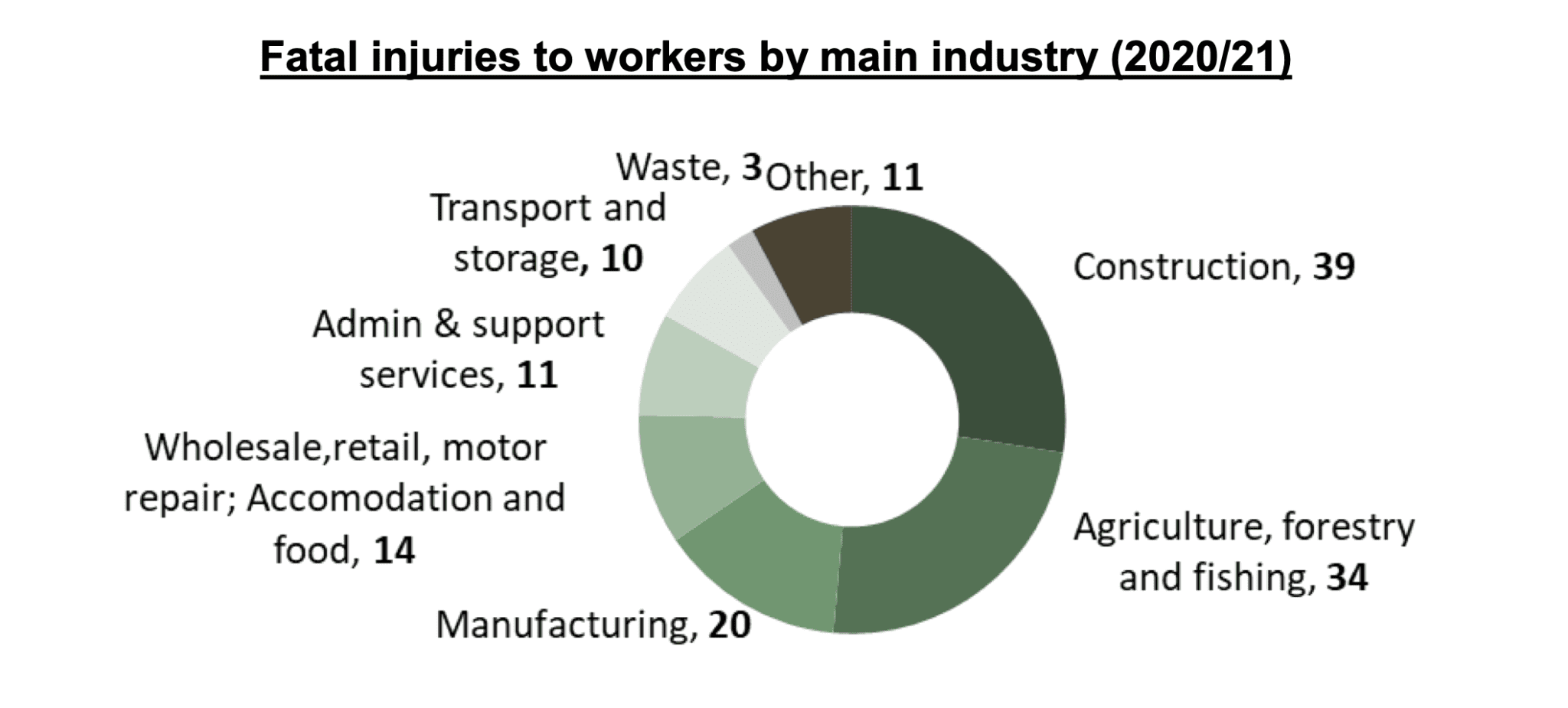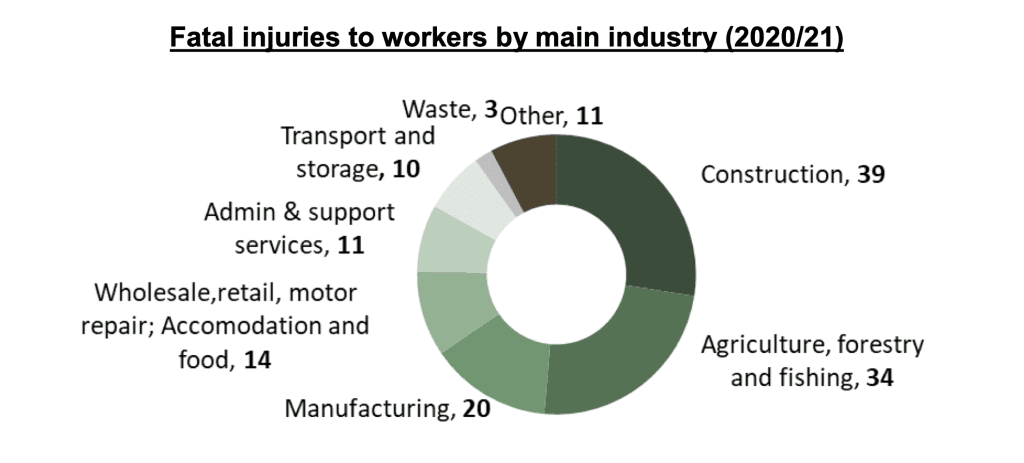 While these figures don't mention chemical burns, it could be entirely possible for a burn, if severe, two course other issues that could lead to loss of life. For example, if there is a chemical burn to the throat or mouth of somebody it could impair their breathing.
Could I Claim Chemical Burn At Work Compensation If Someone I Love Has Been Fatally Injured By A Chemical Burn?
Should someone be injured at work and their injuries prove fatal, a relative or the estate of the person could claim compensation. To do so, they would need to evidence that the person's employer was negligent or acted wrongfully, leading to their loved one suffering fatal injuries. The compensation they could receive could include special damages that cover the cost of a person's funeral. They could also include a bereavement award, and even in some cases loss of financial support.
If you would like to make such a claim for compensation, we would be able to assess your case to see if you could claim fatal injury or wrongful death compensation. If we believe you could have a strong claim, we could put you in touch with a solicitor who could fight for the compensation you deserve.
What Are The Most Common Causes Of Chemical Burn Injuries?
Chemical  injuries are most usually caused by one of the following incidents
Chemical spillages
Unsafe storage of chemicals
Faulty products
Contact with battery acid in a car
Contact with chlorination products for a swimming pool
Burns from household bleach
Acid attacks
This list is by no means exhaustive as there are many other ways that you can receive chemical burn injuries. As long as the chemical burn involved an accident that was not due to your fault and happened because of somebody else's dangerous behaviour or negligence, then you may be able to make chemical burn claims.
Claim Compensation For A Caustic Burn Caused By Spills
Chemical burns caused by spills are one of the most common ways in which burns occur. Spillages of chemicals are usually caused by carelessness or somebody making a mistake, equipment which may have malfunctioned and then leaked or bad weather or a natural disaster causing spillage of a harmful chemical.
It could be the employer who is responsible for chemical burns caused by the spillages, as it is their responsibility to ensure that any harmful chemicals are stored correctly and looked after. If an employee is found to have failed to follow regulations then they too may have breached the law and therefore be liable for any injury suffered.
Claim Compensation For A Chemical Burn Caused By Unsafe Storage or Transport
The person or company in charge of harmful chemicals must ensure that the chemicals are stored safely. It is their responsibility to check that chemicals are stored in containers that are compatible, so a container which can hold the substance without corroding or leaking. Chemicals need to be stored in containers that have proper closure mechanisms including leak-proof caps that screw on. They should also be stored in the correct sized containers. Some containers may require some air space above the chemical to allow for any expansion or airflow required.
If an accident occurs leading to chemical burn injuries and it is found that an employer did not follow these regulations then they can be held responsible for the injury. If the employee is found to have been negligent or careless then they too may be held responsible.
The key to a chemical  injury compensation claim is finding out where the responsibility lies. This can be a complex process and so we strongly suggest that you seek legal assistance in bringing your claim. Accident Claims have many years of experience in dealing with these kinds of claims and we will be happy to help you with your chemical burn claims.
Claim Compensation For A Chemical Burn Caused By A product Failure
Consumers are protected by the Consumer Protection Act 1987 against any injuries they suffer as a result of faulty products. The law extends to protect that person's home and possessions if the product damages them as a result of the defect. Manufacturers of products should place warnings on the product regarding any risks involved and if the manufacturer becomes aware of a fault which may have affected the product you have purchased then they should put out a recall notice. These are the manufacturer's responsibilities and if they fail to comply with the regulations then they can be held liable for any injuries you have sustained as a result of the fault.
Chemical Burn At Work Compensation
Employees in the workplace are protected by a wide variety of laws and regulations. Some of these laws relate to situations where a chemical burn accident might occur. Most important is the Health and Safety at Work etc. Act 1974. This requires that employers follow certain standards and regulations. Employers are required to:
Safeguard the health, safety and well-being of anybody in the workplace
Protect all people on site against any health and safety risks
Appropriately control the use of chemical, explosive or highly flammable substances and materials.
Under the Health and Safety at Work Act, employers are required to ensure that the work environment is safe. If they do not follow the requirements of the law then they may be held responsible for injuries that occur and be required to pay compensation.
Another important piece of legislation is the Control of Substances Hazardous to Health Regulations 2002 (COSHH). This legislation relates specifically to hazardous substances. It also places a responsibility on employees to look after their own safety whilst handling dangerous substances.
Can I Make A Chemical Burn Injury Claim Under The Occupiers Liability Act?
Legislation exists to protect visitors when they enter premises that are occupied by another person. This can include renting and ownership. The legislation is called The Occupiers' Liability Act 1957. It places a responsibility on the occupier of the premises to safeguard the welfare of visitors. This includes visitors who have not been authorised or invited.
The premises include shops, car parks, libraries and supermarkets. It also includes premises that are owned and managed by the local authority including playgrounds, pavements, canal footpaths and pedestrian bridges. If you were to suffer a burn in any of these locations then the occupier or owner could be responsible for paying you chemical burn compensation.
Establishing blame for chemical burn injuries in a public space ahead of any chemical burn claims can be very tricky and we strongly suggest that you seek a personal injury solicitor to help you work through the complexities of this task. Accident Claims provide many experienced solicitors who can help you make your personal injury claim as a result of a chemical burn.
What Are The Long-Term Consequences Of A Caustic Burn Injury?
Chemical burns can be extremely serious, particularly if you suffer a second or third-degree burn. It can change a person's life depending on the location and severity of the burn. As well as the physical injury which can take a long time to recover from, individuals may suffer depression and other psychological injuries, particularly if they have sustained a burn on a visible part of their body that is likely to cause an unsightly scar. These long-term effects of a burn injury can have a big impact on your compensation claim.
As a result of your burn, you may need to visit a psychologist as well as a medical doctor. You will probably be required to take medication for the pain but the symptoms can often be harder to manage and more long-lasting if you are suffering from emotional trauma as well. If you have suffered emotional pain then it is important that you are aware that you can be compensated over a long time period for this psychological suffering.
It is really important that you seek medical attention following chemical burn injuries because the impact is not always just skin deep. Particularly toxic chemicals can have long-lasting, initially unseen effects on the body. They may cause illness at a later date. A healthcare professional will be able to advise you on the likely after-effects of your burn. The examination is likely to be thorough in order to establish the extent of the injury. The details of this medical examination however will form the basis for your compensation case so it is in your interests to be patient and gather as much information as you can about your injury.
If you are unsure about the action you should take, or your rights after you have suffered a chemical burn then please call Accident Claims today and speak to one of our advisors, who will be able to answer your questions. If you decide to proceed with your case then we can match a solicitor to you who can arrange for you to have a medical examination in order to gather enough evidence for your claim. We are keen to seek the maximum compensation for you so we want to ensure that you have been fully diagnosed.
What Steps Should You Take After Suffering A Chemical Burn? – How Long Does A Chemical Burn Take To Heal?
If you have suffered from a chemical burn then you are likely to be experiencing pain and emotional distress. The first thing you should do is receive an assessment from a medical professional to ensure that you are getting the correct treatment and medication that you need to alleviate the pain. Following this, we suggest that you take the following steps before you make your chemical burn claims.
Take note of any out of pocket expenses you have been required to pay as a result of your injury. Keep receipts and invoices to prove your purchases. This can include travel expenses and any medical expenses, such as prescription charges.
Collecting the right kind of evidence can be really beneficial to your case.
Evidence to support chemical burns claims
To help you find the evidence you need to support a claim for a chemical injury, we've listed some steps you could take. They are:
Where possible, photograph the accident scene. Try to include the cause of the chemical burn before it's removed. For example, if stored chemicals have leaked, try to show that in the picture.
Ask any witnesses who saw you get burned by the chemicals for their details.
Seek treatment for your chemical burn injuries. Medical records are a useful tool in personal injury claims. They'll show what injuries you sustained and the treatment you had to endure. GP records or medical notes from A&E could be used.
Report the accident. Importantly, businesses must record accidents that are reported to them. Furthermore, you could ask for a copy of the report to help show when you sustained the chemical burn injury.
Try to obtain CCTV footage. You are well within your rights to ask for a copy of it if it shows your accident taking place.
Essentially, you should try to gather anything that shows who was to blame for your chemical burn injury, the injuries you sustained and also how the accident was caused.
What Can You Include In a Compensation For Caustic Burn Claim?
As well as claiming for the pain and suffering you have experienced as a result of your burn injury there are also other things that you can claim for.
Your pain and suffering claim should include any emotional and psychological trauma you have suffered immediately after the injury and may continue to suffer long-term if your injury has resulted in a disability or severe scarring.
You can also claim special damages which can include damage to any personal items, for example, a piece of jewellery which is precious to you and was harmed during the accident.
You can claim medical expenses for any equipment, medication or private healthcare that you needed to access to help you recover.
If you will be left out of pocket as a result of any travelling you needed to do, perhaps to see a specialist doctor, then you can make a claim for this also.
If you needed a carer to help you around the house following the incident then the carer can make a claim for care costs.
Remember to keep evidence of all of your out of pocket expenses in order to include them in your chemical burn claim.
Chemical Burn At Work Compensation Claims Calculator – Updated Jan 2022
The amount of compensation you are eligible to claim depends on the severity of your injury. You can try using a personal injury claims calculator to get a rough idea or alternatively, this table gives you an idea what you may be entitled to claim but every case is different and it will depend on the details of your specific incident as to how much compensation you will receive. This list is not exhaustive and you are able to claim compensation for other injuries as well. They consist of both general damages and special damages to cover the likes of financial losses due to the injury. If you require more information about how much you are entitled to claim then please give us a call and we can answer your questions about chemical burn claims.

| Reason for compensation | Severity | Average compensation amount | Comments |
| --- | --- | --- | --- |
| Loss of sight following chemical burn accident | Very serious | In the region of £379,100 | Total loss of vision and hearing |
| Loss of sight following chemical burn accident | Very serious | In the region of £252,180 | Total loss of vision in both eyes |
| Loss of sight following chemical burn accident | Serious | £90,100 to £168,730 | Loss of vision in one eye with the possibility of loss of vision in the other eye |
| Loss of sight following chemical burn accident | Serious | £60,010 to £99,440 | Loss of a degree of vision in one eye with the possibility of deterioration |
| Loss of sight following chemical burn accident | Very severe | £22,230 to £36,960 | Impairments in one or both eyes permanently |
| Loss of sight following chemical burn accident | Severe | £8,550 to £19,690 | Impairments in one or both eyes permanently |
| Loss of sight following chemical burn accident | Minor | £3,710 to £8,200 | Slight visual impairment but expected to recover |
| Loss of sight following chemical burn accident | Transient | Up to £3,710 | Complete recovery of vision |
No Win No Fee Compensation For A Chemical Burn Injury
You are likely to be preoccupied with recovery after suffering a chemical burn injury. That is why we think our no win, no fee service will really help you. Our no win, no fee agreement means that you won't have the financial worry of paying for your personal injury lawyer. It also means that we will not ask you for any payment upfront. It is entirely within our interests and yours to win your case and achieve maximum compensation. Our fee will then be taken from your final payout. There are no hidden costs here at Accident Claims so you can concentrate on getting better and we will focus on getting you your compensation.
For free legal advice on No Win No Fee chemical burn claims, please get in touch.
How To Begin Your Caustic Burn Injury Compensation Claim
Once you have received your treatments for the burn and collected your evidence we can begin your case. You may be worried about finding a personal injury solicitor so we offer a free initial consultation in which we explain the legal process to you. We want you to feel happy and confident in understanding the burn injury claims process before you proceed. There is no obligation with our free consultation but if you do decide to proceed then we will help connect you to a lawyer to start a claim.
If you haven't already seen a doctor then the lawyer will arrange a medical examination for you. We understand that the process can be a little daunting and confusing so we are here all the time to answer any queries you have and support you on your journey towards receiving chemical burn compensation.
How We Can Help You Claim Chemical Burn At Work Compensation
As well as bringing you a friendly and supportive service, we offer many other benefits at Accident Claims UK. We offer a No Win No Fee agreement, a free, no-obligation consultation, we will arrange the provision of a lawyer and they will work to get you the maximum compensation they possibly can for a caustic burn. We pride ourselves on having a strong relationship with our clients and do our best to make the process as quick, efficient and stress-free as possible. Our success rate for chemical burn claims is impressive. We truly believe that we are the best choice when it comes to making personal injury claims.
Speak To Our Team Today About Chemical Burn At Work Compensation
All that is left to do now is give us a call about your caustic burn. We will be happy to hear from you. Our number is 0800 073 8801. You can also contact us via our website or using our live chat. We are waiting to hear from you.
Useful Links Relating To Caustic Burn Injuries
Here are some useful guides relating to chemical burn claims.
Work accident guide to compensation
If your chemical burn happened at work, then this guide may offer relevant information.
The NHS give information and advice on burns from chemicals
A Guide to Dangerous Machinery at Work
If you were injured because of dangerous machinery at work, read our guide for advice. 
How Much Compensation Can I Claim for a Burn Injury?
To find out more about burns, consider our guide to burn injury claims. 
Back Injury at Work Compensation Claims Guide
Back injury can be painful and could affect other aspects of your life. If you're thinking about making a personal injury claim, read our guide.
Chemical Burn Claims FAQs
Can you sue for chemical burns?
If you suffered chemical burns because of someone else's negligence, you could be entitled to compensation. 
How much compensation do you get for a caustic burn injury?
How much compensation you get for a burn injury depends on what degree they are, where they are on the body, how they've affected you mentally and what impact they've had on your financial situation. Speak to one of our advisors for a clear estimate. 
Can you claim for a caustic burn at work?
You could claim for a burn injury you got at work, providing you didn't cause the injury by your own actions. If you think your employer or a colleague caused the injuries, get in touch with our advice team.
What happens when you get a chemical burn?
The victim of an accident at work resulting in a chemical burn can suffer irritation, burning and redness on the skin, as well as significant pain and a numb feeling.
How should someone treat a chemical burn?
It's imperative to put the skin under cold running water to remove wet chemicals, including those spilt onto personal protective equipment.
How long does a concrete burn last?
This could last for days in serious situations due to it developing slowly.
What does a bleach caustic burn look like?
A bleach burn resembles a standard burn with blistering, swelling and redness.
How long does a veet caustic burn last?
A veet burn could take up to 10 days to fully heal.
We hope our guide to chemical burn claims for chemical burn at work compensation has been useful. Now, you'll have answers to questions such as 'how long does a chemical burn take to heal?' and 'how long do I have to claim caustic burn compensation?'.