By Joanne Jeffries. Last Updated 28th September 2021. Welcome to our guide on making a boat accident claim or ship accident claim.  Having an accident on a ship could be quite traumatic. If it's someone else's fault, you could make an injury claim.
Sailing on a boat, even a small pleasure craft in gentle seas can pose risks of an accident at sea. An injury on a boat can range from being minor to life-threatening. That is why it is important that when you are aboard a vessel, either as a crew member or a passenger, you can put your trust in the operators of the craft to operate the vessel safely and in accordance with health and safety regulations. If that trust is breached and you suffer an accident on a boat or an accident on a ship as a result, you can claim compensation from the people responsible.
At Accident Claims UK, we have been working on legal cases for many years. We have solicitors with the expertise you will need to make a successful boat accident compensation claim if you were a passenger or a work accident injury claim if you were working on a boat when you were injured. If you suffered your accident while on a cruise, you may also wish to reference our guide to holiday accident claims. You can call us today to start your claim on 0800 073 8801 or call us today to start your No Win No Fee boat accident claim.
Select A Section
A Guide To Claims For An Accident On A Boat Or Accident On A Ship
Whether it is on a small pleasure craft on a lake or a canal or a large vessel on the open seas, being on a boat can pose serious risks of accidents causing injury or death. In the event that you or one of your loved ones suffers an accident on a ship that wasn't their fault, you can make use of your right to claim compensation by using our personal injury solicitors to represent you and help you through the process. Laws regarding boat accident compensation claims and maritime laws can be complicated sometimes, and many people might not know where to start when it comes to making a boat accident claim. That's why we've written this guide to explain how compensation claims work for you to familiarise yourself with the topic and help you feel more confident about starting a boat accident claim.
We can provide you with expert help at each step of the claims process, from the first consultation through to making the case itself, and it won't put you out of pocket either, thanks to our No Win No Fee policy. At the end of this page, you will see our contact details; please use them if you have any questions or if you decide you do want to make a boat accident claim.
Please continue reading to learn more about boat accident compensation claims.
What Is An Accident On A Boat or an accident on a ship?
All kinds of accidents and injuries can happen on all forms of boats; if you have been affected by an accident on a ship either while crewing a boat or as a passenger, then you could be entitled to boat accident compensation if there is proof that someone else was responsible for it. Some of the different types of accidents that can happen on a vessel include:
Sinking or capsizing due to the negligence of the pilot or crew, either of the vessel in question or of another vessel.
Collisions or loss of control due to negligent sailing.
Sinking or collisions caused by mechanical and equipment breakdowns
People being hit by items that have come loose in turbulent seas.
Slips, trips and falls.
Outbreaks of illnesses aboard ships or a cruise liner, such as norovirus or food poisoning.
If you'd like to chat with someone about your boat accident claim, then don't hesitate to get in touch with our team today.
Liability For Accidents And Injuries At Sea
Liability for an accident on a ship is when a person or organisation has been deemed responsible for an accident and any harm it has caused to other people through their negligence and failure to meet their responsibilities. Liable parties are responsible for paying compensation to claimants in the event of a boat accident compensation claim. A boat operator has a duty of care to the crew and passengers to run the vessel in such a manner as to ensure their safety as much as reasonably possible at all times.
Liability laws depend on whereabouts in the world the accident took place. If the accident occurred on British waters, such as it was within British waters at sea or if it occurred on a lake, river or canal, then British maritime laws would apply. If the incident occurred in the territorial waters of another country, France, for example, then the laws of that country would apply.
Around two-thirds of the ocean does not come under the jurisdiction of any countries government; these are known as international waters.  A boat accident claim for incidents in international waters are governed under international law, specifically the Athens convention. If you've been involved in an accident on a ship but aren't sure who's liable, then get in touch with our team today to speak to one of our expert advisors. 
Boat Accidents In International Waters
The terms for boat accident compensation claims that occurred in international waters are set down by the Athens Convention. The Athens Convention is international law to which all signatory governments are beholden. It would not apply to an accident on a ship whose journey does not take it outside of British waters, though it would apply to a vessel that started and ended its journey in the UK but which travelled through international waters and docked in another countries port along the way. The Athens convention supersedes British law, so if an accident occurred in which both British law and the Athens convention could apply, the Athens Convention would take priority.  Boat accident claims under the Athens convention can be made through UK courts.
Liability Under The Athens Convention
The Athens convention holds that a ship's operator is responsible for the safety and well-being of their passengers and their luggage. Meaning that if anything should happen to a passenger due to the negligence of the ships operator company and/or crew, such as an accident on a ship that operator would be liable. Because the responsibilities of the ship's operators apply to luggage as well as passengers, boat accident compensation claims can be made in cases where you are unharmed, but your luggage has been damaged, stolen or gone missing due to negligent handling or storage by the crew.
Under the Athens Convention, a ship's operator could be liable if they have:
Failed to carry out checks of all equipment and machinery onboard ship
Failed to carry out proper maintenance of the ship and all its parts
Failed to provide proper training and management of their crew
In some cases, proving liability for an accident on a ship will be more difficult than others, for example, if all proper regulations and procedures have been in place, but the captain or individual crew members have not followed them as instructed. If you're unsure where liability lies after your accident on a ship, please get in touch with our team today.
Common Causes Of Accidents On A Boat or an Accident on a Ship
Some of the ways that an accident on a ship causing injuries can occur on boats when the crew or operator, or owners of the boat are negligent includes:
Hitting the wake left behind by another vessel.
Hitting underwater objects, i.e., rocks, coral reefs, sunken vessels or sandbanks.
Hitting large waves.
Sailing into rough seas.
These things can pose a threat regardless, but following proper regulations, protocol and training can reduce the risk of them happening and the risk of them causing a serious injury. If injuries are caused by negligence by the operator, boat accident compensation claims might be possible.
Accidents On A Yacht Or Small Boat
Being on a small vessel, close to the shore or on a lake or a canal, doesn't mean that you are safe from accidents caused by the negligence of someone on your boat. Some of the accident risks that could lead to a boat accident claim include:
Colliding with other vessels. This can be caused by the inexperience or incompetence of the person piloting the boat.
Capsizing, numerous factors can cause this. People can be hurt by being thrown overboard or by having the boat or items in it hit them as it overturns. Once people are in the water, there is a risk of drowning, particularly if they get trapped underneath the boat.
Falling overboard: Sailing into rough water, erratic piloting or not having certain safety features such as railings can cause a passenger or crew member to fall overboard. This can lead to falling injuries or drowning.
If you've been injured in one of the ways listed above or after an accident that hasn't been mentioned, you may be able to make a boat accident claim. Get in touch with us today to find out more. 
Accidents On A Ship Or Large Boat
The incidents in the above section can all occur on larger vessels, such as cruise ships or cargo ships, but with the increased size of larger ships, the amount of crew and passengers aboard and the greater length of time spent aboard large vessels carry different risks of their own. These include:
Outbreaks of illnesses: With sometimes hundreds of people living and working in close quarters for an extended period of time, care must be taken to prevent outbreaks of illnesses such as norovirus.
Slips, trips and falls: The same risk of tripping and slipping on objects left lying about or a  wet floor that can occur in other workplaces and public areas applies to oceangoing vessels. You can read about slips, trips and fall claims on land here.
Falling objects: with all manner of objects mounted on walls or shelves, there is a risk of people being hurt by items falling on them, particularly in rough seas.
It is the responsibility of the operators of the ship to take all steps possible and reasonable to prevent incidents such as these from happening; if they fail to do so, they could be liable for paying the claimant boat accident compensation if you've suffered an accident on a ship because of this.
Possible Causes Of Boating Accident Insurance Claims
Accidents can be caused by various forms of breaches of regulations as well as reckless or incompetent behaviour; if you are wondering, "What is the most common cause of boating accidents" the cause can include:
Failing to perform equipment checks and maintenance
Failing to avoid hazards such as rough seas, bad weather, oncoming vessels, and undersea objects.
Operating the vessel while under the influence of alcohol.
Operating the vessel without proper training
Travelling too fast and violating maritime laws and regulations.
Even if you don't see the cause for your accident on a ship in the list above, you may still be able to make a boat accident claim. Get in touch with us today for more detail about when boat accident compensation claims might be possible. 
Boating Accident Claims Against An Employer For An Accident On A Ship
All employers have a duty of care to ensure the safety of their employee's and businesses employing employees as crew on a vessel are no exception. If you suffered an accident while working on a ship and it wasn't your fault, and you think your employer was at fault, then a boat accident claim against your employer might be possible. An accident under these circumstances would more likely fall under the category of a workplace injury rather than an accident on a boat. See this page for more information about how accident at work claims work.
Boat accident claims at work
The HSE fatal accident statistics for 2020/21 show that there were 142 fatal injuries to workers in this time period. The industries affected are below.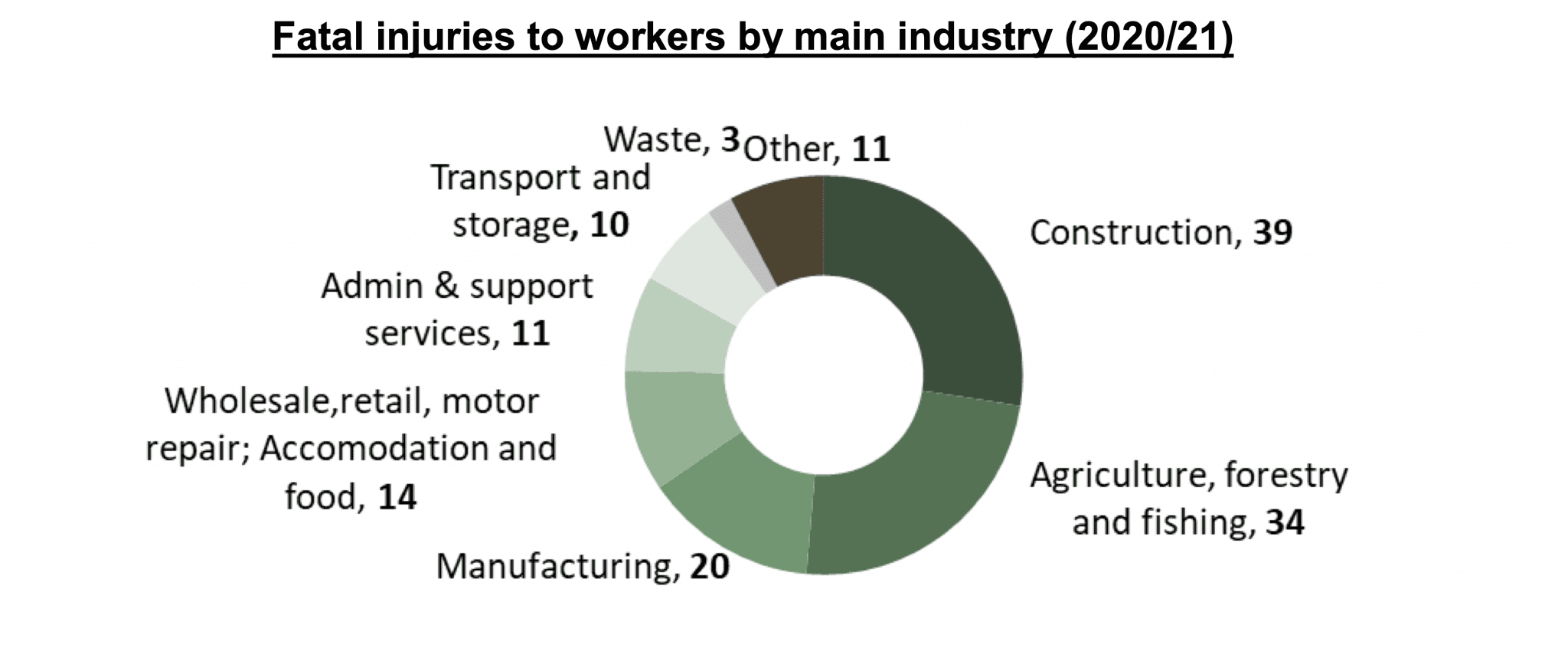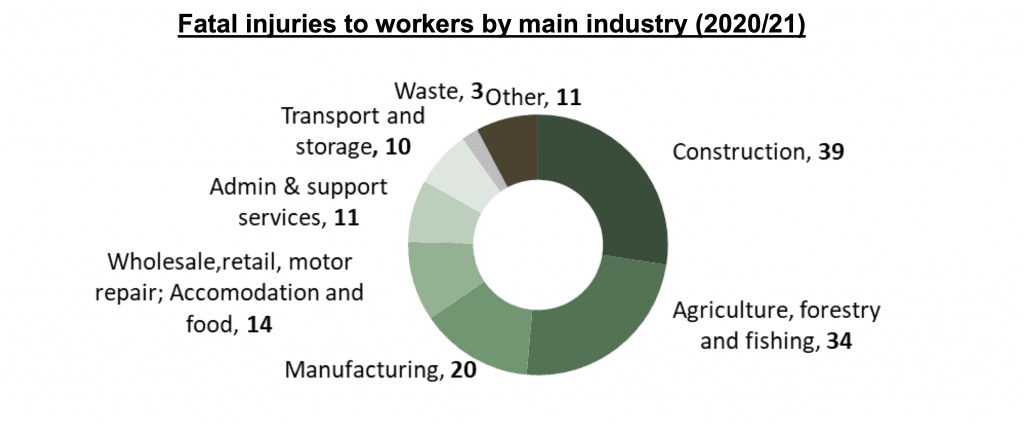 If you are involved in an accident whilst working on a boat, you shouldn't worry about seeking damages. Many claimants worry that making a boat accident claim will cause problems with their employer. However, we can tell you that employers cannot, by law, treat you any differently. They can't sack you, discipline you or demote you because of your claim.  If you were to suffer as a direct result of claiming, you could take separate action against your employer.
Additionally, your employer won't be affected by the cost of boat accident claims against them. That's because, under UK law, they must have insurance in place to cover such claims.  This means that if you claim for an injury at work, it will be against the insurance policy and not your employer directly. Should you decide to work with Accident Claims UK, our team will handle all of the communication for you. That means that during the boat accident claims process, you won't have to speak to your employer or their insurer about it. We'll handle all of that for you if your case is accepted.
If you are thinking about making a claim, why not speak to us today? Our team of specialist advisors will review your case for free, offer legal advice about your options and could connect you with a personal injury lawyer from our team. Remember, any boat accident claim that we take on, will be processed on a No Win No Fee basis.
Marine accident statistics
The annual report published by the Marine Accident Investigation Branch (MAIB) has revealed some statistics related to accidents that occur on UK vessels or in UK coastal waters.
The report revealed that:
In 2019, 9 lives were lost on recreational crafts in UK waters (not including commercial recreational crafts).
1,090 accidents (which included both casualties and incidents) involving UK vessels that occurred in UK waters were reported to the MAIB in 2019.
The kind

of injuries most frequently

sustained in accidents on boats or ships were dependant on the kind of ship the accidents took place on. For example, merchant vessel crew members were most likely to suffer from injuries to the upper limbs (41%) than any other body site, whereas those who work on fishing vessels are most likely to suffer from concussion or a head injury (33%).
The most common cause of boat accidents resulting in casualties in fishing vessels was the loss of control, with 102 vessels being involved in such accidents in 2019.
From 2012-2019, 472 passengers were injured on UK vessels (excluding injuries not connected with the operation of a ship)
In this same time frame, 3 passengers died aboard merchant vessels from injuries connected with the ship's operation.
Passengers on merchant vessels were much more likely to suffer from a closed bone fracture than any other type of injury. See the table below for more details.
Steps To Take If Injured On A Boat Or Injured in An Accident On A Ship
It is important that you report an accident on a boat or a ship to the Marine Accident Investigation Branch as soon as possible. It isn't against the law not to report an accident in a "pleasure vessel", but if you don't report the incident straight away, it could undermine your case and affect the amount you receive in your boat accident claim.
In the event that you or your loved one does have an injury, then making sure it gets treated takes priority above all else, even if it doesn't seem to be an especially serious one at first. Some types of injuries, such as a heavy blow to the abdomen or to the head, can prove more serious than they seem at first. Being seen by a medical professional straight after the accident happens also establishes an official record of your injuries which will help you prove your case later on.
To support your boat accident compensation claim, and assuming you are able to, start taking photos. If not, get a friend, family member or a bystander to take photos for you. Take photos of where the accident happened, what caused it and take photos of your injury if possible. You also have the legal right to seek CCTV footage of the accident (if there are any CCTV cameras around.) If you put in an official request, then by law, the owner responsible for the ship has to make them available to you. You can find out information on how to do so here.
Speak to anyone who witnessed the incident, get their contact details and ask them if they would be willing to give testimony to support your case. Lastly, as soon as you get the chance, you should write down and write up notes on what you can remember about the accident, down to the last detail when it is still fresh in your mind.
Don't worry if you haven't done all of this yet; your solicitor will take responsibility for gathering evidence once your boat accident claim starts.
Accident On A Boat or Ship Personal Injury Claims Calculator – Updated September 2021
You may be wondering how much you could receive for a boat accident claim. If so, you'll find this section useful. There is no set amount of compensation that gets awarded to successful claimants; instead, the boat accident compensation is calculated in each case for the needs of the claimant. It is decided based on the severity of the injuries that the claimant has suffered, the effect it has had on them physically, on their mental health, their ability to work and on the degree to which the claimant is expected to suffer from lasting or permanent symptoms.
An accident on a boat or a ship could cause anything from minor cuts and bruises, which heal within a few days or weeks, to lifelong disability. In the event that the victim of the accident has been killed, then the victims loved ones can claim for any pain and suffering which the victim endured and for the bereavement they have experienced themselves.
Claimants would have to discuss the incident in detail with their solicitor and receive an examination from a doctor to assess their injuries before being given a figure of how much compensation they are entitled to claim. That means, at this point, it would be pointless to try to hazard a guess at what that figure might be. Nevertheless, you might find it useful to read through the table below; it shows how the worth of different types of injuries are calculated according to legal guidelines.
| | | |
| --- | --- | --- |
| Injury | Notes | Compensation |
| Brain damage (very severe) | Cases involving Quadriplegic cerebral palsy with severe cognitive and physical disabilities. | £240,590-£379,100 |
| Brain damage (moderately severe) | Very serious disabilities and constant reliance on care | £186,890-£264,650 |
| Brain damage (moderate) | Cognitive and physical disabilities, but requiring less care than in the above category. | £36,740-£205,580 |
| Brain damage (less severe) | A full recovery to normal functions but with persistent problems such as poor concentration, mood swings and the risk of epilepsy. | £13,070-£40,410 |
| Brain damage (minor) | Minimal level of brain damage with full recovery in as little as a few weeks. | £1,880-£11,980 |
| Illness resulting from food poisoning (i) | Acute pain, vomiting, diarrhea, requiring a stay in hospital. Some continuing incontinence, irritable bowel syndrome and hemorrhoids. | £32,780-£49,270 |
| Illness resulting from food poisoning (ii) | Serious but brief food poisoning with recovery within 2-4 weeks. | £8,140-£18,020 |
| Illness resulting from food poisoning (iii) | Significant discomfort , pain and fatigue. Requiring a few days stay in hospital. | £3,370-£8,950 |
| Illness resulting from food poisoning (iv) | Varying degrees of pain, cramps and diarrhea lasting for a few days or weeks. | £780-£3,710 |
For details about what else can be included in boat accident compensation claims, please continue reading to the next section on special damage for an accident on a ship.
Special Damages Which Could Be Awarded For An Accident On A Boat Or Accident On A Ship Claim
It isn't just your physical and mental health that you have to worry about in the aftermath of suffering a serious injury; you and your family's financial situation can suffer as well. An accident on a ship could cause you to have to take a few weeks off work, or it could leave you unable to do your job and have to look for work elsewhere. A serious disability could prevent you from ever working again. If the accident wasn't your fault, then neither is your inability to work, which means you can be compensated financially for income that you would have earned while recovering or would have earned in the future but now can't receive due to your injury.
Having a severe injury in an accident on a ship could also force you to spend quite a lot of money by travelling to and from the hospital to have appointments and treatments or by paying for medication. In cases where you have been either temporarily or permanently disabled, then you or your loved ones might have to pay for the costs of assisted living care or home adaptations such as installing stairlifts or wheelchair ramps in your home. This will be factored into your boat accident compensation so that the money you are awarded covers the expenses including any loss of earnings. However, you will need proof that you have spent this money; that's why it is absolutely vital that you keep a record of your expenses, including receipts and other paperwork involved.
No Win No Fee Claims For An Accident On A Boat
Going through the legal process can be expensive; many people fear that people without a lot of money to cover legal fees will be at a disadvantage when trying to bring a claim or that the expense would act as a barrier to them. Rest assured that this definitely isn't the case for people who make their boat accident compensation claims with us. A No Win No Fee claim only requires you to pay anything to your solicitor if you are awarded compensation, and that payment will come from the compensation you are awarded, so you won't be paying out of your own finances. We would never take an exorbitant amount from your compensation award, as that would defeat the object of making a claim in the first place! The "success fee" your solicitor will take will be no more than a maximum of 25%. The details of how No Win No Fee boat accident claims are just one of the things that our advisors will be happy to answer questions about if you want to get in touch regarding your boat accident claim.
How Our Accident Claims Team Could Help You
There are plenty of accident claims companies out there for you to choose from, but we think you would benefit from working with our solicitors. If you do work with our solicitors, you can be assured that you will be working with a personal injury lawyer from a team with decades of experience helping clients to win compensation payouts. We will take responsibility for most of the work that goes into getting boat accident compensation awarded, such as collecting evidence, so you don't have to worry about that and instead, you can concentrate on your own physical and mental recuperation. However, we will be in touch with you regularly with updates on how the case is progressing so you don't have to worry about being left out of the loop. You can also ring us or send a message any time you want to check up on your case.
Furthermore, you won't have to lose out financially by doing so since a No Win No Fee agreement can take the financial burden of making a boat accident claim off your hands. The consultation you can receive before deciding to make a claim with us is also free, so there is no cost to making boat accident compensation claims with our personal injury compensation solicitors.
Start Your Claim For An Accident On A Boat
The way to get started on a boat accident claim is to arrange a consultancy session with someone from our team of legal advisors. You can do this in one of three ways. By calling 0800 073 8801, at any time of day or night and speaking to a team member, by scheduling a time for us to call you back with this form, or by sending an email to office@accidentclaims.co.uk. If you haven't yet made up your mind or are concerned that you might not have proper grounds for a legal claim, you can use these same methods to have a consultation session free of charge from our legal team.
Essential References
Offshore Health and Safety- HSE
International Maritime Organisation
Working at sea- government advice
Split liability claims– our guide to claiming compensation when liability is split
Can I claim with a pre-existing injury?– A helpful guide to claiming if an accident has exacerbated existing health concerns.
Manual handling accident claims– Read our guide for more information on claiming for a manual handling accident that wasn't your fault.
How do I prove my injury for an accident on a ship?
When it comes to proving how severe your injuries are, you would need to obtain medical evidence. Unfortunately, just seeing your GP or the ship's doctor would not be sufficient evidence to prove your claims. Instead, you would need to see an independent medical specialist then stop they would need to examine you and ask you questions about your injury. They may need to order some other tests in some cases, and they could review your past medical notes, particularly if your injury has exacerbated another injury that you already had. It is essential for them to do this so that they can complete a medical report so you can prove your injuries. Your lawyer and the courts could use this to determine an appropriate level of compensation for your accident on a ship claim.
Could I make a claim for compensation for an accident on a ship if it has made another injury worse?
If you have suffered a back injury in the past, for example, and the accident you've had has made it worse, you could make a claim for an accident that wasn't your fault even if you have a pre-existing condition. You may want to choose a lawyer with care in order for them to be able to fight for the maximum compensation possible for such a case, as these cases could be complex. Our solicitors, authorised and regulated by the Solicitor's Regulation Authority, could assist with such claims.
Thank you for reading our guide on making a boat accident claim or ship accident claim. If you've had an accident on a ship, we hope you'll contact us to help you with your claim.