By Jo Jeffries. Last Updated 20th April 2022. Welcome to our guide to making a compensation claim for a faulty wiring accident that causes electrical injuries. In the sections below, we answer common questions about faulty wiring compensation claims, such as 'What are the causes of electrical accidents?' 'What types of electrical injuries could someone suffer?' and reveal some  electrical accident statistics in the UK.
Could You Claim For A Faulty Wiring Accident?
Have you sustained an accident because of faulty wiring? Did the accident occur because someone who had a responsibility towards your safety breached the duty of care they owed you? If so, you could be owed compensation for your injuries.
Below, you will find a basic guide to making faulty wiring accident claims. We will cover how these types of accidents can happen. We'll also look at how the harm caused by electrocution or an electrical fire could impact your quality of life in a way that leads to you seeking compensation.
Faulty Wiring Accident And Injury Claims
Your claim will be based on the individual circumstances related to your accident. This means that, although it may share similarities with other claims, it will be unique in some way. You might have unanswered questions after finishing this guide; this can be expected because this article can't cover every possible set of circumstances.
However, we have made our claims team available to answer your questions and provide free legal advice. You can contact them on 0800 073 8801 or using our online form.
Select A Section:
A Free Online Guide To Faulty Wiring Accident Claims
if you were to be injured by faulty electrical wiring, you could be eligible to make a claim for compensation. You would need to show that the accident in which you were injured was caused by a breach of duty of care.
This guide is aimed at educating you about the claims process, including why you might be able to pursue a claim. We'll also look at what kinds of things could be included in a claim for compensation.
We give a basic definition of what a faulty wiring accident is, along with some information on the signs that wiring might be faulty. You will learn about the symptoms of electrocution, and how it is treated.
What Electrical Injuries Could I Claim For?
Both electric shocks and harm caused by electrical fires are covered in this guide. You will also learn about who can make a claim, and why you could be entitled to compensation.
The last several sections of this guide relate to information about the claims process, including some financial considerations. You will find that we have included an examples compensation table alongside a list of commonly claimed types of damages. We also cover No Win No Fee agreements, explaining how the fee structure works and the benefits they can provide you.
To conclude this guide, we've included some links with reference material, and also some key statistics related to electrical accidents in the UK. We close this guide with a basic FAQ to faulty electrical wiring claims.

What Is A Faulty Wiring Accident?
A faulty writing accident is any accident that is caused when something goes wrong with electrical installation. This could be an electrical system that has developed a fault or one that was installed incorrectly.
You can be impacted by a faulty wiring accident directly, for example, if you were electrocuted and suffered an injury. Alternatively, you might be hurt by the effects that the faulty wiring causes. For example, an electrical fire might break out, which causes a burn injury.
The most important thing that you need to consider when thinking about making a claim is proving that somebody else was to blame for the faulty wiring that caused the accident. Whether you are injured in a public place or while at work, if a third party is to blame, then you could be eligible to make a faulty wiring accident claim.
Could I Claim For Faulty Wiring Injuries?
If you feel unsure whether you have a valid claim or not, our team can assist you. Just give them a quick call and explain what has happened to you. They will evaluate your case and offer advice on faulty wiring accident claims. Furthermore, they could tell you if you might have a valid claim for compensation.
Faulty wiring accident claims can be made if you're injured by a damaged or poorly installed electrical installation. The claim will be based on any physical or psychological harm you have suffered, as well as financial loss. In order for a claim to be valid, you must prove that a third party was liable for the harm you suffered.

What Are The Signs Of Faulty Wiring?
Spotting bad wiring isn't always simple. This can be especially true if the wiring fault is due to a mistake made while setting up an electrical installation. The wiring might look perfect, with no damage or wear and tear, but still be potentially harmful.
Some of the ways to spot a wiring fault are:
Look for charred or singed wires and connectors.
If the wires are connected to a Printed Circuit Board (PCB), look for signs of heat damage on the PCB.
Look for sparks or smoke.
Be aware of the smell of burning electrics.
Use a voltmeter to check that wires that should not carry a charge do not.
Consult a wiring diagram if one is available to make sure the installation has been wired up properly.
These are just some of the things you can do to try and spot a wiring fault, and keep yourself safe when working on an electrical system. However, even though you should be aware of electrical safety for your own benefit, you're also owed a duty of care in some circumstances.
Get in touch with our team today to find out more about claiming when this duty of care is breached. They'll also be able to provide free legal advice about the faulty wiring accident claims process.

Electrocution Symptoms
When someone experiences an electric shock, there are two main symptoms that they might experience. There are other additional symptoms that might arise; however, these tend to be less common.
The first of these repercussions from an electric shock is a heart attack. When someone who has been electrocuted goes into cardiac arrest, they will need medical care as quickly as possible.
Secondly, someone who has suffered an electric shock might also experience burn injuries. Unlike heat or chemical burns, electrical burns tend to cause more subdermal damage than damage to the dermis or epidermis.
There are other injuries that you could sustain as the result of an electric shock injury. For instance, you might experience damage to your tissues or organs where the electricity has passed through. Alternatively, contact with a faulty electrical source could cause you to trip or fall and sustain a head injury.
If you would like to know more about faulty wiring accident claims, why not speak with our team today? One of our advisors will be happy to offer you free legal advice about claiming.
Electrocution Injury Treatment
When it comes to electrocution injury treatment, there are things that can be done by anyone on the scene as general first aid. Furthermore, you'll probably also receive treatment at the hospital. We've included sections on both of these kinds of treatment below.
Emergency Action For Electrocution
If you have been a witness to an electric shock, you need to take care and assess the situation before you take any action. The situation could still be dangerous or even fatal.
Do not touch the injured person. They may still have electrical current running through their body, which could put you at risk of being electrocuted. Before you touch or move them, locate the electrical source and make sure it has been switched off or unplugged.
If you cannot turn off the electrical source and need to move the victim away from it, you should find some type of insulating material to stand on, for example, a wood board or a plastic mat. You must then use a non-conductive tool, such as a wooden mop handle, to pull or push the part of their body that is touching the electrical source away from it.
Once this emergency action has been taken, it's important that you seek professional medical advice so that the person can be treated for their injuries.
Medical Care For Electrocution
If you go into cardiac arrest after being electrocuted, treatment will depend on the type of heart attack you have had. For example, you might be offered surgery. You could also be offered medication to break down or prevent blood clots.
If you suffer burns as the result of being electrocuted, you should always seek medical attention. A lot of different burn types can be treated with first aid, but you should always seek medical attention for electric burns, no matter how big they are or how severe they look.
In some cases, you might need to see a specialist burn care service. You might need surgery, like a skin graft, to reduce the visibility of any scarring that the injury cases.
If you can prove that your injury was caused by the negligent actions of a third party, then you could be entitled to claim. Call and talk to our team for free legal advice about the faulty wiring accident claims process.
Electric Shocks Caused By Faulty Wiring
Electric shocks are a kind of injury that can be caused by an electrical accident. An electric shock is caused by a part of the body making contact with an electrical source.
An electric shock can be potentially fatal, especially when the shock is exceptionally high-voltage. The two most typical injuries caused by an electric shock, are burns and cardiac arrest.
However, in very rare cases, an electric shock could result in muscle pain, seizures and loss of consciousness. If you suffer even a mild electric shock, you should seek medical attention and get yourself checked over.

Electrical Fires Caused By Faulty Wiring
Faulty wiring can result in electrical fires. This is especially true when the faulty wiring is indoors and in an enclosed space. For example, a water heating unit inside a closed cupboard might catch on fire more easily than a plug socket in an open room.
Fires caused by faulty wiring can be as serious as any other kind of fire, especially if left to get out of control. There is a risk of burns, asphyxiation, or even death in a fire.
If you suffer an injury in some form of an electrical fire, and you can prove that a third party's negligence caused the fire to happen, then you could be entitled to make a personal injury claim. Our claims team can tell you more about this.

Who Could I Make A Faulty Wiring Accident Claim Against?
You can make faulty wiring accident claims against anyone who had a duty of care towards you that they breached, resulting in injury. For example, you could claim against:
Your landlord.
Your employer.
The operator of business premises.
Your local authority.
An electrician or firm of electricians.
The manufacturer of electrical devices and appliances.
It can be difficult to determine who faulty wiring accident claims can be made against. For more information on the duty of care you're owed in different circumstances, speak to a member of our team today.

Could I Claim For Being Electrocuted At Work?
Your employer is expected to ensure your safety while you're at work. This is enforced by regulations such as the Health and Safety at Work etc. Act 1974. Additionally, the Health & Safety Executive (HSE) has specific guidelines that relate to electrical safety that should be followed.
Your employer has to comply with all of these rules and regulations at all times. If they don't, you could be exposed to a risk of being electrocuted at work.
For example, your employer might fail to carry out a risk assessment that confirms that all the electrics in your place of work are safe and functional. If you were then injured as a result, you could be entitled to claim.
If you do suffer an electric shock at work, and you can prove that your employer has been negligent and this caused the incident, then a personal injury solicitor could be able to help you to claim compensation. This is something we can also help you with. Give us a call to learn how.

Could I Claim For A Faulty Wiring Accident In A Public Place?
You will possibly be able to pursue a personal injury claim if you have been injured by faulty wiring in a public place. This is because, in the same way that your employer has to provide you with a safe working environment, the operator of publicly accessible places also has to make sure they are safe. This duty of care is outlined in the Occupiers' Liability Act 1957.
For example, you might be injured at:
A retail shop.
A bar or restaurant.
An educational establishment such as a school or university.
A public building such as a library.
The operator of any publicly accessible building or space could be liable for compensation if they allowed you to be injured by faulty wiring. If you'd like to know more about your eligibility to make a claim, speak to our team today for more information.

Faulty Wiring Accident Claims Against A Landlord
Your landlord is responsible for maintaining the electrics of your rented property. Furthermore, every electrical installation in the property must meet Government safety standards.
If you have been injured by faulty wiring because your landlord has not maintained the electrical installation of the property to meet these standards, then it could be possible to make faulty wiring accident claims against the landlord.

Faulty Wiring Accident Claims Calculator
There is no way to say exactly how much compensation for an electric shock you might get without knowing the specifics of your claim. However, you can use the table below, based on the guidelines published by the Judicial College, to get a rough idea of the value of your claim.
| Injury | Severity | Notes | Compensation |
| --- | --- | --- | --- |
| Burns (scarring) | Single/Multiple | Burns, and the subsequent scarring, are considered more serious than scars caused by other injuries. Additionally, a burn will cause a higher level of pain than say, a cut. So extreme, that it could also cause psychological damage. Burns and scars are graded based on how much of the body was burned, the thickness of the burns, the level of scarring, whether surgery was needed, impairment and psychological affect. | £98,380 upwards |
| Death | Immediate Unconsciousness/Death within One Week | A death that happens very quickly. The victim would lose consciousness straight away. They would not regain consciousness and death would occur within a week. | £1,290 to £2,620 |
| Illness | Severe | A severe illness that would manifest very bad, painful and dilapidating symptoms. The victim would need to be hospitalised until stabilised. The treatment could be traumatic and recovery would happen in the long term. | £36,060 to £49,270 |
| Psycholgical | Severe | Severe psychological damage, such as post-traumatic stress disorder, depression, anxiety or fresh phobias. As a result of being exposed to a very traumatic event. The victim may potentially have some mental issues for the rest of their life despite long term therapy. | £51,460 to £108,620 |
The amounts included in the table below are related to the physical and psychiatric injury that the incident has caused you. This part of your claim is referred to as general damages.
In order to work out the general damages head of your claim, you'll be invited to attend a medical assessment with an independent expert. In this appointment, the expert will assess how severe your injuries were and confirm that they were caused by your accident.
Another "head" of claim that could be relevant for faulty wiring accident claims is special damages. We will take a closer look at this in the next section. 

Special Damages For Electrocution Injuries
Special damages cover any financial losses caused by your injuries. Documented evidence will need to be provided to claim successfully.
Special damages could include:
Loss of earnings while you recover.
Impact on future earnings if you're no longer able to work.
Private medical costs.
Care costs.
The cost of travel to and from medical appointments.
Don't worry if you cannot see an expense listed above that you want to include in your claim. This isn't an exhaustive list, and we can help you understand what can be included in faulty wiring accident claims. Speak to our team today to find out more.

No Win No Fee Faulty Wiring Accident Claims
Your claim may be suited to a No Win No Fee agreement. This means you don't pay your lawyer unless they win your claim.
You are not charged a fee at the outset of your claim, or while it is being processed. If the claim is not a success, your lawyer won't ask you to pay them anything.
If you do win your claim, a legally limited, small success fee will be deducted from your compensation. This ensures that you always get the majority of the settlement awarded to you.

Contact Us
Have you suffered an electrocution injury because of faulty wiring? Or do you want to know more about faulty wiring accident claims? Give our team of experts a call.
You can:
Essential Electrical Safety Claims References
These external sites have some information you might like to look over.
How To Complain About Your Landlord
How Much Statutory Sick Pay Could I Receive?
Additionally, you may find it work reading over these other guides.
How To Claim For A Burn Injury
Making A Claim For Being Electrocuted
A Guide To Claiming For Employer Negligence

Electric Shock Death Statistics UK
This section looks at work-related electric shock death statistics for the UK. If we look at the period from 2011 to 2019, we find that the number of electrical-related fatalities at work stays fairly constant each year, between 134 and 174.
Most fatalities happen in the construction (43%) and the electric installation and repair (22%) industries—furthermore, 30% of these fatal accidents involving people aged 25 to 34.

Faulty Wiring Accident Claims FAQs
Below, we answer some common questions people have about faulty wiring claims.
Can you sue for getting electrocuted at work?
Yes, however, you would need to show that your employer's negligence caused your injuries. If your employer was negligent, you could make a claim.
Can you claim compensation for an accident that was your fault?
No, you cannot make faulty wiring accident claims if you ultimately were to blame for the accident, as you cannot sue yourself. However, if you can show that you were partly at fault for your accident, then you could make a split liability claim.
Are there any electrical accident statistics in the UK?
When it comes to electrical accident statistics in the UK, we can look to the Health and Safety Executive. Their report, produced in 2010, revealed the figures for fatal, major and over 3-day injury accidents occurring in all industries as reported via RIDDOR between 1996/97 and 2002/03 associated with electricity. You can see the percentages of all accidents via injury severity below.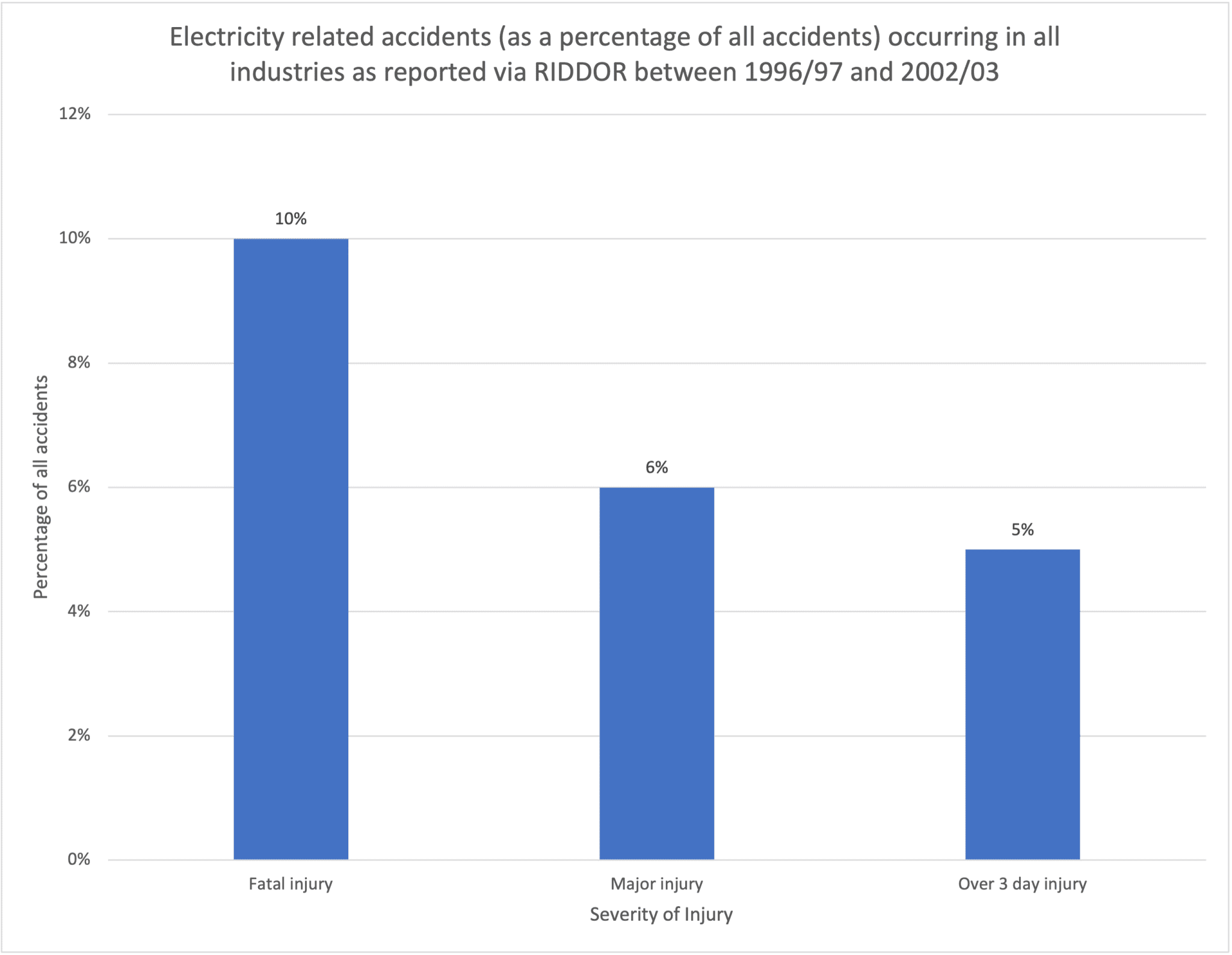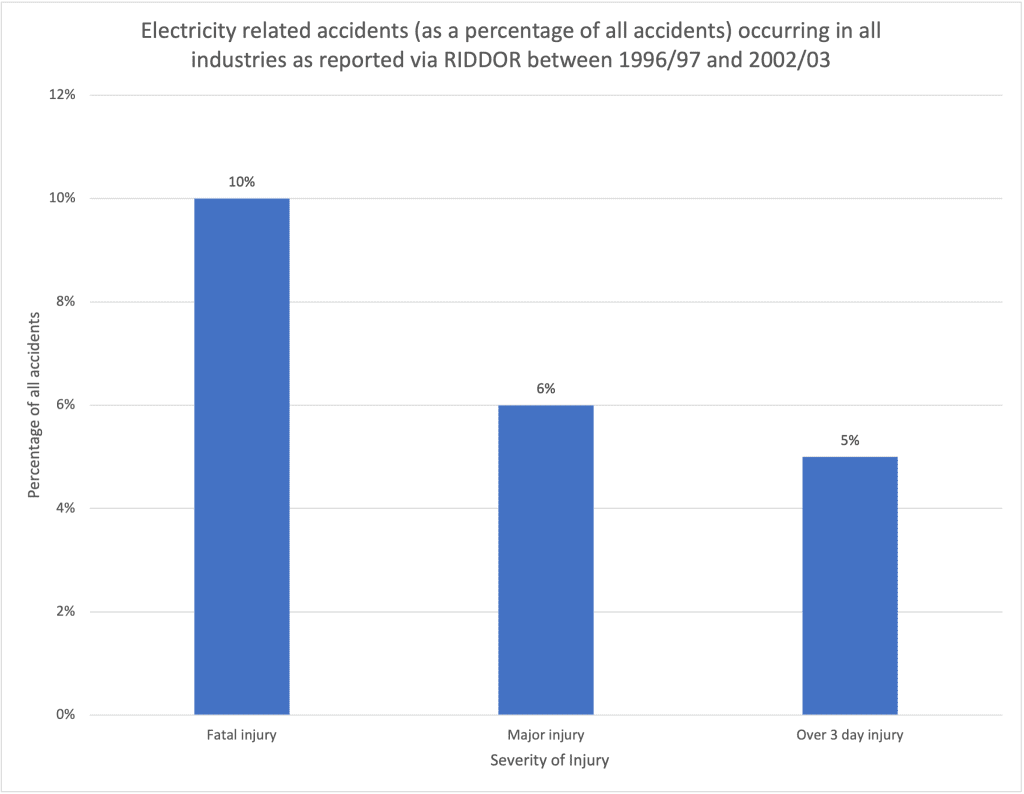 I've been injured in a faulty wiring accident that caused electrical injuries, what could I claim for?
If you've suffered electrical injuries in a faulty wiring accident that wasn't your fault, you could be eligible for compensation. You would need to prove that a breach of someone's duty of care towards you caused your electrical injuries. The compensation you could receive could include damages for physical and psychological injuries. You could also receive damages for out-of-pocket expenses caused by your injuries and accident. 
What are the causes of electrical accidents?
There are a lot of different causes of electrical accidents. Some could include faulty wiring, but others could include lack of maintenance, poor training and electrical surges. Not all electrical accidents would lead to a claim. You would need to demonstrate that your electrical injuries were caused by someone's breach of their duty of care towards you to be eligible to claim compensation. 
What types of electrical injuries could I claim for?
If you could demonstrate that someone's breach of their duty of care towards you caused your injuries, you could claim compensation for them. The types of injuries you could claim for could include head injuries, burn injuries, and even a heart attack. These are just a few examples.
Thank you for reading our guide on faulty wiring accident claims.
Guide by MW
Edited by FS