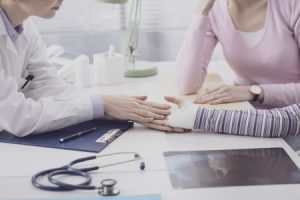 A fractured scaphoid is a very common injury that occurs following a slip, trip or fall. The scaphoid is a small bone on the thumb side of the wrist and, due to its size, is susceptible to fractures. Even though it's such a small bone, if left untreated, a broken scaphoid could cause irreversible damage. If you're involved in an accident which causes a fracture which was caused because somebody else was negligent, you could seek scaphoid fracture compensation from the responsible party.
In this guide we'll look at what types of accident could lead to a fracture, the symptoms and treatment options, and how much compensation you could be entitled to receive in a successful broken scaphoid personal injury claim.
Accident Claims UK offer a nationwide service for anyone who would like to make a personal injury claim. We provide a no obligation assessment of your claim, and free advice about your options. Also, if your case has a chance of being won, we could introduce you to a No Win No Fee personal injury solicitor. If you're ready to begin your claim right away, please call 0800 073 8801 today.
However, if you want to know more about when you could claim for a fractured bone, please continue reading.
Select A Section
A Guide To Fractured Scaphoid Compensation Claims
In this guide, we're going to look at the types of accident that could lead to a fractured scaphoid, and when you could claim compensation for it. However, it's probably a good idea to look at what the scaphoid is first.
What Is The Scaphoid Bone?
The wrist is made up of eight carpal bones which join the hand to the arm. The scaphoid bone is located between the forearm and the hand on the thumb side of the wrist and its main function is to provide a hand the superstructure needed, and it also aids with wrist movement along with other carpal bones.
Throughout this guide we'll cover broken scaphoid symptoms, treatment options, and what happens when the injury isn't treated in a timely manner. Furthermore, we'll answer some of the following questions:
How long does it take for a scaphoid fracture to heal?
What happens if a scaphoid fracture is left untreated?
How do you treat a scaphoid fracture?
Can a scaphoid fracture heal on its own?
To be eligible to claim for a fractured scaphoid, you must be able to demonstrate that you were involved in an accident that was caused by somebody else and that this resulted in your wrist injury. If that's true, you may be entitled to make a personal injury claim against the negligent third party.
Also, you'll need to ensure your claim is made within the personal injury claims time limit. In general, this is 3-years from the date of the accident which resulted in your fractured wrist. However, the 3-year period could also start from the date your doctor diagnoses you as suffering from a health issue that can be linked to the scaphoid injury you sustained.
When you've finished reading this guide, please call an adviser if you're unsure whether you could make a claim or not. They'll assess your claim and the evidence you have to support it, and would provide free advice on your options when it comes to pursuing a scaphoid injury claim.

What Is A Fractured Scaphoid?
A fractured scaphoid can happen when you're involved in an accident. As mentioned earlier, the scaphoid is the bone under the thumb which  joins together two rows of carpal bones. If a fractured scaphoid is left untreated, it can cause complications which means you could also claim if a medical professional misdiagnoses the break as something else.
We'll explain how a scaphoid fracture is diagnosed and treated later in this guide.

Scaphoid Fracture Symptoms
There are a number of symptoms which could indicate that you've broken a scaphoid bone which could include the following:
Pain and swelling
Deformation of the wrist
Pain when moving the wrist or thumb
Pain when making a grasping or pinching action
Some scaphoid fracture pain can be minor, and you might think you have sustained a sprained wrist. The best advice is to visit a doctor if you are still in pain after 24-hours, or if you're suffering any other scaphoid fracture symptoms that you find concerning.

How Are Scaphoid Fractures Diagnosed And Treated?
When you visit a GP because you've injured your wrist, they'll usually ask you about your symptoms and then they'll perform a scaphoid fracture assessment. During the examination they'll be looking for bruising, swelling and loss of motion. They'll also test for any tenderness.
If they suspect you have got a fracture scaphoid, they might arrange an X-ray. Alternative tests that can be used later on include CT scans and MRI scans.
Following your X-ray, you may be treated for a fractured scaphoid even if one doesn't show up. That's because they are sometimes difficult to spot on the X-ray. Therefore, you'll usually be fitted with a scaphoid fracture cast or splint. This will stay on for around 2 weeks.
Then, you'll be assessed again. If the bone is deemed to have been fractured, you'll need to be in a plaster for up to 12 weeks. In rare circumstances, scaphoid fracture surgery may be required.
Without a cast or splint, you could suffer scaphoid fracture complications because you'll find that this type of wrist injury doesn't heal itself.

How Long Does It Take For A Scaphoid Fracture To Heal?
As mentioned in the previous section, the scaphoid break recovery time can be around 12 weeks. That might seem like a lot compared with other fractures which, on average, take around 6 weeks to heal. The reason for the extended time period is that the blood supply to the carpal bone area found in your wrist is minimal, meaning that any injuries take longer to mend.

What Could Be The Long Term Effects Of A Fractured Scaphoid?
While the amount of suffering caused by a fractured scaphoid injury can vary dramatically, the long-term effect of a broken wrist could be many years of pain if the fracture isn't repaired properly (scaphoid fracture non-union), dorsal intercalated-segment instability (DSI) and also the onset of marked radiocarpal osteoarthritis.

Causes Of A Fractured Scaphoid
One of the most common causes of a fractured scaphoid is when you fall and put an outstretch hand down in an attempt to break your fall. The impact causes the wrist to bend backwards and hence the scaphoid is damaged.
Other causes of these orthopaedic injuries can be a hard blow to the palm of the hand or repetitive stress on the wrist.

Workplace Fractured Scaphoid Injuries
Personal injury claims for accidents at work that cause a fractured scaphoid are possible if your employer breached their duty of care towards you. Because of the Health and Safety at Work Act 1974, employers must take steps to reduce any risks to staff in the workplace. Therefore, if your accident was caused by a lack of protective equipment, faulty machinery or a lack of training, you could be able to claim by filing a personal injury claim against your employer.

Road Traffic Accident Fractured Scaphoid Injuries
All road users have a duty of care to one and other.  Therefore, if you're injured in a road traffic accident which was caused by another driver, you could employ the services of a personal injury lawyer to help you claim compensation for your fractured scaphoid and any other injuries you may have sustained.
We'd recommend you ask witnesses for their details. Also, you should see a doctor to have your injuries assessed as your medical records could be used to support your compensation claim and the general damages you may be awarded would be based on the extent of the injury you sustained.

Missed Scaphoid Fracture Compensation Claims
As we mentioned earlier in the guide, a scaphoid fracture test most used is an X-ray. However, this type of fracture is hard to see on X-rays, so it might not always be obvious that you've done any damage to a scaphoid bone.
However, because difficulty in spotting this type of fracture is well known, in most cases where you suffer tenderness and pain in the wrist, especially between the base of the thumb and the wrist, it should be assumed that there could be a fracture. As such, a cast or splint should be used for up to 14-days before further tests are carried out.
Failure to follow this procedure could cause difficulties more especially if the fractures displaces. Should this be the case, you might be able to claim for misdiagnosed scaphoid fracture compensation.

Possible Complications From Missed Fractured Scaphoids
With any wrist fracture that's missed, there are a number of problems that could occur which might include the following;
Wrist mobility problems
Pain in the wrist
Arthritis developing in an affected wrist
Wrist stiffness
Also, where a scaphoid injury assessment fails to lead to a correct diagnosis of a fracture, the bone in the wrist could die because of a lack of blood flow. This is known as avascular necrosis. Essentially, any misdiagnosis of this type could lead to a lifelong disability and pain. Therefore, it would only be right to consider claiming compensation for your injuries. Our advisers can assess your claim and help you decide whether your suffering was caused by a misdiagnosis or not.

What Could My Scaphoid Fracture Claim Include?
When you employ the services of a solicitor to make your compensation claim, they use a number of different elements to build your case against a negligent third party. A solicitor would base your claim and the compensation you could be awarded on medical records and reports from independent doctors to ensure they fully understand the extent of your injuries.
The elements that go into calculating the fractured scaphoid compensation you may be entitle to would include the following::
General Damages – These are paid to cover all of the pain, suffering and loss of amenity caused by your injuries. We've provided a table of general damages compensation amounts in the next section
Travel Costs – If you need to travel to and from the doctor or hospital during recovery, you could include the fuel costs in your claim. Furthermore, if your orthopaedic injuries leave you unable to drive while they're healing, you could claim for any other travel arrangements
Medication Costs – While you will usually get scaphoid fracture treatment on the NHS for free, you could still end up with bills for prescriptions. Therefore, these could be claimed back too
Care Costs – In the unusual event that you need professional care to aid your recovery, you could claim back any costs
Lost Earnings – When your employer doesn't pay full sick pay, you might lose income because you need time off to recover or for medical appointments. Therefore, you could claim these losses back too
Damaged Property – Finally, if an item of personal property is damaged during your accident, you could claim the cost of replacing it back
The financial losses linked to your injuries are known as special damages. We suggest that you provide receipts and bank statements to  prove these expenses and losses. Also, if you're not sure whether you'll be able to claim something back, check with your solicitor before committing to it.

Fractured Scaphoid Compensation Claims Calculator
We're often asked what amount of compensation is possible when making a personal injury claim. It is not possible to say how much compensation you could get without first assessing your claim. That's because every claim is different, and injuries affect each claimant in different ways. However, the personal injury compensation table below shows how much may be awarded as general damages for some different injuries.
| Injury Type | How Severe? | Compensation | Comments |
| --- | --- | --- | --- |
| Wrist | Minor | £3,310 to £4,450 | Very minor undisplaced fractures or soft tissue injuries that require a plastercast or bandage for a number of weeks. Full recovery will occur within 12 months. |
| Wrist | Minor | In the region of £6,970 | A simple and uncomplicated Colles' fracture. |
| Wrist | Minor | No more than £9,620 | A fracture which takes longer to heal but full recovery does occur. |
| Wrist | Less severe | £11,820 to £22,990 | Injuries which are fairly simpl but result in permanent disability such as pain and stiffness. |
| Wrist | Serious | £22,990 to £36,770 | Injuries that cause a significant permanent disability but some movement is still possilble. |
| Wrist | Severe | £44,690 to £56,180 | The most severe injuries that result in complete loss of function. For instance, where a arthrodesis has to be performed. |
| Arms | Moderate | up to £11,820 | This compensation range covers injuries including elbow fractures, simple fractures in the arm and lacerations. |
| Hand | Moderate | £5,260 to £12,460 | This compensation range covers injuries including deep lacerations, crush injuries & penetrating wounds. |
| Hand | Less serious | £13,570 to £27,220 | Injuries such as a severe crush injury which results in significantly impaired function. |
The figures listed are from a document called the Judicial College Guidelines (JCG). The JCG is used by solicitors, insurers and courts to determine the level of compensation awarded for different injuries. As you'll notice, each injury is assessed by its severity. Therefore, a key job for a personal injury solicitor is to ensure your injuries are assessed correctly so that there's a good chance you'll receive the correct level of compensation. This is important because once you've settled a claim, you can't go back and ask for more compensation. That's the case even if you realise your injuries were more serious than first thought.
Our solicitors use a panel of independent doctors to carry out a medical assessment of your injuries. During the appointment they'll assess the injuries and ask about how they affected you. Then they'll provide a report which details the nature of your injuries, their severity, the impact on everyday life and whether you'll suffer in the future because of the injuries.
The solicitor would use the report to work out how much compensation you could be entitled to. By using this report, medical records and other evidence, the solicitor can try and ensure you are compensated fully and fairly for your injuries.

No Win No Fee Fractured Scaphoid Compensation Claims
We know that some people worry about the cost of claiming compensation. They worry that the cost of hiring a solicitor for their claim would be too expensive. That's why our solicitors offer a No Win No Fee service for all claims they handle.
Following an initial assessment of your claim, if the solicitor agrees you have a chance of winning and takes on your case, you'll both sign a Conditional Fee Agreement (CFA). This is your contract and is important because it states the following:
You only have to pay the solicitor's fees if they win your claim
The level of success fee you'll pay if you are compensated
Success fees are used to pay the solicitor's fees. They're a percentage of your compensation that's retained by the solicitor before the rest is sent to you. Should you lose your scaphoid injury claim, you would not have to pay the solicitor's success fee because you signed a CFA.
We believe that No Win No Fee services allow a claim to be a lot less stressful. Also, there is no financial risks involved. To find out whether you could make a claim on a No Win No Fee basis, please call an adviser today.

Could Your Team Help Me Claim For A Fractured Scaphoid?
We hope that you'd like to let us represent you when claiming for a fractured scaphoid. Below are some of the benefits of working with Accident Claims UK:
Our team of solicitors have up to 30 years of personal injury claims experience
We're here 24-hours a day, 7-days a week so that you can begin your claim when it suits you
Our advice is free and you're under no obligation to proceed
We've received excellent feedback from previous clients
Our solicitors always try to ensure you receive the maximum amount of compensation
We always try to make the claims process as efficient as possible
Talk To Us To Start Your Claim
Now that you know how we can help you, we hope you're ready to use Accident Claims UK to make your claim today. If so, there are a number of ways to get in touch:
First of all, you can call whenever it's convenient on 0800 073 8801.
You could fill in our online claim form to arrange a call back at a suitable time.
Our live chat facility is always available and usually with no waiting time.
Or finally, you could send details of your claim by email to office@accidentclaims.co.uk
Remember, however you get in touch, we'll offer free advice and a no obligation assessment of your claim. If we consider the case strong enough to proceed, we could introduce you to a solicitor who'll work on a no win no fee basis. They'll assist you throughout the claim and, importantly, provide you with regular updates so that you know what's happening. Finally, if you receive any form of settlement offer, they'll provide you with expert advice about your options.

Medical Resources And Claims Guides
Now that you've come to the end of this guide about claiming for a fracture scaphoid, we've decided to provide you with some more guides, links and external resources which we think you'll find useful.
Scaphoid Fracture Patient Information – This leaflet, from the NHS, provides useful information about the treatment of a fractured scaphoid. Also, it provides some useful exercises that can aid recovery.
Health And Safety At Work Act 1974 – If you're involved in an accident at work, this is the legislation that could be used to support any compensation claim.
NHS Complaints – This guide explains the stages of an NHS complaint and the process you should follow if you decide to make a formal complaint.
Road Traffic Accident Claims – As it's possible to fracture the scaphoid bone in a road traffic accident, we've provided this guide that you may find useful.
Slip, Trip And Fall Injuries – This guide explains when it might be possible to claim compensation if you are involved in a slip, trip or fall caused by somebody else's negligence.
Wrist Injury Compensation Claims – This guide provides a more generic look at wrist injuries. It explains when you could seek compensation and the amounts awarded for different injuries, not just scaphoid fractures.
If you require any further guides or resources, please call the number at the top of the screen.  One of our advisers will be happy to help.
Article by BH (Brett)
Editor Honey