By Joanne Jeffries. Last Updated 21st September 2021. Welcome to this guide on Cardiff airport accident claims.
Have you been made ill or been injured in an accident at Cardiff Airport that was not your fault? If it can be proven that a third party who owed you a duty of care is responsible for the accident causing your suffering it may be possible for you to make a claim to compensate you for the hardship you have suffered. This guide has been put together for those who are seeking further information on making a claim for a Cardiff Airport accident that was caused due to third party negligence.
Throughout this guide to Cardiff airport accident claims, you will find useful information on how the claims process works, what you might be able to claim for, as well as examples of what an accident can consist of. Contrary to popular assumption, airport crashes are not the only type of accident that could potentially occur in an airport, and we hope to highlight the different types below.
Read on for more information on how to make a no win no fee claim. If you have been injured at Cardiff Airport and are looking for more advice on personal injury claims, then you should reach out to us today. You can get in touch with our friendly advisors on 0800 073 8801 for free, no-obligation legal advice. Alternatively, you could have us call you back by filling out our online contact form and choosing a time that suits you best.
Select A Section
A Guide To Claims For Accidents At Cardiff Airport
Cardiff Airport is the largest airport in Wales, serving just under 1.6 million passengers in 2018 from a total of 31,085 aircraft movements passing through.
In this guide, you will find information that may help you if you have been injured at Cardiff Airport in an accident that was not your fault. We have also included Cardiff Airport information relating to aviation safety statistics, as well as more information that helps to explain how no win no fee works, and how those who work in the aviation transport industry could become injured while doing their jobs.
If you are considering making a claim, we advise that you seek advice from a personal injury solicitor as soon as possible, as there is a personal injury claims time limit that applies to most cases. Under English/Welsh law, the usual time limit is three years, but it can change from claim to claim. There are other circumstances which could affect how long you have to make a claim; for instance, if you have an accident while boarding or disembarking a flight, then your claim may be handled under the Montreal Convention.
The Montreal Convention is designed to help determine liability for injuries or illnesses that happen while on an international flight. When cases are taken under this convention the limitation period can be two years, but it may vary from case to case. Contact us today if you are unsure about time limits for Cardiff airport accident claims even if you think you might have exceeded it, as we may still be able to help you.
What Is An Accident At Cardiff Airport?
Fundamentally, an accident is an incident that occurs without warning, which may cause harm to those involved. At an airport, there may be certain areas which may pose more of a risk to passengers than others.
If you wish to make a claim for an accident at Cardiff Airport there are certain criteria that should be satisfied before you have grounds to proceed. These can include:
Firstly that your accident happened due to a breach in the duty of care that was owed to you.
Secondly that this breach caused you to be injured unnecessarily.
Thirdly that you have not exceeded the time limitation period.
For more information about what you might need before making Cardiff airport accident claims, get in touch with us today and we will be happy to answer any questions you may have.
Cardiff Airport Aviation Safety
As the largest airport in Wales, Cardiff airport destinations include both domestic and international locations. As we mentioned above it served almost 1.6 million passengers last year making it a rather busy airport.
According to the Aviation Safety Network (ASN), there were two recorded Cardiff airport plane incidents that happened during landings at the airport in 1979 and one incident in 2004, neither of which caused any casualties, and both of which were caused by issues with landing gear, but eventually led to both aircraft being repaired and returned to service.
Airport flight accidents are not the only accidents that could occur in and around an airport, the Health and Safety Executive (HSE) released figures for 2013 and 2014 which show the most common causes of injuries suffered by staff working in the UK air transport industry. These can be summarised as such:
Lifting and handling injuries at 39%
slip and trip injuries at 24%
Being hit by an object at 13%
Unspecified causes causing injuries at 8%
Being struck against at 6%
A fall from a height at 5%
Injured by a moving vehicle at 5%
You can see 2019/20 injury at work causes across all industries below. These figures are from the HSE's report.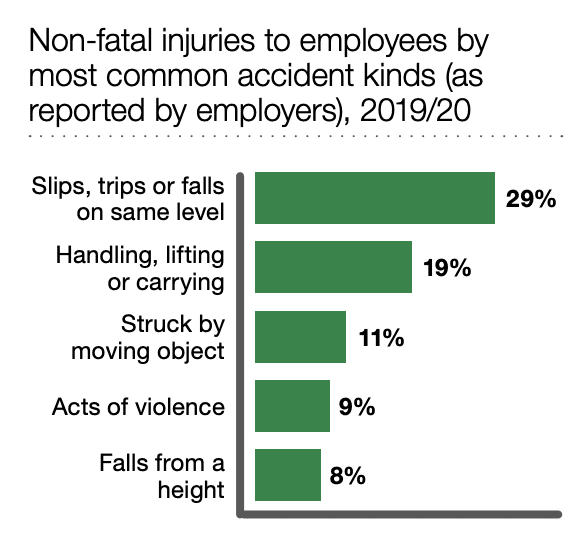 Common Types Of Airport Accidents
Accidents at airports could potentially happen for a wide range of different reasons, and as we have mentioned above, we intend to explore the different kinds that could occur throughout this article. It is important to note that every person's experience is different, and even if you do not see an example of your accident here, we advise that you contact us anyway, as we may still be able to help.
In the coming sections, we will explore the different ways you as a passenger or employee could potentially become ill or injured at Cardiff airport by accidents and incidents that may occur there through which are no fault of your own. They could potentially include slip and trip accidents, food poisoning at restaurants if strict hygiene rules are not adhered to, as well as accidents that could occur while passengers and staff are airside. It is vital with any business or organisation that offer a service to the public that they provide a safe and healthy environment this can be done by implementing health and safety legislation throughout the business.
Slips, Falls, Trips At Cardiff Airport
An example of an airport accident could include a slip, trip or fall that happens somewhere around the airport, or while boarding or disembarking a flight. With an airport being such a busy place, and with so many people making use of many different facilities, these types of accidents could potentially happen almost anywhere. Not all slip and fall accidents that occur will allow the victim to make a compensation claim only the ones that happen due to foreseeable hazards that would not have happened if safety policies had been adhered to. There are many possible causes for these types of accidents and although they may seem minor, even a fall from standing height could cause serious injury to those of a certain age or with ill health.
Baggage Cart, Suitcase And Carousel Accidents
Baggage accidents could happen when passengers or staff try to use trolleys or carousels that have issues or that are in disrepair due to a failure to carry out maintenance. Both of these accidents have the potential to injure users or those nearby if they are not functioning correctly or are damaged. For example, a loaded trolley with faulty wheels or braking mechanism could cause baggage to fall on someone who tries to use it. Similarly, a damaged carousel may damage those trying to retrieve their luggage if broken parts are protruding.
Another example could be an airport cart accident involving baggage handlers that are working airside. These types of accidents could happen while baggage handler staff are working to load or unload baggage from a flight. They could involve staff members being hit with a cart, or being injured while using a cart that is in disrepair. It is vital that all staff are trained to be able to carry out their work effectively with as little risk as possible.
Airport Passenger Lift And Escalator Accidents
There are many mechanical services and stairwells that allow passengers and staff to move around the airport. These can include travellators, escalators and elevators and if there is an issue with any of them, accidents could potentially happen. For example, a person might be injured by elevator doors that close on them as they pass through due to a faulty sensor that fails to keep the doors open. It may also be possible for a person to become injured because an emergency stop button failed to work on an escalator. It may even be possible to fall down a set of stairs because a railing was not present or came loose.
Airport Shuttle Bus And Transport Vehicle Accidents
It is common for airports to use ground transportation in moving people between the terminal and their flight, but also to move people from the airport out to hotels and other places. If you are involved in an accident on the road while using an airport shuttle bus you may be able to make Cardiff airport accident claims if you suffer an injury as a consequence, who the liable party would be will all depend on why the accident occurred and if it was due to negligence.
Accidents In Cardiff Airport Shops And Restaurants
It is vital that shops and restaurants regardless of where they are keep in accordance with what the Food Standard Agency advise when it comes to supplying the public with food. It is important that Cardiff Airport's shops and restaurants always follow obligated legislation when it comes to the supplying of food to ensure that customers are not made ill. It could be possible to develop food poisoning or an allergic reaction if there is a failure to adhere to health and safety measures in handling and preparing food, resulting in contamination. It may also be possible to have a slip or trip accident in a restaurant or shop, if hazards on the floor are not corrected as soon as possible or signage is used to highlight the problem.
Airport Employee Accidents At Work
We have mentioned previously that passengers are not the only ones who can be injured in an airport accident. In fact, as seen in the statistics presented above from the HSE, there are different ways in which airport staff could be injured in an accident at work. If you have been injured while at work in Cardiff Airport and it was due to your employer breaching their duty of care to you as an employee, it may be possible for you to make a claim. Your employer is obliged to take measures to prevent injuries while you are working, which can include giving you correct training, ensuring that equipment is regularly checked and is safe to use, as well as ensuring that you are equipped with all necessary safety gear. Contact us today about making a claim for workplace injuries.
Baggage Handler Injuries
In an earlier section, we commented on how lifting and handling is one of the most common causes of injury among those that work in the UK air transport industry. Baggage handler injuries could potentially happen if the person had not been trained in the correct techniques for handling heavy items over long periods. They could also happen in accidents with baggage carts where staff have been hit while they were being used to transport baggage to or from the plane.
Calculating Compensation Claims – Updated September 2021
There is a wide range of possible injuries that could occur as a result of an accident at an airport. Compensation amounts awarded for these types of injuries can vary depending on the severity and the effect they have on your quality of life. To help give you an idea of the types of figures awarded, we have compiled a personal injury claims calculator featuring examples of possible injuries of varying severity.
| Injury | Severity | Amount | Comment on Severity |
| --- | --- | --- | --- |
| Brain Damage | Less Severe | £14,380 to £40,410 | Injuries will have made a good recovery but may still have persisting symptoms such as impaired concentration ability, memory loss, and mood swings which may affect personal life and ability to work in the future. |
| Minor Brain or Head Injury | Minor | £2,070 to £11,980 | There will be little to no brain damage associated with these head injuries, and the bracket may change according to how long symptoms persist for, if there are any headaches present, and on the severity or the original injury. |
| Neck Injury | Severe (i) | In the region of £139,210 | This bracket covers injuries that include incomplete paraplegia, or permanent spastic quadriparesis. Injuries here may also result in a person not seeing any improvement in neck mobility despite wearing a collar for a number of years and who also suffers persistent severe headaches. |
| Neck Injury | Minor (i) | £4,080 to £7,410 | This bracket mainly covers soft tissue injuries, but can vary greatly according to persistence of symptoms, the type of treatment needed, and over all effect on a person's life. In general, injuries in this bracket will be expected to heal in one to two years. |
| Back Injury | Severe (iii) | £36,390 to £65,440 | This bracket covers fracture to vertebrae and discs, as well as other soft tissue injuries that lead to chronic conditions. These injuries will commonly result in persisting symptoms of pain, discomfort depression, loss of sexual function, impairment to mobility as well as posing a risk to future employability. |
| Back Injury | Minor (i) | £7,410 to £11,730 | Again, covering soft tissue injuries, this bracket can also change according to severity, treatment needed, how long symptoms take to pass, as well as affect it has on other parts of the body. Injuries in this bracket are usually expected to recover without surgery in two to five years. |
| Hip and Pelvis Injury | Severe (i) | £73,580 to £122,860 | Injuries in this bracket will include extensive fractures which affect the lower back that may require spinal fusion, as well as damage to organs near the hips and pelvis such as the bladder and bowels. This could lead to impairment of these organs, as well as affect women by presenting issue when they are in labour. |
| Hip and Pelvis Injury | Moderate (ii) | £11,820 to £24,950 | This bracket commonly covers injuries that require a hip replacement and can include cases where a hip replacement may be possible in the future because of the injury, and there will usually be persisting symptoms. |
| Leg Injury | Severe (i) | £90,320 to £127,530 | This includes injuries that are so severe, it leaves a person no better off than if the leg had been amputated entirely. This can include degloving injuries, or fractures that have required extensive bone grafts to treat. |
| Leg Injury | Less Serious (i) | £16,860 to £26,050 | This includes fractures and serious soft tissue injuries that do not perfectly heal. They may result in symptoms that persist such as a permanent limp, trouble walking, as well as cosmetic deformity and nerve damage. |
| Post Traumatic Stress Disorder | Moderately Severe | £21,730 to £56,180 | Recovery with special help. However the effects may go on to have a bearing on all aspects of life and cause significant disability. |
| Food Poisoning | Serious but short-lived food poisoning (ii) | £8,950 to £18,020 | For two to fours weeks or so diarrhoea and vomitting. Remaining discomfort and disturbance of bowel function and impact on sex life and enjoyment of food over a few years. |
The above figures are based on Judicial College Guidelines which can only indicate possible figures awarded under English/Welsh law. Amounts awarded may differ from those listed and could be more or less. For information and to possibly get a more accurate estimate based on your personal situation, contact us today.
Personal Injury Accident Claims – Special Damages
When damages are calculated for a personal injury claim, they are mainly based on the injury itself, how severe it is and the effect it has had on the person's quality of life. This is known as general damages and commonly covers non-financial hardship, like pain and suffering which you have endured as a result of your injury.
Special damages covers mainly financial hardships that you may encounter from your injury, and they can be included as part of your claim for compensation. It is worth noting here, however, that the circumstances of your case will determine which ones are relevant, and not all of those listed below might be included in your claim. They can consist of:
Transport costs for needing to travel between medical appointments as you seek treatment of your injury. It may also be possible to include costs for travelling to legal appointments related to your claim.
Loss of earnings could be claimed for if you have had to take time off work while recovering. In more serious cases it may also be possible to claim for loss of future earnings if your injury prevents you from returning to work.
Medical costs could be included in your claim where relevant. They could possibly include counselling session for mental health issue relating to your injury, as well as prescription and treatment costs needed in your recovery.
No Win No Fee Claims For Accidents At Cardiff Airport
No win no fee claims are different from other types because there are no upfront costs required, and if the solicitor does not win your case, then you will not be expected to cover their costs. If your case is successful, then the fees for the solicitor will be deducted from the overall amount awarded. The cost for a solicitor's fee is capped at a maximum of 25% of the entire settlement, and all costs or fees should be discussed and agreed upon between you and your solicitor before you proceed with a claim. Contact us today for more information on making a no win no fee claim.
Why Choose To Make Your Claim With Accident Claims UK?
Our advisors are ready and waiting to take your call and will use the time of your first consultation wisely, by collecting all the vital information needed to move forward with a claim. They know exactly what facts are needed and will ask questions pertinent to your potential claim. If it is deemed that you have a valid claim, they could then connect you with a personal injury lawyer with the relevant experience in handling claims like yours, as this is one of the best ways to try and secure the maximum compensation award for your injuries.
Start Your Cardiff Airport Accident Claim
For more information on making a claim, you can reach our friendly, compassionate advisors on 0800 073 8801, or you can use our online contact form to select a time for us to call you back.
Would I be able make Cardiff airport accident claims for a car park accident?
Depending on how you were injured, and who was to blame, Cardiff Airport accident claims for car park incidents could be made against different parties. For example, if another motorist was at fault for your car park accident you could make a claim against their insurance. If, for example, the barrier was faulty and injured you, you could make a claim against the owner or operator of the barrier. If you are assaulted at work in the car park, because your employer failed to protect you, you could make a claim against your employer. As you can see, there are many options, and this is not an exhaustive list. To find out who could be held liable for your injuries, please do not hesitate to contact our team. We would be happy to assess your case, and if we believe you have a strong case for compensation, we could provide you with specialist solicitors who are authorised and regulated by the Solicitors Regulation Authority. They could fight for compensation on your behalf on a no win no fee basis.
Would I be able to make Cardiff Airport accident claims on behalf of one of my children?
If your child was injured or fell ill because of negligence by the airport, or a private business within it, you could help them and claim compensation on behalf of your child as their litigation friend. This would mean that you would make the important decisions about your child's case on their behalf. Making a claim on behalf of a child is something you may not be comfortable with. You could always let your child claim for themselves once they turn 18 if you don't want to claim for them. However, this could make the evidence gathering a little more complicated in some cases.
Essential References
Airport Accident Claims – See our online guide to claiming for injuries sustained at airports.
Different Types Of Accident Claims – See this link for resources on different types of accident at work claims.
Airport Safety Resources
Am I Entitled To Compensation? – See this Civil Aviation Authority (CAA) page for what you may be able to claim for after a cancelled or delayed flight.
Airport Safety – See this CAA page for more information on airport safety requirements for airport staff.
Health And Safety – See this Health and Safety Executive (HSE) page for guidance on health and safety in the air transport industry.
Thank you for reading this Cardiff airport accident claims guide.