By Joanne Jeffries. Last Updated 30th November 2021. Welcome to our guide on claiming for an accident on holiday in Slovakia.
Upon this webpage, you are going to read a guide to making a compensation claim following an accident on holiday in Slovakia. In the sections below, you are going to learn firstly, why you may be able to make a claim, and secondly, how to go about starting your claim.
You are bound to have questions once you have finished reading this guide, and we understand you will probably need some additional information. In this case, please give Accident Claims UK a call on 0800 073 8801 today. One of our experts will help you in any way you need.
Select A Section:
Our Guide To Claims For An Accident On Holiday In Slovakia
Although you will find plenty of useful information in this guide, one thing that you won't find is an online personal injury claims calculator. We believe that these inaccurate sales gimmicks give claimants the wrong idea about the amount of compensation they could potentially claim. We prefer to deal in real facts, and are happy to give you a personalised estimate of how much you might claim, based on your own particular circumstances.
The first part of this guides consists of a number of sections that are aimed at assisting you while you are still overseas on holiday. You will find details of how to get in touch with the emergency services, and how to get the medical treatment you may need. We also go over a number of steps that will help you to prepare for making a claim once you return to the UK, and also details of the time limits you may need to make your claim within.
The middle part of this guide is related to the kinds of claims we most often see holidaymakers make, and this includes:
Accidents that happen to holidaymakers on a city break or package holiday.
Injuries and illnesses that are caused by an overseas hotel operator.
Foodborne and water-borne illnesses such as food poisoning that are contracted on holiday.
Slips, trips and falls that happen while on holiday.
Accidents that take place on excursions and during organised activities.
Overseas road traffic accidents such as car and bus crashes.
Finally, this guide covers some of the details you will need about the claim itself. We start by explaining why the best idea, is to use a UK based legal firm to process your holiday accident claim for you. We will also give you some details about the claims service that we operate here at Accident Claims UK. This is a simple and effective way to get the compensation that you are entitled to. If you have any questions about this guide, or making a claim in general, then use the number at the end of this page to speak to one of our expert team.

Popular City Break And Other Destinations In Slovakia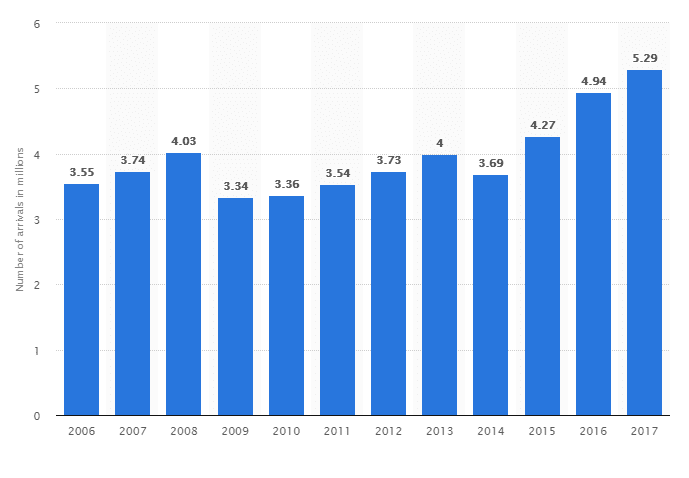 Take a look at the graph above; you can see that Slovakia is an emerging holiday destination for UK holidaymakers. It is popular for attractions such as:
Bratislava
Košice
High Tatras
Bojnice
Levoča
Spiš Castle
Bardejov
Trenčín
Low Tatras National Park
I Was Injured On Holiday To Slovakia, What Should I Do?
If you have been injured, or become ill while you are on holiday overseas, if it can be proven that a third party was at least partially responsible for the harm you suffered, then you should be able to make a claim. With this in mind, taking steps such as these below while you are still on holiday, would be good preparation for making a claim when you have returned to the UK.
Always make sure to visit a hospital or clinic to have your injuries treated. Do this even if you don't think that you need treatment. This is so that the injuries are recorded officially.
In the case of serious accidents such as a car crash, or violent crimes such as a mugging, make sure that you get the police involved.
If anyone saw what happened to you, then ask them for their contact details. This is so that they can be used as witnesses if required.
If you can do so without putting yourself in harm's way, get photographs of the scene of the accident, and anything else you think might be useful.
If you were on a package holiday at the time of the incident, then make sure you have informed your travel company of what took place.
Taking steps like these above will simplify the claims process. Accident Claims UK can help get your claim started when you get home from holiday. Call us on the number down near the end of this guide to get started today.

How To Call The Emergency Services In Slovakia
If you need to contact the emergency services in Slovakia, then you can use the European standard of calling 112, even if your phone has a UK SIM. When you call 112, a multilingual operator will go over your emergency with you, and then dispatch any emergency services that are needed. There are a couple of additional numbers that you might find useful, and these are:
113 – for the police.
080 1900 – for the 24-hour tourist police helpline.
For some kinds of assistance, such as emergency repatriation, you will need the help of the UK Government. We have given the contact details for this at the end of this guide. You may also like to check out this link for more information:
Information and useful numbers for Slovakia

Slovakia Medical Treatment And Healthcare Services
If you are injured or become ill while you are in Slovakia, then the good news is that you can get free emergency medical care, with a couple of caveats. The first of these is that you will need to have a valid Global Health Insurance Card (GHIC) on you when you attend the hospital or clinic. The second, is that you will only be eligible for emergency treatment and standard medical procedures. You can't be treated for an existing condition, and you won't receive free outpatient treatment. If you don't have an GHIC or you need treatment not covered by your GHIC, then you will need to either pay the medical fees yourself, or have an active travel or health insurance policy to cover the cost. In the former event, then you could potentially claim these costs back at some later stage. Accident Claims UK could help you with this. Call us on the number at the bottom of the guide to learn how. You can also check this link, for more information:
NHS information on Slovakian healthcare

How Much Time Do I Have To Claim Compensation For My Accident In Slovakia?
It is important that you understand that there will likely be a personal injury claims time limit that you must start your claim within. This time limit will differ, depending on the specific circumstances of your claim. For example:
| Circumstances | Time Limit |
| --- | --- |
| | |
| On a package holiday that you purchased from a UK travel company. | 3 years may very |
| On a holiday that you arranged for yourself. | Contact us for advice |
If you are unsure which time limit applies in your own case; please speak to one of the expert Accident Claims UK team on the number at the end of the page. They will be able to tell you which applies.

City Break Or Package Holiday Accident Claims
One very important piece of information that you need to be aware of, is that your personal injury solicitor will pursue your UK travel vendor for compensation, if you come to harm on a package holiday. Due to the appalling standard of package holidays sold in the 80s, UK legislation was put in place to protect consumers from the actions of travel companies. Now, your package holiday must be of a very specific minimum standard. This covers both safety and also the quality of the transport and accommodation provided.
If you are injured while travelling on transport, staying at accommodation or while involved in some form of activity that was part of the single price package sold to you by a UK travel firm, Accident Claims UK can help you to claim. Use the number at the end of the guide to get in touch, and we can have your claim started right away for you.

Hotel Accident Or Illness Claims
A hotel can be a dangerous place for holidaymakers. Especially if it is badly run, with overworked and undertrained staff. Typical hazards you might encounter in a hotel while you are on holiday could include:
Swimming pool accidents, these are a very common reason for people to claim.
Damaged room fittings causing injuries. Light switches or plug sockets for example.
Trips caused by damaged floor coverings, such as torn carpets or cracked floor tiles.
Food poisoning caused by breakfast food being left out on the buffet table for too long.
Badly maintained or broken gym equipment causing an accident.
There really are many hazards that can be encountered while you are staying in a hotel on holiday. If you are injured by one of them, then if the hotel operator is liable for the accident, Accident Claims UK can help. Use the number down at the bottom of this page to contact us today, so that we can move your claim forward.

Food Poisoning, Travel Bugs, And Other Illness Claims
Food poisoning is an ever-present risk while we on holiday overseas. People on holiday often contract health issues such as infections and food poisoning, simply because they don't have any natural immunity to the foreign strains of very common bacteria that we encounter in the UK every day. Some of the ways that food can go bad, causing food poisoning and other food-related illnesses includes:
Not cooking food all the way through, or not cooking it hot enough.
Allowing food to sit out for too long on a serving dish.
Failing to store food at a cold enough temperature.
Preparing food in an unhygienic kitchen.
Serving food on dirty plates, or providing dirty cutlery.
There are so many ways that food can go bad, and it only takes one tiny microscopic bacterium to trigger a full-blown case of food poisoning. If the eating establishment can be proven to be at fault, then Accident Claims UK can help you to claim for your holiday illness. Use the number below to contact us today, so that we can get your claim started as soon as possible.

Slips & Trips
Slips and trips are very common accidents; these are the most frequently claimed for personal accidents in the UK each year. They can occur at any time, and can easily ruin or even end a holiday if the injuries caused are severe enough. These accidents can be caused by simple hazards such as:
Spilt drinks on the floor of a nightclub or bar.
Dropped food on the floor of a restaurant, café, or fast food outlet.
Broken paving slabs or curbstones in the street.
Obstructions left by hotel cleaning staff.
There really are many ways that these accidents can be caused. No matter how you have come to harm, if the accident was the responsibility of a third party, then we should be able to help you to make a claim. Call Accident Claims UK on the number down at the end of the guide, and we can explain how we can be of help.

Accidents On Organised Excursions And Activities
If you fall victim of accidents on excursions, such as skiing accidents or sports injuries, then if it can be proven the organiser of the activity was lax in their safety protocols, a reason to make a claim would exist.
Here at Accident Claims UK we can help you with this kind of claim. All you need to do is contact us on the number down at the bottom of this guide, and we can tell you how.

Slovakia Bus Crash And Car Crash Accident Claims
Road accidents are a very common cause of holiday claims. This relates to any kind of road accident such as car accidents, coach accidents, a cycling accident, or a Slovakia bus crash for example.
If you have been injured in a road traffic accident while overseas, either while driving yourself, or whilst another person is driving, such as in an airport transfer accident, we can help. The number down in the last part of this guide will put you in touch with one of our expert team; they will be able to assist you with this.

Finding A Holiday Accident Solicitor – Make Your Claim With A Solicitor In The UK
It may at first, seem like the logical choice would be to use a local legal team to process your holiday accident claim. However, this would be a misnomer. It would be difficult to keep in touch with an overseas solicitor, and a UK legal firm would have exactly the same chance of being successful and winning you the compensation that you are entitled to.
For example, here at Accident Claims UK, we help many holidaymakers to successfully procure a compensation settlement for injuries and illnesses sustained while abroad. Use the number below, and speak to one of our expert team today. They will explain to you exactly how we can be of help in your own case.

No Win No Fee Holiday Accident Claims In Slovakia
Accident Claims UK can offer you a financially risk-free way for you to have your holiday accident claim processed. We can do this by handling your claim under a comprehensive No Win No Fee agreement. What this means is, that you pay nothing at all when we first start working on your claim, and nothing at all as we process your claim, no matter how long this might take. Furthermore, if we are unsuccessful in procuring any compensation for you, you still pay nothing at all. When we do win you a settlement though, we will deduct our fee from the money we have received on your behalf, and then send you the remainder. Use the number below to speak to one of our team today; they can explain this no win no fee service in more detail if needed.

Why You Should Make Your Slovakian Holiday Accident Claim With Us
When you choose Accident Claims UK as your personal injury lawyer, you are gaining access to a legal firm with a wealth of experience in processing a wide range of complex claim types. We will always do everything that we can to ensure that your claim is successful, and that you receive the maximum level of compensation possible. Starting a claim with us is very easy, all that you need to do is:
| | | |
| --- | --- | --- |
| Get in touch via phone, email or even web chat. | One of our claims experts will evaluate your claims case. | If you have a valid claim, we can begin processing it for you. |
Contact Us Today
Have you been injured or developed an illness due to the act of a third party while on holiday? Do you think that you have a valid reason to make a personal injury claim? If so, please call Accident Claims UK today on 0800 073 8801. One of our team will be happy to go over your claim with you, discuss your legal options, and then offer you a simple, yet effective way to have your claim processed in a completely financially risk-free way. You really have nothing to lose by letting us process your holiday claim for you. If we don't win you any compensation, then you don't pay us anything, it really is that simple.

Additional Resources
British Embassy Bratislava
Panská 16
811 01 Bratislava
Slovakia
Telephone: +421 2 5998 20 00
Web: www.gov.uk/world/organisations/british-embassy-bratislava
Opening hours: 9am to 5pm, Monday to Friday.
You may also like to check out these additional guides, that you will find published elsewhere on this site:
How to make a claim for an accident that took place on holiday
A guide to making a claim for a fatal road accident
How to claim for an allergic reaction to food
What evidence would I need to prove a claim for an accident on holiday in Slovakia?
If you have had an accident in Slovakia that was not your fault, you will need evidence if you intend on making a personal injury claim. It is vital that you collect as much evidence as possible to back up your claim for compensation. Some of the evidence that you may need to provide could include:
Evidence that the accident happened-if an accident happens, you could take photographs as the scene of the accident to prove the positioning of vehicles, for example in a road traffic accident. You could also obtain a police report in some cases. Other useful evidence that an accident took place could include witness statements. It is therefore vital to get the names and contact details of any witnesses to your accident. That way, your lawyer could approach them for a statement. It might also be useful for you like down what has happened straight after accidents. This means you could refer to it later on to refresh your memory.
Evidence of your injuries-you may be under the misapprehension that simply visiting a doctor or hospital to get treatment for your injuries would be sufficient. However, you would also need to obtain an independent medical report which verified the nature and severity of your injuries. You would obtain this by attending an appointment with a medical expert that is independent from your case. They would conduct an examination and write the report based on their findings.
Evidence of financial impact-if you are considering claiming compensation for special damages such as loss of income, care, medical or travel expenses, it is vital to have evidence of these. Documents such as receipts, credit card statements and bank statements, on pay slips could all be vital in securing you the maximum compensation possible for your claim.
Could I claim for an accident on holiday in Slovakia if it was my fault?
To make a personal injury claim you would usually have to prove that an accident occurred, and it was due to the breach of duty of care of another party. This means that you would not normally be able to make it claim for accidents that you caused yourself. However, in some cases you may only be partially to blame for the accident that led you to suffer your injuries. Someone else could also have a duty of care but they breached that contributed to the accident and your injuries and. If this is the case, you may still be able to claim compensation. However, it would be likely that your compensation payout will be reduced to reflect your involvement and contribution to your own injuries. If you are wondering whether you could make a claim for an accident for which you are partially at fault, please do not hesitate to contact our team. We could assess your case and let you know whether you could have a strong chance of claiming compensation.
Thank you for reading this guide to claiming for an accident on holiday in Slovakia.