By Joanne Jeffries. Last Updated 18th October 2021. Welcome to our guide on school accident compensation claims and nursery accident claims. Here, we will explore the subject of nursery accident compensation claims and school accident claims. When you send your children to school or nursery, you are essentially trusting that they will be looked after and kept from harm not just educated. Leaving your children in the care of teachers, nursery workers and staff is a big step for parents, and the last thing you expect to happen is your child becomes a victim of an accident or injury.
Your child suffering an injury at nursery or school is obviously heartbreaking. Once you know your child's injury has been attended to, you may want to consider a school or nursery accident compensation claim. Compensation for a child's accident at school or nursery can help to fund future treatment, special equipment your child may require and also reimburse you as a parent for any work you may have had to miss in order to care for your child. You may also spark a policy change that will ensure no other child is hurt in the same manner.
This guide will look at the circumstances in which you can claim compensation for an accident or injury at a nursery or school and the process of making school accident compensation claims and child accident claims.
Select a section
A guide to nursery or school compensation claims
You may not know for sure whether or not you can seek compensation for an accident which your child has suffered at school or nursery. However, as the school or nursery staff have a duty of care to your child, they can usually be held responsible for any accident and subsequent nursery accident claims and school accident compensation claims – whichever is relevant. While some
nursery accident claims are a clear case of negligence on behalf of the teachers or staff; some cases are not so clear cut.
As a parent, it is important to know that there is help available to you at this time. There is professional advice available that will help you make an informed decision about whether or not you are able to make nursery accident claims and if so, how much nursery accident compensation you can expect to receive.
Claiming compensation for an accident causing injury to your child at nursery or school  could help to fund your child's recovery from injury. Nursery accident claims could cover associated costs, and could compensate them for the pain and suffering of their injury too.
Any accident compensation claim can be long and complicated, but this is especially so regarding school and nursery accident claims. This guide has been written to prepare parents who are considering starting nursery or school accident claims after their child has had an accident whilst in nursery or school or on a school trip.
What can I claim for after my child's accident at nursery or school?
After nursery accidents or school accidents, there are several types of nursery and school accident compensation claims which can be made. You can claim damages for both your child who was involved in the accident and for yourself as their parent. Listed below are some of the types of claims you may be entitled to make:
General damages- this refers to the injury sustained by the child. Compensation is claimed for the severity of the injury and the pain and suffering endured. For example, if your child is injured at school and breaks their arm, you may claim broken arm at school compensation if the school were seen to be liable. Also, if a severe injury has been sustained and the child is suffering from psychological injuries, such as anxiety, this is covered in general damages.
Special damages- less common in school or nursery accident claims, this compensation category covers any lost earnings on behalf of the child. While not usual with school and nursery aged children, it does cover any financial loss for child actors or child models who miss jobs after accidents in a nursery setting or school.
Special damages for parents/guardians/carers- quite common in a nursery and school accident claims, this category covers loss of earnings for parents/guardians/carers who have to miss work in order to look after the injured child. If there is likely to be ongoing care required and the parent/guardian/carer needs to give up work to care for the child/infant; future loss of earnings will be taken into consideration in any nursery or school accident claims.
Travel expenses- after your child has an accident at nursery or school you can include travel expenses as part of your claim for compensation. This includes any cost of travel to the hospital after the accident, costs of transport and parking for visits to the hospital as well as transportation costs to follow-up hospital appointments.
Medical expenses- this category includes any cost of treatment for the initial injury after a child had an accident at nursery or school as well as the costs involved in long term treatment of the injury and any other issues which arise from the initial injury. This category also includes the costs of any specialised equipment or modifications needed to the home or vehicles following a severe accident at school or nursery. You can also include the cost of any counselling or psychiatric help if you have had to seek private treatment.
Psychiatric care- while you can include the cost of the psychiatric care following an accident at school or nursery in general damages or medical expenses if your child is expected to face long term psychological trauma following an accident; the law has made special provision in compensation claims to take this often-unseen impact into consideration.
These categories are the most commonly claimed for in accident compensation claims; however, there are more specific categories. You should seek the advice of a qualified professional to see if any other categories related to your specific personal injury compensation claim.
No win, no fee school and nursery compensation claims
If your child has suffered as a result of an accident at school or nursery which you believe could have been prevented, then you don't want to have the added worry of a financial burden in your quest for justice and compensation. Many parents are put off claiming the compensation they deserve because of the potential of large legal fees.
This is why we operate on a no win no fee basis for school and nursery accident claims. When we take on your claim for compensation, there is no upfront fee, and if the claim is unsuccessful, you won't be asked to pay a penny.
If we are successful in obtaining a compensation payout for your child's nursery or school accident, whether you are claiming against a school or claiming against a nursery, then we will deduct our fee from your final compensation amount. You can be assured that even though this amount will vary from case to case, it will never exceed 25% of your compensation amount.
Accidents at school or nursery- who is responsible?
When your child is at nursery or school, the establishment is responsible for their health and safety. Your child's school or nursery has a duty of care toward your child, and so any accident or injury sustained whilst under their care can be seen as a breach of that duty and responsibility. Accident at school procedures and accident at nursery policy should be clear as to what needs to be done in these cases.
Every school and nursery should have its own health and safety policy which is designed to keep your child safe whilst in their care. Even if an accident could be perceived as being the fault of a child, there should have been staff and measures in place to ensure that an accident didn't occur.
Most accidents at school or nursery are down to negligence; either on behalf of the staff for not performing their role correctly or on behalf of the establishment for failing to provide a safe environment for your child.
If your child was injured at school by another child or your child was injured at nursery by another child, then compensation claims can be more complex. The law in the UK protects any child from prosecution; however, in most cases, the blame still lies with the establishment for not protecting your child from harm. Read on to find out more about what kind of incidents can lead to school accident compensation claims.
Reasons for school and nursery compensation claims
While there are many reasons why a parent/guardian/carer may claim compensation following a child's accident at school or nursery, here is a list of incidents in a nursery or school that could lead to a claim:
Unsafe environment- if your child's school or nursery exposed your child to an unsafe environment that leads to their slip,trip or fall accident or another type of accident then this is certainly one of the incidents that may occur in a nursery or school that could lead to nursery or school accident claims. Examples of unsafe environments include exposed sharp edges and corners on surfaces in a nursery, old, rusty, damages and unsafe play equipment in gyms or playgrounds and unrestricted access to deep water, roads or pubic pathways.
Inadequate staff training or inadequate staffing levels- all nurseries should outline their child to staff ratio in their policies as they are regulated by law as to how many children of a certain age one staff member can look after as too few staff can cause children to be unsupervised which is when many accidents occur. Examples of accidents in a nursery have led to deaths, as per the case of the Millie's Trust founders' daughter. There should also be adequately trained senior staff on premises at all times as well as at least one first aid trained member of staff. If any of these issues were present at the time of your child's accident, then you have grounds for a compensation claim.
Staff negligence- if your child's accident or injury was caused by the staff at their school or nursery neglecting their duties or their incompetence in regard to their role, then you have good grounds for a compensation claim if your child is injured at school in the UK.
Almost every accident in a school or nursery will have one of these causes at its root. If you are unsure whether any of these causes relate to you, then why not call us for some free legal advice. We can answer any query you may have about nursery accident claims and can help you kickstart your case today.
Can I claim for a school or nursery accident that is not recent?
The general rule for personal injury claims is usually three years. However, when it comes to children, the rules are a little different. The three year time period begins once the child turns 18 so, if your child has had an accident or injury at school or nursery, they have until their 21st birthday to make a claim for compensation.
While it is always a good idea to make a compensation claim as early as possible to increase the chances of success, the effect of seemingly minor accidents or injuries may not be felt for years in the future. Long term pain, related health problems or psychological problems may only surface years after the accident, and as long as your child has not reached their 21st birthday, you can still make nursery accident claims for monetary compensation.
To learn more about the time limits involved in nursery accident claims, get in touch with our personal injury advisers today.
How do I make a claim against a school or nursery?
The distress of seeing your child hurt or injured is trauma enough without having to deal with the stress and anguish a lawsuit can bring. This is why it is so important to seek out the advice, guidance and help of a nursery accident compensation claims expert as soon as you can.
There are few things in life that are as painful as seeing your child hurt and upset. As a parent, once you have tended to the needs of your injured child, you will want to seek justice for them, and while a monetary payout will not ease their pain, it will help to ensure that you can take all the time you need to be there with them during their recovery.
Most firms will make the process of making school accident compensation claims after an accident at school or nursery as easy as possible as they will understand the stress you will already be under. Seeking the help of a reputable expert should be high on your list of priorities.
Before your start nursery accident claims
At the start of any school accident claims, it is important to know the facts. With claims for accidents at school or nursery, parental concern and anxiety combined with the pain the child is in can mean that the details of the accident can get confusing. Asking children, especially young children, to recall an upsetting event correctly or in detail is always going to be a challenge.
When trying to ascertain what happened to cause your child's injury at school or nursery, it is important to remain calm and ask easy questions which do not require overly detailed answers – especially if your child is injured at school by another child – UK children are often reluctant to get others in trouble, so it's essential to tread carefully. In order to get a full picture of the accident and how the injury occurred, here are some good prompting questions you should ask your child before you claim school or nursery accident compensation:
Where did the accident happen?
Were you alone?
Where was the teacher/staff member?
What were you doing at the time?
Were there any other children there?
Did anyone tell you to stop doing what you were doing?
Once you have the basics of what happened, you can ask more detailed questions but remember to keep it simple, especially with young children. You may want to ask these questions over a period of time to avoid stressing or worrying your child into giving incorrect answers.
Once you know what happened, it is essential that any accident is reported to the school or nursery as they have a legal responsibility to report any serious accident to the Health and Safety Executive (HSE). You cannot make a claim for nursery accident compensation after an accident if you have not reported it to your child's school or nursery. Once you have, you can now begin your claim for school or nursery accident compensation.
If you're unsure or would like free legal advice on what to do when it comes to investigating nursery accident claims, get in touch with our team on the number at the top of this page.
Making your nursery or school accident compensation claim
Without the right help and guidance, it is near impossible to press a claim for damages and monetary compensation effectively. If you want to make sure that you see the compensation your child deserves after an accident at school or nursery, then it is vital that you seek help from a qualified expert as soon as possible.
Every claim for compensation should start with a detailed consultancy session. If you choose to let us help you with your school or nursery accident claims, then we will use this free session to get to the facts so that we are fully equipped to act on your and your child's behalf. We will offer our expert advice on whether or not you have a valid claim for compensation and offer guidance on the best moves to make next.
It is a good idea to find out whether or not your school or nursery has reported your child's accident to the HSE or not. You can contact the HSE directly to find out whether or not this has been done. You use this information about what types of accidents need to be reported to the HSE to help understand how serious the school or nursery are considering your child's accident to be.
In almost all cases, we will take on your nursery or school accident claims for compensation for you under a no win, no fee guarantee. If for whatever reason, we are unsuccessful in your claim for compensation, then you won't be charged a penny. If we do manage to achieve a successful outcome, then our fees will be taken from your monetary damages awarded by the courts. The amount our fees equate to does vary with each individual case, but we will never take more than 25% of your overall compensation amount. We will never ask you to pay anything upfront so no matter what your current financial standings, you can rest assured that you can start your compensation claim without the burden of additional drains on your finances.
The compensation amounts you might expect from a school or nursery accident – Updated October 2021
When you are considering making a claim for compensation after your child has experienced an injury or accident at nursery or school, you may wonder how much compensation you can expect. While there are no guarantees, as every case is different and amounts are awarded on an individual basis, there are some average amounts that can be used as a guide, so you can roughly estimate how much your school accident compensation claims could achieve.
The table below shows the rough top and bottom end of amounts you may receive as part of a nursery of school compensation claim:

| Injury | Estimated compensation amount |
| --- | --- |
| Head injury | £2,070 - £379,100 |
| Face injury resulting in scarring | £1,600 - £91,350 |
| Broken facial bones | £1,600 - £34,480 |
| Eye injury | £2,070 - £252,180 |
| Back injury | £2,300 - £151,070 |
| Neck injury | £2,300 - £139,210 |
| Shoulder injury | £2,300 - £45,070 |
| Arm injury | £18,020 - £122,860 |
| Elbow injury | £3,310 - £51,460 |
| Hand injury | £4,461 - £189,110 |
| Wrist injury | £3,310 - £56,180 |
| Leg injury | £11,110 - £264,650 |
| Knee injury | £12,900 - £90,290 |
| Ankle injury | £7,220 - £65,420 |
| Achilles tendon injury | £6,820 - £36,060 |
| Foot injury | £2,300 - £189,110 |
| Toe injury | £5,250 - £52,620 |
It is important to note that the figures in the table above are estimates gathered using previous case examples and that these figures do not include any special damages for children or adults. They also do not include any compensation for
psychological injuries
. As both these variables differ so much from case to case, it is impossible to guess how much compensation may be awarded.
If you are looking to claim for any long-term or ongoing medical or psychological issues, then you will need an expert medical opinion to produce to the courts to prove this. We can help to put you in touch with a professional who can arrange for someone to perform a thorough evaluation of your child and their case.
To learn more about compensation in nursery accident claims, get in touch today.
What might lead to school accident claims?
Every parent would like to think that school or nursery is a safe place for their child. But accidents in an education setting can happen, and the injuries that result can be serious.
When we think of fall accidents, our minds might jump to someone being injured after a fall from a ladder, or when working at a height. But each day, 45 children under the age of 5 are admitted to the hospital following a serious fall. And it's not just a risk posed to younger children. An average of 27,000 children between 5-14 attends the hospital after a serious fall each year.
Trips and stumbles are an ordinary part of growing up, and something that can't always be avoided where young children are concerned. But a serious fall out of a window or from a piece of playground equipment could result in a broken bone or head injury.
Choking is another hazard faced by children. Younger children are more likely to choke or suffocate. When eating, they've not yet learned how to chew, breathe and swallow in the correct order. This can lead to them inhaling pieces of food that get stuck in the windpipe. Around 40 children under 5 are taken to hospital every day because of choking. 
Staff at a nursery or school should be aware that some foods pose a choking hazard, especially to young children. But small toys, parts of toys or stationary also can cause a child to choke. Not all choking is immediately obvious, and some choking children don't make any noise, so children must be supervised closely. Should choking happen due to negligence resulting in serious injury, nursery accident compensation claims become a real possibility.
Why choose us to help you with your nursery or school accident compensation claim?
When you are looking for a monetary compensation claim to help you care for your child in their recovery from an accident at nursery or school, you want to know you are getting the best help and advice. We have years of experience helping parents, guardians and carers get the best compensation deal we can for them and their children.
We understand that this is a traumatic and stressful time for not just you, but your child too, and so we take a careful and considerate approach when conducting a claim for compensation for a child. This is one of the reasons why we offer most of our clients a no win, no fee agreement; not having to worry about any upfront fees helps to reduce the stress and worry for parents. If your claim is unsuccessful, then you won't be charged any fees at all. If we are successful, as is very often the case, we will only ever take a maximum of 25% of the compensation you are awarded as our fees.
We make claiming compensation for your child after an accident and school or nursery simple and easy. Your case will be in trusted, expert hands as you concentrate on looking after your child after their accident.
To find out more about how we can help with nursery accident claims, please get in touch to be connected to a personal injury solicitor who could strive for the maximum compensation for a slips trips or falls, or other ways in which your child was injured in an accident at nursery or school.
Get in touch for free expert advice and information about starting your nursery accident claims for compensation
Your child suffering an injury in an accident at school or nursery is every parent's worst nightmare. When your child is entrusted with teachers or nursery staff who betray their duty of care to look after them and keep them from harm, the trust you had in them is irrevocably broken. In an accident at school or nursery who pays? The parents with stress and worry, the child with possible injuries? Or perhaps the establishment that has allowed this to happen by their negligent behaviour should pay.
Nurseries and schools are responsible for the health and safety of your children, and so any accident that befalls them while they are in their care is ultimately their fault. Whether or not your child believes they may have caused their accident doesn't matter; they were being looked after by teachers or nursery staff who should have measures in place which ensure accidents don't happen.
If your child has been let down and fallen victim to an accident or injury, then you should contact us as soon as possible so that we can arrange to meet with you to get your full account of how the accident or injury occurred. Then we can advise you on the best steps to take next, and if you agree, we can help you with your claim for compensation. Working on a no win no fee basis we won't ask for any upfront fees, but we will give you our expert service for school and nursery accident claims as we aim to get you as much compensation as we can. Our fees will only be deducted from any final monetary amount we secure for you and your child.
You have nothing to lose by coming to us to handle your claim for compensation. Contact us on 0800 073 8801 today to find out whether or not you can claim compensation if your child has had an accident at school or nursery.
Helpful Links Relating To Nursery Accident claims
In this final section of our guide to nursery accident claims for nursery accident compensation we've included some links to more resources you may find useful.
Health and safety guidance for education providers
Government Health and safety for school children
Tell Ofsted about a serious childcare incident
A guide to car accident claims 
School Accident Claims and Nursery Accident Claims FAQs
Can I sue the school for an injury?
You can indeed sue the school if it is a private institution. You can also make nursery accident compensation claims against a private nursery.
Is the school liable for injuries?
More often than not, the school in question does hold liability for the victim's injuries.
What are the most common accidents at school?
These are slips, falls and trips, along with playground falls, sports injuries and also school bus accidents.
What are the elements of negligence?
These include the owing of a duty of care which suffers a breach, with the breach specifically causing the injury, as well as the actual cause and the severity of damage.
What reasons can you sue a school?
Nursery accident compensation claims could include bullying, discrimination and unnecessarily harsh punishments.
Which element of negligence is most difficult?
Causation is considered the hardest aspect of negligence to conclusively prove.
What is the test of negligence?
This is where someone in the defendant's position could foresee the danger that the victim finds themselves in.
Is negligence civil or criminal?
The victim makes a civil negligence claim, with criminal negligence claims only coming from the government.
Could I sue the school for child sexual abuse by a teacher?
Sadly, there have been incidents in the past where staff at a school or nursery have abused children in their care. These are serious cases, and should be dealt with by the appropriate authorities. It is vital that such incidents are reported to the police. When it comes to claiming compensation for abuse at a school or nursery, some claims could be made against the nursery services provider or local authority. However, in some cases, it could be appropriate for you to make such claims through the CICA.
What is the CICA?
The Criminal Injuries Compensation Authority, or CICA compensated victims of violent crime for physical or psychological injuries they suffer due to criminal acts. If all other routes to compensation are blocked, such as claiming against the local authority, school, or nursery, a claim for compensation could be made to the CICA. The CICA has a tariff for such injuries, which could mean compensation is worked out differently than in cases against a school or local authority.
Who would I claim against?
If you're not sure who could be held liable for such a case, please contact us. We understand that going over the details of abuse could be traumatic. We have sensitive staff who will deal with your query with the sensitivity it deserves. We will be able to answer your questions and get you the help you're looking for. We could give you advice on who your claim would be against and how our solicitors could help you.
Could I make fatal nursery accident claims on behalf of a member of staff?
Unfortunately, some people die because of their injuries incurred in a workplace accident. In 2020/2021 alone, 142 people were killed in work related accidents. You can see the industries that were affected in the graphic below.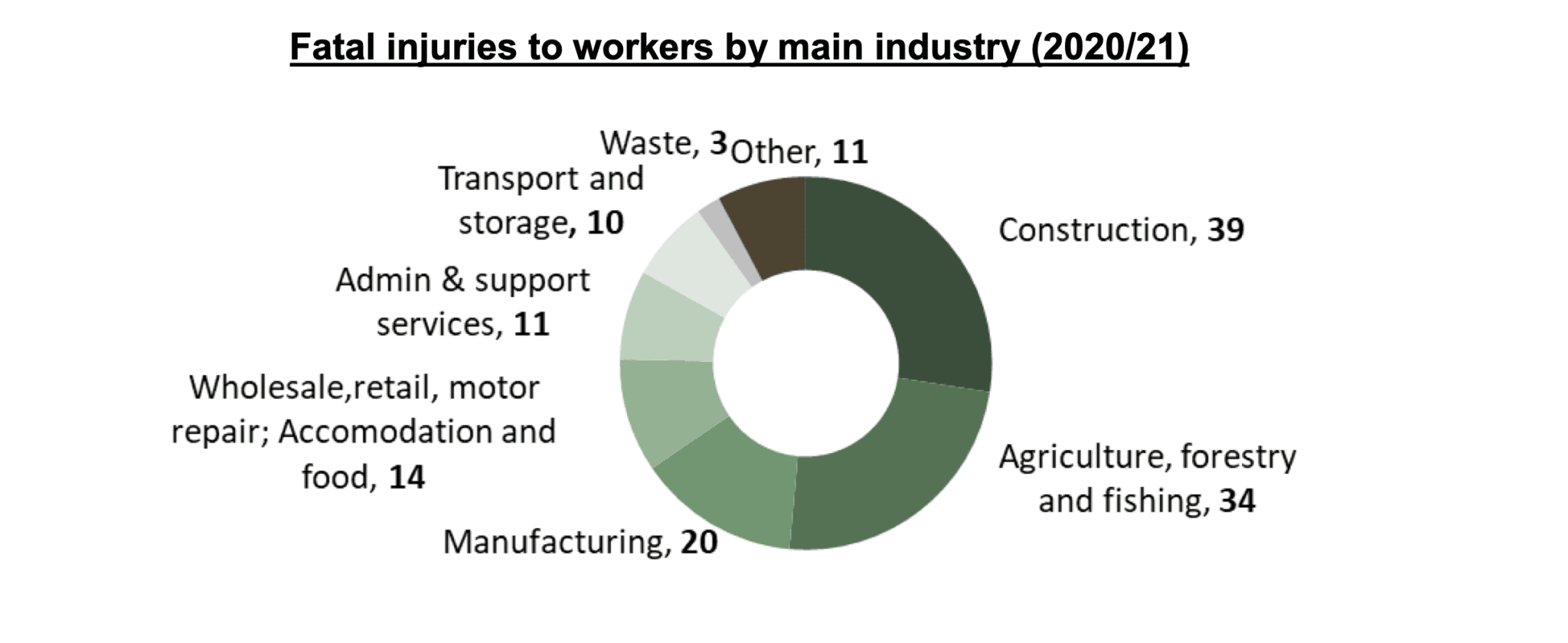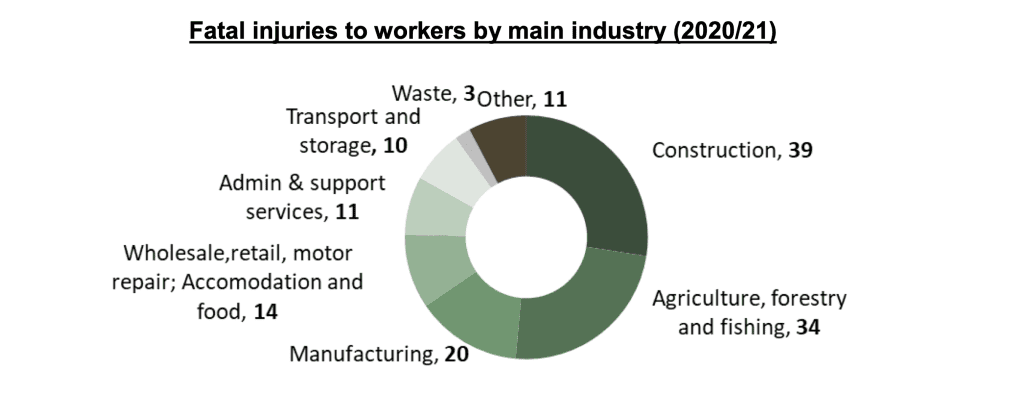 If you have sadly lost someone you loved in a fatal work accident that was not their fault, you may be feeling rather angry. After all, had there not been negligence, your loved one could still be alive. While making a claim for compensation would not ever be able to compensate enough for the loss of someone you loved, it could help to pay for some of the costs associated with their passing. You could also receive a bereavement award, and could get help with funeral expenses, and in some cases, loss of financial support. We understand how traumatic it may be to relive your loved one's final moments. Our solicitors, authorised and regulated by the Solicitors Regulation Authority would handle your claim as sensitively as possible. We could help take some of the stress of claiming off your shoulders, allowing you to deal with the trauma of what has happened to your loved one.
Do I definitely need a solicitor to make nursery accident claims?
Now, you do not legally need a solicitor. However, solicitors with experience in helping claimants get the compensation they deserve could fight for the maximum amount of compensation possible for your case and take the stress of legal legwork from your shoulders.
Thank you for reading our guide on school accident compensation claims and nursery accident compensation claims. We hope you have learned a lot about nursery accident claims and school accident claims.