By Joanne Jeffries. Last Updated 13th April 2022.Welcome to our guide to the services offered by our team of whiplash injury solicitors. Below, we explain why searching for 'whiplash injury solicitors near me may not always be the best idea, and answer questions such as 'What is the average payout for whiplash injury in the UK?' and 'What percentage do solicitors take for whiplash?' 
How Whiplash Injury Solicitors Could Help You Claim Compensation
Whiplash injuries are not usually very dangerous in the long term. But they can be painful, causing discomfort and difficulty living your normal life for a period of weeks or months while your neck slowly heals.
Experiencing this will be made worse by the knowledge that it was unnecessary and caused by someone else's careless and negligent behaviour. There is something that you can do, however, and that is claim compensation from the person or organisation responsible. Our team of whiplash injury solicitors can help you with whiplash injury compensation claims.
This page is designed to inform you of how you could make a claim for compensation when you have suffered a whiplash injury that was someone else's fault and how our team of personal injury lawyers could help you to do that.
We hope you come away from this feeling better informed about your rights. If you want to get started with a No Win No Fee claim, we can help. Simply:
Call 0800 073 8801
Or write to us about your case using our contact form
You can also chat with our advisers now using our live chat
You can also use these methods to receive a free no-obligation consultation on how claims work if there's anything you still aren't sure about.
Select A Section
A Guide To Claiming With Whiplash Solicitors
If you have been injured due to the negligent or unlawful actions of someone else, you could be entitled to take legal action against them to recover compensation. Receiving money might not be enough to make right the effects of being badly hurt in an accident, be it mental, physical, or financial harm, but it could give you a sense of justice having been done and can help you manage the after-effects more easily.
We have written this guide for people who have suffered whiplash injuries and are looking to find out what they can do about seeking compensation. This guide will explain some of the things you need to know about whiplash injury claims before deciding whether or not to try and make one yourself.
We will cover the most important questions which are:
What are whiplash injuries?
What does a personal injury solicitor do?
When could you be entitled to make a personal injury claim for a whiplash injury?
We will cover important details about the process of making a personal injury claim for a whiplash accident, like what the time limitations for making a claim are, how long the process of claiming will take, how your compensation is calculated and what different types of injuries you are entitled to make claims for.
Lastly, we will explain the importance of how we can help you pursue your case without taking a big financial risk by making a No Win No Fee claim.
This guide only serves as an introduction to the claims process; if there is anything else that you want to know about, don't hesitate to contact us with the details provided in the introduction and at the bottom of this page. You should also contact us right away if you believe you do want to make a claim and want representation from one of our expert whiplash injury solicitors. We would urge you to use law firms registered in England that are authorised and regulated by the solicitors regulation authority, which we are. If you'd like to claim, call us today to find out more.
What Is A Whiplash Solicitor?
A solicitor is a qualified legal practitioner who represents people or organisations that have become involved in a legal case or dispute. Solicitors will either defend their client or make a case against someone else on behalf of a client.
In a civil case like a personal injury claim, the solicitor working with you will be attempting to recover compensation from those responsible for causing your injury. In the likes of a road traffic accident claim, you may look for a whiplash injury solicitor, someone more specialised than a general lawyer.
A solicitor's job is important. You do technically have the right to bring a claim forward representing yourself, but we don't recommend this. We advise that you work with a professional whiplash injury solicitor.
A solicitor gives you a much-improved chance of success. They have acquired the legal qualifications and training, the knowledge, and experience needed to make and properly represent a case.
A solicitor's job is to advise you about your case, to help you understand the laws in question, to gather evidence, to calculate how much compensation you could be entitled to, and represent and argue your case. They will almost certainly do a better job than if you were to attempt to bring a case about without one.
What Is A Whiplash Injury?
Whiplash is a type of injury that can occur usually as a result of a car accident, in which the soft tissues in the neck such as tendons, ligaments, and muscles are damaged by being pulled and stretched more forcefully and more rapidly than they are designed to withstand.
It is essentially the same type of injury as a sprain or a strain of the ankle or the wrist but located in the neck.
Whiplash can occur for a number of different reasons and in various circumstances. It could be caused by a sports injury in a contact game like rugby or while taking part in martial arts.
It could also be sustained in the likes of an assault at work too if you're struck in the face, which causes your neck to jolt backwards.
Whiplash solicitors for car accident claims
However, the most common way for whiplash injuries to occur is in road traffic accidents. Car accidents cause whiplash by tossing the victim forward in their seat, then jerking them back when the forward momentum is caught by their seatbelt. The force of snapping the head back and forth like this is what stretches and tears the soft tissues in the neck.
You can see the number of severe, and slight injuries in road traffic accidents in the year ending June 2021 below.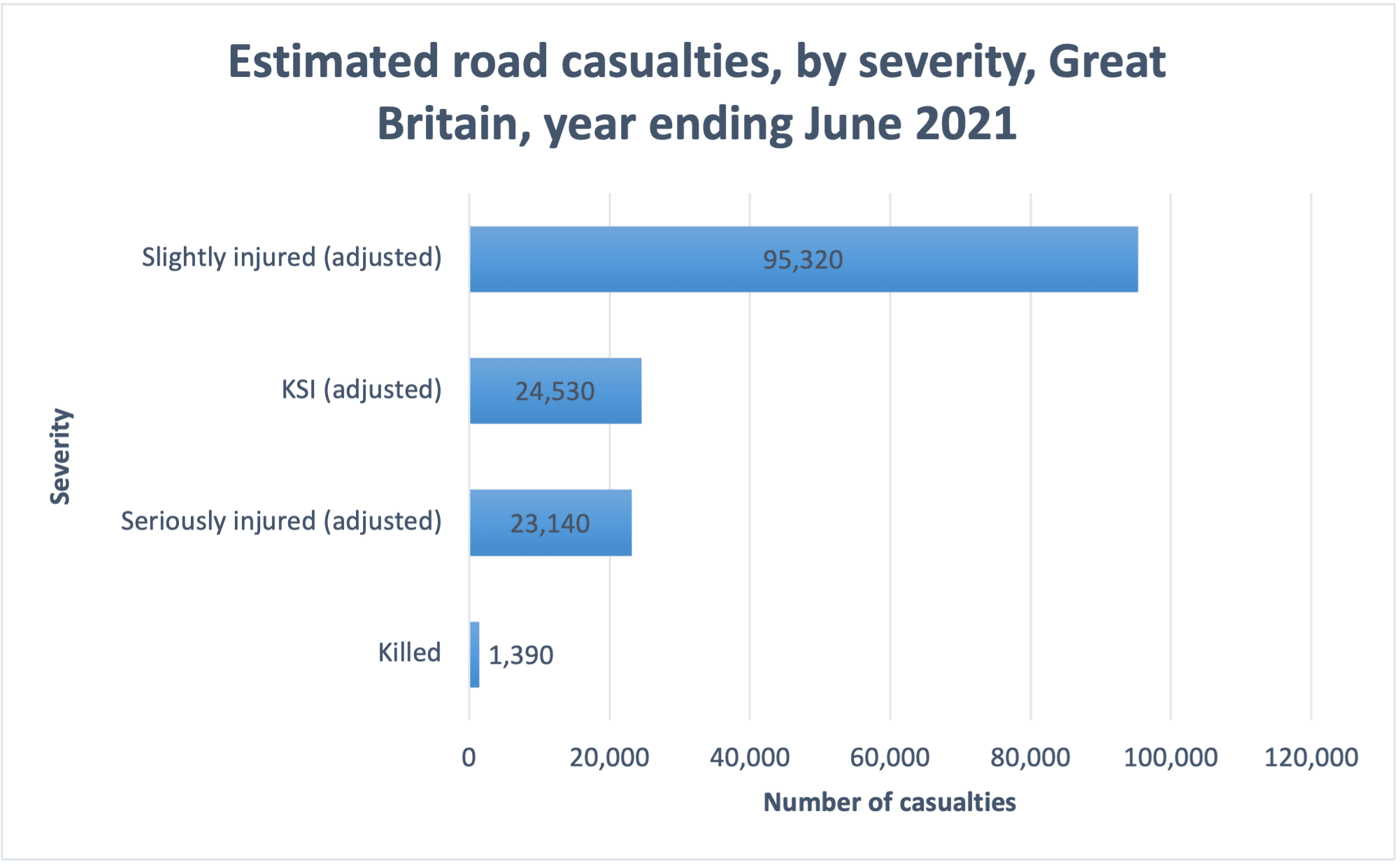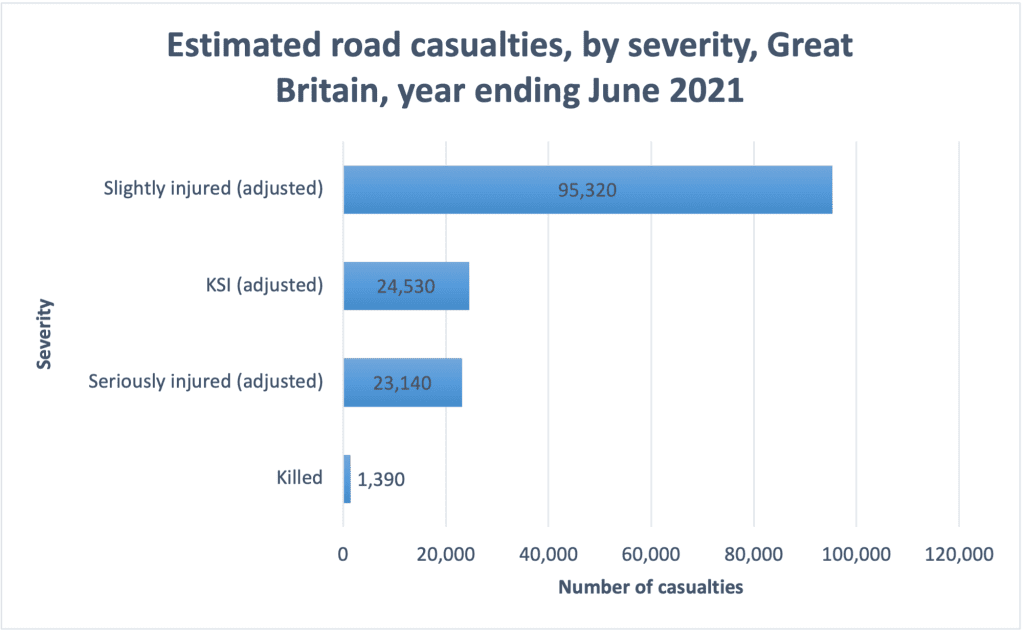 Whiplash injuries are usually not severe or life-threatening. The average whiplash injury will heal of its own accord over the course of a few weeks or a few months at the most. However, it can cause painful and uncomfortable symptoms for the victim in the meantime. The symptoms and effects of a whiplash injury can include:
Headaches
Nausea
Dizziness
Stiffness in the neck
Difficulty and pain when attempting to turn your head
Difficulty and pain when eating, swallowing, and talking
Shooting pains and pins and needles in the arm
Difficulty moving the arm.
The healing of a whiplash injury can be ameliorated and hastened by rest, gentle exercises and taking painkillers. Unfortunately, that is more or less the extent of what can be done to treat such an injury beyond simply waiting for the body to heal on its own.
Whiplash injury symptoms can sometimes be associated with more severe injuries in the neck. You should always consult a doctor if you believe you are experiencing the symptoms of whiplash or if you have been in a road traffic accident. You can visit this NHS guide to whiplash injuries for further useful information.
Could I Claim With A Whiplash Solicitor?
The conditions for making a whiplash claim is to be able to prove three things:
The party that caused the accident owed you a duty of care. In most RTA cases, this will be easy to establish as all road users owe a duty of care to each other.
That the defendant breached their duty of care
As a result of the breach, you suffered a whiplash injury.
As well as proving the above, it's also important to make your claim within the applicable time limit—3 years from the date of the accident. We will discuss them in more detail in another section further on in this article. If the time limit for making a personal injury claim has already expired then chances are you will not be able to recover whiplash compensation.
How Long Do Claims With Whiplash Solicitors Take?
The length of time that a whiplash claim could take to resolve could depend. As with any type of personal injury claim, the time it takes will probably depend on how straightforward it is to prove the liability of the defendant.
In a straightforward case, where one party is clearly at fault and accepts liability, and there is no contention as to the nature of the injury, the claim should be resolved in a space of about 6-9 months.
However, if there are complications, such as if the other party decides to make the case into a legal battle, there is a chance the proceedings could carry on for longer.
How Long Do I Have To Claim With A Whiplash Solicitor?
You should have plenty of time in which to start a personal injury claim for whiplash compensation. There are differences in how long you could have to claim depending on your exact circumstances, but the general rule in most ordinary cases is that a victim has a time period of three years in which to make their claim. This begins from the date of the accident.
Barring any extensions granted by a judge under special circumstances, this three-year time limit marks the cut-off point at which any claims become invalid.
Exceptions to this period relate to children and people with diminished mental capacity. If the person who suffered the whiplash injury is under the age of 18, their parents or legal guardians have the right to start a claim on their behalf at any point until they reach the age of 18.
Once the child becomes an adult, they then have the right to take up a claim within a time period of three years, in other words until they reach the age of 21.
Time limits may not apply if the victim is deemed to have reduced mental capacity and therefore would be unable to make a claim on their own behalf. In such cases, a litigation friend could represent them. Though you may wish to consult one of our legal advisors if you want to know if this applies to your case.
Lastly, your time limit may be shorter if the accident occurred abroad. The time limits that apply in the country where the accident took place override the UK limitation period.
Whiplash Injury Claims Against Untraced Or Uninsured Drivers
Normally when claiming compensation for a road traffic accident that has occurred due to the negligence of another driver, the goal would be to make the compensation claim against their insurer. However, this may not always be possible if there is no insurance company to claim against.
In some instances, you may not be able to identify the driver responsible. Drivers are required to stop if they have been involved in an accident where another person has been potentially injured. If they fail to do so it could be classed as hit-and-run—a criminal offence. A police investigation may not succeed in identifying the person responsible.
Alternatively, the driver responsible may not be insured, meaning they do not have reasonable prospects of being able to provide you with compensation.
In situations like this, you do still have the means of seeking compensation, you can do it by lodging your claim against the Motor Insurer's Bureau (MIB).
The MIB is an independent body that handles road traffic accident claims. They can award you compensation in cases where you have been the victim of a hit and run or if the person responsible was not insured.
We can support you with a MIB claim. SImply get in touch to learn more.
Calculating Compensation With The Help Of Whiplash Solicitors
One key role of a whiplash injury solicitor is to accurately calculate the value of a claim. They do this by looking at the different injuries their client has suffered and their severity.
The value of the amount of compensation you could be awarded will depend on the type of injury you have suffered, and how badly you have suffered as a result of it.
Different factors, like how long your recovery has taken or will take, the amount of pain, distress, and lasting disability you experienced, will be taken into account. The table below shows what some of the valuations of certain types of neck-related injuries might be worth. Please note that this calculator is not intended to convey an accurate assurance of what you may receive in making a case.
| INJURY | COMPENSATION | SEVERITY |
| --- | --- | --- |
| Neck Injuries | In the region of £139,210 | Severe |
| Neck Injuries | £23,460 to £36,120 | Moderate |
| Neck Injuries | £4,080 to £7,410 | Minor |
| Back Injury | £85,470 to £151,070 | Severe |
| Back Injury | £26,050 to £36,390 | Moderate |
| Back Injury | Up to £2,300 | Minor |
| Complex Regional Pain Syndrome | £49,270 to £78,840 | Severe |
| Complex Regional Pain Syndrome | £26,300 to £49,270 | Moderate |
| Other pain disorders | £39,530 to £59,110 | Severe |
For a more precise estimate, please get in touch with our team.
When Could I Claim Special Damages For A Whiplash Injury?
The money that you could receive for the injury itself and your pain and suffering and loss of amenity is not the only type of compensation that you could receive. Injuries can often cause financial repercussions for the victim. These financial repercussions can include things like:
Losing income from taking time off work
Spending money on using public transport when you are unable to drive due to an injury
Spending money on treatment or medication (i.e. painkillers.)
You could be entitled to claim back these expenses and losses and cover the costs of ongoing treatments when you make a whiplash claim with whiplash injury solicitors. You should keep all paper and digital records that document them so that your lawyer can use them to help work out how much compensation you could be entitled to in special damages.
Could No Win No Fee Whiplash Solicitors Help Me?
When making a compensation claim you will need to think about how you will afford the services of the lawyer helping you with the case. This could involve paying upfront fees to the lawyer before you begin proceedings. This could be a financial gamble, as you may not be guaranteed to win your case and be able to win the money back.
One of the reasons why we invite you to work with an Accident Claims lawyer is that we offer No Win No Fee agreements in all claims.
These are cases in which your whiplash injury solicitor doesn't charge legal fees unless you win your case. In that instance, your lawyer would deduct a small portion of your compensation award to cover their fees. This is capped by law at a low level, meaning you take home the vast majority of your compensation. This contribution from your compensation is used to cover your lawyer's fees.
If your case was unsuccessful, you would not have to pay the success fee nor any costs they have built up in pursuing your claim.
To learn more about No Win No Fee claims, please get in touch.
Start Your Claim
If you'd like free legal advice and support with making a personal injury claim for a whiplash injury, with whiplash injury solicitors, we can help.
Don't worry if you aren't sure about making a claim yet, you can speak to our team in a free, no-obligation consultation and ask them questions about making a claim.
Starting along the path to winning compensation is easy.
Essential References
In this last section, we've included some extra guides that you may find useful.
Our guide to car accident claims
Our whiplash compensation calculator
FAQ About Whiplash Injury Solicitors
Would Whiplash Injury Solicitors Be Able To Help With Claims Under the Whiplash Claims Reform Programme?
There has been a change to how 'low value' soft tissue injury claims caused by road traffic accidents recently. In May 2021, a Whiplash Claims Reform Programme, based on the results of a government consultation came into force. What this means for whiplash claimants is that potentially, if their claim was considered 'low value' (up to £5,000 in value), they would be required to claim in a different manner than previously. The government has set up an online portal to process such claims. It requires medical evidence for every claim, and does not allow whiplash injury solicitors costs to be recovered from the at-fault party. However, whiplash injury solicitors could still help with such claims.
How Do I Know Whether Whiplash Claims Solicitors Will Need To Use The Portal?
When you contact us to discuss your claim, we will ask you a number of questions to determine whether our whiplash injury solicitors could take your case directly to the insurer or whether they could help you claim through the government portal.
How Will My Compensation Be Affected By The Whiplash Claims Reforms?
If you need to make your claim via the program, the compensation amount you'd receive might be different than it would had the claim gone through before the reforms. The government has created a tariff, which dictates the amount of compensation you'd receive based on how long you'd suffered with your injury.
What is the average payout for whiplash injury in the UK?
Knowing the average payout for a whiplash injury in the UK would not give you an indication of how much compensation your claim could bring. Your compensation would depend on the specific facts and circumstances of your case. 
What percentage do solicitors take for whiplash?
What percentage solicitors take for whiplash claims under a No Win No Fee Agreement could vary. However, there is a legal limit to the percentage a solicitor could take in such cases. The most a solicitor could take is 25% of the total compensation payout. 
What should I look for in whiplash injury solicitors?
What to look for in whiplash injury solicitors is up to the claimant. Some suggestions of what to look out for is whether the solicitors work under No Win No Fee terms. Claimants could also consider the experience the solicitor has, as well as whether they offer free legal advice. 
Is it beneficial to use whiplash injury solicitors near me?
When it comes to the benefits of using whiplash injury solicitors near you, this would depend on what you were looking for. If you want to drop into their office, they may work on an appointment system, even if they are local. Since most claims could be handled over the phone and by electronic means, there would be no need in many cases to meet face to face. However, if you chose to meet face to face, a solicitor could travel to meet you, or you could go to them.
Thank you for reading our guide to the services offered by our team of whiplash injury solicitors.