By Joanne Jeffries. Last Updated August 19th 2021. Welcome to our guide about uninsured driver compensation claims. Have you been in an accident as an uninsured driver, or were you insured, but the at-fault party was not? If so, you may be wondering, 'Where can I find out more about uninsured drivers – can I still claim compensation for these types of accidents?'
In this guide, we answer many of the common questions relating to accidents involving uninsured drivers, from the perspective of an uninsured and also from the perspective of someone who has been injured by an uninsured party.
In the sections below, you will find information regarding car insurance and the law and statistics relating to uninsured drivers. We also provide insight into injury compensation payouts for injuries sustained as a result of this type of road traffic accident. If you would like further advice or would like to begin a No Win No Fee claim today, you can reach our team of experts on 0800 073 8801.
Select A Section
A Guide On Claims Against An Uninsured Driver And Filing A Claim If You Have No Insurance
Accidents on Great Britain's roads have reduced in recent years, but there are still significant numbers relating to casualties in road traffic accidents. In 2018, for example, according to government statistics, there were 1784 fatalities on Great Britain's roads, with a further 25,511 seriously injured casualties and 133,302 people suffering minor injuries. If you have been injured in a road traffic accident that was not your fault, you may be aware that in some cases, you could claim compensation, but what happens if any of the parties were uninsured?
This guide has been produced to answer questions relating to uninsured driver compensation claims. 'Can I still claim for compensation if I was involved in a car accident with an uninsured driver?' is a common question we are asked. Still, you may also be asking a similar question if you were injured in a crash as a driver when you did not have insurance yourself. Below, we offer detailed guidance for claimants in different positions.
What Is An Accident Involving An Uninsured Driver?
Whether you were in a road traffic accident where a driver crashed into you at a crossroads due to their failure to stop, or because they overtook you in a dangerous manner if a motor vehicle accident caused you to suffer injuries due to the fault of another driver you may be in a position to claim compensation. However, you may be wondering whether you could claim if you had no insurance or if the at-fault driver had insurance.
While most vehicles on the road fulfil the legal requirements for insurance, there are some drivers on UK roads that may not be insured to drive a vehicle for a variety of reasons, whether the vehicle being driven has been stolen, whether a driver had deliberately failed to insure their vehicle or because their insurance policy has run out.
If you are involved in an accident as a driver who is not insured or due to the fault of another uninsured driver, you may find the claims process a little less straightforward than making a claim where both parties are insured. Having an experienced lawyer on your side could be useful in helping you determine whether you could make a claim.
UK Uninsured Driver And Vehicle Statistics
According to the Motor Insurer's Bureau, they received over 26,000 uninsured driver claims in 2018. This equates to a person being injured every 20 minutes in the UK by uninsured drivers. They also reveal that 130+ people are killed on UK roads by uninsured or untraceable drivers. And they reported in early 2020 that the police seized its two millionth uninsured vehicle, which demonstrates how many cars remain uninsured in the UK.
Regarding the economic impact of crashes caused by untraced or uninsured drivers, the Government's figures for the average value of prevention of road traffic injuries compared against MIB's recorded rates for incidents indicate that uninsured or untraceable drivers could cost £1.8 billion per year. These costs include medical care, emergency services, property damage and loss of productivity.
It is also thought that uninsured driving costs the insurance industry approximately £400m per year. This cost is funded by those who do pay their insurance premiums.
The Law On Car, Vehicle And Motor Insurance
In this section of our uninsured driver compensation claims guide, let's look at some relevant legislation that might apply.
Not having insurance while driving a vehicle on the road or in a public place is illegal, according to the Road Traffic Act 1988. You are required by law, as a minimum, to have third-party insurance, which covers the use of your vehicle in public places and on the roads. If you do not have insurance, and you are caught by the police, you could receive a fixed penalty, which is £300, as well as 6 points on your licence. The police have the power to be able to seize your vehicle if you are caught driving without insurance, and this may, in some cases, lead to the vehicle being destroyed. If the case goes to court, you may receive an unlimited fine, and you may be disqualified from driving for some time.
If you are the registered keeper of a vehicle, you must have insurance. You could be penalised if it is found that your vehicle is being driven without insurance being in place. If you are not sure of your current insurance status, you can check this on the motor insurance database.
However, if a person was driving a company vehicle that did not belong to them during the course of their employment and was not aware and had no reason to believe that the vehicle was not insured, they may not be convicted of the offence.
A Party Other Than The Driver Has Insurance, Could I Make A Claim?
Injured car accident victims may be able to claim against another party's insurance for road traffic accident claims if they are injured in an accident on the road that was not their fault.
What If An Uninsured Driver Crashed My Car, But I Had Insurance?
Put, if a driver isn't insured to drive your vehicle. Still, insurance covers the vehicle itself, and they cause injury to other innocent road users. Your insurance company would usually be required to pay for uninsured driver compensation claims relating to such accidents.
I Am An Uninsured Driver. Could I Make An Accident Claim?
If you were an uninsured driver who was at fault for a car accident, you would not be able to claim for the injuries you've sustained. Also, you would be charged for driving without insurance.
Could I Claim If I Was Uninsured But Was Not At Fault?
A common question from uninsured drivers is, 'Can I still claim if I was uninsured, but another driver was at fault for the accident?' The answer to this question, technically speaking, is that you, as an uninsured who was not at fault, could make a claim. This would mean that the person's insurer that caused the accident could be required to pay compensation.
Could I File A Claim If I Have No Insurance And Avoid Penalties?
If there was no proof that the other driver was at fault for the accident, the insurer might contest your claim. And, if the accident were reported to the police, the likelihood would be that you would be penalised for having no insurance, as per the penalties described earlier in the guide.
Can I Sue If I Don't Have Car Insurance And Liability Is Admitted?
If liability is admitted by the at-fault driver, and they are insured, then the uninsured driver possible may still have the right to claim for being injured in a car accident. Compensation may, however, be reduced if it is found that you were partially at fault for the accident.
Could I Claim If Hit By An Uninsured Driver?
If you are hit by an uninsured driver in an accident that wasn't your fault, you may be wondering about making uninsured drivers compensation claims.
Could I Claim Against An Uninsured Driver Privately?
Unfortunately, despite the answer to the question being technically yes, as they would be personally liable for your injuries, in practice, it could be considered very difficult to get compensation in this way as they may not have the assets or funds to pay your compensation.
What About Claiming From My Own Insurance?
In accidents with uninsured drivers, "Can I still claim against my own insurance for injuries?' could be a valid question. If you have fully comprehensive insurance for your own vehicle, you can claim the costs of repairs from your own insurance policy. Still, for injuries, you would usually go through The MIB, or Motor Insurer's Bureau.
While claiming from your own insurance policy may be possible in some cases, you would usually have to pay your excess, and your no-claims bonus may be reduced.
What If The Other Driver Can Not Be Found?
If you were in a crash with a driver that fled the scene or could not be traced (a hit and run driver), you might be able to claim compensation from the MIB, a not-for-profit organisation that provides compensation for hit and run accident victims, whether they were injured as a pedestrian, a driver or another type of road user.
What Should You Do If Involved In An Uninsured Driver Accident?
If you were involved in such an accident, it could be wise for you to take the following action, regardless of whether you wish to make uninsured driver compensation claims or not:
Get medical attention – we would urge you to seek medical help no matter how minor your injuries appear to be initially.
Report the accident to the police and try and give details of the driver responsible
Take the drivers' details and details of the vehicles involved
Take witness details
Write your own account of what has happened
Take photographs of the scene
Sketch the position of the vehicles, road markings, etc.
Contact your insurance company
Get legal advice on whether you could make a claim
We could provide free, no-obligation advice to you if you have been in an accident with an uninsured driver or if you were injured when you were uninsured. Please do not hesitate to get in touch about uninsured drivers compensation claims.
Could I Make A Claim Against An Uninsured Driver Through The MIB?
The MIB, or Motor Insurer's Bureau, administrates an untraceable and uninsured driver compensation scheme that could compensate innocent victims of accidents with uninsured drivers. However, you would need to fulfil certain criteria to be able to make a claim.
You must have reported the incident to the police within 2 weeks of it occurring if you claim personal injury. If you are only claiming for property damage, you should report within 5 days.
You must claim within the personal injury claims time limit for MIB claims. This is usually 3 years from the accident date.
Here at Accident Claims UK, we help you start a claim for MIB uninsured driver compensation. Why not get in touch to find out more.
Calculating Compensation For Road Traffic Accidents – Updated August 2021
When looking to claim compensation for injuries caused by uninsured drivers, one thing you may be wondering about is how much compensation could be appropriate for your injuries. However, you would not get an accurate sum from a personal injury claims calculator to answer this question. This is because each case is assessed separately, and compensation levels would be determined by assessing the specific facts surrounding your case, including the medical evidence provided.
As part of uninsured driver claims, you would be required to have a medical examination by an independent medical professional to verify your injuries, medical condition and prognosis. This medical evidence could be used by your lawyer to hone in on how much your claim would be worth. This could ensure they can fight for the maximum compensation possible for your case.
We know that not getting an accurate sum before you begin a claim could seem frustrating. Therefore, we have put together a table showing injuries that we believe could relate to this type of case. The figures you see below have been taken from the Judicial College Guidelines. This is a publication that is updated yearly and gives approximations of appropriate compensation brackets for specific injuries. If you do not see your injuries here, then please call our team; we may be able to give you further insight into other compensation brackets over the phone.
| Type of Injury | Notes | Compensation Bracket |
| --- | --- | --- |
| Severe neck injuries (ii) | Cervical spine disc injuries or serious fractures. Disability could be considered severe. An example could be permanent damage to the brachial plexus. | £61,710 to £122,860 |
| Severe neck injuries (iii) | Fractures and/or dislocations or severe damage to tendons or soft tissue. Cases would be assessed in terms of the seriousness of symptoms experienced, prognosis and treatment required to determine the award. | £42,680 to £52,540 |
| Moderate neck injuries (ii) | Injuries including wrench-type injuries and other soft tissue injuries that lead to a serious limitation on movement. Recurring pain, cervical spondylosis, discomfort and stiffness may also feature. Future surgery may be required. | £12,900 to £23,460 |
| Neck injuries – soft tissue - minor (i) | The extent of symptoms, the length of suffering, the severity and the impact of the injuries on the social/work life of the injured person would determine the level of compensation. Cases in this bracket would usually have a recovery period of one to two years. | £4,080 to £7,410 |
| Fractures to the clavicle | The extent of the injury, how disabling it was, whether it was a permanent injury, and the presence/absence of residual symptoms would determine the level of compensation. | £4,830 to £11,490 |
| Arm injuries – severe (a) | Injuries that are not quite amputations but leave the injured person little better off than if they had lost the arm. | £90,250 to £122,860 |
| Arm injuries – Less severe (c) | While a substantial recovery would likely have taken place, or be expected, but where the initial injury would have caused significant disability. | £18,020 to £36,770 |
| Injuries to the elbow - (a) A Severely Disabling Injury | Causing severe disability | £36,770 to £51,460 |
| Very serious leg injuries | Causing permanent problems with mobility. Crutches or other mobility aids may be required for the rest of the injured party's life. Examples of such injuries could include multiple fractures, which have led to years of recovery, with the injured party requiring an extensive level of treatment. Deformities and movement limitation would still remain and the injured party may need further surgery in the future. | £51,460 to £85,600 |
Additional Losses And Expenses Which Could Be Claimed
In addition to the general damages figures included above that you could seek as part of uninsured driver compensation claims, you could also seek special damages. These relate to financial expenses that arise from your injuries, which could include:
Care costs – If your injuries are so serious that you cannot look after your own bodily functions, prepare food or dress. For example, you may need care at home. Care costs could be claimed as special damages.
Travel costs – Costs of transport to see your lawyer or get to hospital appointments could also form part of your claim.
Medical costs – If you have needed physiotherapy, counselling or prescription medicines, for example, the costs attached to medical costs such as these could be covered as part of your claim.
Earning losses – Have you lost out on income because you could not work due to your injuries? If so, loss of income could form part of your claim. If your injuries are so serious that a return to work is not possible in the future, then future loss of earnings could also be calculated and added to your claim.
We should mention that you would only be able to claim for financial expenses relating to your injuries if you could provide evidence of the costs/losses you've suffered. Keeping evidence in the form of payslips, bank statements, receipts, and bills could be vital. After all, if you cannot prove these costs or losses exist, you would not be able to claim for them.
No Win No Fee Uninsured Driver Accident Claims
If you would like to go ahead with uninsured driver compensation claims and are wondering how much you would have to pay upfront to get your case started with a personal injury solicitor, you might be pleasantly surprised to learn that if you claimed a No Win No Fee basis, you wouldn't have to pay anything upfront. Nor would you have to pay anything throughout the claims process. This is because with a No Win No Fee claim, you would only have to pay a small, legally capped success fee once your claim had successfully resulted in a compensation payout.
Your personal injury lawyer would ask you to sign a Conditional Fee Agreement at the beginning of your claim, which promised them you'd pay the success fee as a small proportion of your compensation. If they did not successfully negotiate a settlement for you, then you would not have to pay them this fee, and you would not have to cover their costs in pursuing the case.
If you would like to know where to find a solicitor working on this basis, please get in touch. We would be happy to answer any questions you may have about No Win No Fee claims and could connect you with a solicitor who could launch your claim on this basis.
How Accident Claims UK Could Help You To Claim Compensation
If you're looking for law firms to give you advice, support and guidance with making uninsured driver compensation claims or you would like to find out whether you could be entitled to compensation, we could help. Our experienced, knowledgeable team could answer any questions you might have about making uninsured drivers claims. We could also offer a free, no-obligation eligibility check on your case to see whether we feel you could have a valid claim. If we believe your case could lead to a compensation payout, we could provide you with a solicitor, authorised and regulated by the solicitors regulation authority who could launch your claim on a No Win No Fee basis and who could fight for the maximum amount of compensation for your claim.
We are experienced in helping claimants find out where they stand with regards to making personal injury claims. We have also helped many claimants successfully claim compensation for various cases and our previous clients have given us great feedback on our professionalism, empathy and customer care.
Start An Uninsured Driver Claim Today
Finding answers to questions such as 'My accident was caused by uninsured drivers, can I still claim?' or getting started with uninsured driver compensation claims couldn't be easier. All you need to do is get in touch with the team here at Accident Claims UK, and we'll be happy to help. You can contact us:
However you opt to get in touch with us, we'll be happy to help.
Helpful Resources
Uninsured Driver Compensation Claims FAQs
Could I make a claim against an uninsured driver?
It is wise to consider claiming from the Motor Insurer's Bureau (MIB) in this scenario. That's because the MIB is there to compensate victims of crashes involving uninsured drivers. This also covers situations where you don't have comprehensive driving insurance yourself.
What should I do if an uninsured driver hits me?
We recommend that you look into making a claim against the uninsured driver that caused the collision. That way, you can receive compensation and justice, especially if the crash was totally avoidable on the uninsured driver's part.
So, what happens to me after I'm hit by an uninsured motorist?
If your insurance covers scenarios such as these, then your insurance policy should cover the cost of the damages. However, it's possible that your insurance company takes legal action against the other uninsured driver. That could mean that you appear in court, even if you don't plan to file a claim yourself.
Do my insurance costs go up if I get hit by an uninsured driver?
In most cases, insurance costs do rise after an accident of this nature. That's despite you not being responsible for the crash. One study revealed that insurance companies increase premiums by almost 10% after accidents caused by uninsured drivers.
Do I have to get a lawyer if I want to make a claim?
There is no legal requirement to have a lawyer but having one could ease the claims process for you, allowing you to focus on getting better. What's more, they can help you secure the maximum compensation that your claim could yield.
Where can I find a lawyer?
You can access our panel of personal injury lawyers with more than 30 years of experience by contacting our team at Accident Claims right away. They always deal with claims on a No Win No Fee basis and can get to work on your case today if you have a valid claim.
What is a No Win No Fee agreement?
In simple terms, you won't have to pay your lawyer if they don't win your claim for you. Therefore, any financial risk typically involved in the claims process is eliminated.
How can I contact Accident Claims?
Please call the number at the top of this page or see our contact section for more options of how to get in touch.
How Common Are Uninsured Driver Compensation Claims
While it isn't possible to bring you the numbers surrounding uninsured driver compensation claims, we can give you some insight into how common such accidents could be. According to recent research, the number of hit and run accidents rose between 2017-18. You can see the numbers from the research in the graph below.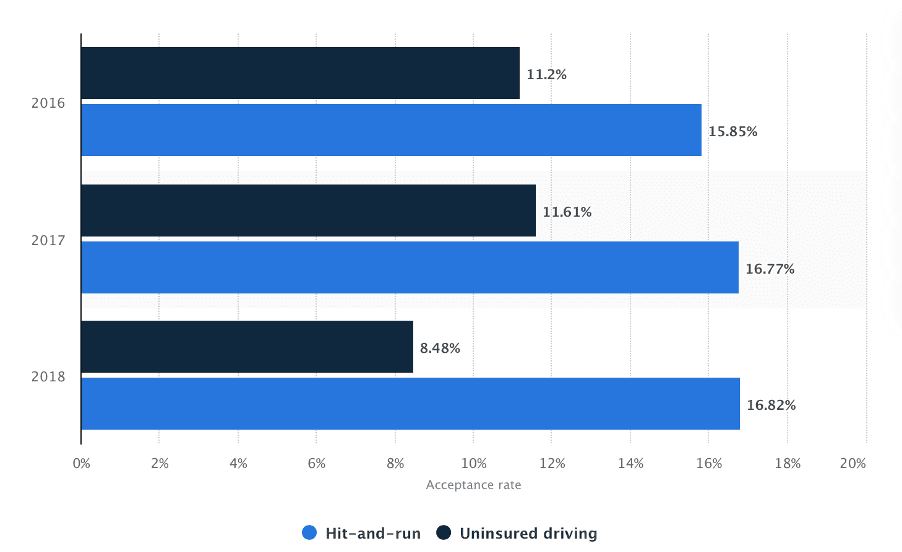 Source: https://www.statista.com/statistics/971382/uninsured-driving-hit-and-run-car-insurance-claims/
Could I Make Uninsured Driver Compensation Claims On Behalf Of A Child Or Someone Else?
Should you be responsible for a child injured in an uninsured driver accident, you may be wondering if you could possibly make a compensation claim on their behalf. It could be possible for a parent to claim on behalf of their child as a litigation friend. They could make decisions about the case in the child's best interests. Usually, when compensation claims are made in this manner, the funds from the payout are held in trust for the child. If no one claims for the child, they could claim for themselves once they reach 18 years old.  It could also be possible for you to claim as a bereaved relative of someone fatally injured in a car accident. You may also be able to claim compensation if someone you care for does not have the mental capacity to make a claim for themselves. If you would like to speak to us about making a claim on behalf of another party, we'd be delighted to help you. We could offer free legal advice over the phone too.
Thank you for reading our guide about uninsured driver compensation claims.