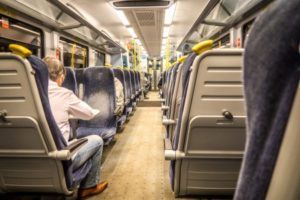 On this web page, you will read a detailed guide of the claims process if you have experienced a negligent accident leading to an injury while travelling on a Virgin Train. We have included examples of accidents that could possibly happen on a train along with an explanation regarding what makes a train passenger who suffers an injury eligible to pursue a claim for compensation. We look further at the concept of liability, and give information about the claims process itself.
If you have any questions that have been left unanswered by this guide, or you simply need some advice about your own claim, then please speak to one of our claims experts on 0800 073 8801. They will be able to give you the answers that you need, and explain how we can help to get your claim started right away.
Select A Section:
A Guide To Accident Personal Injury Claims On Virgin Trains
It is important to state that in order to pursue any type of personal injury claim it must be done so within the time limitations. The contents below, will advise you about the process of making a personal injury claim, so that you can approach your own claim from an informed perspective. It contains information such as:
An explanation of what an accident on a Virgin Train could be.
Information about what it is that train operators do, and where the line exists between the services provided by an operator, that those that are provided by the rail company.
Specific information related to Health & Safety in the rail transport sector, as well as the kinds of regulations that a train operator must comply with at all times.
An overview of your rights as a train passenger. We will also cover the issues of eligibility to make a claim, and liability to pay compensation in this section.
A list of examples of potential train accidents and their causes.
Information on making a claim for an injury that you may have sustained during an accident involving a train, while you are travelling on it.
Information on making a claim for if a train accident resulted in a fatality. We also cover how family members and dependents could be able to make a claim for the loss of a loved one.
Information on accidents such as a slip, trip and falls that could happen on a train.
Information on how burn and scold injuries could happen.
A table that details the typical ranges of compensation that a person who has suffered any of the listed injuries, could expect to be awarded. This table is based on the UK Judicial Guidelines for evaluating claims.
A list of many of the most frequently seen types of damages, that people making a successful claim may receive as part of their overall settlement.
An introduction to the national claims service that we offer to people all across the UK. This is a simple to use service, that is effective in helping people to get the compensation they are entitled to.
If, once you have completed reading this guide, you have some questions about the contents, please do take the time to speak to one of our claims experts. They will be able to give you all of the answers that you require, and explain our claims service to you in more detail.

What Is An Accident On A Virgin Train?
A Virgin Train accident could be any accident that takes place on the train, while boarding the train, or disembarking from the train. An accident could be an unexpected unfortunate incident that may cause an injury or damage or both. It is important to note that Virgin is only responsible for the train itself. The platform, and all of the station services are not the responsibly of Virgin Trains. Therefore, in order to be able to pursue a personal injury claim for an accident on a Virgin Train the accident must have taken place on one of their trains. Also not all accidents that occur may lead to a compensation claim liability on the part of the train operator must firstly be proven.

What Do Train Operators Do?
West Coast Trains Limited (Virgin Trains), operates a service between Edinburgh, Glasgow, Liverpool, Manchester, Birmingham and London. To answer the question, what do train operators do? in the case of West Coast Trains Limited, the company provides the physical trains that are used for the routes, as well as all of the associated services such as the dining car, maintenance, conductors, etc. A Training Operating Company also known as a TOC is a business which provides a train service to passengers.

Train Companies Health And Safety Duty Of Care
When it comes to keeping passengers safe, TOC responsibility revolves around primarily, full compliance with all Health & Safety regulations related to the rail transport sector in the UK. Train companies operate within the legal framework of the UK and are accountable through Parliament. Economic and safety functions include but are not exclusive to;
The Railway Act 1993
The Railway Act 2005
The Health and Safety at Work 1974
All train operating companies have a duty of care to all passengers and employees. They must make sure that at all times both are safe when using their services. Providing a safe and healthy environment. The company is expected to keep both employees and passengers safe at all times. The environment should be hazard free from both accident risks and also health risks.

What Are My Rights When Travelling By Train?
Alongside your general consumer rights, you are also protected by the Rail Passenger Rights Regulation 2007. This is a whole body of legislation that provides a framework which train service operators must work within. This covers everything from minimum levels of service and safety, to the right to claim a refund for a ticket, etc. If you are injured in an avoidable accident while travelling on a train or made ill due to negligence of the train staff or operator you may be eligible to claim compensation and  the train operator may be liable to pay.

What Accidents Could Happen On A Train
There are different ways that people could be injured on a train. Here are some examples of accidents that could potentially happen on a train;
Slips, trips and falls.
Actual train collisions.
Being struck by a moving luggage.
Food-related illnesses such as food poisoning and allergic reactions.
Injuries from damaged seats
Burns and scalds.
I Was Injured In A Train Crash, Could I Claim Compensation?
If you have been involved in a train collision perhaps the train has collided with other, the track has had debris on it or the train has malfunctioned and the accident has caused a direct injury you may be eligible to claim..
Could I Claim For A Railway Accident Fatality?
If a loved one or close family member have died due to a train accident that was deemed the fault of the train operator it may be possible to make a fatal accident claim against the train service provider. In this case, it would be the next of kin or family member that makes the claim for the loss of a loved one or family member. If you require any assistance regarding this please do not hesitate to give us a call and we can answer all your questions and queries. 
I Slipped And Fell On A Train, Can I claim?
Slips trips and falls are common accidents that could happen anywhere as so many different things could cause them. Here are some examples of slips trip and falls that may lead to compensation claim;
Water that has been spilt on the floor of the train but not been cleaned up or signage put out causing a passenger to slip and injure themselves.
Food that has been spilt on the floor of the buffet car but has not been cleaned up, again causing a passenger to fall and injure themselves.
Damaged or poorly maintained floor or steps into the train causing a tripping accident leading to an injury.
Floor left wet after cleaning with no warning signs causing a slip hazard leading to an injury.
Scalds and burns caused by the buffet staff if they accidentally spill a hot drink on a passenger.
If your accident on a train is not listed do not panic call Accident Claims UK to see if you are eligible to make a claim.

I Suffered Burn Injuries On A Train, Am I Entitled To Claim?
Burn and scold injuries such as a hot coffee burn or a hot tea burn could happen if the staff on the buffet cart accidentally spill a hot drink on a passenger.
If you have suffered a burn injury due to a hot drink or food being spilled on you, maybe the drink you consumed was far too hot for consumption causing mouth burns call one of our advisors today and explain your case.

Calculating Compensation For Accidents
You might be able to locate an online personal injury claims calculator tool, that could give you a rough idea of how much you could be able to make a claim for. However, the table below has been created using the actual guidelines used by courts in the UK, to evaluate how much a claim is worth. It shows typical compensation ranges for many types of  injuries.
| Type of Injury | Severity | Amount | Information |
| --- | --- | --- | --- |
| Head Injury | Minor brain or head injury to moderate brain damage. | £2,070 to £205,580 | Brackets start at brain damage being minimal, good recovery will be made to concentration and memory effected, work life affected, intellectual deficit, a personality change, an effect on sight, speech and senses with a significant risk of epilepsy. |
| Neck Injury | Minor to Moderate | Up to £2,300 to £36,120 | Brackets starts at soft tissue damage with recovery in 3 months to accelerated and/or exacerbated a pre-existing condition, permanent nuisance symptoms, wrenching-type injury and disc lesion of the more severe type. The top end of this brackets includes included chronic conditions, usually involving referred symptoms to other parts of the anatomy. |
| Shoulder Injury | Severe | £18,020 to £45,070 | Significant disability leading to neck and arm pain. |
| Arm Injury | Simple Fractures | £6,190 to £18,020 | Simple fractures of the forearm. |
| Hand Injury | Moderate to Serious | £5,260to £58,100 | Starting off at soft tissue damage, crush injury, laceration, deep wounds to significant impaired function, permanent disability, to reduced capacity, loss of grip, amputation of fingers and possibly palm. |
| Hip/Pelvis Injury | Moderate | £11,820 to £36,770 | Hip replacement, hip/pelvis surgery, to significant pelvis/hip permanent disability. |
| Leg Injury | Less serious leg injuries to severe leg injuries. | Up to £11,110 to £127,530 | Brackets start as simple leBrackets start as simple leg fractures, leg will be left with metal implant and/or defective gait, a limp, impaired mobility, sensory loss, discomfort, to imperfect union of fractures, muscle waste, serious compound fractures resulting in instability multiple fractures, effect on employment.g fractures, leg will be left with metal implant and/or defective gait, a limp, impaired mobility, sensory loss, discomfort, to imperfect union of fractures, muscle waste, serious compound fractures, multiple fractures, effect on employment. |
| Knee Injury | Moderate | Up to £12,900 to £24,580 | Brackets include twisting, bruising, continuous discomfort to dislocation, torn cartilage, mild future disability. |
| Ankle Injury | Modest Injuries | Upto £12,900 | Undisplaced fractures, twists, sprains, ligament injuries. |
| Foot Injury | Modest to Serious | Upto £12,900 to £36,790 | Simple metatarsal fractures, ruptured ligaments, puncture wounds to metatarsal fractures resulting in permanent, deformity, risk of fusion surgery to severe injury to a foot or heel. |
If you would like to get a much more accurate estimate of how much you could potentially claim, then please speak to one of our claims experts. Once they know a little about your case, they should be able to give you an indication of the worth of the claim.

Examples Of Damages Which A Train Accident Claim Can Compensate You For
When a personal injury lawyer processes a claim on behalf of a client, if they are successful, the compensation settlement received will be made up of a number of different types of damages, for example:
Special damages for:

Loss of future earnings.
Loss of current income:
Cost of hiring care staff.
Cost of private medical care.
Travel costs.

General damages for:

Permanent or long-term disability.
Painful and lengthy recovery.
Psychological damage.
Mental stress and trauma.
Physical pain and suffering.
If you would like to know what kinds of damages might be applicable with respect to your own claim, please speak to one of our team today. They will go over your claim with you, and explain which kinds of damages you may be able to pursue.

No Win No Fee Railway And Train Accident Claims Against Virgin Trains
We offer our national No Win No Fee claims service as an easy to access, yet very effective way for you to get the compensation you are entitled to. When you use this service, the is no fee to take your claim on, and no fee during the time we are processing your claim. If we don't manage to win you any compensation, then we still won't charge you anything. The only time that we do charge a fee, is when we have received a compensation payment for you. We will then deduct our fee from this money, and send you what is left.

How To Begin A Claim For A Virgin Trains Accident
If you are ready to begin your claim for railway accident compensation, all you need to do is speak to one of our claims experts on the number below. They will then ask you a series of questions about your claim, that are designed to give us an overall picture of your accident, and the injuries that it caused. Once they know enough to begin giving you informed advice, they will recommend a course of action to you. In many cases, this will be to use our national claims service to get you the compensation that you are eligible for.

Speak To Us About Your Claim
Have you suffered an injury on a Virgin Train? Do you believe that you may have a good case for making a compensation claim? If so, please speak to one of our claims team today on 0800 073 8801. They will go over your claim with you, inform you of your options, and offer you a simple yet effective way to have your claim set in motion today.

Resources For Victims Of Railway Accidents
You might find the information at the following web pages to be of use:
Information about Virgin Trains
Duty of care for rail providers
UK Government information on passenger safety
Additionally, these two related guides elsewhere on this site may be useful:
How to make a claim for a rail accident
A guide to station accident claims
Edited By Mel.