By Brett Williams. Last updated 16th August 2021. Welcome to our guide on armed forces injury claims. Being part of the Military of Defence and the Armed Forces must feel like a great achievement. Serving your country and protecting the nation is something to be very proud of. However, there is no denying that this is an incredibly dangerous career. Military Personnel could end up suffering injuries, not only physical but psychological too. In normal every day duties employees and military personnel have the right to a certain level of standards in terms of a healthy and safe environment where possible. It is fair to say that in wartime and combat situations providing such as duty of care would be very difficult. If you are unsure as to whether your injury or illness contracted due to being a part of the Armed Forces makes you eligible for workplace compensation call Accident Claims UK on 0800 073 8801 for free legal advice.
Select a section
A Guide To Workplace Accident Claims Working For The Armed Forces
If you have been injured in the armed forces, you may assume that you do not have the basis for a claim because you have signed up for a dangerous job in the first place.  In this guide, we have provided information in relation to what type of accidents resulting in injuries could potentially occur in non combat situations, who may be eligible to claim and who may be liable. We have also included advice on the claiming process as well as details on how to go about starting your own claim, how much compensation you could possibly receive, the types of different damages that could be included in a successful claim.
What Is A Workplace Accident In The Armed Forces?
The 1987 Armed Forces Act enables those personnel in the military to secure compensation if they have suffered an injury that has been due to a failure by the Ministry of Defence a breach in the duty if care, even if they have since left service. In combat situation, war time and threat of the enemy such a duty if care may not exist.
Incidents that could cause accidents in the Armed Forces in non combat situations may include;
Parachuting accidents
Faulty equipment, faulty machinery and faulty weaponry
Mountaineering accident
Vehicular accident
Training accidents
Explosions, both accidental and intentional in training situations
The list we have provided is not exhaustive. It is also worth noting that you could potentially claim for the psychological harm you have encountered too which may have been caused due to negligence of the employer.
The MOD's Duty Of Care For Armed Forces And Military Personnel
The Ministry of Defence (MOD) is responsible for the health and safety of military personnel. Every employer owes all their employees a duty of care, to provide a safe and healthy environment. In some situations the Armed Forces may have combat immunity this is especially so in wartime, combat situations and when in threat from the enemy. In situations whereby safety cannot be secured those military personnel should be provided with all the safety equipment they need along with protective items.
Military And Armed Forces Statistics For Accidents
The data below gives an overview of statistics regarding military and armed forces accidents in the 2018/19 period: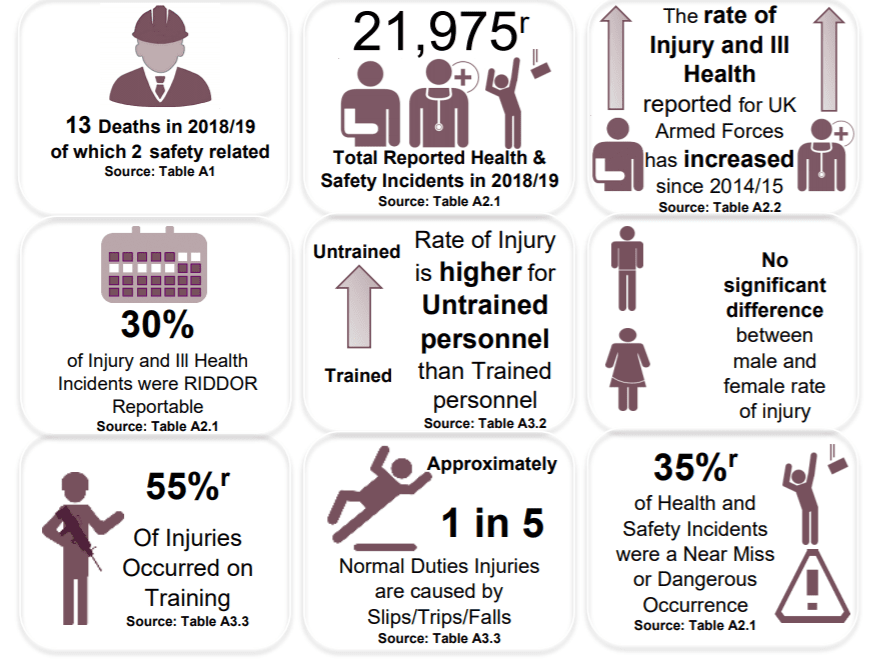 As you can see:
Around 20% of injuries involved a fall.
There were nearly 22,000 reported within the year.
The total number of incidents is on the rise according to trends since 2014/15.
2 deaths in service were related to safety issues.
More than half of the reported injuries (55%) happened during training.
What Action To Take If You've Sustained Injury In An Accident In The Armed Forces?
The following steps could be taken if you are thinking of making a work accident claim which could make your case stronger;
Taking photographs of the scene and your injuries if visible.
Get hold of any contact details for possible witnesses.
Visit a medical professional for an exam.
Draft a written statement as quickly as you can. Include the following:

The movements and activities in the moments leading up to what happened.
The weather, nature of your journey, and other contextual details.
Exact information about the date and time.
Follow up details about your condition.

Contact Accident Claims UK and we can take it from here.
Examples Of Military And Armed Forces Potential Accidents
At Accident Claims UK, we offer a free legal consultation to all potential clients who may need questions answering before they begin their claim to decide if they have a valid case.
I Suffered A Fall Injury In The Army Can I Claim?
Slip, trip and fall accidents could potentially happen in many different ways not all accidents which cause injuries will lead to a compensation claims only those that have happened and could have been prevented had the right equipment been used, the correct instructions given, the right procedures put in place and so on and so forth .
. Click here to find out more about making a claim for a slip, trip, or a fall.
Post Traumatic Stress Disorder
Post-Traumatic Stress Disorder (PTSD) is a psychological injury that is caused by distressing events. This can have a terrible impact on an individual's life while also impacting their future career prospects. Symptoms of PTSD are as follows:
The inability to go out in crowds
Hyper vigilance and increased startle responses
Flashbacks
Problems sleeping
Nightmares
Anxiety
Paranoia
Issues with anger
If you'd like to know more about the types of armed forces injury claims we could support, please speak to our team today.
Am I Eligible To Make A PTSD Claim?
PSTD can make daily life hard to deal with. It not only has an impact on the person that is suffering from it, but it could potentially impact all of their loved ones too. Compensation could help you to get on with your life and get the support that you need. If you are suffering from PTSD or from work related stress, find out how to make a claim here.
Defective Armed Forces Equipment
Royal Air Force, Royal Navy and British Army personnel are expected to handle heavy and dangerous equipment often in environments that are hostile and difficult. When preparing to deploy or training, or even when deployed, the manually moving of military hardware is required. This includes everything from specialist kit and ammunition to a wide range of weapons. If an individual is handling equipment that is defective, injuries could potentially occur. This could also happen if you have not been trained in the right handling methods. Equipment that could be defected due to poor maintenance could possibly include; diving equipment, weapons and ammunition, personal protective equipment, aircraft, parachutes, machinery, vehicles, ladders and ear defenders. It is vital that all equipment is maintained, checked, repaired and replaced if necessary to prevent any potential risks.
Military And Armed Forces Road Traffic Accidents
Sometimes it is necessary for military personnel to use vehicles on the road that belong to the Armed Forces. Depending on the nature of the incident and how it happened and who if anyone is liable will determine if a claim for a road traffic accident exists.
I Was Injured In Training For The Armed Forces Am I Eligible to Claim?
When joining up to the British Armed Forces, a rigorous training regime is to be expected. These training programmes contain risks and tough exercises. However, to ensure accidents are minimised, proper supervision and training must be given. Examples of training exercises where potential accidents could happen if the trainee is not given the correct instruction, not provided with the right equipment, the training equipment is damaged or the supervision is poor;
Diving training
Skiing training
Firing ranges
Assault courses
Mountain training
Parachute training
If you are unsure as to whether the training exercise you were involved in which caused your injury was due to negligence call Accident Claims UK and have your claim assessed for free.
I Suffer Hearing Loss From Being In The Armed Forces Can I claim?
The military environment can be very noisy, and so it is to be expected that you will be exposed to excessive noise. However, to ensure hearing damage does not occur, you need to be trained in safe practices and you need to be provided with the correct personal protective equipment.
Tinnitus and/or hearing loss may not be evident to begin with. However, you may notice that you need to look at people's lips when they are speaking or that you require your TV on a higher volume. Because of this, most people do not identify with hearing loss until years after they have been serving in the military.
Exposure to excessive noise could come in the forms of pyrotechnics, projectile launchers, weapons discharges, explosions, vehicles, etc.
We offer free advice on armed forces injury claims including those relating to hearing loss. Why not call today for further information.
What Is Medical Negligence In The Armed Forces?
British armed forces personnel are required to operate in conditions that are incredibly demanding and will test their limits, both mentally and physically. If injuries occur it is vital that they are attended to and the right diagnosis along with treatment is given. If their treatment falls below what is deemed acceptable, and you have suffered due to this medical negligence, call our team to see if you have a valid case.
Armed Forces And Military Compensation Scheme
There are a number of different ways you could claim compensation against the Armed Forces for injuries and illnesses caused due to the employment. Here at Accident Claims UK, we offer a free consultation for you to have your claim assessed. The two main options you have at your disposal are to make a civil claim or to make a claim through the Armed Force Compensation Scheme (AFCS).
If you have never heard of the Armed Force Compensation Scheme (AFCS) before, this is a non-fault process. This means that you only need to demonstrate that the illness or injury was caused due to your employment or or work within the Armed Forces. You do not need to prove fault or blame. This differs from a civil claim whereby blame or fault needs to be proved. There are time limits for Armed Force Compensation Scheme (AFCS) claims. The time limit is seven years when lodging the claim with Veterans UK (may vary). If, like hearing loss, the symptoms do not show themselves please call us to see what the time limit may be. Compensation is for pain and suffering only, not out-of-pocket expenses.
If you want to make a civil claim, you have three years from the date of the injury or date of diagnosis.
Assessing The Severity Of Injuries and Illnesses
The medical report that has been put together by the doctor will be used to determine the compensation you receive. The medical report will consist of an examination of your injuries and the psychological impact too. The long-term prognosis will be impact the amount which will be awarded, and this will all be considered to decipher how much money you will receive.
What Types Of Compensation Will I Receive For My Injury?
When making a claim, if successful you may receive the following:
General damages (physical and psychological pain and suffering)
Special damages (out-of-pocket expenses, from loss of income to travel costs)
We can explain more about what can be included in armed forces injury claims when you call our team.
What Amount Of Compensation Will I receive? – Updated August 2021
You may have come across an Armed Forces compensation calculator online. Please note that an army injury compensation calculator will only ever provide a very rough estimate. These tools are no replacement for what a solicitor can give you in terms of monetary predictions. In the table below, you can discover amounts that have been published by the Judicial College for guidelines. Again, please only use this for guidance. Every case is handled on an individual basis.

| Injury Type | Explanation | Amounts |
| --- | --- | --- |
| Severe Psychiatric Injury | The amount that is awarded will largely depend on the injured party's ability to cope with life, work, education, how family life and relationships are affected. If treatment will be effective, future vulnerability and prognosis and to what extent has medical treatment been sought. | £51,460 to £108,620 |
| Moderately Severe to Less Severe Psychiatric Injury | The brackets will largely reflect how the injured party's ability to cope with life, work, education, how family life and relationships are affected. If treatment will be effective, future vulnerability and prognosis and to what extent has medical treatment been sought but with the future prospect that a level of recovery will be expected. The more severe the problems present the higher the award will be. | £1,440 to £51,460 |
| Severe to Moderate Post Traumatic Stress Disorder | Cases within this category are exclusively those where there is a specific diagnosis of a reactive psychiatric disorder following an event which creates psychological trauma in response to actual or threatened death, serious injury or sexual violation. | £7,680 to £94,470 |
| Total Loss of Sight in One Eye | The level of the award within the bracket will depend on age, psychiatric consequences and cosmetic effect. | £46,240 to £51,460 |
| Partial Hearing Loss or/and Tinnitus | This section reflects those who have been exposed to noise at work over a lengthy period of time. The brackets will include Severe tinnitus and NIHL. | £27,890 to £42,730 |
| Severe Neck Injuries. | Neck injury associated with incomplete paraplegia or resulting in permanent spastic quadriparesis. | In the region of £139,210 |
| Moderate Back Injuries | Brackets will begin with disturbance of ligaments, moderate soft tissue injuries prolapsed discs necessitating laminectomy or resulting in repeated relapses to residual disability being present with possible compression/crush fracture of the lumbar vertebrae where there is a substantial risk of osteoarthritis and constant pain and discomfort. | £26,060 to £36,390 |
| Loss of One Arm | Amputated from the shoulder. | Not less than £128,710 |
| Severe Fractures to Finger | This may include partial amputation which impairs the grip and causes deformity, reduced mechanical function and disturbed sensation. | Up to £34,480 |
| Amputation of Both Legs | This is the appropriate award where both legs are lost above the knee or one leg has been lost above the knee at a high level and the other leg has been lost below the knee. | £225,960 to £264,650 |
| Serious Foot Injuries | Severe foot injury causing traumatic arthritis or the risk of future arthritis and prolonged pain. | £22,460 to £36,790 |
| Chest Injury | Toxic fume/smoke inhalation | £5,000 to £11,820 |
If you cannot see the injury you have sustained in the table above, don't worry – feel free to call us if you would like to find out more about the typical payout amount for the injury you have sustained.
No Win No Fee Workplace Accident Claims Against The Armed forces
With the No Win, No Fee approach, you will never have to pay fees to us if we do not win your claim. At Accident Claims UK, all of the claims we handle are on a No Win, No Fee basis. With this payment approach, you and your solicitor will agree on a percentage that the solicitor will take from your compensation for the legal service that has been provided if they are successful in your case. If the case is not successful, you won't have to pay the solicitor anything.
How Accident Claims UK Can Help With Military/Armed Forces Injury Claims
We will use our extensive experience to help you get the full amount of compensation you deserve. There are a number of reasons why our service excels. This includes the following:
We have years of experience and have handled many claims.
Our legal advice is provided free of charge and with no obligation to continue.
All of our claims are 100 per cent No Win, No Fee.
It is always our aim to secure the maximum amount of compensation for your case.
Our track record speaks for itself.
Please call today to learn more about how we process armed forces injury claims.
Are You Ready To Begin A Military Or Armed Forces Accident Claim?
Are you ready to make a claim? Don't delay. Give the team at Accident Claims UK a call today to get started. Our personal claims helpline is available seven days a week, 24 hours a day. The number you need is 0800 073 8801. You can also reach us via live chat, sending an email to office@accidentclaims.co.uk, or by filling in the call back request form on our homepage.
Helpful links
Lower injuries in military
This link takes you to a publication regarding the risk of musculoskeletal lower limb injuries in army populations.
You have reached the end of our armed forces injury claims guide. Please call if there is any further advice we can provide.