By Joanne Jeffries. Last Updated August 24th 2021. Welcome to our accident claims solicitors covering Bath guide. Hopefully, by reading this guide, you'll understand how personal injury solicitors for Bath claims don't have to be locally based.
Did you know that if you've been injured in many types of accidents caused by somebody else, you could be entitled to seek accident compensation for your injuries? That's all well and good but how do you find accident claims solicitors covering Bath to help make your claim and what can you claim for? Well, that's what we plan to cover in this guide. If you want to make an accident claim using a personal injury solicitor, then this guide will provide examples of when you could claim and what you need to do to get the maximum amount of compensation possible for accidents involving motor vehicles, workplace injuries and many other causes.
Accident Claims UK can help you begin your claim. We have over 25 years experience and we offer a free assessment of your accident. If we believe you are eligible to make a claim, could introduce you to one of our panel of accident claims solicitors covering Bath. To discuss how we could help you, please speak with one our specialist advisors on 0800 073 8801 today.
Alternatively, if you would like to find out more about accident claims in Bath using a no win no fee solicitor, please continue reading.
Choose A Section
What Is An Accident Claims Solicitor Covering Bath?
Accident claims solicitors covering Bath are there to provide legal help and representation for clients who have been injured due to the negligence of a third party who owed them a duty of care. They can help with a personal injury claim in different scenarios such as cycling accidents, a medical negligence case, pavement accidents and accident at work claims.
Essentially, for a personal injury lawyer to be able to make a claim on your behalf, it would need to be shown that:
The defendant owed you a duty of care; and
They breached the duty of care which caused an accident to happen; and
The accident led to you becoming ill or suffering an injury.
Your injuries occurred within the accident claims time limit of 3 years (this can vary).
There are many cases where somebody might owe you a duty of care such as:
An employer needs to ensure staff are safe at work.
A shop needs to ensure their facilities are safe for customers to use.
Or a local authority should maintain paths and roads regularly to ensure they're safe for use.
Once a duty of care has been established, if an accident occurs, the personal injury lawyer will look for evidence that it was breached and then seek compensation for any suffering caused.
If a solicitor thinks you have a chance of winning compensation they will:
Prepare your claim and gather any supporting evidence (medical records, witness statements, CCTV footage etc).
Handle negotiations with the defendant, their lawyer or their insurer. This means you won't need to speak with them directly.
Explain your options if you receive an offer of compensation.
Our accident claims solicitors can help make claiming less stressful as they work on a no win no fee basis for claims they agree to help with.

Workplace Accident Claims In Bath
Your employer, whether a multi-national company or a small employer, owes you a duty of care to ensure you are safe while at work. The supporting legislation for workplace safety is The Health and Safety at Work Act 1974. The basis of the legislation is that the employer should "secure the health, safety and welfare of persons at work".
This means that they need to assess the workplace, identify any risks and make changes to reduce the risks wherever possible.
You may be able to seek compensation if you are injured at work because of an accident caused by:
Faulty, damaged or poorly maintained equipment or machinery.
A lack of staff training.
Inadequate or no personal protective equipment (PPE) such as safety goggles, hard hats or work boots.
Injuries Reported By Employees In Bath
To demonstrate the number of injuries in Bath workplaces, take a look at the table below. It shows the number of non-fatal and fatal injuries at work as well as the number per 100,000 employees. To see a comparison with the rest of the UK, you can view the full government report here.
| Location | Total - Non Fatal Injuries | Total - Non Fatal Injuries per 100,000 workers | Fatal Injuries |
| --- | --- | --- | --- |
| Bath and North East Somerset | 178 | 194 | 0 |
Moving away from local statistics, nationally there were over 6.3 working days lost because of  a work-related illness or injury according to The Health and Safety Executive (HSE) in 2019/20
This also included work related mental health issues, as you can see from the chart below.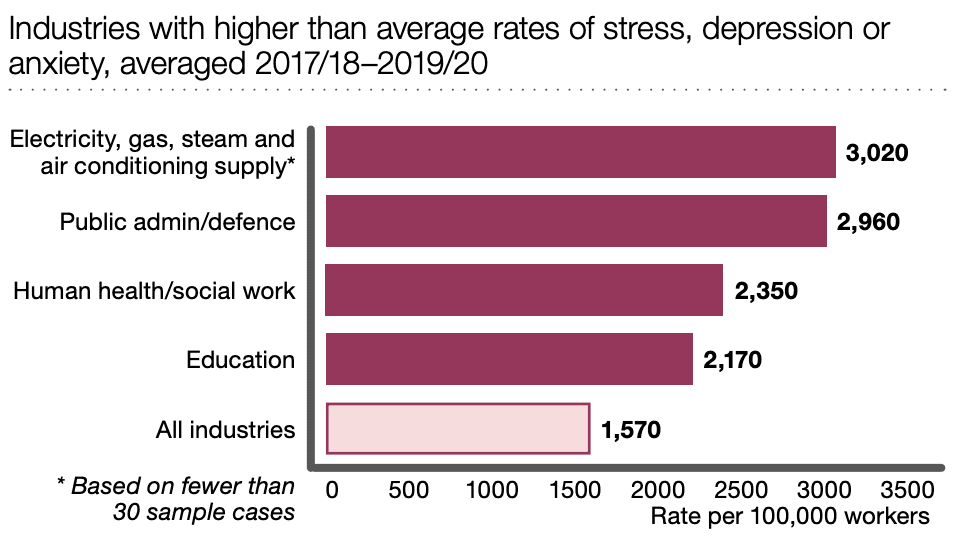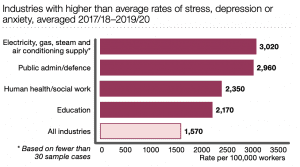 Whiplash, Car And Road Traffic Accidents In Bath
Accident claims solicitors covering Bath are often asked to help with road accident compensation cases. You could make a claim if you're a pedestrian, driver, passenger, cyclist, motorcyclist or other road user injured in an accident caused by another road user.
Common injuries in road traffic accidents include sprains, fractures, head injuries, whiplash and back injuries, some of which can be long lasting or life-changing injuries.
If you're involved in a road traffic accident in Bath, try to gather evidence before vehicles are removed from the scene. This means photographing the scene, asking witnesses for their details, obtaining dashcam footage and ensuring you get the other driver's details.

Tripping And Slipping Accident Compensation
Any trip slip or fall could lead to very serious injuries which might require multiple trips to surgery. They could happen in almost any situation and, if they're caused because somebody else was negligent, could lead to a compensation claim.
Some common injuries caused by trips and falls include:
Head injuries.
Hand and wrist injuries.
Fractures and broken bones.
Ligament damage.
Soft tissue damage.
Here are some examples of when somebody else might be to blame for a fall which could lead to a compensation claim:
If you are injured tripping over something that was hard to see due to poor lighting.
If you slip on a wet floor which wasn't highlighted by warning signs.
If you're injured on a public footpath because of a pothole, damaged kerb or raised paving slab.
If you trip over a door mat in the entrance of a building as the mat is damaged or in disrepair.
You could claim for not only the pain and suffering of your injury, but also any financial loss caused by it. If you need interim payments of compensation, some solicitors could help you receive these so you could still cover your bills while you wait for a final settlement.
Criminal Injury Compensation
Many people don't realise that there is a scheme which can pay for injuries caused by criminal acts. The scheme is operated by the government's Criminal Injuries Compensation Authority (CICA). Criminal injury compensation amounts are not the same as a normal personal injury claim (especially for multiple injuries) but it does allow a victim of crime to be compensated even if the criminal is never identified.
The time limits involved, and the claims procedure is different to other claims so please get in touch if you'd like us to help you claim CICA compensation.

Clinical Negligence Compensation
Accident claims solicitors covering Bath can also help with medical negligence claims. These claims are for avoidable injuries or preventable illnesses caused by a medical professional who's treated you in a substandard and negligent way.
Claims can be against NHS or private healthcare companies and could cover negligent medical or cosmetic treatment.
Medical professionals could include hospital staff, GPs, surgeons, anaesthetists, dentists, care home workers, cosmetic technicians, midwives and paediatricians.

Public Place Liability Accident Compensation
Many accidents leading to compensation claims could happen in public places. These are places or buildings which members of the public can use, visit or pass through without any prior permission being granted.
One main problem with these types of claims is when it's not obvious who owns the land or property. Our team can help you to determine the owner as we've dealt with many similar cases in the past.
Another problem can be if there are multiple parties who could be responsible for the public place. If the property is owned by one person but occupied by another, then a claim can become tricky if both deny responsibility or blame the other party.
Our team of specialists understand the different pieces of legislation involved with public place accident claims so could help you determine who to claim against and under which piece of legislation.
If you're unsure how to proceed with a public place claim, please get in touch. We're happy to offer free accident claims advice to help you determine whether you can claim or not.

No Win No Fee Accident Claims Solicitors Covering Bath
We know that you may be worried about the costs involved with hiring accident claims solicitors covering Bath. That's why our accidents claims solicitors work on a no win no fee basis when they take a claim on.
No win no fee agreements mean that:
There's no payment required for the claim to begin.
You don't pay the solicitor if they don't win the case.
If you do receive compensation, the solicitor will deduct their success fee from it. Success fees pay the solicitor for their work and are limited to 25% by law.
We think that no win no fee reduces the financial risk from making a claim, which makes them a lot less stressful.

How To Talk To An Accident Claim Specialist
If you'd like to discuss your claim with us today, then you can contact us by calling 0800 073 8801. We also have a live chat feature which is available 7 days a week.

Frequently Asked Questions
Because we're often asked very similar questions by new clients, we've answered some of them here to save time when you get in touch.
What Steps Do I Need To Take?
The first thing to do if you'd like to begin a personal injury claim is contact one of our specialist advisors. We'll assess your claim and work out whether you have a chance of winning your claim. The advisor will happily answer any questions and provide accident claims advice for free.
If we agree that you have a valid claim, we could introduce you to one of our accident claims solicitors. They all work on a no win no fee basis and have up to 30 years' worth of accident claims experience.
Our team are professional, friendly and eager to ensure you receive the correct level of compensation for your injuries.
Do I Have To Use A Solicitor Based In Bath?
Because of the modern world we live in, with much easier communication than in the past, many solicitors are happy to handle personal injury claims via email or telephone. This could mean you don't need to choose a solicitor who is based in Bath.
Why Do I Need To See An Independent Medical Expert?
To help prove the extent of your injuries, your accident claim solicitor will require you to undergo a medical assessment. These are carried out by a panel of independent medical experts across the UK, including within Bath.
The assessment will highlight, in conjunction with any medical records, the effect of your injuries. It will also show what impact they will have on you in the future. You could use a compensation calculator to work out how much you could receive.
Where Will I Need To Travel To Have A Medical Exam?
Here are some of the medical specialists we could use for your assessment in and around Bath:
Alba Mascunano
2 Wood Street
Bath, BA1 2JQ.
Anna Ross
Apthorp Clinic
Weston Road
Bath, BA1 2XT.
James Hampton
Walwyn Close
Bath, BA2 1ER.

Could I make holiday accident claims with accident claims solicitors covering Doncaster?
Whether you've suffered an injury on a plane, or were injured at the airport, if your holiday accident was not your fault, you could make an accident claim. You could also claim for holiday accidents that have happened a long way away from Doncaster. You could make a hotel accident claim for a faulty railing in a Spanish hotel or a road traffic accident claim in transfer from an Italian airport to your hotel, for example. The liable party for such claims could vary, but personal injury solicitors covering Doncaster claims could assist with claims against:
Package holiday tour operators
Airlines
Airport operators, or private businesses within an airport
Overseas parties
Should you have suffered food poisoning, a road traffic injury, an aeroplane injury or any other type of holiday illness or injury, we'd be happy to assess your case to see if you could claim compensation.
What to consider when making a claim with accident claims solicitors covering Doncaster?
When choosing personal injury solicitors covering Doncaster, you should remember that it doesn't matter where the solicitor in England and Wales is based. They could still handle your claim. However, there may be some things you could check when comparing solicitors registered in England and Wales, including:
If the solicitor authorised and regulated by the Solicitors Regulation Authority?
Do the law firms you are considering have specialist solicitors with many years experience?
Can they offer you a free, no-obligation case check?
What's their customer service like?
Are they easily contactable?
Do they have good reviews?
Do they help claimants start claims on a No Win No Fee basis?
Here at Accident Claims UK, we believe we tick all of these boxes. We'd be happy to speak to you about your case, so why not get in touch?
What other claims could your accident claims solicitors covering Doncaster help with?
Our personal injury solicitors covering Doncaster could assist with many claims. If you're not sure whether we'd be able to help with your claim, please call and ask. Some other claims we could help with could include;
Animal attack claims
Dog bite claims
Allergic reaction claims
Hit and run claims
Data breach claims
Industrial illness claims
Minor injury claims
Catastrophic injury claims
Child accident claims
Fatal accident and wrongful death claims
We'd be glad to speak to you about any claim you could have.
Local Resources In Bath
Now that you've reached the end of this guide about accident claims solicitors covering Bath, we've added some more useful guides, links and resources below.
Report a Road Accident – Information about reporting road accidents in Somerset from the local police force.
Bath Council – Roads – Useful information from the local council about their highway's maintenance process.
Bath Court – Opening times, contact details and other information from the local court in Bath.
Our Accident At Work Claims Services – A look at other no win no fee accident claims in Bath we could help you with.
If you have any further questions or require any more advice, please get in touch to discuss your claim today.  Our friendly advisors are waiting to help you begin your claim today.
Thank you for reading our accident claims solicitors covering Bath guide. Hopefully, by reading this guide, you'll now understand how personal injury solicitors for Bath claims don't have to be locally based.