By Joanne Jeffries. Last Updated September 7th 2021. Here, you will find our guide to accident claims solicitors for Crawley claimants. In the sections below we explain why you don't have to use personal injury solicitors for Crawley claims that are based locally.
When you're injured in an accident that was caused by somebody else's negligence, you may be wondering if you could pursue accident claims in Crawley. Did you know though that you're not obliged to use accident claims solicitors in Crawley? You can use solicitors in any part of the country to pursue a personal injury claim with the advances in technology much of the case can be handled via the telephone and email.
While our panel of accident claims solicitors are not based in Crawley, they can cover the area to assist you in making a claim as they offer a nationwide service. For more information on how we can do this, call our specialist advisors on 0800 073 8801 right away.
If you want to find out more information about using accident solicitors covering Crawley first, then please carry on reading our handy guide.
Choose A Section
What Is An Accident Claims Solicitor Covering Crawley?
An accident claim solicitor is one who understands the rules, legislation and laws required to make a personal injury claim. While you are not required to use a solicitor to assist you in making your claim, it is most definitely an advantage, as they will ensure that if you have been injured as a result of a third party's actions or omissions you will get the compensation that you could be entitled to. This is why we recommend you choose a personal injury lawyer to support your accident claim.
In many cases, when you claim accident compensation, you'll be able to use the services of a solicitor if you can prove:
The defendant owed you some form of duty of care;
That they breached that duty of care;
Which caused an accident that left you injured or ill.
Whether you've been injured as a result of a violent crime, had an accident at work or been involved in a road traffic accident, we could help you begin a claim for the compensation you may be entitled to.
Our accident claims solicitors will usually offer to provide the following services for any claims that they take on.
Offer a free consultation.
Work on a no win no fee basis.
Help you collect any evidence required to support your claim.
Handle communication from the defendant or their solicitor.
Keep you up to date with any progress and compensation offers they receive.
If you'd like to receive free accident compensation advice or to see if we could help you make a claim, please get in touch today.
Please be aware that there is an accident claims time limit of 3 years in the UK for personal injury claims as well as a 2 year limit for criminal injury claims through the Criminal Injuries Compensation Authority. This begins from the date of your injury. If you didn't find out about your injuries until a doctor diagnosed them, then the time limit begins from that date. However, there are exceptions to this time limit, that is why we suggest that you call us to find out more.

Rates Of Injuries Caused By Accidents At Work In Crawley
The table below, which was extracted from this full government report, provides data that shows how many injuries were reported at work in the Crawley area.
| Location | Total - Non Fatal Injuries (2018/19) | Total - Non Fatal Injuries per 100,000 workers (2018/19) | Fatal Injuries (2018/19) |
| --- | --- | --- | --- |
| Crawley | 215 | 277 | 0 |
According to national statistics from the Health and Safety Executive (HSE), there were 142 fatal accidents at work in the UK during the period of 2020/2021. You can see the industries affected below.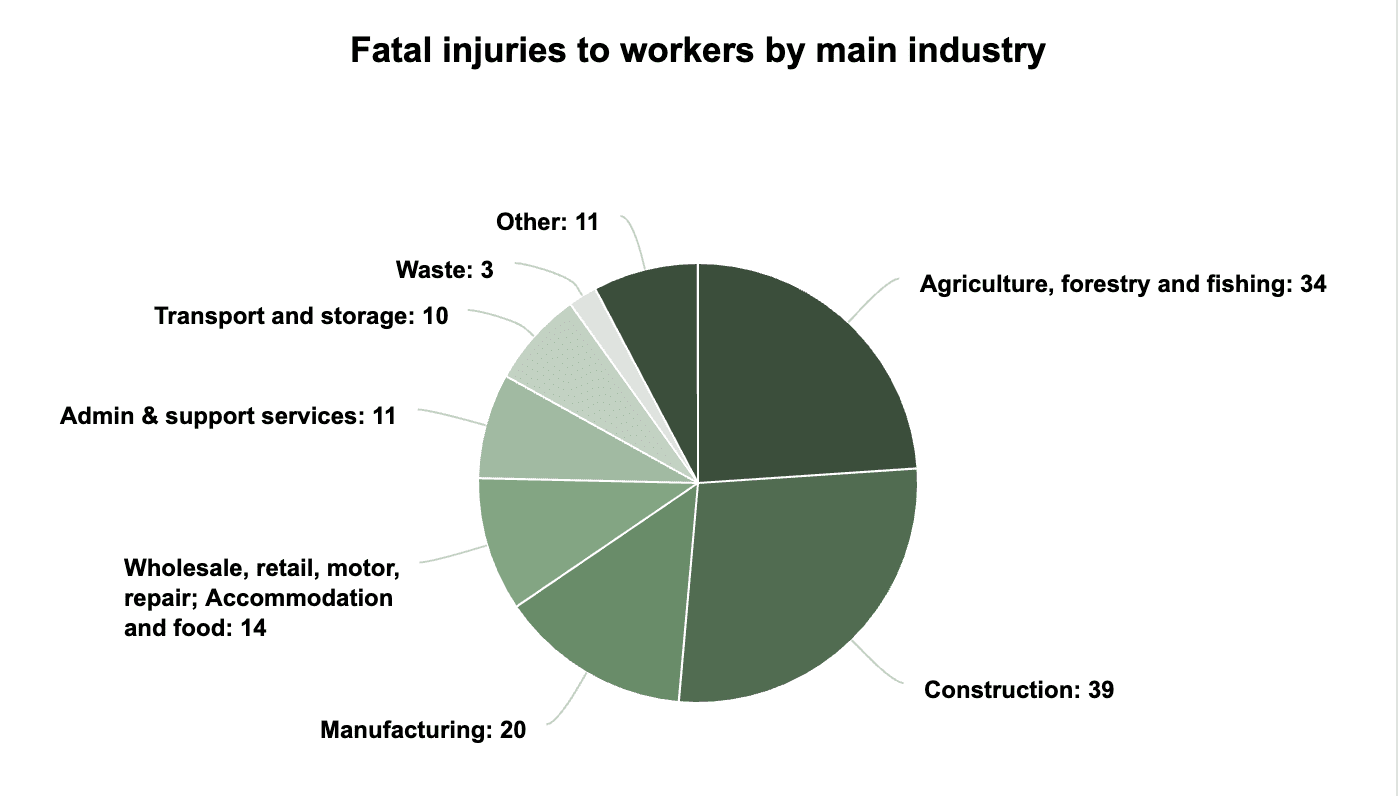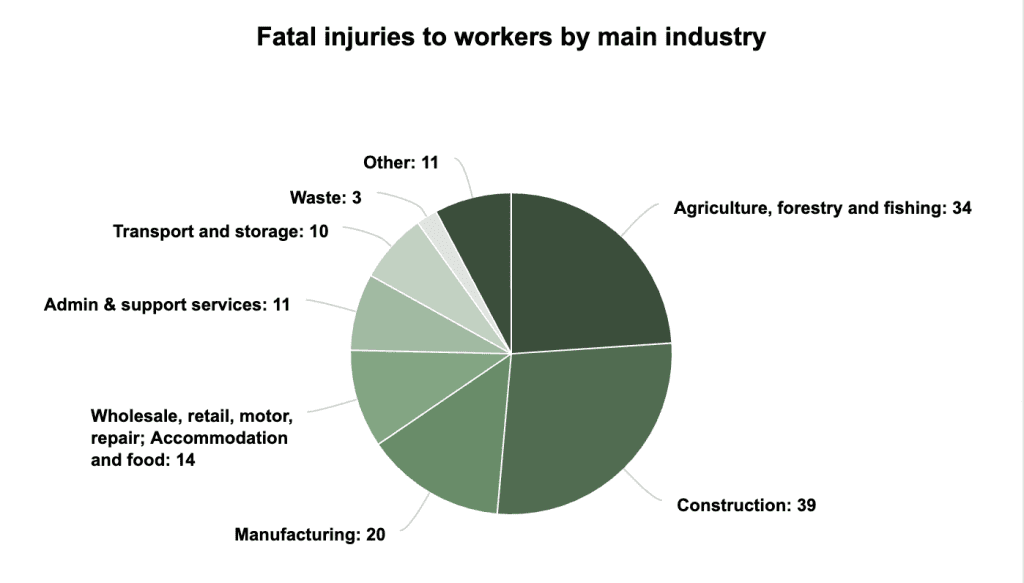 Claims For Accidents At Work In Crawley
Any work accident caused by the negligence of an employer could mean the employer is in breach of the Health and Safety at Work Act 1974.  This legislation requires employers to secure the health, safety, and welfare of employees while at work wherever possible.
In effect, this means the employer should take a look at each work process and reduce any risks involved. This means that they should:
Ensure any equipment or machinery is fit for purpose and well maintained.
Make sure staff have the correct protective equipment.
Provide full training for all staff and re-fresh the training periodically.
Ensure health and safety guidelines are kept up to date and adhered to.
If any of the above doesn't happen then you could speak to accident specialists about seeking compensation for any injuries caused.

Road Traffic Accidents In Crawley
It's quite common for accident claims solicitors covering Crawley to deal with road traffic accidents and car accidents in Crawley. In general, they are dealt with in the same way as other accident claims in Crawley, but they could require the claimant to try and gather evidence as early as possible.
At the scene of the car accident, if possible, you should try to:
Photograph the damage and layout of the accident before any vehicle is removed.
Ask witnesses for their details.
Take the other road user's details, including insurance details if they're a vehicle driver.
Seek medical treatment where required.
Accident claims in Crawley for road traffic accidents can be made by cyclists, pedestrians, motorcyclists, drivers or passengers injured in an accident that was caused by another road user. This could be because the third party weren't paying attention, were driving dangerously, driving carelessly or even if they committed a crime such as drink driving.

Pedestrian Accidents And Falls
Sometimes, a slip or trip which leads to a fall can seem minor to a passer-by. In fact, they can be far from trivial when they lead to a serious and long-lasting injury. If an accident that leads to the victim falling is caused by somebody else's negligence, then they could seek compensation for the injuries that they have sustained.
Examples of where somebody else might be to blame for an accident include:
If a wet floor is left untreated or warning signs aren't used to alert others to the risk.
Where cables are left trailing across walkways and corridors.
If a handrail is damaged or missing causing the victim to fall.
Where lighting is turned off or is faulty meaning trip hazards aren't visible.
If you've been injured in any of these scenarios, or similar, we could help you begin a claim so please get in touch to discuss how we could help you.

Claim If Injured By A Violent Crime
You might not be aware but if you're injured as a result of a criminal act committed against you, then you could be eligible to claim through the Criminal Injuries Compensation Authority (CICA). They are a government body set up to provide compensation for:
Sexual or physical abuse crimes against you.
Mental injuries.
Physical injuries.
Paying for a funeral.
Lost income and other expenses.
The death of a close relative.
The scheme has specific eligibility requirements that our accident claims solicitors understand and they could help to ensure your claim is filed correctly to make sure you receive the right level of compensation that you could be entitled to. You could even claim if the criminal is not identified so please get in touch if you'd like to discuss making a claim.
Accidents In Public Spaces
Public spaces or places you're allowed to use, visit or pass through without seeking permission are used daily by everyone without ever thinking about it. They could be roads or paths (public highways), shops, river paths, green spaces or parks.
If you're avoidably injured while in a public place and want to seek compensation for your injuries how do you know who to claim against? In some cases, it's quite straightforward to work out as it could be a local authority who is responsible for a path where you tripped on a damage kerb stone for instance.
In other cases though it can be quite tricky. For instance, you might be injured in a shop which is in a shopping centre. Your claim could be against the shopping centre management, the building owner or the shop itself. If all of these parties start pointing the finger at each other, things can become quite confusing, quite quickly.
We recommend using a specialist to assess your claim, like us, who understands the legislation surrounding such accidents. This could mean you can identify the responsible party much more quickly and prove liability to stop the buck being passed around.

Harmful Medical Treatment
When you undergo any form of medical treatment, whether it's to treat a medical condition or a cosmetic procedure, the medical professional treating you owes you a duty of care. They could be deemed negligent if they:
Fail to follow standard procedures that cause you to become ill or injured.
Cause you to suffer unnecessarily by misdiagnosing your condition leading to a delay in treatment.
Make you ill by failing to maintain hygiene standards.
Or if you become ill because the wrong medication is administered.
Claims for medical negligence could be made against private healthcare providers as well as NHS establishments. The types of medical professionals who could be deemed negligent include GPs, surgeons, nurses, care workers, dentists, cosmetic technicians, and hospital staff.
If you would like to begin a claim, please get in touch. Our specialist advisors can provide free claims advice about making a clinical negligence claim today.

No Win No Fee Accident Claims Solicitors Covering Crawley
If you're worried about the cost of making a claim, then you should use a solicitor who offers a no win no fee service (which our accident claims solicitors do).
No win no fee means that you won't have to pay the solicitor upfront.  If they fail to win you any compensation you don't need to pay them either.
When the solicitor is successful, they deduct a success fee from your compensation to pay for their work which is limited to 25%.
We believe no win no fee is the least stressful way of making a claim as it reduces the financial risks involved.

Start Your Claim
If you're ready to start a claim, then you can get in touch with us by calling 0800 073 8801 today. Alternatively, if you would like to be called by one of our specialists at a convenient time, please fill in our accident claim form.

Questions Commonly Asked About Accident Claims
When we're contacted by new clients, we're often asked the same questions. So, to save time a little, we've decided to answer a few of them here.
How Will An Accident Claim Solicitor Help Me?
By using accident claims solicitors covering Crawley, you will have the advantage of their knowledge and experience in handling personal injury claims.
Our team at Accident Claims UK are friendly, professional and committed to trying to ensure you get the correct level of compensation for your injuries. We offer a free, no obligation, consultation and are happy to provide free legal advice about your options.
How Important Is Finding A Solicitor Near Me?
Many solicitors these days are happy to manage your claim over email and telephone. This could save time as they don't require face to face meetings. This means that you could choose a solicitor based anywhere in the country which could give you a wider choice of specialists to choose from
How Important Is My Medical Checkup?
To prove how your injuries have affected you, and how they might cause you issues in the future, a medical assessment is an essential part of your personal injury claim. We have a panel of doctors based across the country. This means you won't need to travel far for your assessment.
Where Could I Have My Checkup?
Here are some of the specialists in the Crawley area that we could use to undertake your medical assessment:
Salman Baig
Station Way,
Crawley, RH10 1UA.
Syed Zaidi
41 Ifield Road,
Crawley, RH11 0DG.
Amer Hafeez
Southgate Avenue,
Crawley, RH10 6LW.
This is just a sample of the medical specialist we could use within the Crawley area.

Locating the most appropriate accident claims solicitors covering Crawley for your personal injury claim
When it comes to making any sort of personal injury claim, one of the most important things you might want to do is find quality personal injury solicitors covering Crawley who can give you the best chance of securing the maximum compensation possible for your claim. After all, they would be the person negotiating for your settlement. The good news is that the industry has progressed considerably over the years, and now many legal services like this can be handled digitally. This means you have the full range of professional solicitors to select from in the UK; you do not have to be confined to those in your local area.
This can make it a little bit overwhelming, though, and you may feel like you do not know where to begin when looking for a personal injury solicitor. It is important to make sure that they are registered in England and Wales, and they should also be authorised and regulated by the Solicitors Regulation Authority. In addition to this, it makes sense to look for a solicitor who has plenty of years of experience in the industry, and they should also have handled cases similar to yours. A no win no fee solicitor could make a lot of sense as well.
If you want to make a claim, we believe we have the team to help you here at Accident Claims UK. All you need to do is give us a call to get started. 
Can accident claims solicitors covering Crawley assist with allergic reaction claims?
Have you had an allergic reaction due to food you have eaten from a restaurant, takeaway, or another food establishment? If so, and you believe the company is to blame, there is a chance that you could be entitled to compensation.
All businesses that sell food have a legal requirement to disclose information about the ingredients within their food, with clear allergy warnings provided in the labelling. For restaurants, this information should either be on the menu or in writing elsewhere. You should also be able to ask serving staff about allergens. If this has not happened,  or you've been given the wrong information, there is a chance you could be eligible to make a claim for compensation.
Whether your reaction has been mild or severe, the best thing to do is get in touch to discuss your case further. We will help you to get a better understanding as to whether or not your case has a genuine chance of a payout.
Further Information
To provide you with more information, we've linked to some more guides and resources below:
Criminal Injuries Compensation Authority – The government scheme for claiming compensation for criminal injuries.
Report An RTA – The Sussex police website where you can report a car accident or other road traffic accidents.
Crawley Court – Details about opening times and contact details for Crawley court.
Accident Claims FAQ – More frequently asked questions about accident claims solicitors.
Accident At Work Claims – A more detailed guide about when you could claim for workplace accidents.
Medical Negligence Claims – A guide regarding the types of medical negligence claims that occur.
Hopefully, you've found our guide to accident claims solicitors for Crawley claims enjoyable. Now you could have further insight into choosing personal injury solicitors for Crawley claims.