By Joanne Jeffries. Last Updated September 10th 2021. Here, you will find our guide to accident claims solicitors for Derby claims. In the sections below we explain why you don't have to use personal injury solicitors for Derby claims that are based locally.
If you're looking for solicitors covering Derby to assist you in making an accident claim there are a couple of caveats before getting into the meat of this guide. Firstly, you will need to be within the accident claims time limit to be eligible to make a claim. Secondly, you must have suffered some form of harm or loss, in order for a claim to be possible.
We have aimed to provide enough advice on this page to enable you to approach your own claim with some understanding of the processes involved in making a claim. We offer insight into claiming for loss of earnings caused by industrial disease, what affects the amount of compensation you could receive and whether you could make a claim for a fatal accident, or claim on behalf of someone else with head injuries that have led to a brain injury for example.
We have also not included a generic personal injury claims calculator on this page but you can find out how to calculate compensation with a claims calculator. So, if you have questions this guide does not answer, or would like a personalised estimate of how much you could possibly claim, please speak to our team of advisors on on 0800 073 8801. They will be able to assist you further.
Choose A Section:
What Is An Accident Claims Solicitor Covering Derby?
A personal injury lawyer can help you, by processing a Derby accident claim on your behalf. Your solicitor will negotiate with the legal team representing the defendant (the legal entity responsible for causing you harm), aiming to agree on a settlement (an offer of compensation). Your solicitor will advise you of anything you can do to support your claim (such as undergoing a medical examination) and will manage the entire end-to-end claims process for you. In exchange, your solicitor will ask for a fee. In some situations, such as using our claims service, the solicitor pursuing your claim will not charge a fee until you have received a compensation payment. You can find more out about the No Win No Fee claims process later in this guide.

Reported Statistics For Accidents At Work In Derby
The table below gives data that covers accidents at work in the Derby
| Location | Total - nonfatal injuries | Total - nonfatal injuries per 100,000 workers | Fatal injuries |
| --- | --- | --- | --- |
| Derby | 211 | 141 | 0 |
You can find more information at the following link:
Below, we give you statistics showing the most common causes of an accident at work in 2019/20: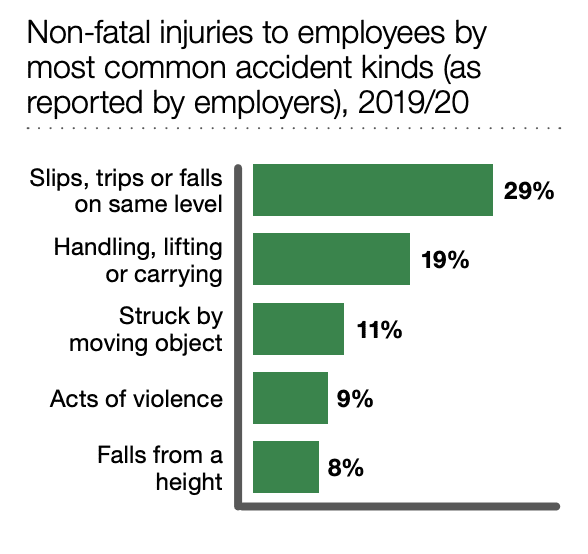 Accidents In Workplace In Derby
If you are injured in an accident at work, it could be that your employer is responsible for the hazard that caused the accident. In fact, the answer to the question, I have had an accident at work can I claim? depends upon this pivotal point. If your employer has failed in their duty to provide you with a safe workplace, by failing to comply with any of the rules and regulations which enforce workplace safety, they could be liable to pay you compensation. Typical workplace hazards can include:
People assigned to manual handling tasks without proper training.
Failure to provide adequate, well-maintained safety equipment.
Exposure to a harmful environment such as excessive noise levels, or harmful substances.
These are just a handful of the kinds of workplace hazards that could result in an employee suffering an injury. If hazards such as these can be traced back to the employer, then our panel of accident claims solicitors could be able to help the injured member of staff to make a claim.

Fall, Trip Or Slip Accident Claims
Slips, trips and falls are often seen as an innocuous kind of accident, almost trivial in many cases. And whilst this may be true for some slip and fall type of accidents, it is not true for all. Indeed, the elderly are at risk of traumatic injuries such as a broken hip or pelvis, caused by to even a minor slip, trip or fall, due to medical conditions such as osteoporosis exacerbating the trauma they suffer. Depending upon the severity of the accident, the victim can suffer injuries such as:
Fractured bones.
Soft tissue injuries.
Dislocated joints.
 Severe cuts and bruising.
For people who become the victim of slips or trips in Derby, due to hazards that are the responsibility of a third party, our accident claims solicitors could be able to help them get any compensation they are eligible for. Specialist solicitors could help maximise the amount of compensation you receive for such claims.

Making A Car Accident Claim In Derby
When it comes to making a claim for a Derby car accident, a claim could be made by the driver of a vehicle, a passenger in a vehicle (including public transport), a pedestrian, or any other road user. As part of the road traffic accident claims process, it must be proven that the victim has a) suffered harm and b) that a third party was responsible for causing the harm in some way. The road traffic accident could have been caused by another vehicle or road user, or it could have been caused by a static hazard for which some other legal entity is responsible. Our panel of accident claims solicitors covering Derby could assist you in making a claim of this nature. To find out more contact us.

Claims For Accidents In Public Places
Who you claim against for accident compensation if you have been injured in an accident in a public place depends upon who is responsible for maintaining the place where you were injured. For example, your local authority or local council could be liable if the accident took place at:
A public park or playground.
On a public road or street.
In a public car park.
In a public building such as a leisure centre or library.
In other circumstances, it would be the operator of the premises that is responsible, for example:
A restaurant, café or fast food outlet operator.
A retail store or shopping mall operator.
A transport company such as a bus company, airline, rail provider, etc.
If you are unsure who you might need to make your claim against, we can help. Speak to a member of our claims team on the number below, and explain your situation. They will also explain how our team of accident claim solicitors could help you to claim.

Negligent Medical Care In Derby
Medical negligence is, unfortunately, something that still occurs. This is despite the best intentions of private and NHS healthcare facilities, and their commitment to providing a safe service for patients. It is not only a doctor that could harm you through negligent medical treatment or advice, but it could also be any medical professional, such as:
Your GP.
Hospital nurses.
Your dentist.
A pharmacist.
Your optician.
A surgeon.
Care home staff.
All of these (and all other) medical professionals have a duty of care towards their patients. When this duty of care is not met, in a way that could have been avoided resulting in harm to a patient, then a claim for compensation could be made. For examples of clinical negligence please read here or scroll to the bottom of this guide.

Claims For Assaults Or Other Criminal Injuries
Criminal injury claims are a little different from other kinds of claims. In the case of a criminal injury that has been caused by assault, for example, it may not be possible to claim against the criminal. This could due to the fact that they are, a) never caught, or b) that they have no financial means to actually compensate their victim. When a victim needs to make a claim for criminal injury but the criminal cannot be pursued for damages, then such claims can be made through CICA (Criminal Injuries Compensation Authority). CICA is an organisation that exists to provide a way for victims of violent crimes to receive compensation for the harm they have suffered. If you have questions about the criminal injuries claim process, or need to know how claiming from CICA is accomplished, one of our claim advisors will be happy to answer any questions that you have. Just give them a call on the number below to proceed.

No Win No Fee Accident Claims Solicitors Covering Derby
There is a financially risk-free way for you to have your personal injury claim processed. By using our claims service, we can provide you with a No Win No Fee solicitor. There is no charge for initially beginning your claim, or during the time the accident claim solicitor is processing your claim. Additionally, should your solicitor be unable to reach a successful settlement and procure a compensation payment for you, there would be no charge whatsoever. However, at such time as your claim is resolved successfully, and a compensation payment is received by your solicitor on your behalf, then the legal fees will be due. At this stage, the fee is automatically taken out of the money that was received, and the compensation payment, minus legal fees, will be passed to you.

Apply To Make A Claim
If you have been the victim of an accident or incident that has caused you harm, that was the responsibility, even partially, of a third party, you could have just cause to make a claim for the harm or loss you have suffered. You don't need to use accident claim solicitors in Derby to have your claim processed (more on this below). You could choose to use our claims service. This will provide you with a financially risk-free way to move your claim forward. Call 0800 073 8801 or fill in our online form to speak to our claims team who will go over the details of your claim with you, and explain how we can help.

Common Answers To Accident Claim FAQs
Could An Accident Claims Solicitor Help Me?
Our panel of accident claims solicitors covering Derby specialise in helping people to get the compensation they are eligible for when injured through the actions of a third party. And whilst we are not saying you cannot use any solicitor you wish, it should be apparent that you could increase your chances of successfully making a claim, by using a specialist legal firm, with a proven track record in securing compensation settlements on behalf of accident victims.
Do I Need To Claim With A Solicitor In Derby?
Many years ago, using a local solicitor was often the only choice people had. We lacked the myriad of simple, effective ways to communicate with a solicitor that we have today. Fast forward to now, and we can easily, quickly and cheaply communicate with a legal firm, in many ways. Therefore, location is no longer a key driver when it comes to choosing a solicitor to process an accident claim in Derby for you. A better way to choose a solicitor is based on their experience and history of processing personal injury claims and achieving a successful end result on behalf of their clients.
What Is An Accident Claim Medical Exam?
Part of the accident claim process is being able to prove how badly you were injured, and also how your injuries have affected your quality of life in the short, medium and long-term. In order to provide such proof, your solicitor may decide that it would be a good idea for you to undergo an impartial examination by a medical professional. Once the examination has been completed, the results can be submitted as proof.
Where Could I Have A Medical Checkup?
We offer a comprehensive claims service to our clients, which includes access to a medical expert to perform a medical examination and provide a report regarding your injuries, your prognosis and any future treatment that you require. You could be examined by the following local doctor from our panel:
| | | | |
| --- | --- | --- | --- |
| David Pontefract | Wellbeing Clinic, | Derby | DE1 1UR |
| | 1 Wentworth House, | | |
| | Vernon Gate, | | |
| Irfan Akhtar | Premier Inn | Derby | DE1 2AY |
| | Premier Meetings | | |
| | Derby City Centre Riverlights, Morledge | | |
What kinds of clinical negligence could accident claims solicitors covering Derby help with?
Unfortunately, there are lots of different types of clinical and medical negligence that you could suffer harm from. In order to have a successful medical negligence claim, you would have to demonstrate that you suffered more harm than you would have done from an original injury or condition if it had not been treated negligently.
Some examples of medical negligence could include:
Where a surgical mistake means that your nerves suffered damage, in an operation.
Where the wrong tooth is extracted and a healthy tooth is removed in error.
If you suffer a drug interaction because of negligence by your doctor or pharmacy (if they dispensed the wrong medication or dose, for example)
Where your recovery from injury is hindered because a doctor at A&E missed an ankle fracture.
Not only could you claim for negligence from a doctor at a hospital, or a GP, you could also suffer negligence by a pharmacist, nurse practitioner, optician or dentist. If you believe you may have cause to make a clinical negligence claim, please don't hesitate to call our team. Whether you're claiming against a private practice or the NHS, we could give you peace of mind your claim will be in good hands.
How do I know whether accident claims solicitors covering Derby are the right choice for my claim?
We have already told you in the body of this guide that there is no need to use a local solicitor for your claim. However, while this gives you more choice as to the law firms and lawyers you use, this could be a little overwhelming. Not all solicitors offer the same level of legal services, after all. So, how could you make sure your claim is in good hands. We would advise that after checking whether the solicitor is authorised and regulated by the Solicitor's Regulation Authority and registered in England and Wales, that you do a few further checks. These could include looking into whether:
They offer to take on claims on a no win no fee basis
They're easy to get hold of and have a good reputation when it comes to communication with claimants
They have years of experience helping people with personal injury claims
They've handled claims that are similar to the claim that you have
They could give you a free initial consultation and free legal advice.
For More Information See These Resources
There is additional useful information at these links:
How To Report Accidents That Happen At A Leisure Facility
Car Accidents In Derby And How To Report Them
Checking these other guides might also be useful:
Claiming For A Slip, Trip Or Fall
How To Claim For Care Home Negligence
Thank you for reading our guide on accident claims solicitors for Derby claims. We hope you have now learned how to use personal injury solicitors for Derby claims.