By Joanne Jeffries. Last Updated September 10th 2021. Please see our guide to accident claims solicitors for Halifax claims below. We hope to explain that personal injury solicitors for Halifax claims could be based anywhere in the country.
In this guide, we look at how accident claims solicitors covering Halifax could help you to claim compensation in a variety of different circumstances. No matter whether you live or work in Halifax, or in another part of the country, our specialist team may be able to assist you. In general to be eligible to claim the compensation you should begin your claim within the three-year time limit. You will also need to clearly show that you were indeed injured or became sick and that the defendant was liable for the harm that you have suffered. There may be circumstances in which you could claim compensation even if your accident took place more than three years ago. There are also times that you could claim for accidents for which you were partially responsible.
For further advice read our guide below and when ready please contact our team.
Choose A Section
What Is An Accident Claims Solicitor Covering Halifax?
If you have been injured because of an accident or incident which was not your fault in the Halifax area, you could be entitled to make a Halifax accident compensation claim. Accident claims solicitors are legal professionals concerned with personal injury law.
They help people to make personal injury claims for compensation. The principle on which compensation is granted is that it should (as best as possible) attempt to put the claimant back in the same position they were prior to the accident.
Accident claims solicitors covering Halifax could help you at every stage of the claims process from having an initial consultation through to conducting your case. Areas in which they may seek to obtain compensation for you may include,
That for the suffering and pain caused by your injury.
Care costs and medical expenses.
Costs to compensate you for property damage.
Compensation for loss of income.
For accident claims advice, please contact our specialist team today.
Claims For Accidents At Work
Halifax has a diverse economy with many different industries represented in the area. Whether you have been injured whilst working in an office environment, in manufacturing or in an industrial workplace you could be able to make a claim.
No matter who your employer, as an employee you are owed a duty of care by your employer. They should keep you safe whilst you are going about your work duties. There are just a few simple criteria which most people will need to fulfill in order to make a work accident compensation claim.
That the employer owed you a duty of care.
That this employer was liable for what happened to you.
That the accident at work happened in the last few years, or that you became aware of the effects of this accident in this time.
Learn more about claiming compensation for an accident at work in this guide.
Injuries At Work Statistics For Calderdale
Whilst there are some workplaces that may be inherently more dangerous than others, workplace accident claims in Halifax could be made in all manner of different circumstances. To help put into perspective how many people were injured in the workplace in Calderdale.
You can find the source material as well as other related information here at the Health and Safety Executive.
| Location | Total - non fatal injuries (2018/19) | Total - non fatal injuries per 100,000 workers (2018/19) | Fatal injuries (2018/19) |
| --- | --- | --- | --- |
| Calderdale (Halifax) | 175 | 202 | 0 |
The most dangerous industries in the UK in terms of fatal injuries are,
Agriculture and fishing.
Construction.
Manufacturing.
Wholesale, retail, motor repair, accommodation, and food.
Transport and storage.
You can find further statistical information about fatal injuries in the workplace here, as well as in the graph below.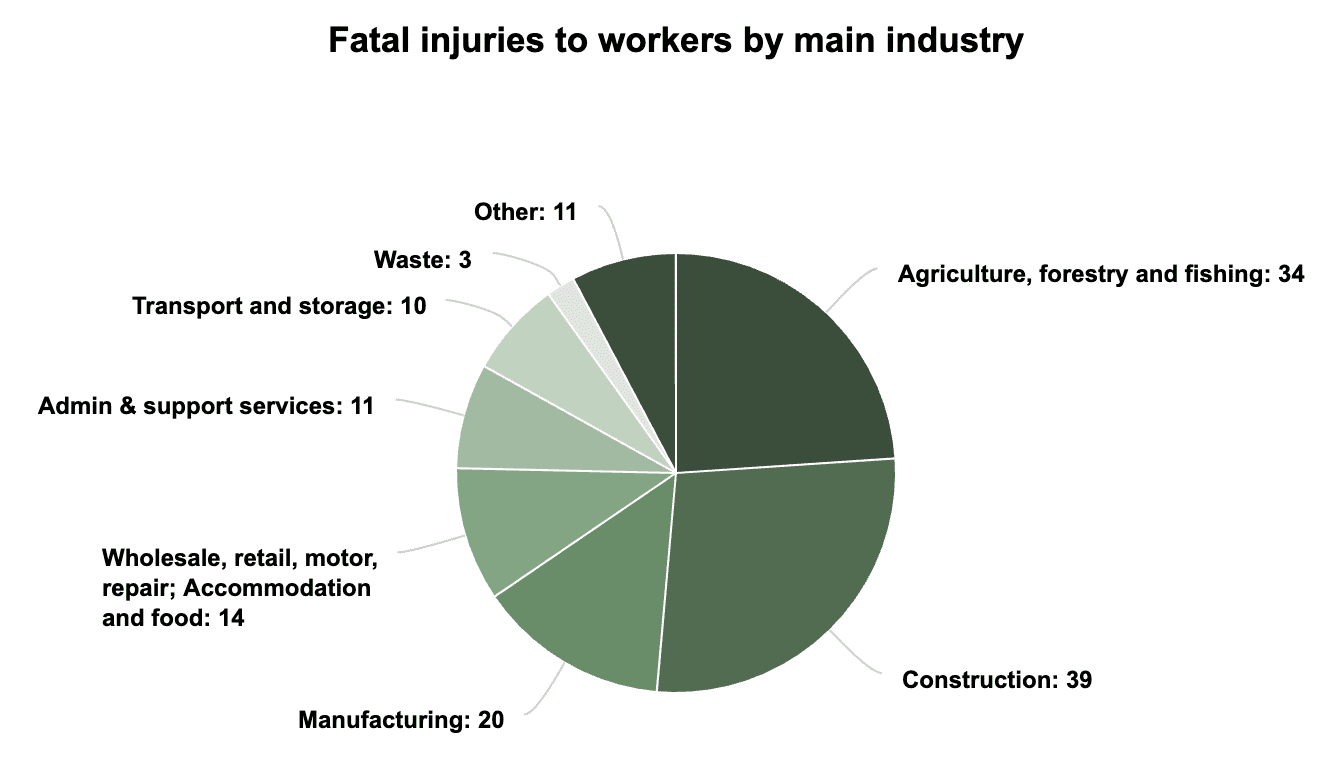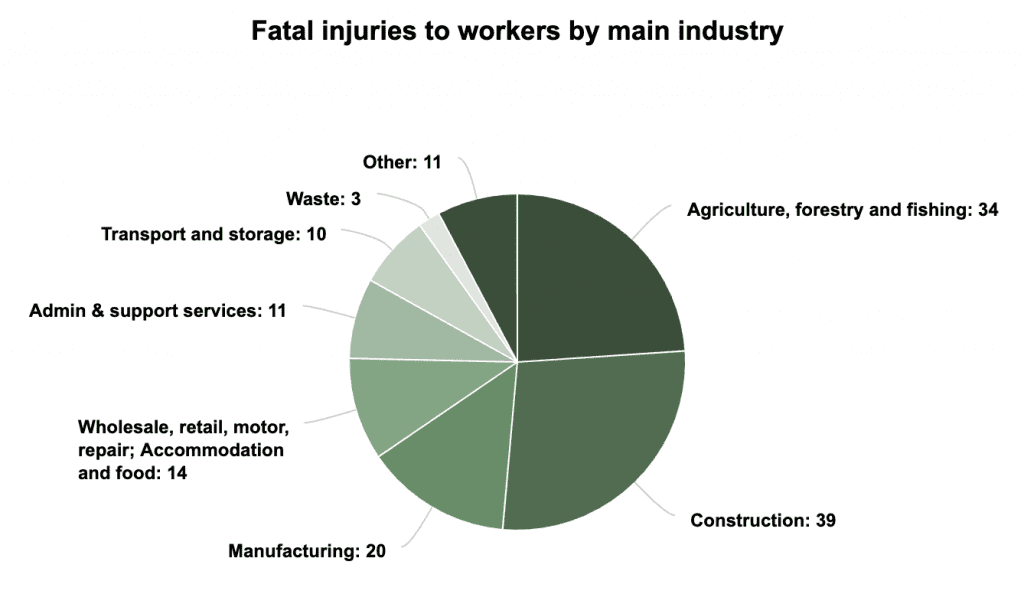 Road, Car And Traffic Accident Claims
If you have been harmed in a road traffic accident you could be able to make a personal injury claim with one of our accident claims solicitors covering Halifax if you are still within the accident claims time limit of three years.
The term road traffic accident is often used as an umbrella term and could refer to accidents that occurred in different circumstances, such as,
Bus accidents.
Motorbike accidents and bicycle accidents.
Car accidents and others.
You could claim compensation for injuries sustained in accidents that involved collisions with other vehicles on the roads, with animals, with a pedestrian, with debris or with other obstructions. The key factor is being able to show that another person was responsible for the accident taking place and that the accident happened in the last three years (unless you were under the age of eighteen at the time of the accident).
Accident Claims For Slips And Trips
One of the main reasons for which people may need to make an accident claim in Halifax is for a slip trip and fall accident. Slip trip and fall accidents could be counted as accidents in their own right or may be included in other forms of accidents. For example, an accident in a public place may have happened because someone tripped over a broken paving slab. They could also be the forerunner to other forms of accident, such as swimming pool accidents if you slipped and fell into a pool.
People could suffer such accidents on public land or on private property, but if someone else was to blame for the accident taking place a claim may be able to be brought against them.
Criminal Injury, Abuse And Assault Claims
If you or a loved one has been the victim of a violent crime such as an assault or abuse, you could be able to claim compensation for the harm caused. In some cases, you can even claim compensation if the offender has not been convicted of violent crime. Our panel of solicitors could help you to claim assault compensation if you were the victim, witnessed a loved one being attacked or a loved one died as a result of a violent criminal assault if you also suffered psychologically or physically because of this.
The government-run scheme, the Criminal Injuries Compensation Authority has been set up to compensate victims of violent crime where there have been no other means of them receiving compensation for such. For more information regarding CICA please click here.
Medical Negligence Claims
Medical negligence (also commonly known as clinical negligence or malpractice) is a term that describes circumstances in which someone becomes ill or is injured because a medical professional acted in a careless or negligent way. Our panel of accident claims solicitors could help you to claim compensation from a hospital, private healthcare provider or medical practitioner.
Medical negligence claim examples might include,
Failures in you being correctly diagnosed with an illness.
Failure to provide the correct treatment to a patient.
Surgical errors.
Avoidable and harmful mistakes by a dentist.
Avoidable and harmful mistakes by a GP.
To learn more about making a claim and medical negligence claim examples, see our clinical negligence guide.
Public Place Liability Accident Claims
Across the UK people are harmed in accidents in public places that could have been avoided. These accidents could happen in spaces such as parks, gyms and leisure facilities, pavements, shops, beaches car parks or restaurants. Some of the most common ways people are injured in public places are in slip trip and fall accidents. The owner or operator of these spaces, such as a local authority, individual or business, has a duty of care to anyone visiting these premises. They must ensure people's safety and minimise any potential risks.
If your accident happened in a space that is publically accessible (indoors or outdoors) it could be considered a public place accident and you may be able to make a claim against the liable party.
No Win No Fee Accident Claims Solicitors Covering Halifax
If you would like to use the services of our panel of accident claims solicitors covering Halifax to help you claim the compensation you could be wondering how you will pay for their services. People may often be worried about how much it could cost them to take legal action. Sometimes even seeing a solicitor for advice could be expensive. This is why our panel of solicitors covering Halifax is happy to work on a no win no fee basis.
Accident claim solicitors may operate on either a no win no fee basis or charge fees in other ways, such as at intervals during your case. The key difference with no win no fee solicitors is that as a claimant you will not have any legal fees to pay at the start of your claim. You also will not have to pay your personal injury solicitor anything during the claims process or indeed in the event of losing your claim. You should only need to pay them if you do win your case and are awarded compensation. The solicitors' fees will then be deducted from your final settlement amount making the process easy.
To learn more about no win no fee services, contact our team.
Contact An Accident Claims Solicitor
Accident Claims UK are specialists in helping people to make successful personal injury claims. To start a claim or for further accident claims advice speak to our team. We could help you to claim compensation whether you are seeking to claim for a bus accident, bike accident, a car accident or any other form of an accident which has happened in the Halifax area.
To speak to our panel of accident claims solicitors you could call on the phone – 0800 073 8801, send us an email to Office@AccidentClaims.co.uk or fill in our accident claims contact form.
FAQs About Accident Claims
We recognise that you may still have questions about how our accident claims solicitors covering Halifax could help you. Therefore below, we look at some of these questions as well as the answers to them.
Q: How Do I Find The Right Solicitor?
A: There are steps that you can take in order to make sure that you have the right solicitor handling your claim. Solicitors are regulated by the Solicitors Regulation Authority, so check that your solicitor is registered with them. You may also want to check that they are a no win no fee solicitor and that they have experience in conducting claims which are similar to yours.
Q: Do I Have To Choose A Solicitor Near Me?
A: We are often asked, "Do I need to use accident claim solicitors near me?" As a claimant, you are not restricted to choosing a personal injury solicitor or law firm in your area. You can choose your solicitor based on how much they charge as a service fee or their experience in handling claims similar to your own. The only part of the claims process which may need to be carried out in your local area is a medical assessment.
Q: Do I Have To Have A Medical Assessment?
A: The only part of the accident compensation claims process which may need to be carried out in your local area is your medical assessment. This medical exam is carried out to ensure that your solicitor or personal injury lawyer has up-to-date and impartial information on your injuries. The doctor will carry out an assessment and may be able to identify previously unseen injuries or recommend further treatment. Their report will be used by the solicitor to best estimate how much compensation you may be owed.
Q: Will I Need To Travel A Long Way To Be Assessed?
A: If you have been injured or are suffering from an illness you may be unable to travel long distances. As such our panel of accident claims solicitors works with a panel of doctors across the country who could carry out your assessment.
It could be arranged for you to see a medical practitioner in your local area who could carry out your medical exam. Those covering this area include;
Kashif Waseem
West Parade,
Halifax,
HX1 2EQ
Qamar Lodhi
Premier Inn Halifax,
Salterhebble Hill,
Huddersfield Road,
Halifax,
HX3 0QT
Please note that your medication may be carried out at a different location or by a different medical practitioner depending on availability.
Could accident claims solicitors covering Halifax help me with food injury claims?
There are two examples of food related injury claims that we could offer to you, to give you an idea of whether you could have a claim for compensation. The first would be food poisoning claims. If you have eaten food at a restaurant, hotel, cafe or from a takeaway for example, and the food has not been kept, stored, prepared or cooked hygienically, this could cause you food poisoning. The symptoms of food poisoning could be quite unpleasant, ranging from minor to very severe indeed. You may even require hospitalisation in some cases. If you could prove that negligent food hygiene practices have led to your food poisoning, you could potentially have a claim for compensation against the restaurant or other food business. We could help you with such claims.
Our personal injury solicitors covering Halifax could also help if you have suffered symptoms of an allergic reaction because of a food businesses negligence. There are lots of people in the UK with food allergies. They would usually take great care to ensure they don't have an allergic reaction, by checking allergy menus or asking for food to be prepared without specific allergens. However, sometimes things go wrong. If a food business has been negligent in providing accurate allergen information, or they have failed to prepare food according to your instructions without an allergen, and served it to you anyway, you could suffer an allergic reaction. We could help ascertain whether you could have a claim for compensation and provide you with specialist solicitors to help you get the compensation you deserve.
Are all accident claims solicitors covering Halifax the same?
While many of the solicitors you may find have websites where they state that they are registered in England and Wales to practise law, and are authorised and regulated by the Solicitors Regulation Authority, they are not all the same. You may find differences in the level of service provided, the number of years experience they have, their success rates and even whether they could provide you with free legal advice. Some may support you on a no win no fee basis, while others may require payment upfront. We would advise you to look carefully into the law firms or solicitors you're considering to make sure they are a good fit for your needs. It might be prudent to check on review sites what others have said about the legal services they've received.
Local Information And Services
In this guide, we have looked at examples of why you may need to claim compensation. We have also looked at how an accident claims solicitor could help you. We have also provided the answers to questions which those searching for accident claims solicitors covering Halifax may have. In addition to this, below we provide information on local or national bodies you may need to contact in the event that you are involved in an accident.
Reporting Workplace Accidents – Health and Safety Executive guidance on reporting accidents and injuries in the workplace.
West Yorkshire Police – Reporting non-emergency crimes and incidents on the roads.
Calderdale Council – Reporting of incidents or accident claims involving the council in Halifax.
Below we have provided a few guides regarding accident claims that could be relevant to your circumstances.
Claim For A Medical Misdiagnosis
We hope you enjoyed our guide to accident claims solicitors for Halifax claims below. We hope we've explained that personal injury solicitors for Halifax claims could be based anywhere in the country.