By Joanne Jeffries. Last Updated September 10th 2021. Here, you will find our guide to accident claims solicitors for Hull claims. In the sections below we explain why you don't have to use personal injury solicitors for Hull claims that are based locally.
In the sections that follow, you will learn about the legal process of making accident claims in Hull, East Yorkshire. We will discuss some of the most common types of claims we see, and we will also take a look at why you could be eligible to make a claim based on your own circumstances.
We have tried to provide all of the information that you will need in this guide. However, each claim has its own unique aspects that could mean that you have questions that fall outside of the scope of this guide. If this turns out to be true in your case, please call 0800 073 8801. One of our claims team will answer your questions and also explain how our panel of accident claims solicitors can assist you to get any compensation that you could be eligible for for fatal accidents, work injuries and whiplash for example. There are many law firms that could help you, no matter where their registered office is. We'll explain why we think we'd be a great choice for you to make your claim on a No Win No Fee basis.
Choose A Section:
What Is An Accident Claims Solicitor Covering Hull?
You won't find a personal injury claims calculator on this page. We prefer to give you a more personalised, better-focused estimate of how much you could be able to claim. What you will find, is plenty of information about the claims process itself.
Firstly, in order for you to be eligible to make a claim, you must have actually suffered some form of harm as a result of the actions of another party (at least partially). Who you claim against will depend on the circumstances of your accident. How much you are able to claim will depend on the severity of the harm you have suffered, and the effect this harm has had on your life.
In the case of accidents that were partially caused by the claimant, the claimant's legal team will negotiate an agreed level of liability with the defendant's solicitor. Any settlement that is subsequently achieved, will be driven by this.

Reported Rates of Accidents At Work In The Kingston Upon Hull Area
The table below gives data that covers accidents at work in the Hull area:
| Location | Total - nonfatal injuries | Total - nonfatal injuries per 100,000 workers | Fatal injuries |
| --- | --- | --- | --- |
| Kingston Upon Hull | 350 | 242 | 0 |
You can find more information from the period 2019/20, at the following link as well as the key facts below: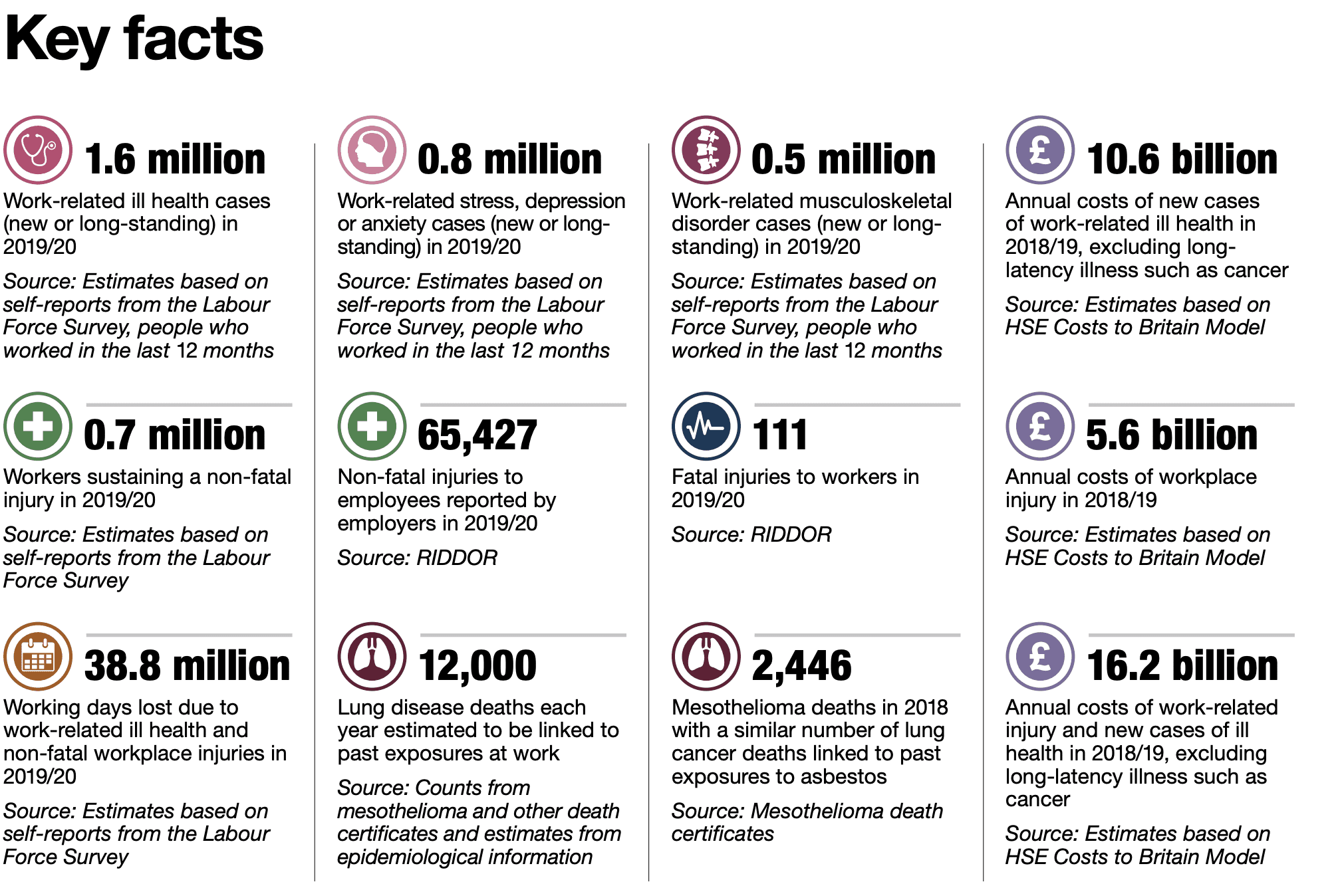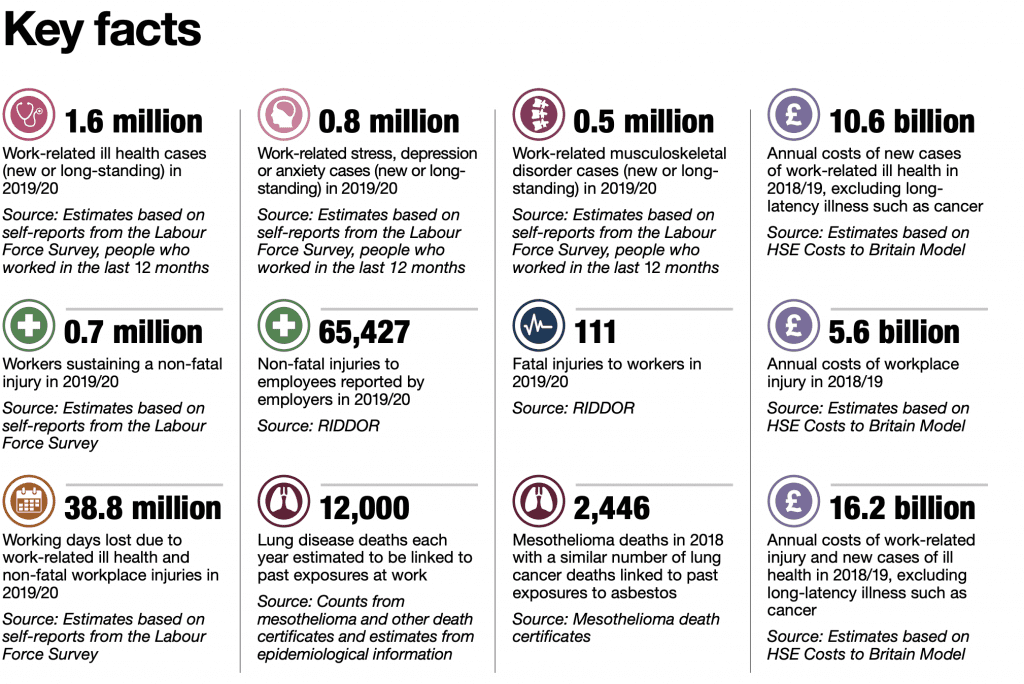 I Had An Accident At Work, Can I Claim?
While you are at work, you should be provided with a safe working environment at all times. Multiple levels of regulations such as the Occupiers Liability Act and all Health and Safety directives are in place to enforce this legal requirement. When there is a lapse in compliance, it can expose a worker to risk. For example:
Being exposed to chemicals that could cause harm.
Manual lifting injuries.
Being hit by a falling object.
Ear damage through excessive noise.
Accidents involving work vehicles.
Workplace slips, trips, and falls.
Stress, mental trauma, and other psychological conditions.
Risks/hazards such as these could leave a worker in a position to make an accident at work claim. Do you need some accident at work advice? Speak to one of our claim advisors, they can help you further.

Criminal Injuries Or Assault Claims
Victims of a violent crime, such as rape, assault or a mugging, do have a route to making a claim, even if the perpetrator of the crime is never apprehended, or lacks the financial means to compensate their victim. The Criminal Injuries Compensation Authority (CICA), is a UK Government operated body, that provides claimants with a way to receive compensation for injuries that they received, whether physical or psychological.
Your solicitor will be able to advise you on whether or not it will be CICA that you make your request for criminal injury compensation. If you would like to know more, speak to a member of our team on the number at the end of the page.

I Had A Slip And Fall Accident, Can I Claim?
Slips, trips and falls are a very common kind of accident that UK residents become the victim of each year. If you have had a slip and fall accident, and it can be proven that the hazard that caused the accident was the responsibility of a third party, you could be able to make a claim. For example:
You slipped on a wet or dirty floor in a restaurant, that should have been cleaned or signposted.
You tripped on a torn carpet in a retail store, that should have been maintained better.
You fell down some stairs in a hotel, due to broken lighting or a damaged handrail.
These are examples of the kinds of hazards that could lead to an injury, in a way that could leave the victim able to make a claim for their suffering.

Claims For Road Traffic Or Car Accidents In Hull
If you have been the victim of a Hull road accident, this section is aimed at you. The first part of the road traffic accident claims process is discerning whether you are actually eligible to make a claim. For this to be so, then you will have had to have been injured due to the actions of another road user (driver, passenger, pedestrian, etc.), or by a hazard caused by another entity (such as construction materials left causing a hazard on a public road). If you are unsure of who you could make a claim against or need some accident claims advice, then our team can handle car accident claims in Hull and will be able to help you, if you call them on the number at the end of the page.

Hull Area Medical Negligence Claims
All medical professionals are held to a high standard, and in most cases, they perform their duties to the best of their ability. Each medical expert that you come into contact with, in a healthcare role, is expected to never cause harm to a patient in a way that could have been avoided. Such a breach of duty of care, when it results in harm to a patient, could result in the injured patient being eligible to make a claim. This relates to all medical professionals. Your GP, a surgeon, nurses at your local hospital, your dentist, your pharmacist, etc. As long as you are within the accident claims time limit, and it can be proven that clinical negligence caused you harm, you could be able to claim for medical accident compensation.

I Was Injured In A Public Place, Can I Claim?
The local authority or council is responsible for maintaining all public places to a safe standard. This includes parks, roads, public footpaths, car parks, etc. as well as public buildings such as a library, leisure centres or council-owned public swimming pool. Therefore, if you are injured in an accident that was caused by a hazard that the local council was responsible for, for example, you tripped on a pavement, or slipped on a wet floor in a council building, you could be able to make a claim. To learn whether our panel of accident claims solicitors covering Hull could be of help to you, speak to one of our claim experts on the number below.

No Win No Fee Accident Claims Solicitors Covering Hull
Rather than paying upfront for your legal fees when making a claim, you can use the services of a No Win No Fee solicitor. This option can provide you with the services of a solicitor that you do not pay until your claim has been resolved successfully. You won't be charged when the solicitor starts working on your claim, or while they are processing the claim for you. You also don't have to pay your solicitors fee if the claim is unsuccessful. The only time that you pay your solicitor for their legal services, is when you have won a compensation settlement. The fee will then be deducted from the money the solicitor has received on your behalf.

How To Claim With An Accident Claims Solicitor
If you have been harmed in an incident that was the responsibility of a third party, you could be eligible to make a compensation claim. We can provide you with accident claim solicitors who can help you, as part of our claims service. If you are ready to begin working with an accident claims solicitor covering Hull to have your claim processed, or if you simply need some accident claims advice, please speak to one of our claim advisors on 0800 073 8801 . You can also fill in our contact form.

Accident Claims – Frequently Asked Questions
How Could A Personal Injury Solicitor Help Me Claim Compensation?
Using a good accident claim solicitor, to process your claim for you will provide you with some clear benefits, such as:
They will arrange a local medical examination to help support your claim.
They are specialised in accident and injury cases.
They may be able to offer a No Win No Fee service.
These are just a few examples of the kinds of ways our panel of specialist accident and injury lawyer could be able to assist you. If you would like to learn more about the services we offer, and how we can help you further, then please speak to a member of our team using the contact details that we provided above.
Do I Have To Claim With A No Win No Fee Solicitor In Hull?
If you have never before had to find a solicitor, or needed any legal services, then you may not realise that you can use any solicitor you wish. You don't need to use No Win No Fee solicitors in Hull unless you want to. Of course, if you prefer to use a local legal firm then you are free to do so. However, it could make more sense to try and find a solicitor that specialises in injury claims, as they could have a better chance of success. It could be argued that that the capabilities of your solicitor far outweigh physical location when choosing the right legal team.
What Is A Medical Examination Or Assessment?
In order to make a claim for personal injury, you are required to undergo a medical assessment with an independent doctor. Once this examination has been completed, the results can be used to prove how bad your injuries are/were, and how they negatively impacted your life.
Where Will My Examination Take Place?
We work with a panel of doctors local to the area of Hull who are able to perform your medical assessment.
| | | | |
| --- | --- | --- | --- |
| Kashif Waseem | First Floor , Norwich House,Savile Street | Hull | HU1 3ES |
| David Pontefract | 80 Ferensway, | Hull | HU2 8LN |
Could accident claims solicitors covering Hull claims assist if I caused an accident?
If you have caused a road accident or accident at work and there was no one else to blame, you would not be able to make a claim for personal injury. However, it may not be clear who was responsible for the accident at the scene. For this reason, we would advise people not to admit any fault at the scene of any accident. Even the act of apologising at the scene could be seen as an acknowledgement of fault. If you believe that someone else may be partially responsible for an accident in which you have been injured, you may still be able to make a claim.
Personal injury lawyers covering Hull could help with such claims. These could be called split liability claims, whereby you could still receive some compensation. Lawyers and courts could argue, however, that your compensation should be reduced. If it could be determined that you had contributed 30% towards the accident, your payout could be reduced by 30%, for example. Should you wish to discuss making a split liability claim with our team, we'd be happy to talk to you. We could offer you free legal advice after an initial consultation over the phone.
How can I determine which accident claims solicitors covering Hull would suit my claim?
All claimants are different, and require different things from their solicitors. All claims are assessed on their unique facts and circumstances and the strength of the case. Therefore, having a good solicitor on your side could influence the amount of compensation you could receive as well as the success of your claim. A good solicitor will be able to put through solid case for compensation, and will be able to negotiate for the maximum compensation possible for your case. While many solicitors advertised that they are registered in England and Wales to practise law, and are authorised and regulated by the Solicitors Regulation Authority, this doesn't mean that they would all offer the same kind of service. Therefore, it could be wise to check out certain aspects of their services. You might want to find out how many years experience they have, whether they could offer free legal advice, what their success rate is, and even whether they work under no win no fee terms. We would be happy to speak to you if you would like to ask us any of these questions. The team here at Accident Claims UK would be only too happy to help you with your case.
Where Could I Find Out More?
These external links contain useful, additional information:
How To Report An Accident In The Workplace
How To Report An Accident At A Leisure Facility
You may also find that reading these additional guides could be of some help to you:
Claiming For An Injury Caused By A Spilt drink
How To Claim For An Accident In Sainsbury's
Claiming For A Leg Injury And How Much You Could Claim
Hopefully, you've found our guide to accident claims solicitors for Hull claims enjoyable. Now you could have further insight into choosing personal injury solicitors for Hull claims.