By Joanne Jeffries. Last Updated September 7th 2021. Here, you will find our guide to accident claims solicitors for Inverness injury claims. Below, we explain why you don't have to use personal injury solicitors for Inverness claims who are based locally.
Are you currently suffering an injury that was caused by someone else? Did you experience harm that could have been avoided if the correct guidelines were in place? If so, our panel of accident claims solicitors could help you make a successful accident claims.
You could be entitled to claim compensation for an injury suffered as a result of someone else's negligence. We have an expert panel of solicitors who can cover the area of Inverness and specialise in a number of accident claims to help victims of negligence make a claim for compensation.
Throughout this guide we will look at how our panel of solicitors could help you build a personal injury claim against various third parties for your injuries. Although we are not based in Inverness, we have a panel of accident claims solicitors covering Inverness who are suitably placed to handle your claim.
For advice, guidance and support throughout your claim, contact our specialist team by calling 0800 0738 801.
Choose A Section
What Is An Accident Claims Solicitor Covering Inverness?
If your injuries were caused by negligent actions of another person, road user, public authority or private owner, you could be eligible to make an accident claim. To ensure you have the best possible chance of receiving compensation for your injuries, you could utilise the legal knowledge of a personal injury lawyer. Their expert services and professional guidance could be the difference between a successful claim and a missed opportunity for a settlement, which is why it's important to choose a suitable solicitor for your case.
Also known as a personal injury lawyer, an accident claims solicitor could specialise in helping people to claim accident compensation from anywhere in the country. With this in mind, it may be beneficial for you to broaden your search from 'Solicitors near me' to ensure you are not limited to local solicitors to make injury claims in Scotland.
Some of the services a solicitor could provide to you include:
An assessment of whether you do have a valid claim and that this can be justified through the applicable accident claims time limit.
A professional collection of evidence to support your claim.
An estimate of your potential compensation through a personal injury claims calculator.
For more information about how our panel of solicitors can help you make Inverness accident claims, why not read our accident claims guide.
Claims For Inverness Accidents At Work
There are countless reasons for misfortunes at work and in some cases they may be due to employer negligence. As an employer legally owes you a duty of care, any breach which results in harm could be grounds for a personal injury claim. An accident claim for an injury at work could provide you a settlement to compensate for any injuries you have negligently experienced as a result of employer or even employee mistakes.
To avoid an accident at work your employer has responsibilities set out by various articles of legislation. Some of which include:
To provide both a safe working environment and safe equipment for employees to use.
To issue any necessary safety equipment, including personal protective equipment.
To train employees in basic safety procedures to ensure their job role is conducted appropriately and safely.
For advice about how to claim for a workplace accident in the Highlands or a centralised estimation of the potential damages, you could receive through a work injury compensation calculator, call us today. We could help make sure you have all the information you need to help you with accident at work claims.
Statistics Showing Rates Of Injuries At Work In The Highland
People can be harmed in the workplace in a variety of different ways and to different degrees of severity. According to a report by the Health and Safety Executive, a massive 1.6 million people suffered from work-related illnesses in 2019/20. A further 65,427 injuries to employees were reported under RIDDOR.
You can see further stats on workplace illness in 2019/20 and the types below.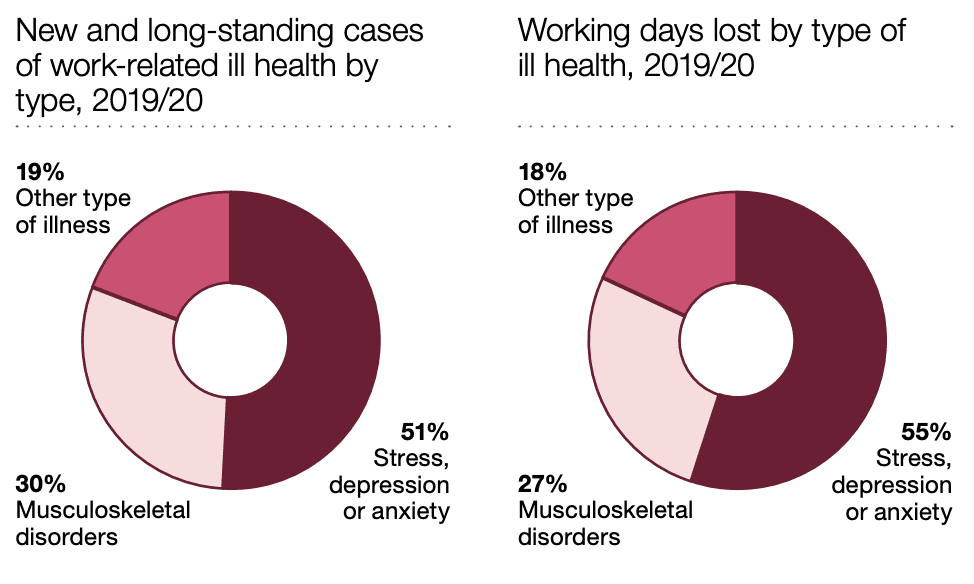 To concentrate these figures on Scotland, the table below illustrates the rate of fatal and non-fatal injuries in the area alongside the rate of non-fatal injuries per 100,000 workers in the Highlands area.
| LOCATION | TOTAL – NON FATAL INJURIES 2018/19 | TOTAL – NON FATAL INJURIES PER 100,000 WORKERS 2018/19 | FATAL INJURIES 2018/19 |
| --- | --- | --- | --- |
| Highlands | 247 | 225 | 1 |
For more information about these statistics, click here to download the PDF guide produced by the Health and Safety Executive.
Claims For Inverness Road Traffic Accidents
Unfortunately, the implications of a road traffic accident can be severe for all those involved. A traumatic A96 road accident could leave a victim with short-term or long-term physical and psychological injuries. A claim could be made for a road traffic accident in Scotland if caused by reckless driving of another road user. This could be the result of a negligent car driver, lorry driver, a motorcyclist or even a pedestrian involved in an accident while crossing the road.
In 2017, 146 people were killed in road traffic accidents in Scotland, with a further 1,580 people seriously injured in road traffic accidents. If you have been involved in a highlands accident that was caused by third party negligence, you could make injury claims in Scotland for any harm that you have suffered.
A range of injuries could be grounds for compensation, including whiplash and brain injuries. You can learn more about the accident claims process in our guide here. Road traffic accidents claims are something we have experience in helping with.
Slip Trip Or Fall Compensation
In the UK, slip, trip or fall accidents are some of the most common ways people are injured, especially at work, according to the Health and Safety Executive.
There are multiple ways in which a slip or trip accident could be caused in almost any environment. Some examples of this can be found below:
Slips:
Icy surfaces
Oily/wet spills
Loose mats/rugs
Weather hazards
Leaks from machinery or buildings
Trips:
Trailing cables
Poor lighting
Obstructions in walkways
Uneven floors
Defective surfaces, such as pavements
There are various guidelines suggested by the Health and Safety Executive which set out safety procedures for third parties to take in order to avoid slips and trips. For example, to avoid obstruction in busy walkways, something as simple as consistent housekeeping and maintenance of the space could make a big difference.
If the third-party responsible for the space in question fails to uphold safety standards, the victim could make a personal injury claim for slip, trip or fall compensation. This could be for sprains, fractures or other types of musculoskeletal injuries.
With regards to potholes and defective pavements, the size of the obstruction in question must meet a specific criterion from the council responsible in order to make a claim. You can discuss this in more detail with our team of advisors.
Violent Crime Victim Compensation
An incident involving violent crime could be unfortunate for both the victim and the victim's family. While no amount of money can redeem the wrong done to you, violent crime victim compensation could help seek the right treatment or rehabilitation services you need on the road to recovery.
Once you have reported a crime, you may want to start thinking about how to make a successful accident claim with a personal injury lawyer.
If you are searching online for 'victims of crime compensation', you may also find the Criminal Injury Compensation Authority (CICA) of use to your cause. The CICA is a government-run organisation that provides compensation for blameless victims of violent crimes throughout the UK. The payouts awarded to victims could range depending on the severity of injuries suffered. For more information about how you, a family member or a friend could be entitled to compensation under the Scheme for physical or psychological injuries, read our CICA guide.
To begin a claim for compensation with our panel of accident claims solicitors covering Inverness, contact us today.
Claims For Accidents In A Public Place
If you are concerned about what qualifies for compensation in regards to an accident in a public place, or you have questions about what spaces are considered as a public place, you may find this section of the guide useful.
A public place could encompass a range of different spaces, such as a local park, the street, a shopping centre or a leisure centre. Generally speaking, any space which can be entered as a member of the public is considered a public place for the purpose of making a claim.
To ensure your case is successful in securing accident compensation, it is important to distinguish which party the claim should be brought against. A personal injury lawyer could help you bring a claim against a local authority responsible for maintaining the local park, or a private company responsible for an accident at Inverness airport.
For advice about how to make a successful claim, contact our panel of accident claims solicitors covering Inverness today. We could assist with a range of injury compensation claims.
Medical Malpractice And Negligence
The term 'medical negligence' includes a broad spectrum of incidents. A claim for medical negligence in Inverness and the Highlands could be made for mistakes by any medical professional who fails to uphold reasonably expected standards of healthcare, which causes an avoidable injury or preventable illness as a result. This could also include the worsening of an injury or illness.
A person who delivers treatment within the healthcare sector will legally owe you a duty of care, they could be held accountable if they cause harm that would have otherwise been avoidable. For example, if a dentist damages healthy teeth or gums during a routine check-up, accident claims solicitors could claim compensation on your behalf.
In the interest of making a claim for clinical negligence, our panel of accident claims solicitors could help you successfully decipher whether your circumstances mean that you are eligible to make a claim.
No Win No Fee Accident Claims Solicitors Covering Inverness
Before you begin a Scottish compensation claim, your chief concern could be by what means will the case will be funded financially. In most cases, we believe that a no win no fee agreement could be the least stressful option for a claimant.
Under this agreement, claims are handled on the basis that the solicitor's fees will only be paid if the claimant receives a settlement. If, for whatever reason, the claim is unsuccessful, the client will not be responsible for their solicitor's fees.
To begin your claim with a no win no fee solicitor from our panel of accident claims solicitors covering Inverness, or for a free initial consultation contact us today on the number at the top of this guide.
Talking To Our Claims Team
If you feel ready to make an accident claim, our specialist team of legal advisors could help you begin the claims process. Regardless of whether you are looking to make a claim for whiplash or simply seeking accident claims advice, we could help. Even though we are not based in Scotland, our panel of solicitors could successfully conduct Inverness accident claims.
You can contact our advisors and begin the claims process in a number of different ways. This could be by calling us, filling in our online form or clicking here for other options.
Frequently Asked Questions And Answers
Below are answers to some of the most frequently asked questions to our advisors by previous clients. If you can't find your question listed below, call us today to discuss your queries.
Is My Injury Eligible For Compensation?
While there are hundreds of law firms offering various types of accident claim solicitor services, we believe our panel of personal injury lawyers are well placed to handle your claim. Our panel of accident claims solicitors have up to three decades of experience in handling claims. They may be able to offer you a no win no fee agreement so call us today. Our lines are open 24 hours a day to answer your calls.
Is It Okay To Claim With A Solicitor From A Different Area?
You have the freedom to use a solicitor located anywhere in the country. Instead of limiting yourself to local legal firms to make accident claims in Inverness, you may benefit from the expertise of another solicitors practice based elsewhere. Our panel of accident claims solicitors are more than capable of managing a claim from anywhere in the country.
With so many methods of communications available, it's easier than ever to contact a solicitor handling your claim. In most cases, your personal injury solicitor will communicate with you over the phone, by email or through the post.
Is It Important To Visit A Doctor?
A medical assessment of your injuries is an important part of the accident claims process. The purpose of this report is to produce substantial evidence detailing what impact your injury and/or illness has had on your life, along with the treatment you may require and your future prognosis. Your medical examination will form the basis of the evidence for your claim.
Are There Doctors In My Area Who I Could See?
We work with a panel of doctors who are able to cover various locations across the country. In the areas surrounding Inverness, these doctors include:
Mark Innes Burgin
The Aberdeen Clinic,
Regus House,
1 Berry Street,
Aberdeen
Mark Innes Burgin
The Alba Clinic,
148 Princes Street,
Dundee,
DD4 6DG
Sumeet Vohra
187 Dalkeith Road,
Edinburgh,
EH16 5DS
How do I choose accident claims solicitors covering Inverness for my case?
If you have been involved in any sort of accident and it was not your fault, you might want to find personal injury solicitors covering Inverness who can give you the best chance of making a strong case. A lot of people may incorrectly assume that this means they need to start searching online for solicitors in their local area. In fact, you have the whole of England and Wales to choose from. You do not need to be restricted by location.
It could be important to make sure the solicitor you choose is reputable, experienced, and is authorised and regulated by the Solicitors Regulation Authority. In addition to this, you might want to look for a solicitor that works on a no win no fee basis. This could lower the financial risk involved because it means that you will only need to pay legal fees (a success fee) if your case is a success.
At Accident Claims UK, we have many years of experience and we can help you to determine whether or not you have a good chance of securing compensation. All you need to do is give us a call today for more information.
If you have lost a loved one, can you make an accident claim? What about claiming on the behalf of a child?
A lot of people wonder whether or not they are going to be able to claim on behalf of someone else using accident claims solicitors covering Inverness. There are a number of different incidents where you could be in this position. The first scenario could involve parents or guardians who look after a child who has been injured in an accident that was not their fault. If this is the case, you could launch an accident claim on behalf of the child as their litigation friend. The payout would typically go in an account that they can access once they have become an adult.
Another scenario could involve those who have sadly lost a loved one due to an accident that could have been avoided or was someone else's fault. If this has happened, you can also make a claim. If successful, you could receive compensation for the loss itself and to help you cover the funeral expenses. Not only this, but if the person contributed to your life financially and you are now at a loss because of this, this is something else that could be considered when making a calculating compensation for wrongful death or fatal accident claims.
Resources For Those Injured In Inverness
Reporting Accidents, Incidents And Diseases
What procedure should you take when an accident occurs?
Inverness Sheriff Court And Justice Of The Peace Court
Important information regarding the second largest Court within the Sheriffdom of Grampian Highland and Islands.
Scotland Police
Useful information about the area command of Inverness
The Highland Council
Information and services regarding your council
Fingers Caught In Door Claims
Could you be entitled to claim compensation from a door injury?
Car Accident Claims
A guide to car accident compensation claims
Rape Victim Compensation Claims
You could receive a settlement for sexual abuse and rape
Hopefully, you've found our guide to accident claims solicitors for Inverness claims enjoyable. Now you could have further insight into choosing personal injury solicitors for your Inverness injury claim.