By Joanne Jeffries. Last Updated 8th September 2021. Below you can read our accident claims solicitors covering Macclesfield guide. This could help if you're looking for personal injury solicitors for a Macclesfield accident claim.
If you're injured in Macclesfield and the incident that caused your injury was not your fault, you might well be wondering whether you could be eligible to make a claim. We have accident claims solicitors covering Macclesfield that could help you. It doesn't matter whether you have been injured in a road traffic accident, suffered a motorcycle injury, or wish to make a clinical negligence claim. Our panel of accident claims solicitors could help. By calling our team, we can assist with accident claims advice you could trust, along with a free impartial assessment of your circumstances.
But how do you know someone is liable for your injury? Could you answer yes to the following questions?
Have you been involved in an incident that has caused you harm?
Was it someone else's fault? (Either by their behaviour, e.g. a speeding driver causing a road traffic accident or by their negligence, e.g. an employer's failure to provide a safe workplace leading to a fatal accident)
Are you claiming before the relevant accident claims time limit is up? This could differ in some cases but is generally 3 years after the accident date. In cases against CICA, it could be less, at 2 years, but in some cases, it could be longer. If you're unclear on whether you're within the limit, please do not hesitate to contact us.
If you could answer yes to the questions above, then it could be possible for you to consider making accident claims in Macclesfield.  If you're not quite sure, then do call the Accident Claims UK team – 0800 073 8801 and we could help find out whether you are eligible to make a claim. Otherwise, read on for information relating to making different types of claims, and obtaining the services of a no win no fee solicitor to help you.
Choose A Section
What Is An Accident Claims Solicitor Covering Macclesfield?
Solicitors must study for several years to become qualified in their chosen field. A solicitor will choose to specialise in a certain sector of the law, and here at Accident Claims UK our solicitors covering Macclesfield specialise in all areas of personal injury law.
An experienced accident solicitor will bring their specialist experience to helping you claim compensation for an accident or injury that was not your fault. Using a solicitor to help you in the claims-making process could help build a case against the liable party in order to compensate you for all the pain and suffering as well as the financial costs that you've had to bear.
Some common claims an accident claim solicitor from our panel could assist with could include:
Clinical/medical negligence claims
Road accident claims
Slip and fall claims
Accident at work claims
Criminal injury claims
Public place claims
Claims for a personal data breach
These are just a few examples. If you've been injured and it wasn't your fault then you could look into making accident claims in Macclesfield with the help of a solicitor.
Macclesfield Clinical Negligence Claim
Whatever healthcare setting you were in, if negligence by staff led to harm to your health suffering, they would be failing in their duty of care towards you, and therefore you could look into making a medical negligence claim with our panel of accident claims solicitors covering Macclesfield.
This could include acts of:
Surgical negligence
GP negligence
Hospital negligence
Care home negligence
Dental negligence
If you feel you could have a claim for medical negligence against a private or NHS healthcare operation, then why not call our team – we would be happy to talk you through how to go about making a negligence claim.
Slips, Trips, Or Falls In Macclesfield
People could slip or trip or fall in a variety of places within Macclesfield. Where you had the accident could largely dictate who a claim would be made against. While accident claims solicitors covering Macclesfield would be able to help work this out for you, these examples could also help.
If you were injured on a public pathway, or in a public park, a claim could be made against the council if they were aware of the hazards and did nothing to warn the public or make changes to the area.
If you were injured in a shopping centre, you may be making claims against the owner/operator of the shopping centre – this could be the council or a private company.
Wherever you were injured, if it could have been prevented and the person responsible for the area did not take steps to prevent the foreseeable risks, then you could look for a personal injury solicitor to help you go forward with a claim.
Macclesfield Workplace Accident Claims
Making an accident at work claim against your employer might feel a little daunting. However, your employer has a duty to ensure that your health and safety is taken care of while you working for them. This is a legal requirement.
If they fail to risk assess your workplace and the tasks you must complete for your job, and reduce risks as much as reasonably possible, then you could be eligible to make a claim for compensation.
Accident claims for workplace injuries could come from a single incident or accident, such as instances where an employer may have failed to provide PPE for an employee, and they have been injured because they were not protected. Another way for accident claims in Macclesfield to be made is for incidences of industrial illness that comes on over a period of time from ongoing tasks – this could include carpal tunnel syndrome from an improperly set up workstation and lack of regular breaks, or could be asbestosis if someone has been exposed to asbestos over a period of time.
Cheshire East Injury At Work Statistics
The HSE provide details of accident statistics. We have compiled some data surrounding Cheshire East work accidents below. For full details, the reports can be found here.

| Location | Total - non fatal injuries | Total - non fatal injuries per 100,000 workers | Fatal injuries |
| --- | --- | --- | --- |
| Cheshire East | 395 | 235 | 1 |
Below, we reveal the most common causes of work injury in 2019/20 as per the HSE's statistics.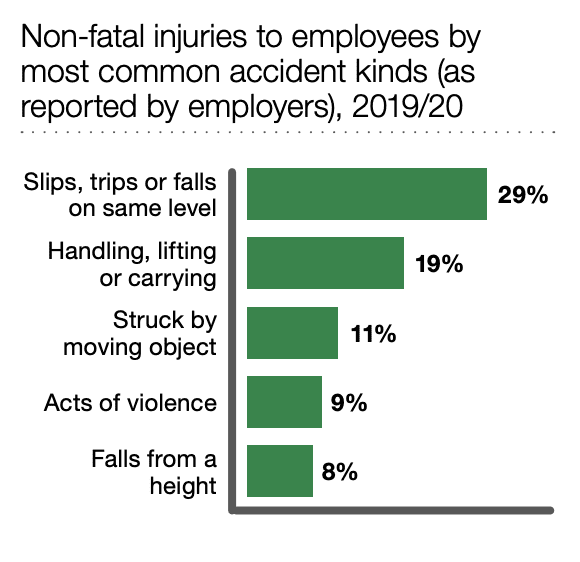 Road Traffic Accident Compensation Claims
If you're looking to make a road traffic accident compensation claim for injuries suffered in a car accident, bus accident, motorbike accident or any other accident that has happened on the road, you might want to seek the help of our solicitors covering Macclesfield. If the accident was not your fault and you suffered injuries, then you could make an accident claim with a personal injury lawyer.
There are some things you could do to help your personal injury solicitor build a case for your road traffic accident claim, and this includes:
Taking down notes of what has happened while events are still fresh in your mind
Taking down witness details, as well as the other driver's details
Taking photographs of the scene of the accident
Of course, you may not be able to do all this if you are suffering from traumatic injuries that need immediate treatment, and you should always put your health first. Even if you think you have minor injuries, it would also be wise to seek a doctor's opinion, as you might still have whiplash. Whether you have managed to get evidence or not of what has happened, you could still make a claim. Just get in touch and we could assess your case for you.
Claims As The Victim Of A Crime
Victims of crime might not just be injured physically by acts of violence committed against them. They might also be injured psychologically. Claims through the Criminal Injuries Compensation Authority could be made for those who were the victim of ABH, assault and battery, GBH and sexual assault to name but a few acts of violence. As well as this, witnesses to violent attacks may also be psychologically affected and therefore could potentially make a claim for trauma or PTSD through CICA. If you have suffered either mentally or physically because of someone else's violent act, then our accident claims solicitors covering Macclesfield could potentially help you make a claim for compensation.
Claims For Accidents In Public Places
If you have had an accident in a public place, you might be wondering who could be held accountable if the accident was not your fault. Accident claims in Macclesfield could be brought against a number of different entities, depending on where you were when the accident occurred and who was responsible for the area. For example, public pavements, parks and council buildings could be the responsibility of the local council. If they are not kept to a standard that reduces risks of injury to members of the public using them, then it could be that you could hold the council responsible for accidents that occur because of disrepair, poor maintenance, etc. For some public places, there are other entities responsible, such as shopping centre owners/operators and gym owners/operators. If you're unsure who would be to blame for an accident that happened to you resulting in an injury, then we would be happy to help you.
No Win No Fee Accident Claims Solicitors Covering Macclesfield
If you have an accident claim, you may worry about retaining the services of an accident claim solicitor, and you may even consider waiting to start a claim as you could believe you need money upfront to begin. This is not the case. If you choose one of our accident claims solicitors covering Macclesfield, then you could start your claim straight away without money upfront. Your legal fees would be taken as a percentage of your eventual settlement, which means you could lower any financial risk involved and get moving on your claim today!
Talk To Our Team Today
Whether you were injured in a traffic accident, an accident at work, an assault, a case of negligence, as the result of a fall, or any other way, then we encourage you to talk to our team. We could assess whether you could make accident claims in Macclesfield for compensation, and we could connect you with great accident claims solicitors covering Macclesfield who could launch your claim for you.
Calling 0800 073 8801 would swiftly connect you with one of our advisors, who'd be able to handle your query or start the claims process. Alternatively, why not send email us at office@accidentclaims.co.uk or fill in our online enquiry form and we'll get back to you.
Accident Claims Solicitors Questions And Answers
Some questions and their answers about accident claims in Macclesfield could be seen below.
Am I Eligible To Claim Compensation?
Here at Accident Claims UK, we provide free, no obligation advice. Whether you've had an accident on Macclesfield Road, been subjected to medical negligence at Macclesfield accident and emergency or suffered an injury at work because your employer was negligent, do give us a call.
Am I Limited To Claiming Compensation With A Local Solicitor?
You do not necessarily have to use personal injury solicitors in Macclesfield. As a nationwide service, our accident claims solicitors covering Macclesfield could handle your claim.
Are My Injuries Going To Be Assessed By A Doctor?
Even though you might have already had medical treatment,  you'd need to attend a consultation with a medical expert that is independent. This is so that they could provide a report detailing your condition, your prognosis and other important medical information. The reason this report is produced is to give those assessing your case accurate and independent information so that your solicitor could calculate the settlement amount.
Where Are Medical Experts Based In My Area?
As a nationwide service, we work with a panel of medics that covers Macclesfield. Medics based in the area could include:
Nigel Lord
250 Park Lane
Macclesfield
SK11 8AD
Claire Lockett
250 Park Lane,
Macclesfield
SK11 8AD
How do no win no fee accident claims solicitors covering Macclesfield work?
If you're interested in finding out more about the no win no fee service our personal injury solicitors covering Macclesfield offer, then you might find the below information interesting.
As we previously mentioned, you would not need to pay your lawyer anything upfront to start working on your claim. Instead, they would send you out a Conditional Fee Agreement to sign and return to them. This is a document that would contain the details of the success fee (a small legally capped proportion of your payout), with the condition that this is only payable in cases that lead to a compensation settlement or award. When you sign and return this agreement to your chosen lawyer, they would then be able to begin putting together your claim for compensation.
The lawyer would negotiate a compensation settlement for you, or take your case through the courts so that you could be awarded compensation. When your compensation then comes through, the solicitor will deduct their success fee. The balance of the compensation settlement would be for your benefit.
If you're wondering what would happen if your claim failed, you would not need to have to worry about paying your solicitors successfully. You would not have to pay their costs either. If your solicitor incurred costs whilst they were in pursuit of your claim, you would not be expected to cover these.
If you would like to learn more about making claims under these terms we would be only too happy to talk you through the process in further detail.
How can I find reputable accident claims solicitors covering Macclesfield?
You might already be aware that there are plenty of law firms and solicitors that could cover Macclesfield claims. however, the legal services you receive from one solicitor to the next could be significantly different. Finding out whether they are authorised and regulated by the Solicitors Regulation Authority, and are registered in England and Wales is a wise thing to do. However, you could delve further into a solicitor's past to find out whether they could provide you with a good service. This could include checking reviews on independent websites, checking how many years of experience they have and their success rate, and even calling them to ask them for free legal advice, and whether they work on a no win no fee basis.
Further Information For Claimants In Macclesfield
Details For Cheshire Police – If you wish to report an incident, you could click here to find police details for Macclesfield Cheshire SK11.
The County Court – The nearest court can be found here.
Accidents At Work Reporting – See Cheshire East's reporting guidance
Safety On The Roads – Cheshire East's road safety information can be seen here.
Public Place Accident Claims – A guide we've compiled about public place accidents can be read here.
Accidents On The Buses– Our guide tailored to those who've been injured on a bus could be found here. Find out if you could make a personal injury claim.
Snow/Ice Claims– Click here for information concerning ice and snow claims.
We hope you've found our accident claims solicitors covering Macclesfield guide helpful. Now, if you're looking for personal injury solicitors for Macclesfield accident claims, you know what to do.