By Joanne Jeffries. Last Updated August 25th 2021. Welcome to this guide on accident claims solicitors covering Tamworth. Here, we explain why personal injury solicitors covering Tamworth would not need to be based there.
Being injured in an accident that was caused by somebody else is no fun at all. It can me made worse if the injuries are life-changing or take a long time to recover from. If you have been injured in a no-fault accident, you maybe able to seek compensation using accident claims solicitors covering the Tamworth area. In this guide, we'll explain when you could claim, what you need to do and how long you have to begin your claim.
If you would like to discuss your claim with a specialist advisor today, please call us on 0800 073 8801. Alternatively, if you prefer, carry on reading to find out more about accident claims solicitors and how they could help you claim.
Choose A Section
What Is An Accident Claims Solicitor Covering Tamworth?
There are many types of accident which could lead to a compensation claim, probably too many to list here. They can include an accident in a supermarket, a bike accident in Tamworth, compensation for an injury at work or even a claim for compensation following an assault.
Whatever the accident or reason for your claim, you'll need to be able to demonstrate the following before a solicitor will help you make a claim:
That whoever you blame for the accident (the defendant), owed you a duty of care;
They breached their duty of care somehow which caused an accident;
And you were injured or made ill because of the accident.
You will also need to ensure that you file your claim within the accident claims time limit. This is 3 years from the date of the accident or from the date your injuries were diagnosed. There are exceptions for more information please call our team.
If you are able to demonstrate that the above are all true in your case, then accident claims solicitors covering Tamworth may be willing to take on your case. If they do, you'll usually receive the following services from them:
Support with gathering evidence that backs up your claim. This might include witness statements and medical records.
Handling things with the defendant's solicitor so that you don't need to get involved.
Providing advice about any offer received.
Our accident claims solicitors offer all of the above services for cases they take on, on a no win no fee basis. Call today to find out what else we can do to help you claim.

Criminal Injury And Assault Compensation Claims
There is a government-run department, the Criminal Injuries Compensation Authority (CICA), which helps those injured during a crime.
It's not a standard personal injury claim which means its eligibility requirements and time limits are different. Claims can be made for injuries caused by physical and sexual crimes for any injuries suffered, loss of income, expenses related to the injuries and, in the worst cases, funeral costs.
To ensure your claim is filed with CICA correctly, why not let us help you? Give us a call today to discuss the injuries you sustained, and we'll advise you on what actions are needed.

Work Accident In Tamworth Claims
You've probably seen notices in your staff room about the Health and Safety at Work Act 1974. It's the law which governs all employers in the UK, big or small. Under the legislation, employers need to take steps to ensure the safety of their staff wherever possible.
That means:
They need to assess any risks in the workplace.
Make changes to reduce the risks.
Train all staff fully on how to complete tasks safely.
Ensure equipment is fault-free and well maintained.
Provide any necessary safety equipment to reduce risks further.
If they fail to meet their obligations, and you suffer an injury because their negligence causes an accident at work, you could sue your employer for compensation.
Don't feel afraid about making a claim. Under the law, you can't be treated any differently for making claim. Also, your employer is obliged to have insurance to cover the cost of a claim. That means any compensation payment won't have an immediate affect on the company, so you shouldn't feel guilty about claiming.

Rates Of Reported Workplace Injuries In Tamworth
To show how often accidents at work happen in the Tamworth area, we've provided the following table. To compare it with national figures, you can take a look at the whole government report here.
| Location | Total - Non Fatal Injuries | Total - Non Fatal Injuries per 100,000 workers | Fatal Injuries |
| --- | --- | --- | --- |
| Tamworth | 64 | 166 | 0 |
If you're looking for the most common cause of accidents at work, you can find insight on the HSE website for 2019/20 or by taking a look at the graph below.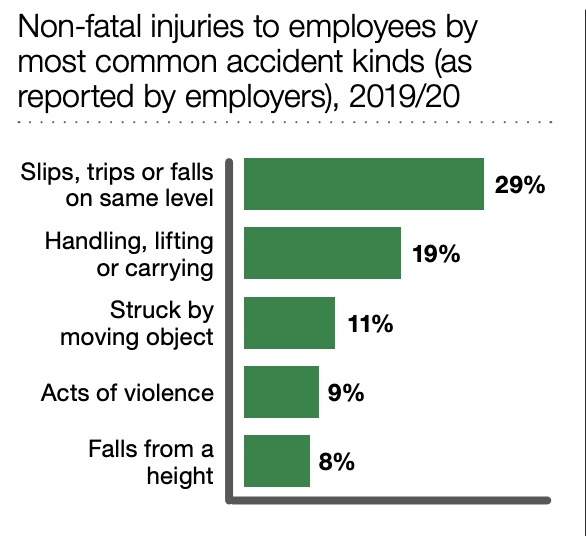 Car Accident And Other Road Accident Compensation Claims
All road uses whether vehicle drivers, taxi drivers, bus drivers, cyclists, motorbikes, pedestrians etc owe each other a duty of care not to be negligent on the road and to ensure they all comply with road safety and the laws that are applicable.
There are many common injuries caused by road accidents including:
Whiplash injuries.
Back injuries.
Broken hands and wrists.
Torn or damaged ligaments and tendons.
Head injuries which may include concussion.
If you're involved in an RTA, you should seek medical attention if you suspect you're injured in any way.
If you're able to, collecting evidence at the scene of a RTA could help your claim be successful. You should try to:
Get the other driver or road user's details.
Ask any witnesses to write down what they saw and their contact details.
Photograph the scene of the accident before anything's moved if possible.
Secure any dashcam footage.
Report the accident to police if you suspect foul play.
When you've returned home following any treatment, contact Accident Claims UK to discuss whether you could claim or not.

Slip And Fall Injury Claims
It's also fairly common for personal injury solicitors covering Tamworth to assist with claims for a slip or fall. Not all falls will mean you can claim compensation but if somebody did, or didn't do something which caused the fall, you could be able to claim if it can be proven that a third party acted negligently and you were caused an injury as a result. Some examples of where a claim may be possible include:
If you tripped over because you couldn't see a hazard due to poor lighting.
Following a fall down the stairs caused by a broken handrail.
Tripping over cables which were trailed across walkways.
If you slip in a shop because items of stock have fallen onto the shop floor but not tidied away.
It is important to note that in order to claim you must have suffered some form of harm. An injury caused by a fall can look fairly innocuous but lead to some really serious injuries. They may lead to multiple trips to hospital and many months or years of recovery.

Public Place Accident Claims
Public place accidents can be a little harder to settle in some cases. That's because it's not always obvious who the claim should be against. You could struggle to identify a land or building owner or there could be multiple parties who are potentially liable (such as an owner and a tenant or operator).
If you let our experts help you make your claim, you'll benefit from their experience in finding the right person to claim against. Our accident claims solicitors understand the relevant legislation to be able to handle any objections to your claim, which could make the difference between receiving compensation or not.

Medical Negligence Claims In Tamworth
Whatever type of treatment you undergo, whether it's medical or cosmetic, any medical professional who carries out the treatment owes you a duty of care to protect your safety.
This means that they need to:
Let you know what the procedure is and highlight any risks.
Make sure the procedure is carried out hygienically.
Follow standard industry procedures.
Be fully trained in the procedure before undertaking it.
If you are harmed by negligent treatment that a medical practitioner or healthcare work provides then you may be able to pursue a claim for clinical negligence damages for the harm suffered.

No Win No Fee Accident Claims Solicitors Covering Tamworth
Don't be put off from making a claim because you're worried about the costs involved with using a personal injury solicitor. Our accident claims solicitors work on a no win no fee basis for every case they take on.
This means that you don't pay anything up front, there's nothing to pay your legal team if the case is lost and, if you do win, the success fee (a maximum of 25%) is deducted from your compensation so you don't need to find the funds to pay the solicitor yourself.
We believe that using a no win no fee solicitor reduces the financial risk and stress from claiming. Call today to find out more about the no win no fee services offered.

Talk To An Accident Claims Solicitor
Hopefully, now you've read most of this guide about using accident claims solicitors covering Tamworth, you'd like to discuss starting your own claim.
To contact Accident Claims UK, you can:
Accident Claims FAQs
Whenever we speak with new clients about accident claims, we answer a lot of the same questions. Therefore, to help you before you call, we've listed some of them here for you.
Could I Claim With An Accident Claims Solicitor?
When you contact Accident Claims UK, your journey will begin with one of our friendly claim advisors. They'll provide free accident claims advice and assess the merits of your claim.
If they think you've got a strong case, you could be connected to one of our accident claims solicitors. They have up to 30 years of personal injury claims experience. They're also dedicated in getting you the right level of compensation for your injuries. To make the whole process less stressful, all of our panel of accident claims solicitors work on a no win no fee basis.
How Important Is Where A Solicitor Is Based?
Due to the modern ways in which we communicate, you're free to choose accident claims solicitors covering Tamworth rather than just limiting yourself to those based in the area.
This is because, many solicitors are happy to deal with a personal injury claim over the phone and email. This could save any waiting time as you may not need to book face to face appointments. It could also reduce the amount of travelling required while your case is being handled.
I Have Already Seen My GP Or Been To A Hospital, Why Do I Have To Be Medically Assessed?
Any personal injury lawyer who submits a claim for accident compensation needs to demonstrate the severity of any injuries. While this can be done by medical records from a GP or hospital visit, there needs to be a report from an independent medical assessment who will also state any future treatment and prognosis.
The report will indicate the severity of the injury at the time the accident happened. It will also show what impact it might have on the claimant in the future. Once the report is received by the accident claim solicitor, it will be submitted with the rest of their claim to the defendant.
Do You Work With Doctors In My Area?
Because we know that you probably won't want to travel too far for your medical assessment, we have a panel of doctors across the country, including in the Tamworth area. Here are some we might use:
Sohail Rehman
Atlas Pain Relief Centre,
Tamworth, B79 7HS.
Mohammed Safdar
Leisure Island,
Riverdrive,
Tamworth, B79 7ND.

Would accident claims solicitors covering Tamworth help if I encountered injuries because of an uninsured driver?
Usually, when people get involved in accidents that are their fault, especially road traffic accidents, they would claim from the at fault party's insurer. However, some people do not have the relevant insurance. If you are involved in a road traffic accident with a driver whose insurance has lapsed, or if they did not have a policy in place, you may worry about whether you could make a compensation claim. If this has happened to you we could help. Our personal injury solicitors covering Tamworth could help you make a claim against the Motor Insurance Bureau. This is an organisation that works to prevent uninsured driving, and also compensate victims of accidents with uninsured drivers for their injuries. We have experience in helping claimants launch their claims through the Motor Insurers' Bureau. We could make the claims process less stressful for you and ensure that you get the compensation that your claim deserves.
Could I also make a claim for a hit and run accident where the driver cannot be traced?
Our accident claims solicitors covering Tamworth could assist you in making a claim through the MIB whether you are injured as a pedestrian, passenger in a car, a driver or a motorcyclist that has been in a hit and run accident that wasn't your fault. If, however the driver is eventually located, you might have to wait until any prosecution is over until your claim is settled. This is because the police report needs to be held until this time. We would be happy to assist with such claims.
What do I need to consider when choosing accident claims solicitors covering Tamworth?
As we have revealed in this guide, you do not have to consider the solicitor or law firm's location. However, they should be registered in England and Wales, and it would be wise to choose a solicitor that is authorised and regulated by the Solicitors Regulation Authority. There are also other questions that you might want to ask those on your shortlist, to get the best chance of compensation:
Does the solicitor have a well documented a proven track record of success?
Could you obtain a free eligibility check before agreeing to use their service?
Would they provide you with free, no obligation legal advice before you begin your claim?
Do they have good reviews on any independent review websites?
Could they take on your claim under no win no fee terms?
Helpful Information To Read
You've now come to the end of this guide about accident claims solicitors covering Tamworth. To help you further, we've linked to some more useful resources below.
Road Traffic Accident Reporting – Important information from Staffordshire Police about how to report different types of road traffic accidents.
Local Court – If you do need to attend the local court during your accident claim, here are their contact details.
Accident at Work Reporting – Guidance for employers, from the HSE, about which types of accidents need to be reported to them.
Concussion Claims – A guide about how much compensation you might get for concussion. This could be relevant for slip and fall injury claims.
Road Accident Compensation Claim – A more detailed look at RTAs which could help with a car accident in the Tamworth area or a cycling road accident compensation claim.
Thank you for reading about accident claims solicitors covering Tamworth. We hope we have explained properly why personal injury solicitors for Tamworth claims don't have to be based in the area.