By Joanne Jeffries. Last Updated 10th November 2021. Welcome to this case study which looks at personal injury claims payouts for a broken wrist.
This case study, looks at a claim for a broken wrist on holiday. The accident took place in Turkey. The victim was a male, who was walking down a flight of steps, to access the facilities at the hotel that he was staying at. At the time, a member of the hotel staff was cleaning the steps with a water hose. This turned the steps into a slip hazard, and indeed, the claimant slipped on the wet steps, and injured their wrist. On returning home, the claimant decided to make a personal injury claim against the hotel. The defendant initially refuted the claim, and a fairly lengthy legal process took place before the victim was finally awarded £23,000 in compensation.
Below, we take a look at the compensation claim, covering how the claim was sought, and why the final settlement was made. We will also look at statistics for holiday accidents, as well as wrist injuries, their causes and treatment. In addition, we show you how to maximise the amount of compensation for a wrist injury you could receive, whether you make a wrist injury claim for a colles fracture from sporting activities, long term carpal tunnel syndrome or the wrists at work or wrist fractures from someone else's breach of duty of care towards you.
Statistics Showing How Frequently People Are Injured Abroad
Looking at the graph above, we can see that Turkey is one of the most problematic countries for UK holidaymakers, with almost 1.5 million people needing assistance while on holiday in the country. In 2016, there were just over 3,000 UK citizens hospitalised while on holiday. The number of accidents that resulted in injuries that did not require hospitalisation was, of course, much higher.
In this case, the claimant did undergo some medical treatment while in Turkey. When he returned to the UK, he visited the Accident & Emergency department at his local hospital, and it was confirmed that he had fractured a bone in his wrist. The claimant then decided he would make a compensation claim for a broken wrist on holiday.
Details Of The Claimants Fractured Wrist
In this case, the victim explained that they had been in serious pain since the injury happened. And although they had not had to make a long haul flight with broken wrist, their holiday had been ruined, as the accident happened on the first day of their two week holiday. A broken wrist can be a deceptive injury. In some cases, the symptoms may not be easily apparent.
In this case, although the victim was in some pain after the accident, there was no swelling or bruising. He had some basic treatment while in Turkey, but did not reactive full treatment until he was back at home in the UK. However, the injury was severe enough to stop the victim enjoying their holiday, as they had to miss out on many of the activities they had planned.
What Case Was Made For The Accident On Holiday?
When the claimant returned home, he decided to make a compensation claim for a fractured wrist abroad. He contacted a solicitor to process the claim. His solicitor recommended that he undergo an independent medical examination to prove his injuries, which he did. Even though the fracture was healed by this time, he was still suffering from some pain every day.
Along with the expert medical testimony, the claimant provided the contact details of a number of witnesses to the accident, so that they could be called on to provide statements if required.
The Defendant's Denial Of Liability
A letter was sent to the defendant, who refuted the personal injury compensation claim. They stated that the hotel had recently undergone a health and safety inspection and passed. They added that the area being cleaned had been signposted, and that the claimant was aware that cleaning was underway, and should have taken more care.
How Was This Case Concluded?
Once the defendant had denied the claim, the claimant's personal injury solicitor was left in a tough spot. It was fast approaching the deadline for agreeing on an out of court settlement, and the claim would soon need to go to court.
The claimant, by now, had fully documented their financial losses, and had a good idea of how much compensation they would find acceptable. His solicitor informed the defendant that they would be proceeding with a court claim. The defendant responded by saying that they would accept 60% of the blame for the accident (which would lower the amount they needed to pay). The claimant's solicitor recommended that he stick to his guns, and seek 80% liability from the defendant.
The victim realised that the case was about to become much more complex, and asked his solicitor to approach the defendant with an offer for an acceptable settlement. The defendant sent a reply stating they agreed to pay the requested amount, and paid a final out of court settlement of £23,000.
This case was particularly interesting, due to the fact that the defendant originally refuted the claim, and then later, agreed to accept 60% of the blame. This indicated that the defendant was prepared to go the whole way, and defend their position in court. However, the actions of the claimant, in approaching the defendant to try and reach a last-ditch settlement before going to court, turned the claim around. Had the claim gone to court, it is far from clear-cut that the claimant would have won their claim.
No Win No Fee Compensation For A Broken Wrist On Holiday
Here are Accident Claims UK, we have developed a way for people all across the UK, to make a financially risk-free compensation claim, for accidents abroad. Our national claims service operates under No Win No Fee a style of agreement. What this means, is that you don't ever have to pay anything, unless we actually win you a compensation settlement.
When you choose Accident Claims UK as your No Win No Fee solicitors, understanding what and when you have to pay, is very straightforward. When you first contact us, and we take your claim on, we charge nothing at all. As we process your claim, no matter if it takes many months to reach a settlement, we won't charge any ongoing legal fees. If we fail to win you any compensation, then you walk away without paying anything at all. The only time we will charge a fee for our services, is when we receive a compensation payment for you. When we do, we take our fee out of the amount we have received, and then we give you the rest.
As you can see, there is no financial risk at all when you let Accident Claims UK handle your claim. Call us on the number below, and we will explain how we can help you.
Start Your Claim Today And Receive Personal Injury Claims Payouts For A Broken Wrist
Have you been injured while on holiday overseas? Do you believe you have a valid reason to make a compensation claim for your injuries? If so, Accident Claims UK can act as your personal injury lawyer, and process a claim on your behalf.
When we are acting on your behalf, we will never do anything that might put the success of your claim at risk, but we will always attempt to get you the maximum level of compensation possible.
We use plain, simple English to answer any questions you may have, and to update you on what we have been doing on your behalf. Starting a claim with is very easy. All you need to do, is give us a call on 0800 073 8801 today. One of our team will spend some time asking you a few questions, so we can learn more about your claim. Once we know enough about your circumstances, we will offer you some free legal advice on what you should do next. It is likely that this advice will be to use our claims service, to get you the compensation that is rightfully yours.
What other reasons could I get personal injury claims payouts for a broken wrist?
If you have suffered a broken wrist in an accident that was not your fault, you could make a claim for compensation. Some reasons for accidents that could cause broken wrists, could include:
Accidents at work- if you suffer an accident while you were at work, and you could prove that it was your employer's fault, you could have a claim for compensation. You would need to evidence that lack of health and safety provision, or lack of training had led to you suffering such injuries. There are many causes of accidents at work that could lead to personal injury claims. These could include slips, trips and falls, being struck by a moving object, or even being trapped by machinery. If you would like us to assess your case to see if you could claim please call our team.
Road traffic accidents- if you are involved in a road traffic accident, whether you are a pedestrian, taxi driver, motorcyclist or any other road user, if you could demonstrate that someone else was at fault, you could make a claim for compensation. Road traffic accident claims could be considered quite common, as many people are injured on UK roads every year. The graphic below shows the figures from 2020 in terms of which types of road users were injured during this time.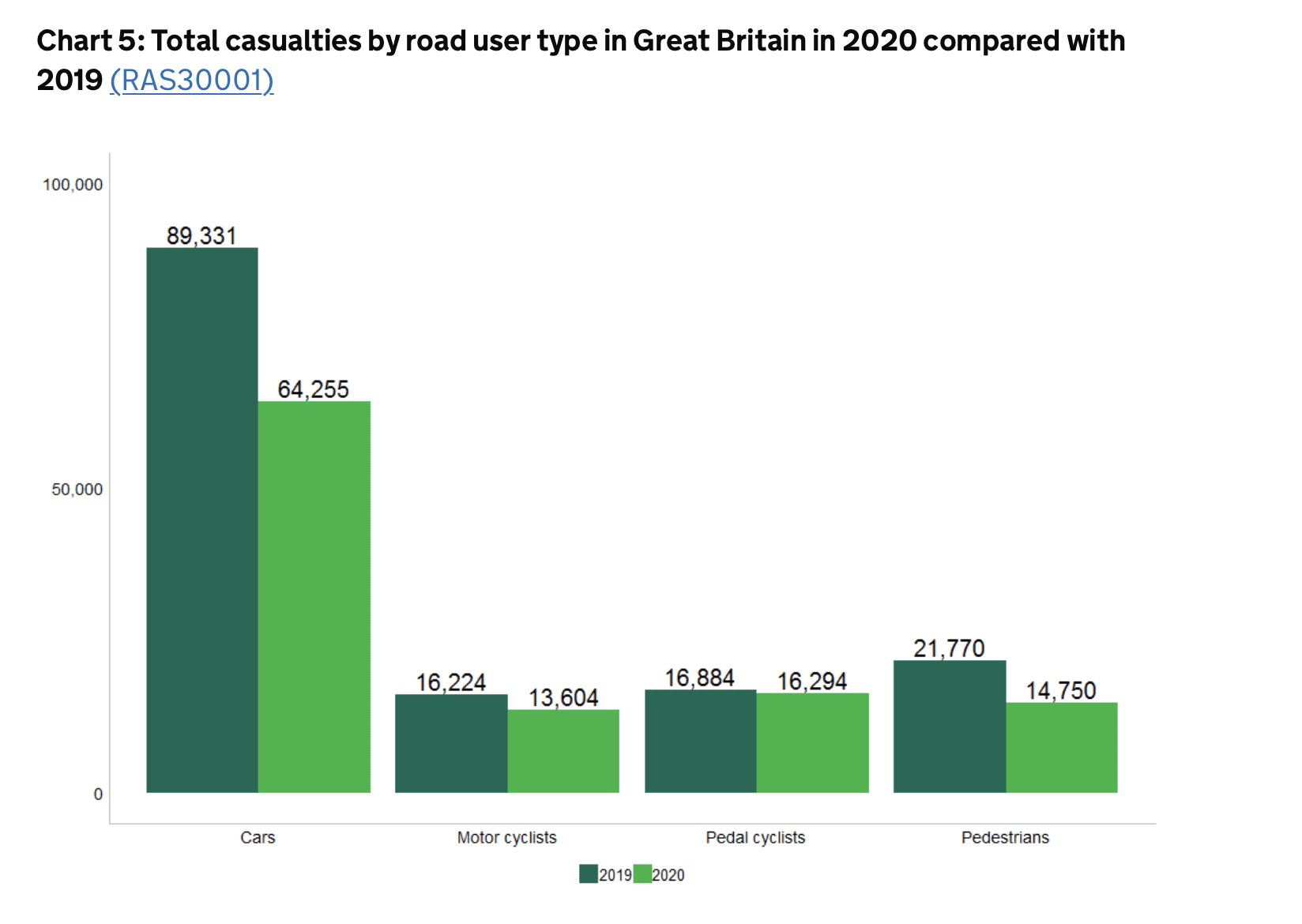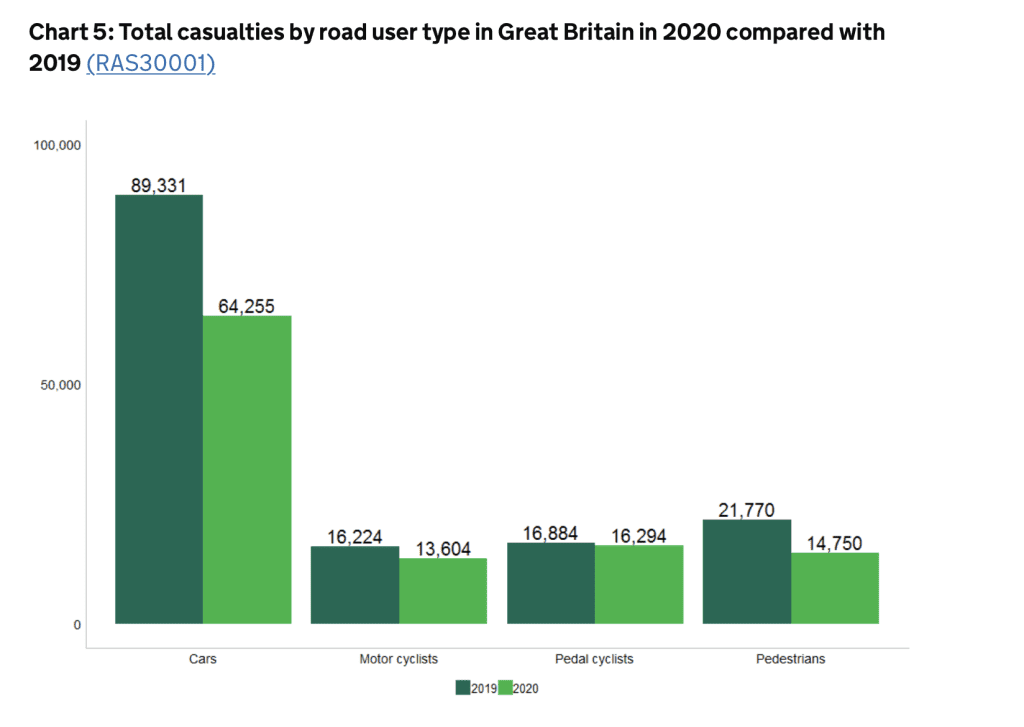 Medical negligence – if you attend a doctor's surgery, walk-in clinic or hospital to have a broken wrist assessed, and negligent treatment leads the injury to become worse, harder to treat or unable to heal properly, you could have a claim for medical negligence compensation.
We would be happy to help with any of these types of claims. We could also help you claim for an accident in a public place that was not your fault, as well as holiday accident claims as referenced in the case study.
How do I maximise personal injury claims payouts for a broken wrist?
As well as using an experienced solicitor with up to 30 years of experience who is authorised and regulated by the Solicitors Regulation Authority, the evidence you present could also significantly impact your settlement amount when you make no win no fee claims. Your personal injury solicitor could give you advice on what evidence could help with your claim. They could also arrange for you to see an independent medical professional who could assess your injuries and provide a detailed medical report. This could significantly impact your settlement amount, as it would contain relevant independent medical evidence of your injuries. In addition to this, the evidence you submit adds to your special damages, which could include loss of income, care costs and medical expenses, could impact your compensation payouts too.
If you would like to speak to someone to get advice on what you could claim for, or would like us to act as an alternative to a compensation calculator to give you a rough guide as to how much your claim could be worth, we would be happy to help you. We could provide you with free advice from a friendly solicitor who could then take on your claim on a no win no fee basis. Please call our team to get started.
Useful Links Relating To Personal Injury Claims Payouts For A Broken Wrist
At the link below, you will find a detailed guide to the legal process of making a compensation claim for an accident on holiday:
A guide to claiming for a holiday accident
At the link below, you will find a detailed guide to the legal process of making a compensation claim for a wrist injury:
A guide to claiming for a wrist injury
The NHS has published comprehensive information about wrist injuries, at this link below:
NHS information about wrist injuries
You will find information published by the UK Government, regarding the Foreign Compensation Commission at this link:
Foreign Compensation Commission information
Thank you for reading this case study on personal injury claims payouts for a broken wrist.