By Joanne Jeffries. Last Updated 3rd November 2021. Welcome to this case study covering personal injury claims payouts for a horse riding injury.
In this case study, we are going to look at a compensation claim that was successfully made for a horse riding injury. This case is of specific interest due to firstly, the age of the victim, as she was only 18 at the time of the accident. Secondly, due to the severity of the injuries sustained and their long-term effects, from a broken back which required extensive medical treatment. And lastly, due to the high level of compensation she was paid, some £3 million in total.
As well as looking at the claim in this case study, we will also take a look at common horse riding injury statistics, and how dangerous horse riding can be. We will also cover the injury she sustained, and take a look at how severe it was and how much she received in general damages and special damages.
How Dangerous Can Horse Riding Be?
When we look at horse riding injury statistics, we find that equestrian injury claims are very rare in the UK. To put this into perspective, in the UK there are less than 100 road traffic accidents involving a horse and a rider each year. This results in less than 10 deaths involving horses every year on our roads. Of course, many more accidents take place on private land. When we include these horse riding accidents into the equation, we find that fewer than 1 in 350 horse riders are injured in the UK every year.
Much of the reason behind this very low figure, stems from the proactive horseback riding injury prevention methods employed by stables and trainers. To answer the question, what are the dangers of horse riding? We find that many of the answers are related to the rider making a mistake and not the horse itself. For example, unskilled riders attempting to ride an animal that is unsuitable for them. And this is exactly what happened in the claim we are looking at.
The 18-year-old woman was very new to horse riding, and she was given an unsuitable animal for her to ride. The horse had been noted previously as being "feisty" and required an experienced rider to keep it under control. This was found to be the only reason why the young lady suffered such a grave injury, and was the basis for the claim she went on to win.
How Severe Was The Claimants Injury?
As we have already mentioned above, horse riding injury claims are really quite rare in the UK. Most people who fall from a horse and suffer equestrian injuries, are riding their own animal. If an accident happens on private land in this situation, then nobody but the rider is at fault. They are riding their own horse, and nobody else is responsible for causing the accident. However, some horse riding accidents do result in a claim, such as the one we are looking at in this case study.
As injuries go, a broken back is at the upper end of the severity scale, and depending on the prognosis for recovery, could result in permanent disability. This was the case with the claimant in this claim. She fell from the horse, and broke her spine. This was a traumatic, painful injury, which left the victim permanently disabled and unable to walk. She is now permanently wheelchair-ridden.
How Did This Case Progress Through The Courts?
As is generally typical with horse riding accident claims, the victim suffered a horse riding injury while riding a horse that belonged to another person. In this case, the claimant borrowed a horse from the mother of her boyfriend to ride. She was given a barely trained thoroughbred, which was noted as being highly spirited. This combination of a new rider and a barely trained horse was a dangerous one, that led to the accident and subsequent injury.
In court, the owner of the horse insisted that it had been the claimant's decision to ride the horse, and that they were in no way liable for the accident. However, the judge ruled that the horse owner had made a significant error in judgement by giving such a problematic animal to a new rider to use.
What Settlement Did The High Court Award?
The personal injury solicitor that the claimant used to process their personal injury compensation claim, had to take the claim for to court, as no out of court settlement offer was made.
Once the claim came to court, it was ruled that the claimant should receive a very high compensation payment of £3 million. The settlement was so high because the claimant was only 18 years old, when the accident took away her ability to walk, and left her in a wheelchair for the rest of her life.
The defendant had a personal liability insurance policy in place, but the amount of cover it provided could not meet the entire £3 million settlement. Therefore, the defendant had to pay the remainder of the compensation from their own funds.
This claim was exceptional in the severity of the injury caused, the young age of the claimant and the very high level of damages that was eventually paid. Furthermore, the judge who presided over the case, refuted the claims of the defendant, and in no uncertain terms indicated that the defendant was solely to blame for the accident.
How To Make A No Win No Fee Claim For Injuries Suffered Due To Horse Riding
Accident Claims UK has come up with a way to help our clients make a personal injury claim, in a completely risk-free way. We operate a national claims service, across the entire UK, that operates under a comprehensive and easily understood No Win No Fee agreement.
When you deal with a team of No Win No Fee solicitors such as us here at Accident Claims UK, you pay no legal fees until such time as we win a compensation settlement for you. Put simply, if there is no win, then there is no fee, as the name suggests. This kind of agreement is also sometimes referred to as a Conditional Fee Agreement (CFA).
When you use the Accident CIaims UK national claims service, you pay nothing at all when we first take your claim on. As we process your claim, we still charge you nothing, even if it takes months or even years to reach a resolution. If we don't manage to win you any compensation, then you walk away without paying a penny. The only time we will charge a fee, is when we actually receive a compensation payment for you. At this stage, we will take our agreed percentage from the amount paid to us as a success fee, and give the remainder to you.
Contact Us About Personal Injury Claims Payouts For A Horse Riding Injury
If you have suffered injuries from horseback riding, Accident Claims UK can help you; we can process horse riding accident claims on your behalf. Our claims service has proven to be effective in claiming significant settlements, across a very wide range of different types of injury claims. We do everything we can to ensure your claim is successful, and to make sure that you are awarded the highest level of compensation possible. If you have questions about your claim at any time, or need an update on its status, we are only ever a phone call away. One of our team will happily update you on what we are doing for you, and answer any questions you may have, using plain English with no legal jargon.
If you are ready to begin your claim, call Accident Claims UK on 0800 073 8801 right now. One of our staff will talk you through the process of starting a new no win no fee claim with us, so that we can get your claim underway today.
Could I receive personal injury claims payouts for a horse riding injury suffered by my child?
If you're considering making a claim for compensation on behalf of a child there are certain time limits in place that you would need to adhere to. You would have up until your child's 18th birthday to make a claim as their litigation friend. After this, if no claim had been made for them, they could have bought from their 18th birthday until their 21st birthday to make their claim. Choosing whether to make a claim on behalf of your child could be a tricky decision to make. After all, you may have to consider whether it would be easier to gather evidence at the time, or whether your child would prefer to make their own claim once they turn 18. If you would like further insight and information into whether to claim on behalf of your child or not, please do not hesitate to contact our team. Our specialist solicitors, authorised and regulated by the Solicitors Regulation Authority could give you the advice and support you need.
Could I receive personal injury claims payouts for a horse riding injury that took the life of a loved one?
Unfortunately, some accidents and injuries lead to fatalities. This can happen in a number of different ways, from accidents at work to accidents on the roads. In fact, according to the Health and Safety Executive, in 2020- 2021 there were a total of 142 people who suffered a fatal injury in a work related accident. You can see the causes of such accidents below.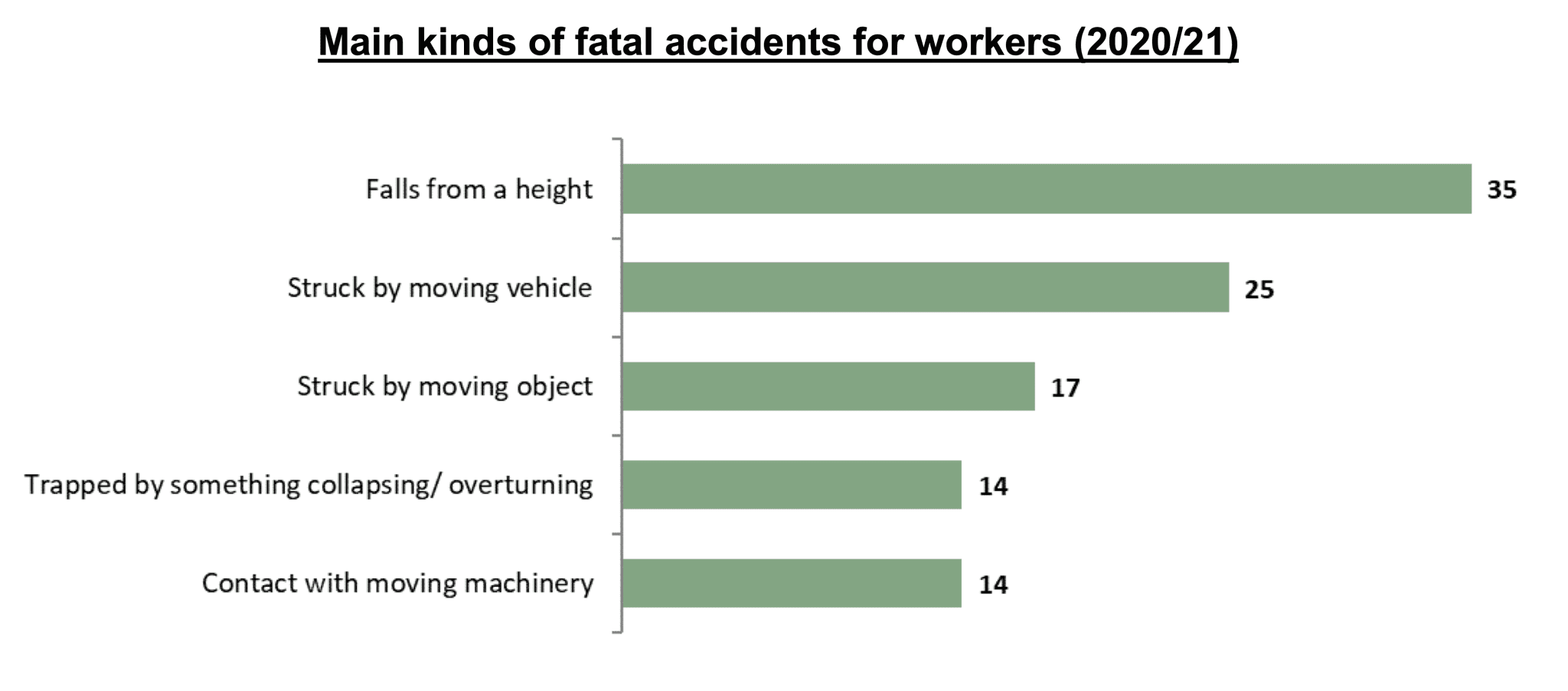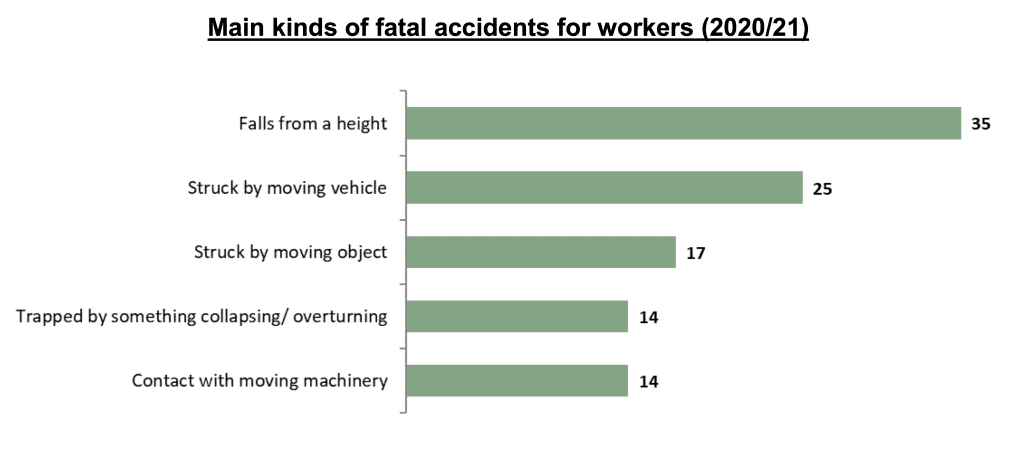 If you have lost a loved one in a fatal horse riding accident, you could be in a position where you could claim compensation. You would need to be able to prove that somebody had a duty of care towards your loved one and they failed in that duty of care. For example, if an employer had failed to provide adequate PPE for an employee, and they suffered a fatal injury because this was not provided to them, you could have cause to launch a claim. Nice fully that no compensation payouts could ever make up for the loss of a family member, however, compensation could help towards funeral expenses and could provide you with a bereavement award.
How do I maximise personal injury claims payouts for a horse riding injury?
There are two factors that could help you secure the maximum compensation possible for your claim. When it comes to calculating personal injury compensation settlements in the UK, the medical evidence could be vital. You would need to see an independent medical expert in order to collect such evidence. They would examine you and write a detailed medical report that could be used to evidence your injuries and their severity. This could significantly impact your compensation payout. Another thing that could affect personal injury claims payouts could be your choice of solicitor. A professional, experienced solicitor could help you to build the strongest case possible for compensation.
Useful Links Relating To Personal Injury Claims Payouts For A Horse Riding Injury
At the link below, you will find a comprehensive guide to the legal process of making a compensation claim for a head injury:
A guide to claiming for a head injury
At the link below, you will find a comprehensive guide to the legal process of making a compensation claim for a leg injury:
A guide to claiming for a leg injury
The NHS has published some comprehensive information about back pain and injuries, you can find it at this link:
The UK Government has published some comprehensive information related to road traffic accidents and riding safely on public roads, at this link:
UK Government information on horse road safety
Thank you for reading this case study on personal injury claims payouts for a horse riding injury. Whether you were injured on a horse as a road user or in a rising school accredited by the British Horse Society, suffering broken bones, or other injuries we could help you through the claim process.