By Joanne Jeffries. Last Updated 21st September 2021. Welcome to this guide on Edinburgh airport accident claims.
Having an accident at Edinburgh Airport could turn a much anticipated holiday into a disaster. If you were taking a city break to the historic and cultural city of Edinburgh or taking a flight abroad and suffered an accident causing an injury that could have been avoided you may be wondering if you had grounds to make a personal injury claim for an accident at Edinburgh airport.
We've put this guide together to cover all the basics of what you may need to know about making a personal injury claim for injuries or illnesses that you may have suffered at Edinburgh Airport due to third party negligence. Getting advice from us doesn't end when you have completed reading this article or others like it on our site. The next step is to give us a call on 0800 073 8801 or fill out this page to book a 100% free consultation session about whether you could be compensated for an Edinburgh Airport accident.
Select A Section
A Guide To Claims For An Accident At Edinburgh Airport
Edinburgh Airport is the busiest airport in Scotland and the sixth busiest airport in the United Kingdom. With millions of people using the airport every year and tens of thousands of flights coming and going every year, it is vital that the airport operators are proving a safe and healthy environment not just for passengers but also for their staff too. We are simply aiming to provide information for anyone who has been injured in an accident at Edinburgh Airport and are unsure whether they would qualify for compensation because the accident they feel could have been avoided and therefore their suffering unnecessary.
What Is An Accident At Edinburgh Airport?
The accidents we are referring to in this guide are generally ones that could occur in and around the airport itself, this isn't primarily about air crashes or accidents that take place onboard a plane while it is in the air. We are referring to accidents that could potentially happen at an airport which an airport has a duty of care to take measures to prevent. Accidents at an airport could cause:
Bone fractures
Bruising
Food poisoning
Lacerations
Hearing damage
If an avoidable accident occurs on the plane, then under the international law set down by the Montreal Convention, the airline could be liable for their potential negligence. However, it is important to note an exception to this rule in relation to package holidays. In these instances, the tour operator could potentially be liable for negligence in the event of a preventable  accident causing injuries or illness rather than the airline. For clarification about an accident on board a plane, please contact our friendly team who will be happy to advise you.
Air Transport Health And Safety Information
According to the Health and Safety Executive, the UK government's national authority on monitoring workplace health and safety, between 2009 and 2014 there were 6138 injuries in the air transport sector. In that time two fatalities have also been reported among people working in air transport in the UK. That puts the overall fatality rate among air transport workers in this time period at 0.3 out of every 100'000 people working in that sector. The rate of non-fatal injuries is 878.2 per 100,000 for the years 2009-2014. These figures also show that there has been a noticeable drop over the course of this time frame as well. From 1461 total reported injuries in 2009, to 918 reported injuries in 2014.
You can see examples of the causes of workplace injuries from the HSE's 2019/20 statistics below. This is across all industries.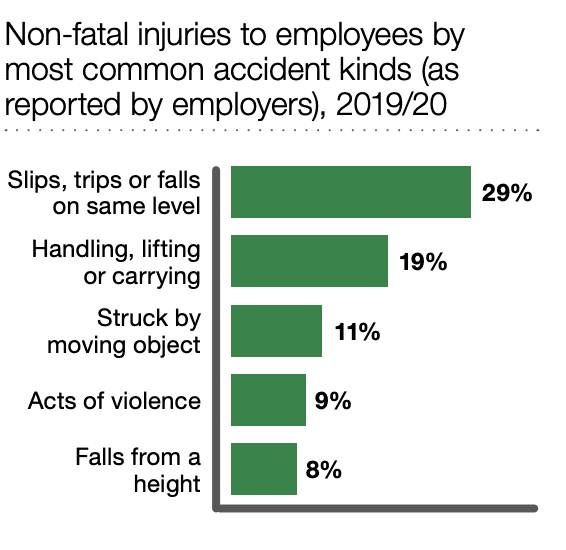 Accidents Which Could Happen At An Airport
There are a wide variety of accidents that could potentially happen at an airport. Many airports are very large sprawling complexes containing multiple different buildings serving various different purposes. Their facilities may cover a range of different purposes, to checking in the passengers, boarding and preparing the planes, loading and unloading luggage, providing customer service to the passengers while they wait for their flight and helping passengers move around the airport.
Each of these different parts and facilities of an airport could potentially be the scene of an accident if health and safety policies and procedures are not implemented correctly. Ranging from things that could possibly happen in most public areas, such as slips, trips and falls or food poisoning, to baggage carousel accidents or even employee manual handling accidents due to lack of training.
The examples of different types of accidents listed throughout this article are some examples of what could potentially happen. It is not exhaustive, if the kind of accident which happened to you isn't described in this article, don't worry, just call us and describe your situation to our accident claims team who will be happy to assist you.
Accidents Involving A Trip Or Fall At An Airport
With the kind of heavy footfall seen in airport terminals, keeping the area free of tripping and slipping hazards is crucial. If there is a spillage, or if wet weather is causing passengers to bring in mud and water on their shoes, then there is potential for an accident if the matter is not dealt with. The same goes for any disrepair in the flooring, such as loose or protruding sections of carpet and linoleum, or items left lying around that could present tripping hazards. If someone tripped or slipped and fell in the terminal then a claim could possibly be made on the grounds that the airport operators failed to make sure the area was safe.
This responsibility extends beyond the terminal building itself, any outdoor pavements, walkways, roads or car parks on the airport's property must be maintained. An airport could be liable for a compensation claim if someone were to trip on broken pavement or on a pothole. This responsibility to maintain the premises extends to dealing with naturally occurring hazards, things like ice in winter. An airport could be liable for not clearing the ice away with salt or grit if someone slipped and fell in public walkway areas due to icy pavements. Read more about slip, trip and fall claims here.
Accidents Involving Suitcases And Luggage Facilities
An airport may be responsible for ensuring the safety of its luggage moving facilities. These include baggage trolleys and baggage carousels. Trolleys can be used by staff or hired out to passengers for moving suitcases and bags around. When trolleys are being moved by staff, a claim could be made if they collided with you or if a piece of luggage that hadn't been loaded onto it properly fell off and hit you. If you were the one pushing the trolley when an accident occurred, then a claim could be made if there was any indication that the accident was caused by the trolley being faulty.
The baggage carousels in the arrivals lounge could potentially be the scene of an accident if they are allowed to be left to fall into disrepair. Although they are slow-moving, they do contain moving parts and can easily carry the weight of a person, if someone got their hair or clothes snared in the conveyor belt due to a fault or disrepair they could be carried or dragged until they were able to free themselves or be freed by someone else. Keeping it supervised and properly serviced and maintained is crucial to preventing accidents. Luggage is loaded onto the baggage carousel by baggage handling staff, if they load the baggage incorrectly and it falls off and causes an injury then the airport could be liable due to their negligence.
Accidents Involving Airport Stairs, Escalators And Lifts
The stairs, escalators, lifts and travellators in an airport will see near-constant use and heavy footfall, consequently, they can develop potentially dangerous faults and damage if they are not regularly serviced and maintained. Travellators, lifts and escalators contain moving parts that could snag long hair, loose items of clothing and cause someone to get stuck, this could cause serious injuries. If they break down and come to a sudden stop, or if they are uneven or judder then people using them could suffer falling injuries. There is especially a risk when it comes to escalators and stairs, as an accident with one of these due to disrepair could cause someone to fall and suffer serious injuries. Stairwells must be checked regularly for any signs that the bannisters or flooring have become loose or unstable.
If you suffered an accident on the stairs, escalators or moving walkways in Edinburgh Airport, if it is found that the operators this could be third party contractors failed to ensure the upkeep of the facilities where the accident occurred you maybe able to make Edinburgh airport accident claims for any harm suffered.
Accidents When Using Airport Transit Systems
Airports will often have a transit system in operation to help their passengers get around more quickly and easily. This means having shuttle buses, trams or trains running from one part of the airport to another. There may well be a transit system running from the car park or nearby hotels to the terminal building, or a transit system to take passengers from the terminal to where their plane is waiting for them at the runway. It is not uncommon for airports to have vehicles operating indoors as well, usually electric buggies used for ferrying luggage, assisting passengers or used by staff to get around the terminal complex more quickly.
In the case of the shuttle bus transit services, there is the potential threat of a road traffic accident, if the accident was the fault of the driver, or the driver of another airport operated vehicle or another road user, then a claim could be made if you are injured. (You can read this guide to road traffic accident claims).
Naturally, if vehicles are being operated indoors in a busy airport terminal then great care must be taken in order to prevent accident and injuries. Staff operating these vehicles need to be trained in their use and operate them responsibly. They need to be regularly serviced and kept in safe working order. Even a small and slow-moving vehicle like an electric airport cart could inflict serious injuries in a collision.
Accidents In A Shop Or Eatery At Edinburgh Airport
Like many major airports, Edinburgh has a variety of shops and cafes in its terminal building for passengers to use while awaiting their flight. Without regular upkeep and adherence to food safety standards, eateries and shops could potentially cause someone to have an accident or suffer an illness. If this were to happen our panel of solicitors could help you make a personal injury claim.
If you slipped and fell over on a floor that was wet from being mopped and hadn't been marked out with a sign or if the floor was in a state of disrepair and caused you to trip these could both be the basis for a personal injury claim. Another way you could be entitled to make a personal injury claim would be if something fell off a shelf and landed on you, such as a glass bottle, causing an injury. There would be grounds for a claim like this if there was an indication that the objects had not been placed on the shelf correctly.
Arguably, the primary danger in a restaurant is the potential threat of contracting food poisoning or of suffering an allergic reaction to your meal. If a restaurant fails to comply properly with health and safety practices when storing, cooking and serving their food it could heighten the risk of causing customers food related illnesses. In this case, they could be liable for a compensation claim. Another way to get hurt in a restaurant would be to get burned or scalded by the food and drink, or the plates and cutlery it was served on, being too hot.
If you got ill due to food poisoning or had an allergic reaction to the food due to incorrect labelling at Edinburgh Airport then call our team to see if they can help you make Edinburgh airport accident claims.
Airport Staff Accident Claims
Airports, like any other employer, have a duty of care to ensure that they provide a safe working environment for all their employees. If they are found to have not taken all the steps they could or should have to remove avoidable hazards and have caused an accident as a result, then a personal injury claim could result for harm suffered. In an airport some of the potential hazards that could cause an accident include, being made to use airport equipment that is defective, being made to use equipment that you have not been properly trained in (such as the Ground Support Equipment vehicles on the apron) and being made to work without breaks or rest. The latter example is a particular danger when you are being asked to operate vehicles or machinery. Not being issued proper and functioning safety equipment to protect you from the inherent dangers of working in an airport could also justify potential Edinburgh airport accident claims, for example, if you were not given ear protection while working near jet engines and you suffered loss of hearing.
In addition to these hazards, there is also the danger of slips, trips and falls. If a staff member is injured in an accident at work at Edinburgh Airport by tripping or slipping on a foreseeable hazard, then the airport could be liable for not having prevented or dealt with the problem. Slipping or tripping hazards at an airport could include: Wires and packaging left out in areas with heavy footfall, luggage and suitcases left lying around and wet floors without no warning signs. Out on the tarmac, ice, broken or uneven sections of tarmac and leakages of substances from the plane could potentially present slip, trip and fall hazards.
Airport Baggage Handler Injury Claims
Working as a baggage handler is a manual job and also involves operating a range of vehicles and machines for moving luggage around the airport and loading and unloading the luggage from the planes. Like any job that involves manual handling, care must be taken to ensure that manual handling injuries don't occur. Manual handling injuries could include; Sprains, muscle strain, repetitive strain injury, twisting of limbs or joints and bruising or fractures caused by dropping the load being handled.
These kinds of injuries could be caused by making staff handle loads beyond their physical fitness level, by making staff work on manual handling when suffering from a pre-existing illness or injury, by making staff work for prolonged shifts without breaks and putting staff to work without training on safe methods of handling heavy loads.
Employers must ensure that mechanical handling equipment and mechanical aids are used when moving luggage, such as mechanical belt loaders and tugs. This equipment needs to be maintained and in full working order and staff need to be fully trained in its use. Staff should also be equipped with safety gear such as hard hats, ear protection, gloves and knee pads. Failure to take these measures could cause someone to get hurt and could make the employer liable in a personal injury claim. For more details about health and safety when working in baggage handling at an airport, please visit this Health and Safety Executive website page.
Calculating Compensation For Personal Injury Claims – Updated September 2021
There are a certain set of guidelines which outline how much compensation could be awarded for certain injuries in personal injury claims. The table you see below is a personal injury claims calculator, it shows what the amounts that could be awarded. These are not the numbers that would always be awarded in every case, because compensation is always calculated to meet the specific circumstances of each individual claimant. This table is provided to give you an idea of what you could receive rather than a definite figure. To know for sure you would have to have an in-depth discussion with your personal injury lawyer and receive a medical report from a doctor confirming your injuries and your prognosis. Please note that these numbers are only used in English law, claims in Scotland may produce different amounts.
| Injury | Injury Severity | Compensation Amount | Injury Description |
| --- | --- | --- | --- |
| Head Injury | Moderate Brain Damage (i) | £140,870 to £205,580 | Moderate to severe issues with intellectually capacity, a significant possible personality change, speech and sensors are both effected with a chance of suffering epilepsy. |
| Head Injury | Moderate Brain Damage (ii) | £85,150 to £140,870 | Moderate to modest intellectual capacity, there maybe slight ability to be able to work, but it may not be possible, the risk of epilepsy is not so great at above. |
| Neck Injuries | Minor (i) | £4,080 to £7,410 | In these instances, a full recovery from the injury may be made within 1-2 years. |
| Neck Injuries | Moderate (i) | £23,460 to £36,120 | These injuries may be fractures or dislocations requiring immediate medical attention. They leave markedly impaired function or vulnerability to further trauma, and limitation of activities. |
| Neck Injuries | Severe (i) | In the region of £139,210 | Severe neck injuries are associated with permanent disablement. |
| Paraplegia | Serious | £205,580 to £266,740 | An injury of this calibre is often expected to inflict a shorter life span, depression, limit mobility, and in some cases, a lack of sexual function. |
| Arm Injury | Severe Injuries | £90,250 to £122,860 | Injuries which fall short of amputation but which are extremely serious and leave the injured person little better off than if the arm had been lost |
| Leg Injury | Moderate (iv) | £26,050 to £36,790 | This bracket includes complicated or multiple fractures or severe crushing injuries, generally to a single limb. |
| Food Poisoning | Serious (i) | £8,950 to £18,020 | A serious case of food poisoning is often expect to cause a serious upset stomach, which signs such as diarrhoea and nausea. |
| PTSD | Less severe | £3,710 to £7,680 | Those who endure minor levels of PTSD are often expected to make a full recovery within the span of one to two years. However, they might endure symptoms such as sleep deprecation, anxiety, and depression. |
| PTSD | Severe | £56,180 to £94,470 | Those who experience a severe level of PTSD are often expected to be left with life-long disabilities, minimal job prospects, physical ailments, and mental distress. |
Examples Of What Special Damages May Be Awarded
Special damages can be awarded to make up for any impact that having the injury has had on you and your family's finances. This could include any income you have lost from being incapacitated from work and any expenditure you have had to make relating to your injury. Things like money spent on medical care or medications, money spent on home adaption if you became disabled, and money spent on therapy can be paid back in compensation. Travel expenses brought on by the injury, such as travelling to hospital appointments can also be covered by special damages compensation if you can provide proof of your expenditure. If you have spent money on hiring people to assist you with household tasks that you would normally be able to do yourself, then you could receive special damages compensation for that.
No Win No Fee Claims For An Accident At Edinburgh Airport
This is an arrangement that is potentially highly beneficial for you as a claimant. It means that you won't be obliged to pay for legal fees if you were justified in making a claim, but the claim gets rejected. A no win no fee claim also means arranging to pay your solicitor out of your compensation fee (if your compensation is granted) rather than with your own money. You can't be asked to give away the majority of your compensation as there is a legal cap on solicitors' success fees, so this is still possibly a massive benefit compared to making a claim with your own money.
Why Choose Our Accident Claims Team?
Our panel of accident claims solicitors have up to 30 years experience dealing with a wide range of accident claims. They will always do what they can to ensure you receive the maximum amount of compensation for your suffering and any financial implications when you make Edinburgh airport accident claims.
Start Your Claim
Starting Edinburgh airport accident claims is simple and easy, just call 0800 073 8801 and you will reach our accident claims team, once you're on the line with them you can discuss the nature of your case and they will advise you on how you could make a claim. You can also do the same by putting your details in this form here and arranging a callback from our team.
Could I make Edinburgh Airport accident claims for accident in a car park?
If you are injured at Edinburgh Airport car park, and somebody else could be held liable for your injuries, you could make a claim for compensation with one of our specialist solicitors, authorised and regulated by the Solicitors Regulation Authority. There are various people that you could hold responsible for an accident in a car park. This could include other road users who were using the car park and driving negligently. You could also make claim against the car park operator, which may be the airport itself or a third party. You could make claims as a pedestrian using the car park, a motorist who is injured by the barrier at a car park if it malfunctions and many more incidents. If you are unsure as to whether you could make an Edinburgh Airport accident claim for a car park injury, please do not hesitate to contact our team. We would be delighted to assess your case for you to see if you could have a claim. Our specialist solicitors could then take your claim on and fight for the maximum compensation possible for your injury claim.
Could I make Edinburgh Airport accident claims for my child?
In some cases, it may be that a child is injured in an Edinburgh Airport accident. If someone could be held responsible for their injuries, you could help your child by making a claim on their behalf. You would act as their litigation friend, and would make important decisions about the case for them. Alternatively, you may wish to wait until your child turns 18 years old. Then, they could make their own claim for compensation. However, it could be more difficult to make a claim if you leave it too long. This is because it may be more difficult to gather evidence. Whatever you decide, we're here to support you and help you get the compensation for your child that they deserve.
Further Information
Accident Claims Solicitors Covering Edinburgh
Transport and Travel in Scotland
Airport Safety Resources
Health and Safety Executive Air Transport
Civil Aviation Authority – Airport Safety
Civil Aviation Authority – Delays and Cancellations
Thank you for reading our guide to Edinburgh airport accident claims.