By Joanne Jeffries. Last Updated August 16th 2021. Welcome to our guide on claiming compensation for an accident when drunk. If you suffer an injury on a night out in an accident when drunk, you might think that there's no chance of being compensated for your injuries. After all, you were drunk so the accident must be your fault, right? Well, no. Not in all circumstances. It is sometimes possible for a personal injury solicitor to claim for a drunk injury if it was caused, or partly caused, by somebody else's negligence. It is possible that your amount of compensation could be reduced if you were found to partly to blame, but you could be compensated in some way.
Due to the complexity of proving these types of claim, we'd recommend having a personal injury specialist on your side. Our advisors are able to provide a no-obligation assessment of your claim and provide free legal advice. If they deem that your case is strong enough, you could be introduced to one of our solicitors who could handle your claim on a no win no fee basis. To discuss your claim right away, please call an advisor on 0800 073 8801 today.
Alternatively, to find out more about claiming for an accident while drunk, please carry on reading.
Select A Section
A Guide To Claiming For An Accident When Drunk
It's quite a common belief that if you're injured while drunk, it's just one of those things and you should be more careful next time. But what if it can be shown that you being drunk wasn't the main reason for the accident happening? Wouldn't you want to be compensated for your injuries? We believe so and, in this guide, we'll explain when you could still be entitled to claim.
In all honesty, if you were drunk at the time of the accident then it's highly likely that a defendant's legal team would challenge who was at fault. That's why having a specialist like Accident Claims UK on your side is essential in these types of cases. Under normal circumstances, for a solicitor to consider a claim you'd need to prove that:
Somebody who owed you a duty of care had been negligent;
Which led to an accident;
In which you suffered and injury.
So, the job of your solicitor when claiming for alcohol-related injuries would be to show that, although the fact you'd been drinking might've contributed to the accident, it could've happened regardless because of the other person's negligence.
Another consideration when claiming is the personal injury claims time limit. This is usually either 3-years from the date of your accident or 3-years from when your injuries were diagnosed. Therefore, you should contact a solicitor as soon as possible to give them plenty of time to collect evidence to ensure your claim is as complete as possible.
When you've read this guide, if you believe you have a valid claim, please give us a call. Our advisors can check the circumstances of your accident and let you know your chances of being compensated.

What Is An Accident When Drunk?
It's quite common for A&E departments to be busier on Friday and Saturday nights when people are injured during a night out. This might be because they've been assaulted, drunk too much and caused their own injuries or it could be due to a negligent act by another person.
We will cover different scenarios in which somebody could be injured while drunk throughout this guide. However, one obvious place is a pub, bar or nightclub. Claims could be possible if you're injured in such a venue as the owner has a duty of care towards all customers. They should take into account that people will be drinking and have a policy of trying to clear away spillages, empty glasses and also bottles as soon as possible to avoid a slip, trip or fall.
In any type of accident where the victim is found to be drunk, they might be found to be partly liable for the accident. In this scenario, the claim could be settled on a split liability basis. For instance, if a venue owner agrees that they were 75% to blame for the accident and the victim agrees that, because they were drunk, they were 25% to blame, then the compensation award would be reduced accordingly.

Types Of Accident Which Could Happen To A Drunk Person
They type of accident that could happen to a drunk person are pretty much the same as those that could happen to a sober person. As discussed previously though, the fact they were drunk could've contributed to the accident and may affect the ability to claim a full compensation settlement.
However, here are some accidents which are much more likely for somebody who is drunk:
Crossing the road without looking to see that it's safe to cross.
Walking in the road rather than staying on the path meaning you could collide with oncoming traffic.
Losing balance while walking on the path and falling into the path of road traffic.
Laying in the road, unconscious and completely unaware of the traffic on the road.
Falling over while crossing the road and not getting up in time when traffic is approaching.
Messing around (play fighting) with friends by the side of the road causing you to fall into the path of traffic.
Ignoring road signals, such as a red man at traffic light crossings, causing you to step into oncoming traffic.
These are all related to pedestrians and vehicles involved in road traffic accidents. We'll look at whether they could lead to a personal injury compensation claim later on. We'll also look at other types of accidents that could happen when drunk as we proceed through the guide.

Could I Claim If Hit By A Car When Drunk?
In short, the answer to this question is 'possibly'. In the next section we'll explain how these types of claims can be tricky. All road users have a duty of care towards each other's safety. That means a driver should drive carefully to try and protect other road users. Failure to do so could lead them being held liable for any pedestrian injury.
However, a pedestrian is also a road user and they have the same duty of care. Therefore, it could be argued that their actions contributed towards an accident and as they were drunk, they'd breached their duty of care.
Our best advice would be to see if there's any evidence available that could confirm how the accident happened. This could include witness statements (preferably from sober witnesses), dashcam footage or CCTV. Then please call an advisor so they can look at your chances of making a claim.

Who Is At Fault If I Am Hit By A Car Whilst Drunk?
It's really not possible to answer this question here as every claim will need to be assessed to work out liability. There are cases where the pedestrian could be to blame, or partly to blame, because the driver had no chance of seeing them or the pedestrian was well over the drink-drive alcohol limit. In these cases, a claim might not be possible or the pedestrian would have to accept some liability and agree to settle the claim on a split-liability basis.
However, if it can be shown that the driver was driving dangerously by speeding, not paying attention or if the accident was caused by drunk driving then the claim could be made against them.
As you can see, the complexity of these types of claim is quite high. Please let us assess your claim to work out whether you could be eligible for compensation or not.

Could I Claim For An Injury In A Public Place Drunk
When you're in a public place such as a shopping centre, train station, public park, car park or even on a footpath, the owner of the place has a duty of care to protect your safety.
This is done by ensuring the public place is well maintained and any risks are identified and removed or cordoned off. Failure to do so could mean their liable for any accident that happens.
For instance, they could be liable if you're injured because of:
Uneven flooring or pathways.
Damaged handrails on stairs.
Slippery floors where there are no warning signs.
Blocked pathways.
Poor lighting which makes trip hazards difficult to see.
In any of these situations, you could be eligible for compensation even if you were drunk. You might be held partially responsible depending on how much alcohol you'd consumed but if there is negligence on behalf of the business or local authority responsible, you could still begin a claim for accident compensation.

I Was Injured When Drunk As A Pedestrian, Could I Claim Compensation?
We've already covered pedestrian accidents involving motor vehicles that could lead to a claim, so will look at other types of accident here. As in any other case, even if you were drunk, if somebody else's negligence caused you to have an accident as a pedestrian, then you could seek compensation from them.
The fact that you were drunk while walking home might result in a reduction of the compensation payment, but you could still be eligible for a claim.

Could I Claim For A Slip Or Trip Accident When Drunk?
As you've read throughout this guide, if you are injured because of an accident caused by somebody else's negligence, you could claim against them. This is the case even if you're involved in an accident when drunk.
Any business or local authority has a duty of care to try and keep you safe while on their premises. This means that they need to try and remove trip hazards that they are aware of.
Therefore, you could claim if:
You trip on uneven flooring.
Slip on a wet floor caused by a spillage, a leak or cleaning which has no warning signs.
Trip over cables trailed across your walkway.
Fall down the stairs due to a broken handrail.
As discussed previously, you should bear in mind that compensation could be reduced if the amount of alcohol you've drunk is deemed to have contributed to the slip, trip or fall.

Could I Claim Compensation If Assaulted When Drunk?
If you are assaulted when you're drunk, you could still make a compensation claim. This won't be a personal injury claim however, it will be made against a government scheme called the Criminal Injuries Compensation Authority (CICA).
CICA claims are possible even if the assailant is not identified following the attack on you. The time limit for CICA claims is 2-years from the date of the crime and you have to report the crime to police to be eligible under the scheme's rules.
The claim can include compensation for physical and psychological injuries caused during the crime. It could also include special expenses like lost earnings.

Accident When Drunk Injury Claims Calculator – Updated August 2021
One of the things we're asked when a potential new client contacts us is, "How much compensation will I receive?". We have to be honest and say that, until you've had a proper assessment of your claim, it's very difficult to say because every claim is unique. However, in the personal injury claims calculator table below, we've listed some compensation amounts paid for specific injuries.
| Injury Type | Severity | Payment Range | Comments |
| --- | --- | --- | --- |
| Legs | Severe | £90,320 to £127,530 | This range covers injuries that are so severe that the effect is the same as if the leg had been amputated. |
| Foot | Moderate | £12,900 to £23,460 | Injuries which drastically increase the risk of long-term oesteoarthritis. |
| Foot | Modest | up to £12,900 | Includes injuries like puncture wounds, ruptured ligaments and also simple metarsal fractures. |
| Pelvis | Minor | Up to £3,710 | This payment covers minor soft tissue damage where complete recovery occurs. |
| Arms | Moderate | up to £11,820 | A payment range that covers most elbow fractures, simple arm fractures as well as lacerations. |
| Hand | Serious | £27,220 to £58,100 | Serious hand Injuries which result 50% loss of function. |
| Hand | Moderate | £5,260 to £12,460 | This payment range covers injuries inlcuding penetrating wounds, crush injuries as well as deep lacerations. |
| Neck | Moderate | £23,460 to £36,120 | Covers dislocations or severe fractures in the neck with which might require spinal fusion. |
| Neck | Minor | £4,080 to £7,410 | Covers injuries which cause soft tissue damage where full recovery happens between 1 and 2 years. |
| Back | Moderate | £26,050 to £36,390 | This compensation range includes fractures that could require require spinal fusion including compression or crush fractures. |
| Back | Minor | £7,410 to £11,730 | This range is for minor back injuries that doesn't require any surgery and where full recover occurs within 2 to 5 years. |
| Shoulder | Minor | £4,080 to £7,410 | Covers soft tissue damage where the victim recovers fully within 1 to 2 years. |
These amounts are for personal injury claims. Criminal injury claims have different figures which we can explain when you discuss your claim with an advisor.
The important thing to notice here is that the compensation range is based on the severity of your injury. Therefore, having a specialist personal injury lawyer on your side could really help. This could ensure you receive the correct level of compensation for an accident while drunk. Our solicitors use medical records and reports to try to prove the exact extent of your injuries. The medical report will be compiled by an independent doctor who'll assess you during your claim. This will be arranged locally to ensure you don't have to travel too far.
These figures make up just one part of the claim known as general damages. In the following section we'll cover other parts of the claim that could be made.

Special Damages Which Could Be Awarded If Injured When Drunk
In the previous section, we covered 'general damages'. That's the compensation which is awarded to cover the pain, suffering and loss of amenity caused by your injuries. As well as general damages though, your personal injury solicitor can claim for a number of different special damages. These are for financial losses incurred because of your injuries. Some of the special damages that could be included in a claim for an alcohol related accident include:
Care Costs.
If you need to be cared for during your recovery, you could include the cost of a professional carer within your claim. You could also claim if you've been cared for by a friend or family member.
Medical Costs.
While you will receive free medical treatment from the NHS, many people have to pay for the cost of prescriptions and other medicines. Therefore, you could include medication costs within your claim.
Travelling Expenses.
You could also claim for the cost of travelling to and from medical appointments as part of your claim (travel costs). Furthermore, if you have to stop driving for any period while you recover, if you incur other costs as a result, then you could claim for those as well.
Lost Income
If your injuries mean you need time off work to recover or to attend medical appointments, you could claim for any lost earnings. If your ability to work is going to be affected in the long-term, you could also claim for future lost earnings.
Our advice regarding special damages is that you should keep hold of receipts, car park tickets, transport tickets, wage slips and bank statements to help prove your losses. Also, it's a good idea to keep a diary of your spending as it's much easier than trying to recall why you spent money later on.

No Win No Fee Claims For An Accident When Drunk
If you've suffered an injury when drunk, you might want to make a compensation claim but you're worried about the cost of hiring a solicitor. If that's the case, don't worry. Our team of solicitors work on a no win no fee basis for any claim they agree to take on.
No win no fee claims are made on the basis that you don't have to pay any solicitor's fees unless you receive compensation. You, and your solicitor, will sign a conditional fee agreement (CFA) confirming this prior to the claim beginning.
Also, the CFA will explain that when compensation is awarded, you'll pay a success fee. Don't worry though, you won't need the funds available to cover this fee. It's a percentage of your compensation that the solicitor retains before the rest is paid to you. By law, your success fee can't be any more than 25% of your compensation.
We believe that because you don't have to pay the solicitor's fees up front, more people are able to claim. It also means the financial risk and stress levels associated with claiming are reduced.
To find out whether you could use a personal injury lawyer on a no win no fee basis, please call for a free assessment of your claim.

How Accident Claims UK Could Help You Claim Compensation
If you're considering using Accident Claims UK to help you claim for an accident when drunk, here are some reasons that we believe help us stand out:
Our solicitors work on a no win no fee basis for every claim they handle.
We've received excellent feedback from previous clients.
Our team of advisors provide free legal advice and a no obligation assessment of your claim.
You can call our claims line 24-hours a day, 7 days a week.
Our solicitors aim to resolve cases as quickly as possible.
And they always try to ensure you receive the correct level of compensation for your injuries.
Start Your Claim For An Accident When Drunk
Now that you've read this guide, we hope that you've chosen to begin your claim with Accident Claims UK. If so, there a few different ways by which you can contact us. These include:
Telephone: Call our advisors directly on 0800 073 8801.
Email: Send details of your drunk accident to office@accidentclaims.co.uk and we'll get back to you.
Live Chat: Use the chat facility that's available right across our website.
Online: Complete this online claim form and we'll get back to you when it's convenient.
Whichever method you choose, one of advisors will offer to assess your claim for free and with no obligation. They'll provide free legal advice so that you know all of your options too.

Essential References
You've now come to the end of this guide about claiming for an injury caused by an accident when drunk. To assist you further, we've provided some more links below which we hope you'll find helpful.
NHS Head Injuries – This guide from the NHS might be useful if you've suffered a head injury while drunk.
Criminal Injuries Compensation Authority – CICA run the government scheme which you could claim against if you are injured on a night out because of a criminal act against you.
Whiplash Injuries – Whiplash is a potential alcohol related injury as it can occur due to collisions or falls.
Slip, Trip and Fall Accident Claims – This guide explains the different injuries and reasons for a slip, trip or fall. It's not necessarily about being injured when drunk but relevant, nonetheless.
Assault Compensation Claims – A useful guide which explains the differences between personal injury claims and criminal injury claims.
Public Place Accidents – This guide explains when you could make a personal injury claim following an accident in a public place.
FAQs on Compensation For An Accident While Drunk
How common are drink driving accidents
According to the government's statistics, there were estimated to be 220-260 people killed on GB roads where at least one driver or rider was over the legal limit for drink driving in2018. Total casualties reported in drink driving accidents in 2018 amounted to 5% of all casualties. You can see below how this figure has changed over the years.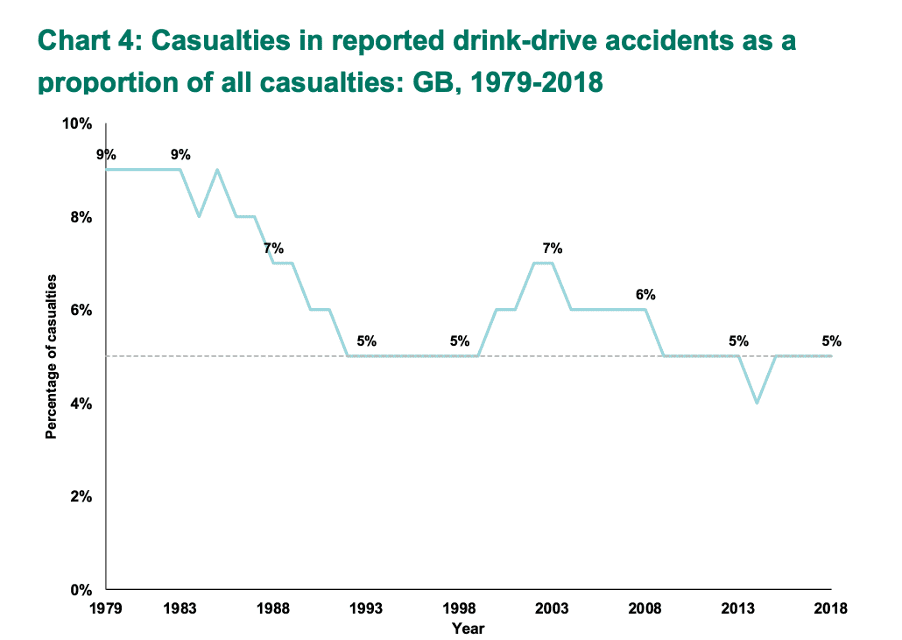 Can I Claim On My Insurance If I Was Drunk?
If you're looking at claiming compensation for an accident while drunk, you may be wondering if you could claim on your own insurance. Simply put, you would not be able to claim on your own insurance if you violated the terms of your insurance by driving illegally. If you were over the legal limit, this could invalidate your insurance.
How Much Compensation For An Accident While Drunk Could I Get?
This would largely depend on whether you were partially liable for your own injuries, as well as how severe those injuries were. As mentioned, you'd need to see an independent medical expert for your injuries to be assessed. The independent medical expert would assses the injuries, as well as giving their opinion on how your prognosis looks. Remember, even if your injuries are serious, you could see your compensation reduced because of your own involvement in an accident. If you'd like to discuss this further with us, we'd be happy to explain further about calculating compensation for an accident while drunk.
Thank you for reading our guide on how to claim compensation for an accident when drunk.