By Joanne Jeffries. Last Updated 20th September 2021. Welcome to this guide on Humberside airport accident claims.
This is the page you have been looking for if you have been injured at Humberside airport due to an accident at Humberside airport that wasn't your fault. This page will hopefully inform you of whether or not you have a case to make for claiming compensation for a Humberside airport accident. Read through it and if there is anything you still don't feel sure about, please use 0800 073 8801 to reach our accident claims team to discuss your situation and the circumstances of your accident with them.
The accident claims team and the personal injury lawyers who work at Accident Claims UK are all experts and can give you free legal advice and support in a no win no fee claim against Humberside airport.
Select A Section
A Guide To Making A Claim For An Accident In Humberside Airport
Humberside airport is not one of the UK's larger airports, less than 200'000 people used it in 2018 and it serves mostly to provide flights to North Sea oil rigs, with only a limited number of chartered flights going to destinations outside of the UK. Nevertheless safety standards must be upheld just as strictly at smaller airports as at larger ones. This guide will go through some of the key points you need to know about the kinds of accident claims you could make if you were injured as a result of these safety standards not being properly upheld.
This will involve explaining some of the different circumstances that could justify making a claim, discussing different types of compensation you could claim and how to make a claim with our solicitors without putting your own finances at risk.
What Are Accidents At Humberside Airport?
The type of accidents which we are referring to in this guide are ones which should be prevented by following proper health and safety procedures and ensuring that the duty of care towards airport passengers and staff is met. By failing to prevent these types of accidents the airports (or other third parties responsible) are making themselves liable for paying compensation to the people affected.
Airports cannot be made to pay compensation if the person who was hurt in the accident caused the accident themselves and there is no proof that the airport was negligent. Compensation also cannot be paid if there is no proof that the claimant actually suffered physical or mental harm. Compensation can be awarded for a delayed or cancelled flight, or for luggage that has been lost, stolen or damaged, but that is not the type of accident claim this guide is dealing with. For advice on claiming compensation for a flight delay, click here.
Personal injury claims can also be made in the event that you suffer an accident that isn't your fault during your flight, although in these cases the claim would be made against the airline or the company responsible for your flight. The international Montreal convention means that these organisations can be liable. 
Humberside Airport Safety And Security
There have been a total of just 15 fatalities in air crash incidents in the UK between 2007 and 2018, none of them involving commercial aircraft. Whether you are flying to or from Humberside airport or any other airport in the UK, you can rest assured that your chances of being involved in an air crash or other air safety incident are practically nil.
One Humberside airport incident occurred in 2013 when the pilot of a Cessena 172 died in the cockpit and their passenger, a person with no prior experience or training flying a plane, was instructed how to land the plane safely by staff at Humberside airport traffic control. In another incident in 2003, a Cessena plane crashed upon landing at Humberside airport, killing the pilot and inflicting minor injuries on two passengers. Incidents like these are highly rare, and a story of a single fatality is no cause for being put off from flying from Humberside airport or from flying in general.
www.yorkshirepost.co.uk/news/latest-news/examiner-dies-as-plane-crashes-at-airport-1-2472705
www.bbc.co.uk/news/uk-england-humber-24457031
Types Of Accidents Which Could Happen In Humberside Airport
There are numerous different types of accidents that could happen at an airport, either inside the airport's terminal or on the airport property around it. This guide will go into some detail about some of the more common types of accidents that could happen. They include:
Having a slip, trip or fall caused by the state of the floor in the airports terminal buildings or the state of its pavements and car parks.
Having an accident with your baggage caused by the state of the luggage carousel and the luggage carts
Having an accident involving the airport's transport buses
Having an accident caused by the state of the airport's lifts and escalators
Having an accident caused by the state of a bar or restaurant, or having an allergic reaction or a case of food poisoning caused by the state of the food you were served.
Having an accident at work while working at the airport due to negligence of your employer towards health and safety.
Injuries caused by accidents at the airport can vary from minor cuts and bruises to life changing and life threatening injuries.
Airport Tripping And Falling Injury Claims
Tripping and falling might seem like a strange type of accident to make a personal injury claim for, but in fact, many trips, slips and falls are preventable. Proper maintenance and cleaning of the airport and its facilities can ensure that things like ripped carpets and linoleum, wet patches of floor, ice and other hazards don't pose a threat of causing people to fall over. Accidents can also be caused if the airports lighting is insufficient to help people spot tripping or slipping hazards. The airport also needs to make sure that its car park and its pavements are in good condition, as broken or uneven pavements and tarmac with potholes can cause people to trip and fall. If you trip or slip and fall on something that should not have been there and which you weren't responsible for, then the airport could have breached its duty of care and you could be owed compensation. Feel free to read this slip trip and fall guide for more information on trip, slip and fall claims.
Airport Baggage Facility Accidents
The airport's baggage facilities may include trolleys that can be hired for carting your own luggage around as well as baggage carousels for collecting your luggage when you arrive. These facilities need to be kept up and maintained to a certain standard in order to be safe. Accidents can be caused by faulty or overloaded trolleys or by trolleys that are being used by people who aren't paying attention to where they are going.
Accidents can also occur at the baggage carousel. People might get hurt if the luggage is loaded on to it in an unsafe manner causing it to fall off when people are trying to collect it. Accidents could also occur if the conveyor belt of the carousel has degraded to the point that people's hands or fingers could get trapped in its moving parts. Members of staff should be present in the luggage collection area at all times to ensure that the carousel is being used properly and to respond to any incidents.
If you've been injured in an accident involving any of the Humberside airport baggage facilities please call our team to receive advice on what to do next.
Accidents On Airport Passenger Elevators And Escalators
As Humberside airport can be liable for any preventable accident suffered by their passengers or staff while on their property, they can also be liable for accidents that occur while passengers or staff are using the lifts and escalators. Lifts and escalators can cause accidents when they have not been maintained and serviced properly. For example, if a lift's doors do not work properly people might have the doors close on them while trying to leave or enter the lift. If an escalator is faulty then people might fall down the steps, either because the movement of the escalator juddered or stopped and started, or because the steps were unstable, either because steps had come loose or because the grooves had worn out.
If you suffered some kind of injury while using these facilities at Humberside airport, then your next step should be to give a call to our advisors and talk with them about starting a claim.
Airport Shuttles And Bus Accident Claims
Humberside airport operates a bus and shuttle bus services which operate between the airport and sites in the local area collecting passengers and dropping them off at the airport. There may also be a shuttle bus to take you from the terminal building to your aircraft out on the runway for boarding. If any of these services are operated by the airport then the airport could be liable for paying compensation in the event of an accident caused or contributed to by their negligence. This could be negligence on the part of the driver or negligence through failing to properly maintain the vehicle. Accident claims can be made against public transport operators if any such service is operated by an ordinary bus company.
Some examples of accidents that can occur involving the buses and shuttle buses might include:
Road traffic accidents with other road users outside the airport
Collisions with other airport incidents while inside the airport
Slips, trips and falls caused by disrepair of the vehicle.
Here is a page which talks specifically about accident claims for injuries sustained on a bus or coach.
Humberside Airport Shop And Food Related Accidents Or Illnesses
You will find a shop and an executive lounge serving food and drink at Humberside airport. You are as much entitled to safety in these facilities as you are in any other part of the airport you might use. A personal injury claim could be made against the airport or against a business that operates within the airport if your health has been impacted by negligence while shopping or dining at the airport.
Negligence towards health and safety in a shop or restaurant can cause:
Allergic reactions
Food poisoning
Injuries from damaged or faulty furnishings
Scalds or burns caused by food, drinks or cutlery being too hot
Injuries from items falling off shelves
If you've had an illness or an injury caused by Humberside airport food, then call our advice team to see if we could help you make a claim, you may also find this article on restaurant injury claims to be helpful.
Accidents And Injuries When Working At The Airport
Ensuring that the airport is a safe environment for everyone is about making it a safe place to work in for staff as well. Airport operators have a responsibility not just to the passengers who use their facilities, but to the staff who work in them as well. That means that if a worker at an airport suffers an injury in a workplace accident that could have been prevented had the airport had better health and safety policies in place, they could be entitled to claim compensation from their employer.
Below, you can see from the HSE statistics for 2019/20– the common workplace injury causes.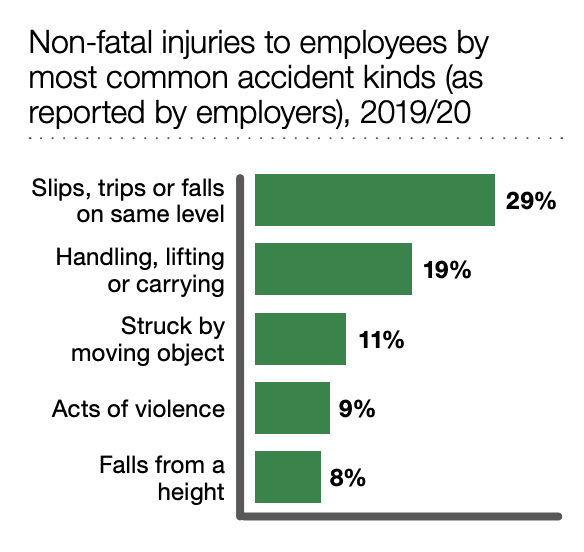 Some of the types of safety incidents which could justify a workplace accident personal injury claim could involve:
Having a slip, trip and fall in the same circumstances as outlined in the section on these injuries earlier
Being the victim of an assault while working due to inadequate security measures in the airport
Being exposed to health hazards due to a lack of protective equipment, i.e. exposure to aviation fuel without being given breathing masks or exposure to the sound of jet engines without ear protection.
Being the victim of sexual harassment, bullying and overwork.
For further information about claiming compensation for a workplace injury, or a physical or mental health problem linked to your work read our accident at work guide. Read on for information specifically dealing with workplace injuries suffered by cargo handlers.
Baggage And Cargo Handler Injury Claims
By performing manual work cargo handlers are the airport staff who are most at risk of suffering an injury, injuries involving handling goods are the most common by a significant margin suffered by airport staff according to RIDDOR. Cargo handlers can suffer injuries from falling luggage items, but also injuries relating to lifting heavy objects, such as pulled muscles and hernias, long term back and joint problems. The environment and machinery that they work around can also be dangerous. Moving machinery can inflict serious or even life changing injuries, oil and fuel used by the aircraft can be hazardous to health and the sound of jet engines can cause hearing loss.
With the inherent dangers involved in this occupation, certain safety standards are a must to prevent people from getting hurt or from developing long term health problems. Safety procedures which should be observed include:
Providing working protective equipment
Ensuring all machinery is serviced and in safe working order
Ensuring that staff are trained in the safe use of the machinery they work with.
Ensuring that staff do not lift or handle loads which are too heavy
Ensuring that staff receive regular breaks and rest from performing manual work
Calculating Compensation For An Accident At Humberside Airport – Updated September 2021
While we cannot tell you hear how much your compensation claim is actually worth, we can give you a look at the kind of compensation amounts that are awarded for different types of injuries using this personal injury claims calculator chart. It shows how a number of example injuries are valued according to the Judicial College Guidelines' 2019 edition. The basic principle is that the more an injury will impact the claimant's life and the more pain and suffering it has caused them the more money will be awarded. For a more exact figure, you would have to have a discussion about your injury and your circumstances with an advisor or a personal injury solicitor.
| | | |
| --- | --- | --- |
| Injury | Notes | Compensation |
| Serious damage to both hands | Permanent cosmetic damage and loss of function in both hands | £47,550-£79,360 |
| Total or effective loss of one hand | Cases in which a hand has sustained injuries requiring amputation or cases in which all fingers and a portion of the palm have been crushed or cut off | £82,040-£102,890 |
| Amputation of index and middle and/or ring fingers | Cases in which the hand has been rendered almost useless | £52,810-£85,170 |
| Serious hand injuries | Cases in which a hand has been reduced to 50% capacity and is severely deformed and unsightly. | £24,740-£58,100 |
| Severe fractures to fingers | Partial amputation of fingers, or impairment of function and sensation | £31,350-£34,480 |
| Less serious hand injury | Severe crush injuries causing significantly reduced function without surgery or inspite of surgery | £12,340-£27,220 |
| Moderate hand injury | Crush injuries, penetrative injuries, laceration and soft tissue injuries, in less severe cases any lasting affects are non-intrusive. | £4,780-£12,460 |
| Total and partial loss of index finger | Cases in which the index finger has either been totally lost or partially removed. | £10,380-£17,590 |
| Loss of thumb | - | £33,330 to £51,460 |
Examples Of Special Damages In Compensation Claims
Special damages are parts of your compensation claim that relate to covering the financial costs of your injuries. If your financial situation has been altered in any way the impact of the injury on your ability to work or by an expenditure that it has required, then you can claim it back in the form of compensation. Please remember to keep a record and evidence of the money you have lost or spent (i.e. payslips, receipts, etc) in order to support your claim and calculate how much you will be asking for.
No Win No Fee Injury Claims Against Humberside Airport
To make a claim that doesn't put you at financial risk, claim through our solicitors. We will always offer every client a no win no fee claim agreement, this means that unless you win your claim you won't have to pay for the solicitor's services. If you do win, rather than pay them with your own money, you will simply provide them with a small portion of the compensation that is awarded to you as their payment. For more information about how these claims work, simply give us a phone call.
Why Choose To Make Your Claim Through Our Team?
Our solicitors have been handling claims for many years, they are well versed in all kinds of accident claims. When you work with Accident Claims UK, you are working with highly experienced experts. The confidence we have is the reason we offer all of our clients a no win no fee claim that allows you to make a claim without any up front costs. We also offer anyone who calls us a free advice session to help them decide whether or not they wish to make a personal injury claim.
Start Your Claim
Starting a claim isn't complicated, simply make a phone call to 0800 073 8801 or drop and email to office@accidentclaims.co.uk to start discussing your situation with our team of expert advisors. You may alternatively find it easier to arrange for a phone call using our "start a claim" page here, which allows you to put down a time and date which you would like our team to ring you about your situation.
How do I evidence my injuries for Humberside airport accident claims?
You may be under the impression that to evidence your injuries for Humberside airport accident claims you would simply have to visit your own GP. However, it is likely that you would need to produce more medical evidence of your injuries or illness. When you make a personal injury claim with one of our specialist solicitors, authorised and regulated by the Solicitors Regulation Authority, you would need to have a medical. This would be conducted by an independent medical professional, who might ask you questions about your injury, examine you, and could review your previous medical notes but will stop once they had done so, they could complete a report that could be used to evidence the severity of your injury, and your prognosis for recovery. Courts and solicitors could use this to value your claim.
Could I make Humberside airport accident claims on behalf of a child?
If your child is injured at Humberside airport, and the accident that they were injured in was not their fault, they could be eligible for compensation. However, they would not be able to make a claim on their own as a child. You could have two options when looking to claim personal injury compensation for them. The first is to wait until they are 18 years old, and then they could make a claim for themselves. However, there could be some difficulties in gathering evidence once so much time has passed. Therefore, it could be possible for you to make a claim on their behalf. You would need to register to be a litigation friend for the child, which means you could make decisions about their case. Once compensation had been paid out, it would usually be held in a trust for the child until they come of age. We understand that you might have questions about making such claims, which we would be happy to answer. Please do not hesitate to call us for free legal advice and support in making an no win no fee claim on behalf of a child.
Resources For Airport Accident Victims
Hull Solicitors for accident claims
Air Safety Resources
Air transport safety information
CAA information on flight delay compensation
Thanks for reading this Humberside airport accident claims guide.