By Joanne Jeffries. Last Updated 12th Jan 2022. Welcome to our guide on motorcycle pillion passenger accident claims. It explains how a motorbike accident could happen, and how a motorcycle accident could injure more than just the rider.
A motorbike pillion is a seat or sitting place behind the main rider's seat on a motorcycle, scooter or moped. Motorcyclists and pillion passengers are more vulnerable to being injured in road traffic accidents than people using cars, vans and other larger vehicles. If you have been injured due to a motorcycle pillion passenger accident, you may be owed compensation for your injuries. Whether your pillion passenger injury was caused by the motorbike rider, another road user, or substandard conditions on the road, you may be able to claim compensation.
If you have suffered a motorcycle passenger injury due to an accident that was not your fault, trust Accident Claims UK to handle your claim for compensation. Accident Claims UK can provide you with a knowledgeable solicitor with up to three decades of experience to handle your compensation claim.
We offer free legal advice via a personal injury claims consultation to anyone looking to make motorcycle pillion passenger claims. Call us on 0800 073 8801, or use our online claims form to reach us. If we can see that you have legitimate grounds to claim compensation for injuries caused by a motorcycle passenger accident, we will provide you with a skilled solicitor to handle your compensation claim.
Select A Section
A Guide To Claims For Motorcycle Pillion Passenger Accident
Welcome to our motorcycle pillion passenger claims guide.
Motorbike pillion passengers are more vulnerable than many other road users. Unlike people riding in a car, their vehicle does not have an exoskeleton to take on the full force of the impact. Their vehicles are small and narrow, making them harder for other road users to see. The passenger is also dependent on the rider to make the right decisions for them on the road.
We have created this motorcycle passenger accident claims guide for a motorcycle passenger who was injured due to an accident that was not their fault. If you have a child under the age of 18 who has suffered a pillion passenger injury, you can also claim compensation on their behalf. In this guide to claiming compensation for a motorcycle pillion passenger accident, we will explain what sort of injuries they can cause and will advise you on how to make a personal injury claim. We have provided you with a personal injury claims calculator to help estimate how much compensation you could be owed.
If you wish to claim compensation for your injuries, call Accident Claims UK today for your free personal injury claims consultation. Alternatively, use our online claims form to reach us. We will be happy to answer any questions you may have and speak to you in-depth about your road traffic accident. If you have legitimate grounds to claim compensation, we will provide you with an excellent solicitor to handle your case.
What Are Motorcycle Pillion Passenger Accidents?
Before we look at motorcycle pillion passenger claims, let's look at what these accidents could look like.
A motorcycle accident or motorbike accident is when a motorbike experiences a collision with another vehicle, an object, or motorcyclist falls off their bike. Here are some examples of when a motorcycle accident can happen:
A motorbike rider loses control of their vehicle and hits a static object such as a lamppost or a tree. This may happen because the rider is distracted or intoxicated.
A motorcycle has a collision with a car or another vehicle. This is due to an error in judgement or negligence on the part of the rider or the driver of the other vehicle.
Poor road conditions cause the motorcycle to fall or flip. This can include a spillage on the road, which causes the motorcycle tyres to lose their grip on the road.
A motorcycle pillion accident is a road traffic accident in which the motorbike passenger who sits on the pillion (seat behind the rider's seat) is injured.
Common Causes Of Motorcycle Accidents And Crashes
Next, we'll look at some common causes of accidents relating to motorcycle pillion passenger claims.
Here some of the most common causes of motorbike crashes and accidents:
Left-hand bends on country roads often cause the motorcyclist to veer to the middle of the road to get a better view of what is coming around the corner. As a result, the motorcyclist has left themselves more vulnerable to oncoming cars.
Sadly, when cars emerge from a junction, they often have difficulty seeing the oncoming motorcyclist or find it hard to judge the speed they are travelling at. Unfortunately, that leads to collisions with motor vehicles at junctions.
A motorcyclist can collide with a car when overtaking. Overtaking at junctions, bends, and hills is incredibly dangerous because the rider cannot see if there is a vehicle coming in the opposite direction.
The motorcyclist loses control of their bike. This could be because a substance has been spilt onto the road or because the motorbike rider suffers a rear-end shunt from a motor vehicle.
A motorcyclist can be hit when filtering through the traffic. If the motorcyclist was filtering at a speed above 20 mph or not taking due care, a court might judge them to be partially to blame for the accident.
Proving how your pillion passenger accident took place
When making motorcycle accident claims, it's important to provide evidence that shows what happened. You should be able to prove who was to blame for the injuries sustained and also prove the injuries were caused by the accident. This is really important because, without enough evidence, it would be easy for the defendant's insurer to object to your claim. Alternatively, if you didn't have enough medical evidence, they could deny that you sustained your injuries because of the accident. So how can you collect the evidence required? Well, you could:
Photograph or video the scene of the accident as soon as possible.
Make a note of the defendant's contact details as well as their vehicle's details. Also, ask them for details of their insurance company and policy number.
Write down the details of any witnesses who saw the accident take place.
See if any vehicles that have stopped are fitted with dashcams.
Seek medical treatment for all of your injuries at A&E.
Photograph any injuries that are visible and keep doing so throughout your recovery.
If the emergency services attended the accident scene, note their details so you can request copies of their reports later on.
Once you have as much evidence, you could ask an injury solicitor to review whether you have enough evidence to begin a claim.  We can help you with that process by assessing your claim for free and then passing it to a personal injury solicitor if the case is strong enough.
The Highway Code And Motorcycle Road Safety Laws
At this point in our motorcycle pillion passenger claims guide, let's look at some relevant rules and regulations.
The Highway Code states the following rules for motorbike pillion passengers:
To carry a pillion passenger, the passenger must sit astride the machine on a proper seat.
The rider must only carry a pillion passenger if their motorbike is designed to do so.
The motorcyclist must not carry more than one passenger.
The motorcycle passenger must wear an appropriate helmet and protective clothing.
Provisional licence holders cannot carry a passenger.
Other rules about carrying a pillion passenger include the following:
There must be a place for the passenger to hold onto the bike.
The motorbike should be equipped with foot supports,
The collective weight of the rider and passenger must not exceed the maximum weight for the motorcycle model in use.
The rider's insurance must cover carrying a pillion passenger.
How old does a pillion passenger have to be in the UK? There is not a lower age limit; however, the passenger must be able to reach the foot supports with their feet. If they are under 16, they need a parent's permission to ride pillion.
Duty Of Care Owed By Motorcyclists To Pillion Passengers
In order to have grounds to make motorcycle pillion passenger claims, you need to prove that the third party responsible failed to uphold their duty of care to you. But what is this duty?
Motorbike riders owe their passengers and other road users a duty of care. This means that they are supposed to take every measure possible to uphold their safety. When they agree to take a passenger on their bike, they assume responsibility for their safety. This means fulfilling the requirements for carrying a pillion passenger and riding in a safe and responsible manner. If a passenger is injured due to negligence on the part of the motorbike rider, the rider could be held liable for any injuries caused.
Motorists who drive cars, vans and other vehicles also have a duty of care. If a motorist causes an accident in which a pillion passenger is injured, they may be held liable for their injuries.
How To Safely Ride With A Pillion Passenger
There are added risks to riding a motorbike with a pillion passenger. First of all, having an additional passenger changes the way the motorbike handles, for example, how the vehicle balances and how the suspension performs. Because of this, the passenger should never shift weight or move suddenly when the motorbike is at a low speed or travelling around a corner. The Highway Code has rules about carrying a motorbike pillion passenger, which we have already highlighted in this motorcycle passenger accident claims guide. There are also steps that motorbike pillion passengers can take to help keep themselves safe, including never distracting the rider, having a suitable means of communication between the passenger and the rider, wearing suitable protective clothing and exercising good judgement about whether or not they believe the rider is fit to ride the bike.
Injuries Caused By A Motorcycle Accident
In the following sections of our motorcycle pillion passenger claims guide, let's look at some common injuries caused.
If a motorcycle pillion passenger accident occurs, the rider can be thrown off the back of the motorcycle, fall off whilst turning a corner, or be hit directly by an oncoming vehicle. Below are some examples of pillion passenger injuries that could be caused by a road traffic accident:
Whiplash Motorbike Accident Claims:
Whiplash is when the head is forced forward beyond its normal range of motion, causing the soft tissues in the neck to overstretch. Can you get whiplash on a motorbike? Yes, whiplash accidents can be caused by another vehicle hitting the back of the motorbike, forcing the rider or passenger's head forward.
As a result, the person can suffer soft tissue injuries in the neck, shoulders, upper back and upper arms. Symptoms of whiplash can include stiffness and pain, difficulty moving one's head, tingling in the upper arms, and dizziness. Fortunately, whiplash usually goes away on its own. Sometimes more serious cases of whiplash are treated with a course of physiotherapy. In a rare number of cases, whiplash can cause a permanent disability.
The Whiplash Claims Reforms And Motorbike Accident Claims
We should mention that if you are making a whiplash claim for a motorcycle accident, the whiplash claims reform programme could come into play. This is a reform programme that means those with soft tissue injuries valued at under £5000 would need to make that claim via a portal the government has created. While these reforms may mean that it could be more difficult to receive the level of compensation you may have done before they came into place, they could still provide you with compensation. We could still assist with such claims, so please get in touch to find out how this could affect yours.
Head Injuries And Traumatic Brain Injuries From A Motorbike Accident:
Motorcycle passenger accidents where the victim experiences a blow to the head can result in severe head injuries. If the person does not go to a hospital for treatment immediately, they can experience brain damage. Symptoms of a severe head injury can include unconsciousness, concussion, fits or seizures, blood or clear fluid coming out of the ears and nose, swelling and bruising around the eyes, amnesia, vomiting, difficulty staying awake and poor coordination. If an injured person is displaying any of these symptoms, they should be taken to a hospital Accident & Emergency department for emergency treatment.
If the brain is suddenly altered due to trauma, this is known as a traumatic brain injury. Over the long term, this could result in a person suffering from impaired cognitive functions, including poor memory and poor mood control. Sadly traumatic brain injuries can result in complications such as a coma, falling into a permanent vegetative state, or death.
Neck, Back And Spinal Injuries from a Motorbike Accident:
A neck injury or back injury where the spine is damaged can result in the injured person becoming paralysed. In these severe cases, it's often imperative that the claimant seeks compensation by making a motorcycle pillion passenger claims as their lives will be dramatically different. According to the road safety charity Brake, road traffic accidents are the number one cause of spinal injuries worldwide.
Road Rash From A Motorbike Accident:
Road rash is an informal term for injuries caused by an accident where an injured person suffers from skin abrasions when their skin is scraped along the road. The skin can experience heavy bleeding, or new scars can be opened as a result of road rash. Cyclists, motorcyclists and people who skate or skateboard are vulnerable to suffering road rash.
Broken And Fractured Bones from a Motorbike Accident:
A traumatic impact, such as a road traffic accident, can cause bone breaks or fractures. Although these are treatable, they can be painful and debilitating injuries. If the motorbike passenger suffers facial injuries such as a facial fracture, the person may also experience psychological damage and a loss of self-confidence.
Statistics And Facts About Motorcycle Accidents And Casualties
At this point in our motorcycle pillion passenger claims guide, let's look at some recent statistics about these types of accidents.
Motorcycles are classed as vulnerable road users alongside pedestrians and pedal cyclists, and statistics show that they're more susceptible to injury than non-vulnerable road users. The reported road casualties in Great Britain report 2019 revealed that motorcyclists are more likely to be killed than any other road user group, with a fatality rate of 113.3 per billion miles travelled, as the graph below shows.
Data released by the Department of Transport has shown that when we look at contributory factors to accidents reported in different vehicle types, the most common contributory factor to motorcycle accidents is driver or rider error or reaction. In fact, as the graph below shows us, motorcycle accidents had the highest percentage of accidents attributed to driver error of all vehicle types.
Other contributory factors which accounted for a large number of reported motorcycle accidents include the rider failing to look properly (2,133 accidents in 2019), injudicious action (2,022 accidents) and failure to judge another's path or speed (1,950 accidents). Some accidents may have more than one of these contributory factors.
Although the data from the Department of Transport doesn't go into detail regarding the rate of casualties for motorcycle passengers, we can assume that a number of these accidents involving motorcycles involved injury to a passenger riding pillion.
Fatal Motor Bike Accident Statistics
When it comes to the most recent statistics, the government have released provisional figures for 2020 road traffic accident casualties in Great Britain. The numbers show that 285 motorcycle riders were fatally injured during 2020. This is lower than the year before. When you consider that 4 months of 2020 involved travel restrictions due to the COVID-19, however, this is still a significant number. We illustrate how this measures up to fatalities of other road users below.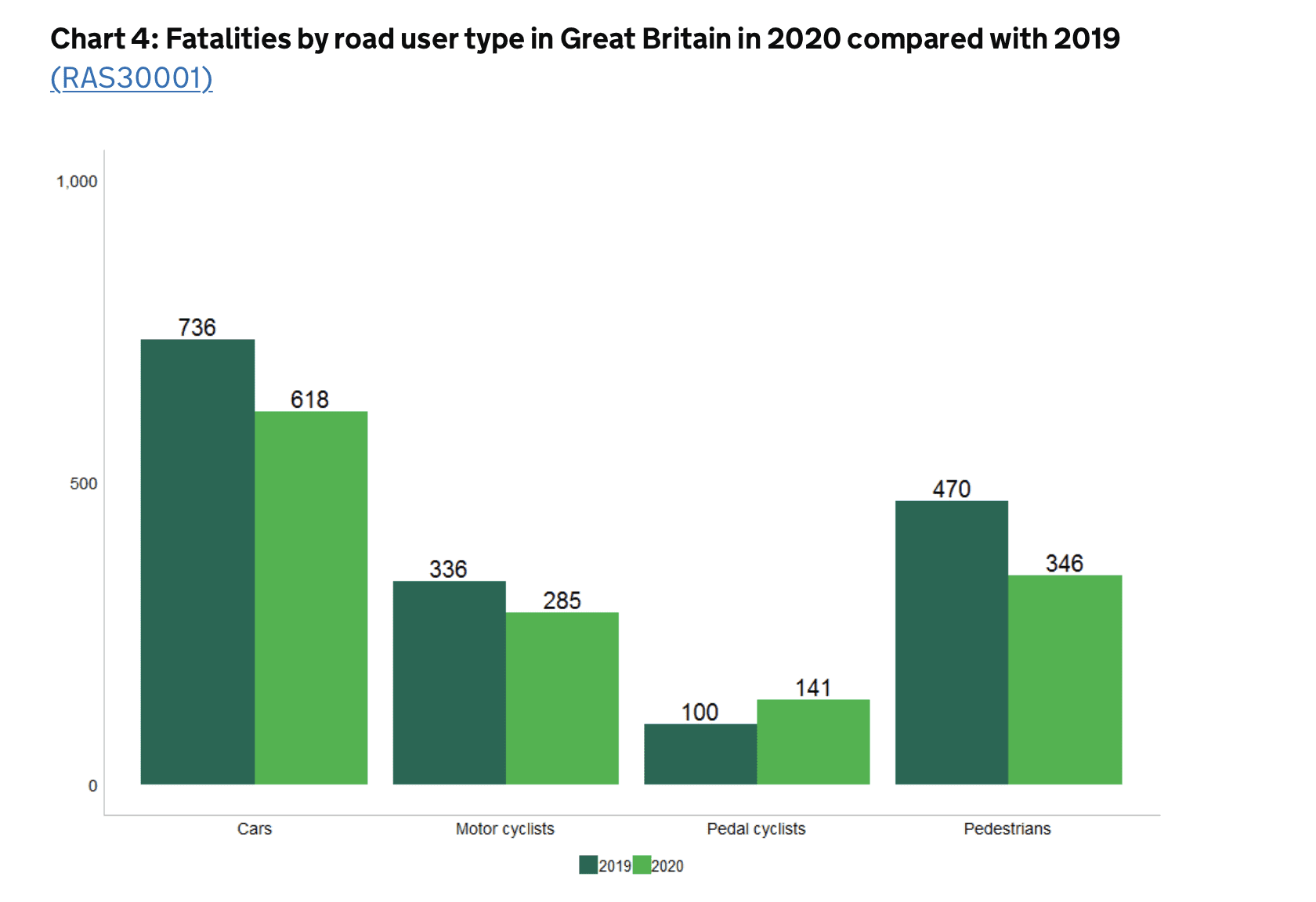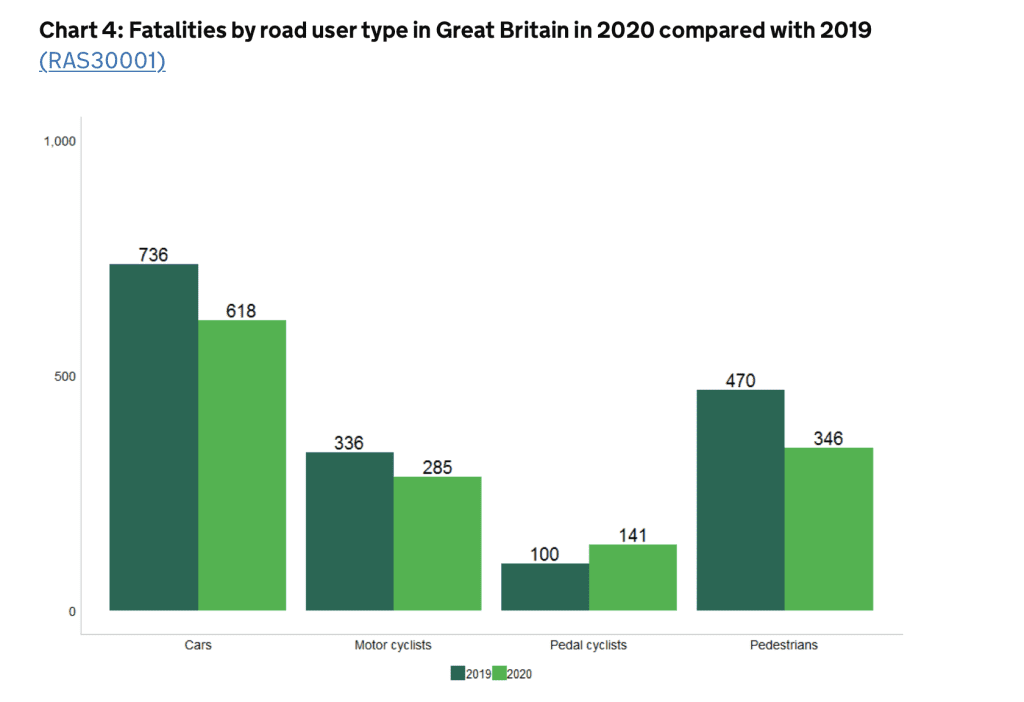 Claiming For A Motorbike Accident That Was Fatal
If you have lost a loved one in a motorcycle pillion passenger accident, you could make a claim for compensation if the accident was not their fault. We understand that it might be quite traumatic to relive the details of your loved ones death. However, the compensation you receive could assist with funeral expenses, and you could even be awarded a bereavement award. In some cases, dependants of the person who has passed away could also receive compensation for the loss of financial support they experienced due to the wrongful death of their loved one.
Motorcycle Pillion Passenger Accident Compensation Claims Calculator – Updated January 2022
You can estimate the amount of compensation that you could receive from motorcycle pillion passenger claims in general damages using our personal injury compensation calculator. The calculator does not include special damages but instead provides figures from the Judicial College Guidelines as guidance on how much you could be awarded for any physical and psychological injuries.
| Type Of Injury | Seriousness | Settlement | Comments |
| --- | --- | --- | --- |
| Neck injury | Moderate (1) | £23,460 to £36,120 | Including injuries to the neck such as a dislocation or a fracture which caused immediate symptoms. Chronic conditions may also be included in this category. The claimant may be more vulnerable to further injury in the future. |
| Neck injury | Moderate (2) | £12,900 to £23,460 | Including cases in which a wrenching type injury has happened to the soft tissues of the neck or disc lesions. There may be permanent pain, discomfort or stiffness. |
| Neck injury | Moderate (3) | £7,410 to £12,900 | Including injuries to the neck which exacerbate or accelerate existing conditions in the neck. May also include moderate soft tissue injuries where the recovery may be over a longer period of time. |
| Back injury | Moderate (1) | £26,050 to £36,390 | Instances where residual disabilities to the claimant are less severe than higher categories. There may be a wide range of injuries included within the category such as crush injuries, fractures and compression of the spine. |
| Back injury | Moderate (2) | £11,730 to £26,050 | Frequently seen back injuries such as those disturbing the ligaments or muscles and which could either accelerate, exacerbate or prolong existing injuries. |
| Fracture of Clavicle | n/a | £4,830 to £11,490 | How much you could claim depends on how serious the fracture is and how serious the disability is. |
| Pelvis and hip injuries | Moderate | £11,820 to £36,770 | Those classed as moderate, at this level there may still be significant injuries to the hips and pelvis. |
| Elbow injuries | Less Severe Injuries | £14,690 to £30,050 | Elbow injuries which might impair the elbows function but which does not need major surgery. |
| Leg injuries | Moderate | £26,050 to £36,790 | Including either multiple or complicated fractures or crushing injuries to (generally) a single limb. |
| Foot injuries | Moderate | £12,900 to £23,460 | Fractures to the metatarsal bones which may be displaced. May lead to continuing deformity and symptoms. |
Alternatively, call Accident Claims UK to receive a personalised estimate of how much compensation you could claim.
Examples Of Costs And Losses You Could Be Compensated For In A Motorcycle Accident Claim
If you make successful motorcycle pillion passenger claims, your compensation package will be split between these two heads of claim:
General Damages: These are normally the largest part of a personal injury claim. They compensate the claimant for the pain, suffering and loss of amenity they have experienced.
Special Damages: Special damages reimburse the injured person for any expenses or financial losses they have experienced as a result of their injuries. This can include travel expenses, medical expenses, home adaptation expenses, care expenses, mobility expenses or reimbursement for loss of income.
No Win No Fee Motorcycle Pillion Passenger Accident Claims
Good news. If you have legitimate grounds to claim, we can handle your claim on a no win no fee basis. This means that you will only be charged your solicitors fee if you win your claim, so there is less financial risk involved for you. To learn more, call us to make an enquiry.
How Can We Help With Motorcycle Accident Passenger Injury Claims
If, after reading this motorcycle pillion passenger claims guide, you believe that you are owed compensation for your injuries, trust Accident Claims UK to help you make your claim. What can we offer you?
The advice and skills of an experienced solicitor to handle your claim.
A promise that we will push to win you the optimum amount of money you are eligible to claim.
The option to make a no win no fee claim.
Contact Us To Claim For A Pillion Passenger Accident Injury
To start your claim by getting in touch to discuss motorcycle pillion passenger claims today, please call us on 0800 073 8801 for your free consultation or complete our contact form to reach us.
If you have legitimate grounds to claim for a motorcycle passenger accident, a solicitor will start working on your claim as soon as possible.
Useful Resources Related To A Motorbike Accident Claim
Motorcycle Pillion Passenger Claims and Motorbike Accident Claim FAQs
What should a pillion passenger do when you stop?
General advice states that a pillion passenger should place both feet on the footpegs once the motorcycle is stopped. Passengers should only be able to reach the footrests rather than reach the ground.
What is the maximum number of pillion passengers allowed on a motorbike?
By law, a motorcycle designed to carry a pillion passenger cannot carry more than one at a time.
Is it mandatory to wear helmet for pillion riders?
Yes, both riders and pillion passengers should wear a helmet in transit. This should help to protect them in a motorbike accident.
How much compensation could I be entitled to for a motorbike accident?
We would need to assess your case before we're able to give it an estimated payout figure, as each one is different and must be valued as such. Please get in touch today for your free consultation.
How is compensation valued after a motorbike accident?
Typically, the amount of suffering experienced by the claimant will be taken into consideration in the valuation of their compensation award. Therefore, the more they suffered, the more they'll probably be able to claim.
What damages could I be compensated for?
General damages compensate for physical injuries and mental suffering, whereas special damages compensate for financial losses, including any loss of earnings.
Am I required to get a lawyer?
There is no law necessitating that claimants have legal representation. However, in having personal injury lawyer handle your case, you can ensure that you're giving it the best chances of success, taking you one step closer to the maximum compensation you deserve.
Where can I get a lawyer for a motorcycle pillion passenger accident claim?
Look no further than the panel of specialist solicitors at Accident Claims. With more than 30 years of experience in the claims process, they can begin handling your case on a No Win No Fee basis right away if they believe you're eligible for compensation. Why not see how they can help you today?
Thank you for reading our guide on motorcycle pillion passenger accident claim, which explained how a motorbike accident could happen, and how a motorcycle accident could injure more than just the rider.