Within this guide, we shall look to examine how to claim compensation for a back injury after a car accident. Car accidents can leave those injured with life-changing consequences. Injuries can be minor but others can mean a person is unable to return to the life they had before the accident happened. If you have been injured in a car accident caused by a third party not adhering to their duty of care you could make a personal injury claim.
Throughout this guide we will look to answer the following questions:
What are the different types of back injuries?
How much compensation could I claim?
What is the personal injury claims time limit?
What are the benefits of using a No Win No Fee personal injury solicitor?
What amount could you receive from back injury compensation payouts in the UK?
Our advisors offer free legal advice 24/7 so, if you have any questions, such as wanting to know your claim eligibility, please contact us at a time that suits you using the below details.
Select A Section
A Guide To Claiming Compensation For A Back Injury After A Car Accident
A back injury can not only be incredibly debilitating by itself, but in a car accident, you could also suffer other injuries, such as a neck injury or a head injury. An injury affecting the spine can cause complications with the spinal cord and the central nervous system. If these areas of the body suffer damage it can lead to life-changing injuries. So, for example, a spinal injury could lead to you having permanent mobility issues.
Whether the injury is major or minor, if the road traffic accident was not your fault, you may be able to claim compensation. This guide will explain under what circumstances you can claim, why negligence is critical to this, and how much you may be able to receive if you're able to claim successfully.
Please read on or give us a call to learn more about how you could receive compensation for a back injury after a car accident. You can speak to our advisors any time you like as they offer free legal advice 24/7.
What Is A Back Injury After A Car Accident?
A car accident can cause a vast array of injuries based on the type of accident. You could suffer an injury from:
Head-on collisions
Rear-end accidents
Side-impact collisions
T-Bone accidents
Low-speed accidents
The severity of the injury will partly be based on the speed of the vehicles involved. After such as accident you may be faced with very severe injuries that lead to multiple financial problems. The first being loss of earnings. If you are eligible to make a personal injury claim you are not only compensated for the injury but also the financial losses the injury results in.
Every road user in Great Britain has a duty of care, as established in The Road Traffic Act 1988 and The Highway Code. Both clearly define how you need to conduct yourself as a road user. Therefore, any road user deemed to have breached this duty of care could be liable should they cause an accident that results in an injury.
The next few sections will detail the different types of injuries you could suffer from a car accident and provide examples of instances where you may be able to claim. This is so you have a better understanding of your situation.
Spinal Cord Injuries
A spinal cord injury can mean the sufferer may face life with disabilities. The spinal cord is made up of a column of nervous tissue. Technically it carries messages between the brain and the body. If this is damaged in any way and not repairable those signals are unable to get through. It can cause symptoms such as:
Difficulty or loss of movement
Loss of bladder or bowel control
Difficulty breathing
Spasms
You could suffer this injury from a car accident due to reckless driving from another road user. In this instance, you may be able to claim for the spinal injury successfully. Examples of this include:
A car is overtaking and hits you head-on.
A driver fails to stop at a red light while you are crossing.
Herniated Disc Injuries
A herniated disc, often referred to as a slipped disc, is when a soft cushion of tissue located in between your spinal bones is forced out of place. This can cause a number of different symptoms and possible disabilities that you may be subjected to.
Numbness and pain, usually on one side of the body
Worsening pain when standing or sitting
Burning, aching or tingling sensations
Pain caused when walking short distances
You may be thinking, "If you're suffering from back pain after a car accident, what can the NHS do?" It is vital that if you suffer any type of back injury in a car accident you have it checked by a medical professional. Something that seems quite minor may develop into something a lot more serious if it does not receive the treatment it needs. This can involve performing scans such as X-rays, MRI scans and CT scans. After that, a treatment plan would then be put in place.
You may be looking into personal injury claims after suffering this injury after:
A car enters the cycle lane and knocks you off your bicycle.
A multiple car pile-up and several cars rear-end you.
Injuries To The Lumbar Spine
A lumbar spine injury involves injuring the lower five vertebrae of your spine. The main function of these vertebrae is to protect the end of the spinal cord and support the weight of your torso.
Potential symptoms of this type of injury include:
Paraplegia
Difficulty moving, which may require walking aids
An inability to control bowels or bladder
Some loss of function in hips and legs
Due to suffering from these symptoms, you may be seeking compensation for a back injury after a car accident because:
While riding your bicycle, a car might have quickly reversed into you, causing you to crash into another stationary vehicle.
Suffering injuries from a T-bone accident caused by a drunk driver veering into your vehicle.
It isn't just spinal injuries you'd be able to potentially claim compensation for. If you want to know how to claim for brain damage caused by a car accident or want to know more about the different types of road traffic accidents that can occur, visit these pages on our website.
Thoracic Spinal Injuries
The thoracic spine is the mid-section of your spine. These are twelve vertebrae marked from T-1 to T-12. Potential symptoms from injuring the thoracic part of the spine include:
Loss of feeling in genitals
Back pain
Fever
Significant leg weakness
You may be looking to make a personal injury claim due to suffering this injury from a road traffic accident. You may be seeking this due to:
Crashing into another vehicle because another driver drove through a red light.
Suffering a car accident injury because a lorry driver failed to check their mirrors, meaning that their vehicle crashed into yours.
Lower Back Injuries
Lower back injuries can affect your mobility which could greatly decrease the quality of your life. They can be caused by the force and momentum of a sudden impact on your body. You could also suffer psychological effects from the spinal injury. This will also be accommodated for if you successfully receive compensation. Symptoms of this type of injury include:
Focused and intense lower back pain
Intensified pain when attempting to move
Tenderness and inflammation to the injured area
Difficulty walking or standing due to stiffness
Personal injury claims can be successfully created from this type of injury if you can show that third party negligence caused it. You may be seeking compensation for the injury caused by:
Colliding with another vehicle because the other driver drove the wrong way down a one-way street.
Another car crashing into the rear-end of your vehicle due to them going above the speed limit. This could result in your vehicle slamming into a wall, which could cause serious injuries.
These types of injuries aren't the only ones you can claim for. Call one of our advisors for free legal advice 24/7, and they can tell you in a few minutes if you're able to claim. Our phone number is at the top of this page.
Pre-Existing Injury Claims
If a car accident has made a pre-existing back injury worse or accelerated your condition you could claim for the further suffering caused.
Examples of injuries that could be exacerbated by a car accident include:
Neck pain
A back strain or sprain
Shoulder muscle damage
How To Prove Your Claim
If you've suffered an injury, such as a spinal fracture, from a road accident, to receive compensation, you need to prove that another road user's negligence caused it. Making a successful personal injury claim revolves around this. Therefore, being able to provide evidence of negligence is very important.
Examples of evidence include:
Witness details
CCTV footage
Medical evidence showing the injury you've suffered
Police or insurance company assessments and reports
Without evidence like this, it can be very difficult to successfully make a personal injury claim. To know more about the evidence you may need or about how a personal injury lawyer could help you, please call our advisors for free legal advice using the phone number at the top of this page.
What Is Compensation For A Back Injury After A Car Accident Worth?
You may be wondering, "How much compensation for a back injury after a car accident could I receive?"
There are two potential heads of claim when making a personal injury claim. They are:
General damages, which relate to the psychological and physical pain caused by the injury as well as the general decline in your quality of life.
Special damages, meanwhile, relate to the financial losses caused by the injury.
In order to receive special damages in a personal injury claim, you must qualify for general damages.
Due to the Judicial College, we're able to provide you with general damages compensation figures. They have analysed previous payouts for injuries. As such, they have been able to create reliable compensation brackets.
You may still be wondering, "How much is a back injury worth in a car accident?" It depends on the severity of the injury. Also, there has recently been a reform. If your injuries are worth less than £5,000, and you are a driver or passenger in a vehicle, you would have to claim through a different method. This is clarified in The Whiplash Injury Regulations 2021. However, if you're unsure how much your injuries are worth or would like a second opinion, please contact our advisors.
Below is a list of injuries and their respective compensation brackets. The Judicial College provided these figures.
| Type of Injury | Amount of Compensation | Description |
| --- | --- | --- |
| Back | £85,470 to £151,070 | This bracket will involve injuries that result in damage to the spinal cord and nerve roots, causing severe pain and disability causing symptoms like an impaired bladder and bowel. |
| Back | £69,600 to £82,980 | Features of these injuries include nerve root damage causing associated loss of sensation, sexual difficulties and significant scarring. |
| Back | £36,390 to £65,440 | Injuries in this bracket include lesions or fractures to spinal discs or soft tissue injuries causing chronic conditions where disabilities remain despite treatment. |
| Back | £26,050 to £36,390 | Cases include residual disability but are less severe than ones found in the bracket above. An example would be damage to an intervertebral disc leading to reduced mobility and nerve root irritation. |
| Back | £11,730 to £26,050 | Injuries in this bracket include ligament and muscle disturbances leading to backache, soft tissue injuries causing acceleration or exacerbation of a pre-existing spinal condition. |
| Back | £7,410 to £11,730 | A minor back injury, such as a serious strain or sprain, where either a recovery or an almost recovery takes place with no surgery needed within two to five years. |
We completely understand if you'd like a more reliable estimate regarding your injury. If so, please get in touch! You can call us 24/7 using the phone number above. In just a few minutes, we can inform you if you're able to claim and confirm the amount of compensation you could receive by using our personal injury claims calculator.
Special Damages 
The second potential head of claim is special damages. They relate to the financial losses suffered due to the injury. Therefore, you could potentially claim for losses like:
Loss of earnings
Loss of future earnings
Travel costs
Care costs, such as requiring a nurse or a care bed
Medical costs, such as prescriptions
Recreational activities that you're no longer able to attend
You will need evidence to prove the amount of financial losses you're able to claim. As such, you will need bank statements, invoices or receipts. If it's agreed upon that you weren't liable for the damage caused, you may only receive special damages compensation for the amounts you're able to provide evidence for.
Concerning the personal injury claims time limit, you have three years or three years from the date you've been made aware of the injury to make a claim. There are exceptions to this rule.   This is established in The Limitation Act 1980.
No Win No Fee Claims For A Back Injury After A Car Accident
You may be unsure what the benefits of working with a No Win No Fee solicitor are when seeking compensation for a back injury after a car accident. It means that:
Your personal injury solicitor will not request legal fees, either before the claim or during it.
Instead, they will take a small, legally capped portion from your compensation as payment.
They will also not request legal fees from you if your claim has been unsuccessful.
Therefore, you can rest assured knowing that they won't waste your time. They will only take your claim if they feel there's a reasonable chance of success.
Talk To Us 
If you want to see if you can claim or want an accurate compensation estimate, call our advisors today for free legal advice 24/7 using the details below. Our experienced panel of solicitors offer their services on a No Win No Fee basis.
Useful Resources
For more useful information, please use the links below.
To know more about back pain treatment, visit this NHS webpage.
Want to discover more about the kinds of back exercises that could be helpful? If so, click here.
The Department for Transport provides road traffic accident statistics related to Great Britain. Click here to learn more.
Suffered a back injury at work? If so, visit this page on our website.
If you want to know about back injury claims, click here.
Has your back injury been misdiagnosed due to medical negligence? If so, to see if you can claim, click here.
Road Safety And Accident Statistics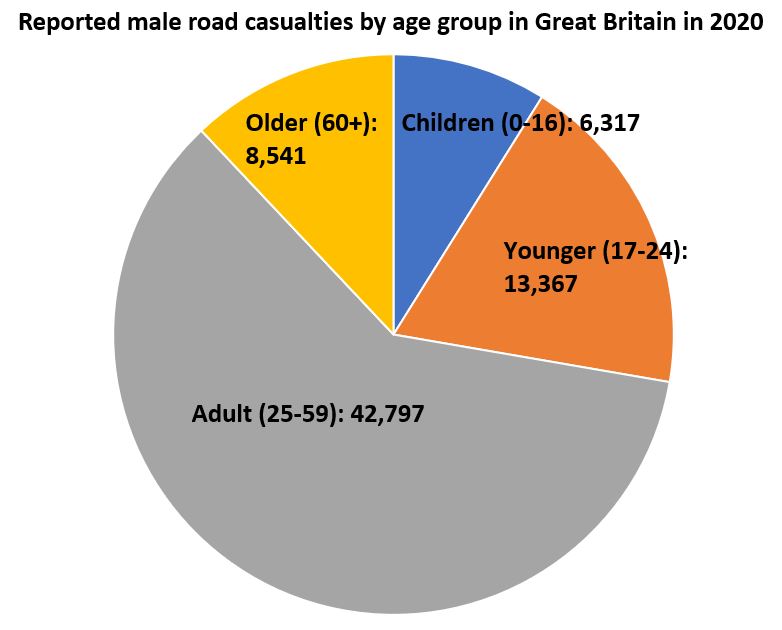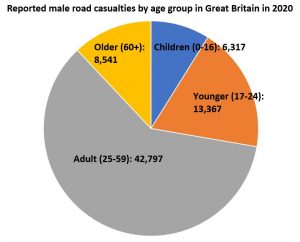 The Department for Transport provides road traffic accident statistics for Great Britain to analyse road safety. The latest data includes analysing the number of reported male road casualties in 2020. Once divided into separate age groups, it's clear that male adults from the age of 25 to 59 were at the greatest risk of suffering injury, with over 42,000 casualties. Overall, there were 71,022 male casualties across the year.
Road traffic accidents may happen more than you think. Therefore, whether you're a passenger in a car or on a motorcycle, you may still be able to claim. Therefore, if you'd like free legal advice, call our expert advisors 24/7 using the phone number above.
FAQs
For answers to frequently asked questions, please see below.
How long does back pain last after a car accident?
It depends on the extent of the injury. It can range from lasting a few days or weeks to being a permanently debilitating condition that greatly affects the quality of your life.
What should I do if my back hurts after a car accident?
If you're in pain, you should always seek medical advice from a doctor or medical professional. They will assess your injury and tell you the best course of action.
What kind of back injuries can you get from a car accident?
The back injuries you could get include spinal injuries, herniated discs and injuries to the lumbar spine to name but a few. Call our advisors for free legal advice today to see if you can receive compensation for a back injury after a car accident.