By Joanne Jeffries. Last Updated 21st September 2021. Welcome to this guide on Stornoway airport accident claims.
Stornoway airport is a small airport on the Isle of Lewis in the Outer Hebrides in Scotland. It primarily provides short domestic flights to major airports on the British mainland such as Manchester, Edinburgh and London-Southend. The total number of flights going in and out of Stornoway airport in 2018, including both commercial and cargo flights was just 10,570, which is not a high number compared to other larger airports.
This page is a guide to how you could make a personal injury claim for an accident in Stornoway airport that has caused unnecessary suffering and it wasn't your fault.  It is aimed at both passengers and members of staff at Stornoway Airport. Our panel of solicitors could handle a compensation claim for a Stornoway airport accident, by reading through this guide you will hopefully find what you need to know about how you can do that. However, reading this guide should be just your first step to seeking compensation, the next thing to do if you want to begin no win no fee Stornoway airport accident claims or ask any further questions should be to call our advisors on 0800 073 8801.
Select A Section
A Guide To Claims For Accidents In Stornoway Airport
Having an accident that wasn't your fault while you're on the property of Stornoway airport could potentially entitle you to make Stornoway airport accident claims for compensation if it can be proven that a third party acted negligently causing avoidable suffering. It is imperative that those who provide a service to the public ensure that they follow obligated health and safety legislation to prevent preventable accidents occurring.
There is generally a three year time period in which to make an accident claim, so either from the date of the incident or the date of knowledge of your injury you have three years to pursue a claim. There are exceptions of course. It may be worth checking with Accident Claims UK's advisors if you're unsure about your eligibility to make a claim.
Accident Claims UK works with a panel of personal injury solicitors who can help their clients make no win no fee accident claims for an accident at Stornoway airport. This guide will explain how this works as well as explaining how the amount of compensation you might be entitled to will be calculated. It will also go into some detail about some of the types of accidents that might occur at airports and the circumstances that could make an airport liable for them.
What Is An Accident In Stornoway Airport?
Considering its small size, Stornoway airport may possibly have less of the hustle and bustle of larger airports. Hopefully, this might reduce the risk of an accident occurring. Nevertheless, no airport can be completely free of any kind of danger. This article is not focusing on the risk of plane crashes so much as it is focusing on accidents that could potentially happen on airport premises. Accidents that this guide intends to discuss includes:
Accidents while moving or collecting your luggage
Allergic reactions and food poisoning at the airports shopping and café facilities
Accidents while using an airport's shuttle bus facilities
Workplace accidents while working as a member of staff at the airport.
For information on what to do about having a delayed or cancelled flight, click here to read the CAA's guide. If you have lost some of your luggage, or it has been damaged or you suspect it has been stolen, or if some kind of accident occurred while your plane was in flight, call our accident claims team to see if you can claim under the Montreal Convention.
UK Aviation Safety Statistics
A small number of air incidents have been recorded at Stornoway airport, only one of which caused the loss of life. In 1983, a small aircraft approaching Stornoway airport crashed into the sea just off the coast with the loss of all ten crew and passengers on board. Besides this tragic incident, all crashes and incidents at or near Stornoway airport have been minor and have caused no fatalities. There have been no fatal air crashes in the UK since 2015. For more information about the safety record of Stornoway airport and the UK as a whole, visit aviation safety's site.
Common Forms Of Accidents Which Could Happen In An Airport
Many types of accidents could potentially occur at any airport. The examples listed in the following sections are the ones somewhat more likely to occur than others. Some types of accidents pose a greater risk of serious injury than others. But they could all potentially cause injuries ranging from bruises, to fractures, to illnesses requiring hospitalisation, to life-threatening, fatal,  and life-changing injuries.
Trip Or Fall Accidents In And Around An Airport
While you would obviously not be able to claim for any slip, trip or fall you had in an airport, such as if you tripped on your own belongings or on your own shoelaces, you may be able to claim for a slip, trip or fall that an airport could and should have prevented and therefore you would not have become injured. These types of accidents could be ones caused by tripping or slipping hazards which were allowed to exist in the airport without being rectified. Examples of slip, trip and fall accidents which an airport could be liable for could include:
Slipping on a patch of ice on the airport's terminal entrance.
Slipping on spilt oil on the airport's tarmac.
Slipping on a wet floor or a spilt drink inside the terminal that had no warning signage.
Tripping on wires, packaging and other items that airport personnel should have cleared away.
Tripping on ragged or torn carpets and linoleum tiles.
Tripping on potholes or broken and uneven paving slabs on the airport's property.
If you suffer a fall in a public place you should always remember to take photos of whatever it was that caused you to slip or fall so as to provide you with greater evidence to support your compensation claim. If you call us, we can discuss your situation and give you guidance on what you can do next. Why not also read this article on slip, trip and fall claims as well?
Baggage And Baggage Vehicle Accidents
Baggage facilities at an airport should be maintained and serviced so that any faults, disrepair and damage can be spotted before it has a chance to cause an injury. If you are using airport trolleys to move luggage around or you are collecting luggage from the baggage carousel or electrical vehicles are moving luggage around the airport it is vital that all these facilities are operated in a safe manner and are safe to use so not to cause unnecessary injuries. Baggage facility types of accidents might include:
Having luggage fall off a luggage cart because it was overloaded or faulty.
Being injured by a faulty baggage carousel.
Being injured by an accident with a luggage cart being driven negligently by an airport staff member.
A suitcase or a baggage carousel might not be a particularly threatening object, but an accident here could cause very severe injuries, such as crushing injuries to the hands or feet causing fractures, severe soft tissue injures and even possible loss of a limb. If you have suffered a luggage facility accident while at Stornoway airport contact our advisors for legal advice of no obligation.
Airport Escalator Accidents
All businesses with escalators on their premises could have a responsibility to ensure that they are serviced and safe to use. A negligent accident involving an airport's escalator could justify a claim for compensation however it may not always be clear as to who is responsible for such travel components as subcontractors could be used for maintenance and upkeep. There are a number of possible causes for an accident on an escalator linked to poor maintenance, these include:
Loose or unstable steps.
Slippery steps or tripping hazards left on the escalator.
Escalators stopping and starting suddenly.
The grooves on escalator steps being worn down due to overuse.
Our panel of accident solicitors could help you make a claim for compensation if you have suffered an accident on a faulty escalator that was due to disrepair and poor maintenance. Please consider calling our team and asking about our legal advice and support services.
Airport Bus And Vehicle Accidents
Stornoway airport has regular bus services between it and other parts of Lewis to make it convenient to get there. An accident that occurs involving this bus service could be grounds for making a personal injury claim if the accident was caused due to negligence and you have suffered harm as a result. Who the claim will be made against will all depend who the liable party was. For this section we are concentrating on claims against the service's operators if the operators or driver has acted in a negligent manner. The bus operators could be liable if;
The bus driver's poor or negligent driving caused a collision.
The accident occurred because of a breakdown caused by poor maintenance.
You tripped, slipped or fell on the bus or while getting on or off because of the poor state of the bus (i.e. if the flooring or steps were in poor condition).
You fell and injured yourself because a handrail was not secure.
You injured yourself on a broken seat.
You may find this article on bus accident compensation claims useful, read it and don't be afraid to get in touch with our accident claims team to learn more and ask questions.
Accidents In Airport Facilities Such As Shops And Restaurants
Potentially an accident could occur in an airport that isn't caused by the negligence of the airport operators, but rather by businesses operating shops and restaurants in airport departures lounge. Being a relatively small airport, Stornoway has just a single café in its terminal. It is vital as we all eateries and shops that their premises are well maintained and safe for public use. Problems that could potentially arise if health and safety policies are allowed to lapse could include;
Broken or badly fitted furnishings causing you to fall or otherwise hurt yourself.
Poor maintenance of the floor or cleaning of the floor causing a slip, trip and fall.
Food poisoning brought on by poor preparation of food or use of expired products.
Allergic reactions caused by failing to label allergens or failing to prevent cross-contamination
You may find this guide that deals specifically with how to make claims for accidents in restaurants to be useful as well.
Airport Workplace Accidents
It isn't just passengers who could make a claim against an airport if they got hurt due to the airport operator's negligence. Employees of airports could make claims as well in the event they are injured as a result of employer negligence. This is because airports don't just have a duty of care to their passengers and customers, but to their staff as well. Like all employers, an airport is bound under the Health and Safety Act 1974 to make sure that their employees' workplace is safe for them, by identifying and taking action upon all potential safety risks and abiding by all relevant health and safety regulations and legislation.
If an accident occurs, and you suffer an injury, and there is a link between it and your employer's negligence towards health and safety, then a compensation claim could be made. Health and safety failures which could result in your employer being liable for an accident could include:
Not providing you with safety gear: i.e. hard hats and ear protection.
Not providing you with the full required training for your role.
Not ensuring a safe working environment: i.e. not ensuring that all workspaces are well lit and ventilated.
Not ensuring that all machinery used by employees is in working condition.
Failing to act upon reports of sexual harassment, bullying and work-related stress.
You may find this guide which deals specifically with accident at work and workplace injuries to be useful as well.
Baggage Handler Manual Handling Accidents
In 2013/14, more injuries were related to lifting and handling than any other activity among people working in UK airports, according to this HSE report (see figure 2). Manual handling injuries might include:
Impact injuries caused by dropping baggage, or having baggage dropped on oneself.
Pulling muscles or suffering sprains.
Injuries caused by accidents with baggage moving machinery.
Long term health problems caused by manual handling or working in a noisy airport environment, such as hearing loss or back problems.
An airport could be liable for such injuries if they have not taken steps to reduce the risks of injuries by providing breaks, manual handling training, PPE, maintenance of baggage moving machinery and by making sure staff aren't handling weights beyond their abilities or fitness levels.
Below, we show you the statistics for musculoskeletal conditions across all industries from 2019/20.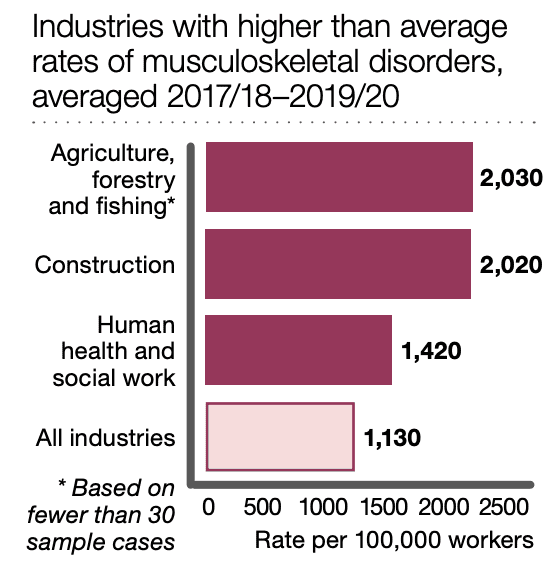 Calculating Compensation For An Accident Claim – Updated September 2021
When you claim compensation, the figure you may be requesting could be determined by how great your needs are because of the accident. This means that fairly minor injuries that do not have serious long term effects might entitle you to a smaller figure than injuries which cause severe pain and suffering and have a lasting effect on your quality of life, your ability to work etc. How much money a claimant's injuries entitle them may be based on Judicial College (JC) Guidelines which relate only to English law, not Scottish law. There may be different guidance available for claims under Scottish law.
In the personal injury claims calculator below, compensation amounts are outlined according to JC Guidelines for examples of injuries a person might suffer. The numbers in this table do not necessarily reflect the total amounts that claimants would receive in the event of a real personal injury claim and amounts could be different under Scottish law.
| Injury | Injury Severity | Compensation Amount | Injury Description |
| --- | --- | --- | --- |
| Head Injury | Moderate Brain Damage (i) | £140,870 to £205,580 | Moderate to severe issues with intellectually capacity, a significant possible personality change, speech and sensors are both effected with a chance of suffering epilepsy. |
| Head Injury | Moderate Brain Damage (ii) | £85,150 to £140,870 | Moderate to modest intellectual capacity, there maybe slight ability to be able to work, but it may not be possible, the risk of epilepsy is not so great at above. |
| Neck Injuries | Minor (i) | £4,080 to £7,410 | In these instances, a full recovery from the injury may be made within 1-2 years. |
| Neck Injuries | Moderate (i) | £23,460 to £36,120 | These injuries may be fractures or dislocations requiring immediate medical attention. They leave markedly impaired function or vulnerability to further trauma, and limitation of activities. |
| Neck Injuries | Severe (i) | In the region of £139,210 | Severe neck injuries are associated with permanent disablement. |
| Paraplegia | Serious | £205,580 to £266,740 | An injury of this calibre is often expected to inflict a shorter life span, depression, limit mobility, and in some cases, a lack of sexual function. |
| Arm Injury | Severe Injuries | £90,250 to £122,860 | Injuries which fall short of amputation but which are extremely serious and leave the injured person little better off than if the arm had been lost |
| Leg Injury | Moderate (iv) | £26,050 to £36,790 | This bracket includes complicated or multiple fractures or severe crushing injuries, generally to a single limb. |
| Food Poisoning | Serious (i) | £8,950 to £18,020 | A serious case of food poisoning is often expect to cause a serious upset stomach, which signs such as diarrhoea and nausea. |
| PTSD | Less severe | £3,710 to £7,680 | Those who endure minor levels of PTSD are often expected to make a full recovery within the span of one to two years. However, they might endure symptoms such as sleep deprecation, anxiety, and depression. |
| PTSD | Severe | £56,180 to £94,470 | Those who experience a severe level of PTSD are often expected to be left with life-long disabilities, minimal job prospects, physical ailments, and mental distress. |
Other Ways Accident Victims May Be Compensated
There are other reasons that a person would need compensation for an injury beyond the effects of the injury itself, are also factored into the compensation they will receive and is any financial problems and expenditure they have dealt with because of their accident. Compensation may also be awarded for;
Whether you have lost earnings.
Whether you have to claim for future loss of earnings because you cannot work anymore.
Whether you have had to spend money on any kind of medical care, this could include paying for medications (including over the counter painkillers or antibiotics) or on physical rehabilitation or cosmetic surgeries. If you have had to seek out certain treatments not provided to you by the NHS by getting private treatment you could claim the costs back.
Whether you have had to pay costs for long term care for your disability, such as having care workers look after you, hiring people to perform tasks that you would normally do yourself or having home adaptions such as wheelchair ramps or adaptions fitted in your bathroom.
No Win No Fee Claims For Accidents At Stornoway Airport
Some solicitors firms might charge expensive upfront fees for the services of their personal injury lawyers on compensation claims. Accident Claims UK allows you to avoid upfront costs by making no win no fee Stornoway airport accident claims. No win no fee means that the solicitor's payment is conditional on the claimant receiving compensation. It also means that a portion of the compensation a successful claimant receives can be used to cover the solicitor's "success fee". The best way to find out more about no win no fee Stornoway airport accident claims claims is to ring up our advice team.
Why Choose Our Accident Claims Team For Your Case?
The solicitors on our panel have up to thirty years' experience and you can be assured that if you do make a claim through our panel of solicitors you will be represented and supported by legal experts.
Start An Airport Accident Claim Today
Starting an airport accident claim is easy, just make a phone call to our accident claims team on 0800 073 8801.
Our accident claims team will ask you questions about your accident and, if it seems you have grounds to make a claim, they will offer to refer you to our panel of solicitors to take up a claim.
You can also arrange to receive a phone call from our team when it is convenient for you using our start a claim page here. We also can be reached at office@accidentclaims.co.uk.
Would it be possible for me to make Stornaway airport accident claims if I suffer an assault?
If you are assaulted at Stornoway airport, whether it is by a passenger, a member of staff, or you are a member of staff who was assaulted by a passenger, you could make a claim for compensation. Depending on the situation, your claim could be against the airport operator, a private business within the airport, your employer or through the criminal injury compensation authority (CICA). For example, if your employer has failed to protect you from the risk of being assaulted at work, you may be able to make a compensation claim against them. Or, you could make a CICA claim if you are violently assaulted due to criminal activity and you were the innocent victim.
We would be happy to help you work out who your claim could be made against. Then, or specialist solicitors, authorised and regulated by the Solicitors Regulation Authority could help you fight for the maximum amount of compensation possible for your claim.
Could I make Stornaway airport accident claims for a loved one who suffered a fatal accident?
Sadly, in some cases, not everyone recovers from injuries they sustained in an accident. If you have lost a loved one due to somebody else's negligence, whether they are an airport employee or a passenger, you could make a claim for compensation. We are aware that no amount of compensation could truly make up for the loss of a loved one. However, it could provide financial relief at what could be a very difficult time. Compensation for the loss of a loved one could cover their funeral expenses, for example. We understand that making a claim for a fatal accident or wrongful death could be quite traumatic. We could handle your case with the tact and sensitivity it deserves.
Essential References
Health And Safety In The Air Transport Industry
Civil Aviation Authority – Am I Entitled To Compensation?
Civil Aviation Authority – Airport Safety
Thank you for reading this Stornoway airport accident claims guide.